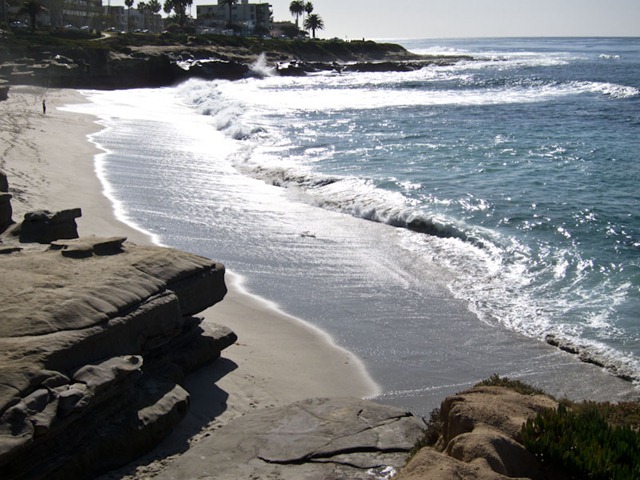 After rolling ourselves (and luggage) to the airport, we slowed down our rushed pace of the city and headed to the West Coast for a couple nights. Eric and I dream of living on the West Coast some day…it's on our bucket list. We've been planning a visit to So Cal for about a year now, so when we saw a seat sale we figured it was a sign. The best part was that we booked it all with air miles, including our rental car. That was a sweet bonus! Neither of us have ever been to California before so we were pumped.
We booked our hotel once again with Hotwire and got a great deal on the US Grant Hotel.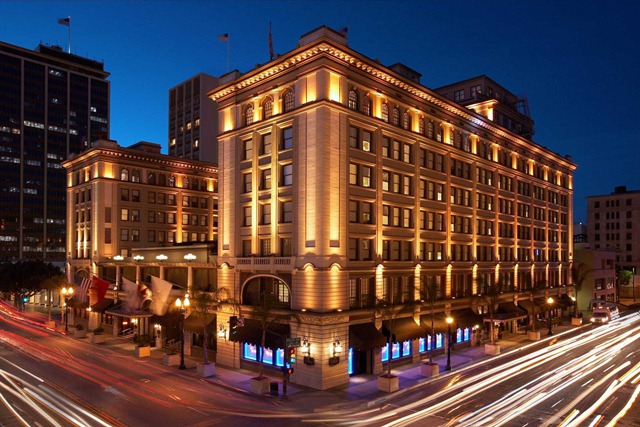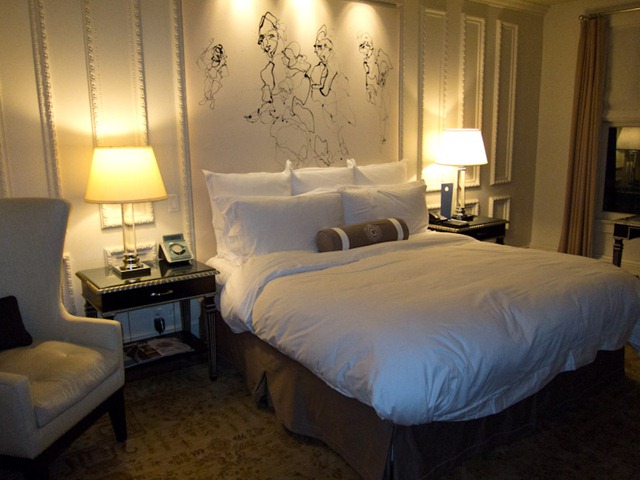 We were really happy with the hotel. Excellent, friendly service and very clean.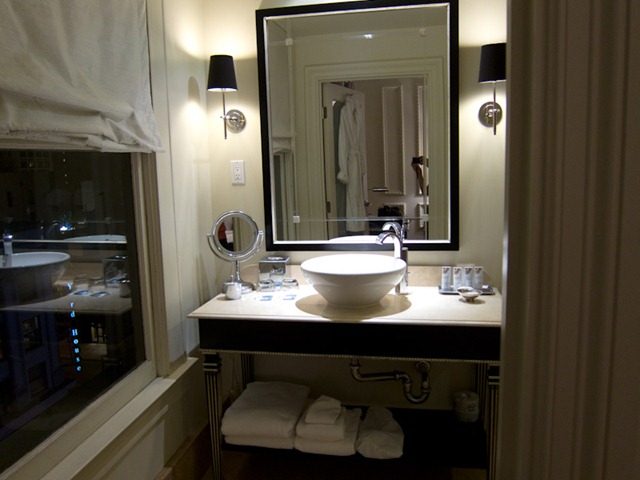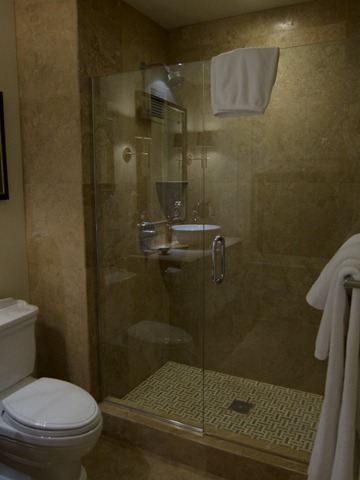 The only thing we didn't like about the hotel was the noise and single pane windows. It's located right in the heart of the Gaslamp district (bars and a wild nightlife) and the noise carried through the windows a lot. We put the fan on high before bed and were able to sleep like babies, so it wasn't a huge issue.
Maybe we're just getting old.
We picked up some food for snacks and breakfasts to save some money since NYC sucked us dry.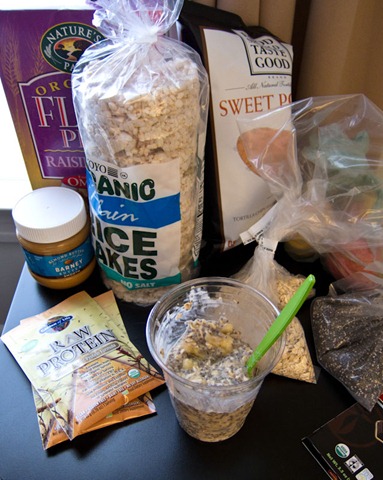 We had a fridge brought up to our room (love that the hotel offered them!). Nut butter, hummus, brown rice cakes, chips, milk, etc. Eric got cereal for breakfast and I picked up some bulk oats, chia seeds, and almond milk and made vegan overnight oats. It worked out perfectly and was cheaper than eating out for breakfast. One thing I noticed right away about California is that the food is much cheaper than at home.
Reunited and it feels so good.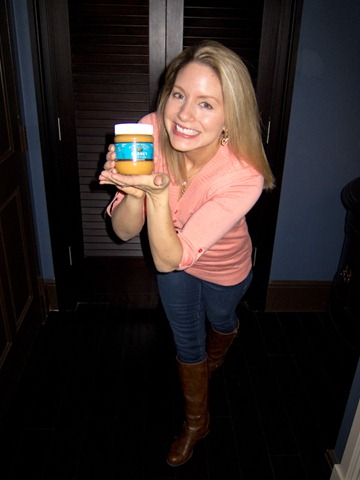 ….all hail……BARNEY BUTTER!!!
I hadn't made VOO in such a long time. I was on a Green Monster kick for the past few months and I forgot how much I LOVE vegan overnight oats. You don't even need to measure if you don't want to. I just eyeballed it and it turned out great both times! On the side, I had a package of protein powder mixed with almond milk in a water bottle. Not the best tasting thing in the world (or even easy to get that damn powder into the bottle!), but it worked well to keep my hunger at bay all morning long.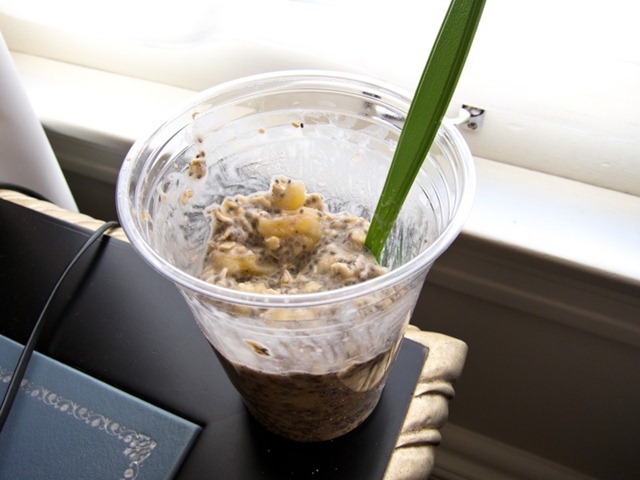 My take on eating while traveling is pretty simple. I try to eat a balance of wholesome foods for my main meals (and try new dishes) and then I indulge in some sweet treats and special goodies that I normally wouldn't be able to try back at home. It all balances out, especially when walking for 6 hours or more each day! And if it doesn't balance out, no big deal. Life is short.
Morning teas…I had green and Eric black tea.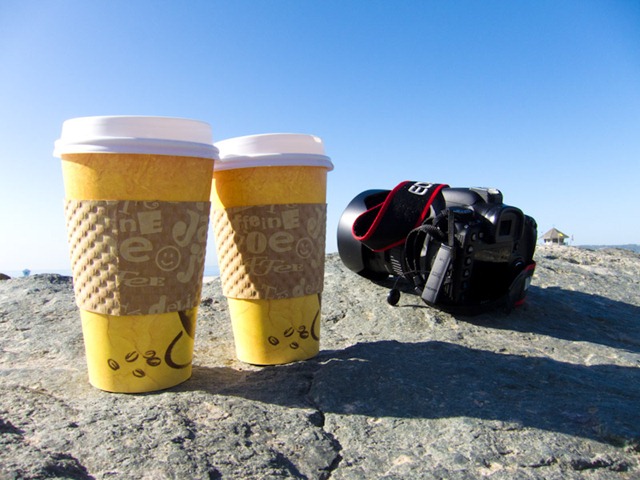 The weather was picture perfect! Sunshine and an expected high of about 18C. We really lucked out with the weather on this trip…it was almost as if we were travelling in early Fall, not December!
Anyone in the San Diego area want to take us in for a while? Maybe 4 years? I'll be your live in chef.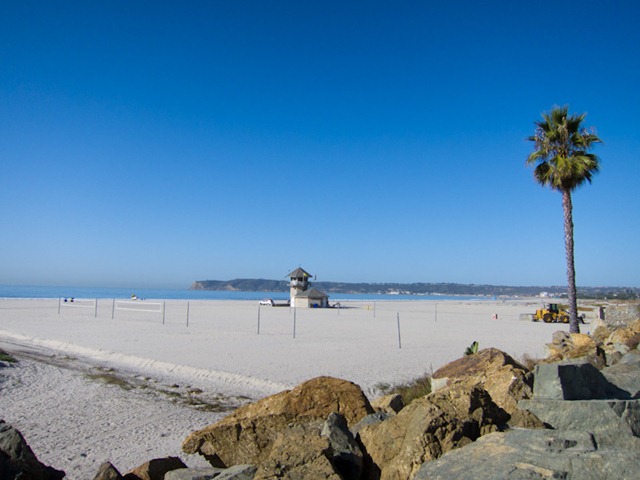 We explored Coronado Island to start.
It was just horrible….dirty….don't go here.
heh…just kidding.
We saw the famous Hotel Del Coronado right on the beach! I checked the prices for this place and whoa baby, it's expensive!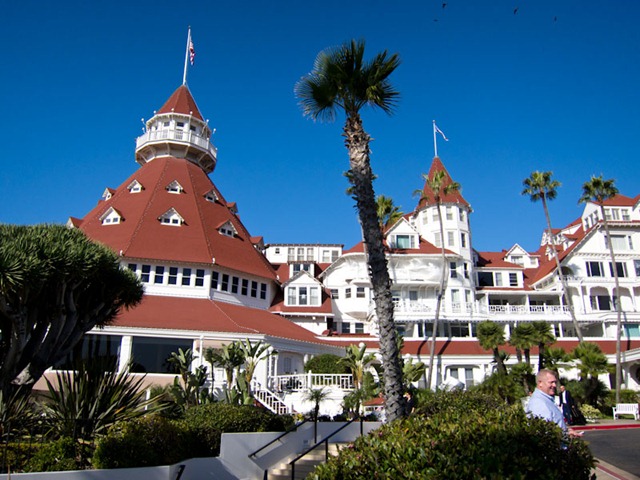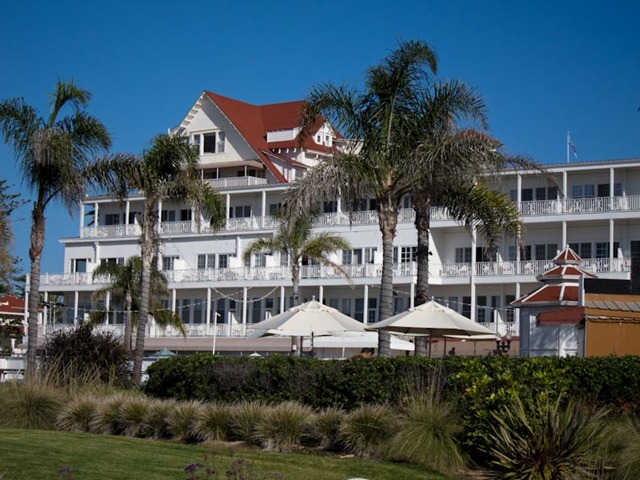 Along the bay, with nice views of the SD cityscape.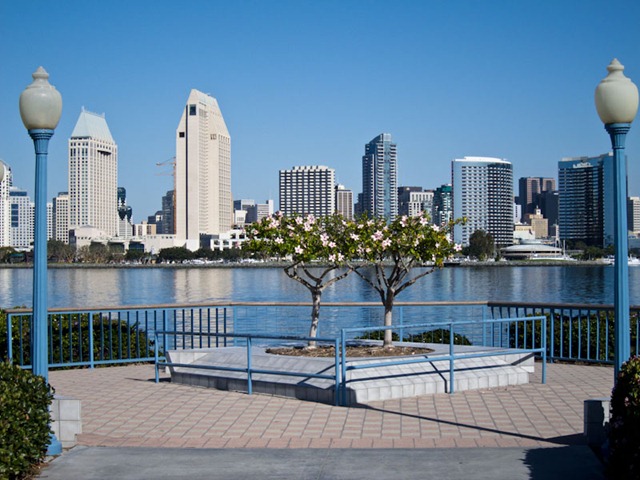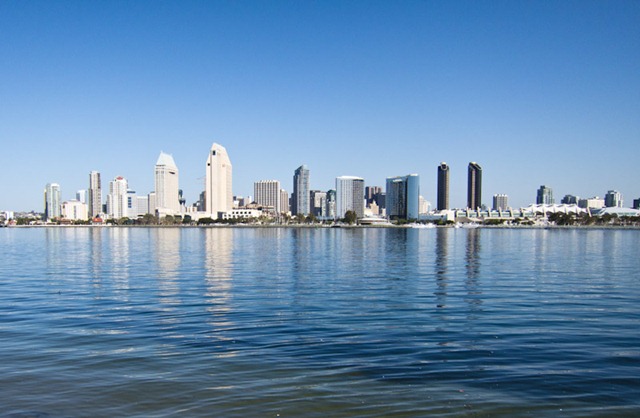 Then we headed to La Jolla which is only about a 10 minute drive from the downtown core. I've always heard that the West Coast is very laid back and it really is! How could you not be if you lived here?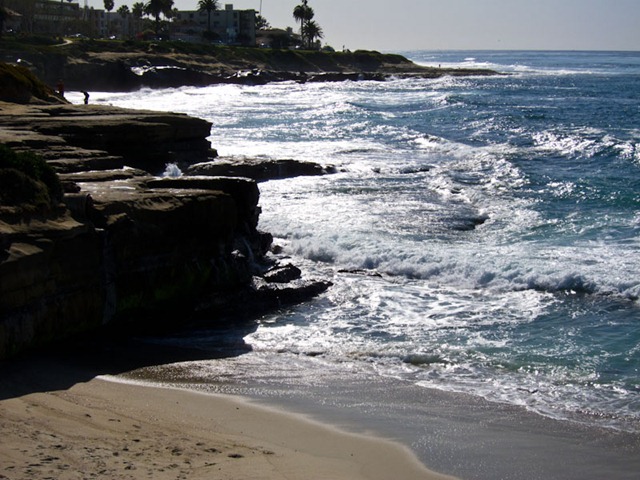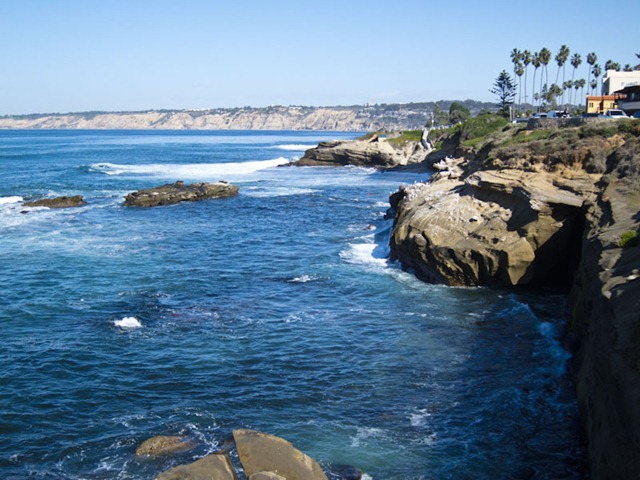 La Jolla took our breath away. My Gosh!!!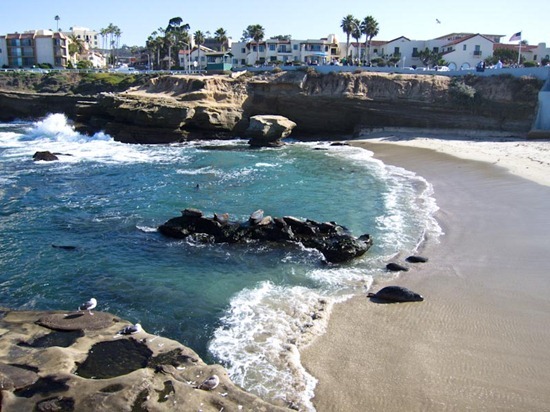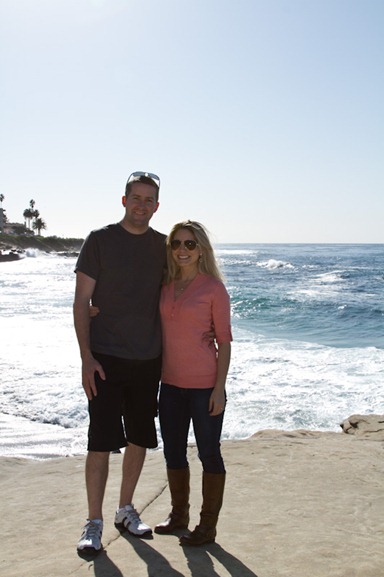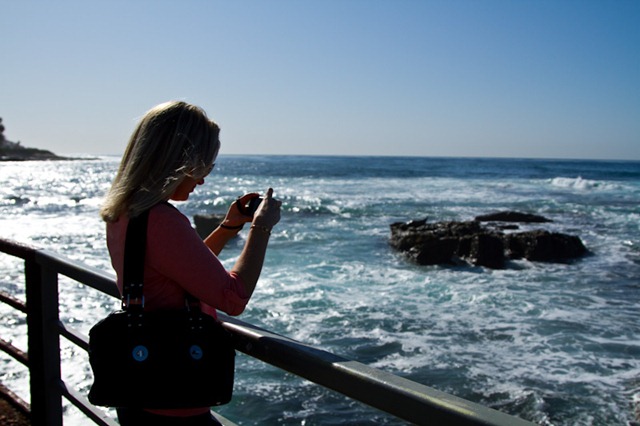 We went to the Cove and saw the Harbour Seals! Oh my gosh, I just fell in love with them!!!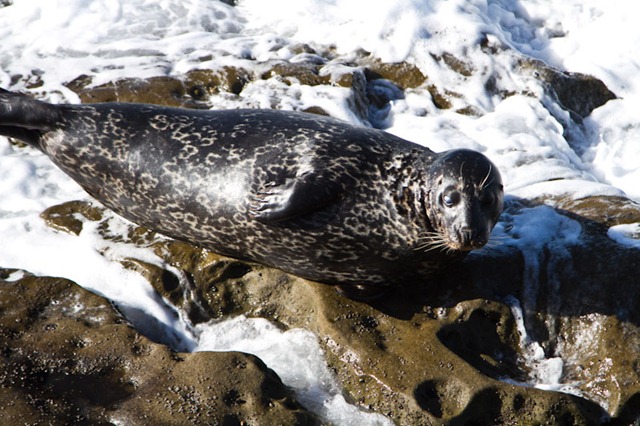 Seriously, what magnificent creatures. We watched them for at least 30-45 mins. It's funny when they get in spats with one another!
heh this guy below was so cute stretched out on his back!! If that's not a head to toe stretch, I don't know what is.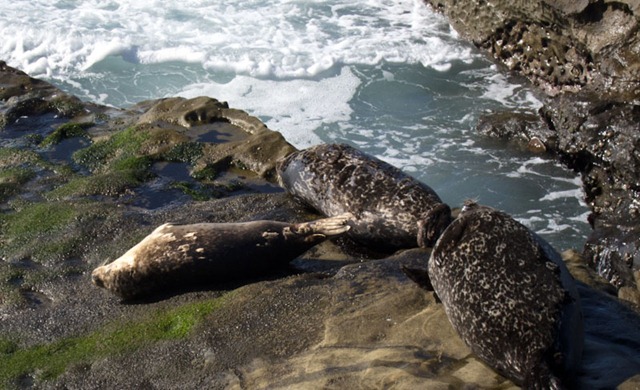 Every time the water came up and splashed them they would raise their head and look annoyed.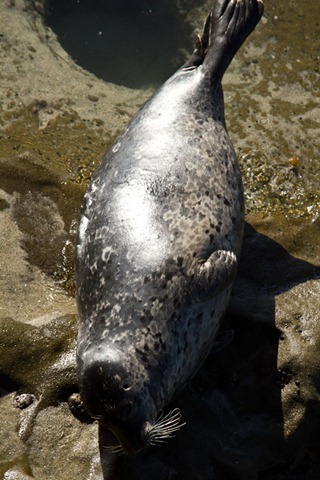 When Eric and I started to make voices for them, we knew it was time to go. ;)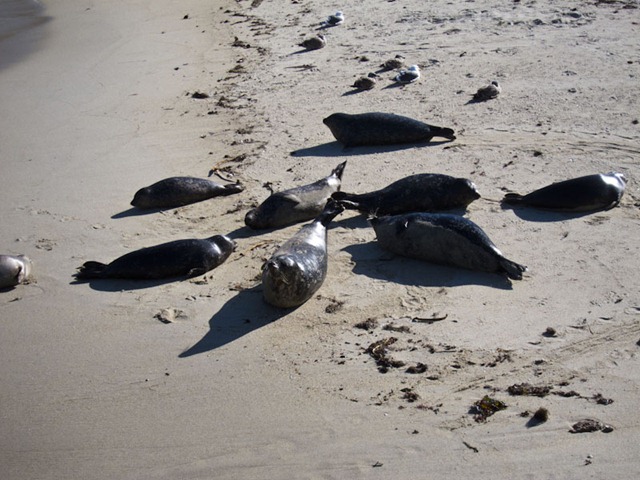 After exploring for the morning and early afternoon, we had a late lunch in downtown La Jolla at a cafe called Lean & Green. It is extremely vegan friendly with all kinds of options marked vegan on their menu! Definitely check it out if you are in the area. The owner is really nice too!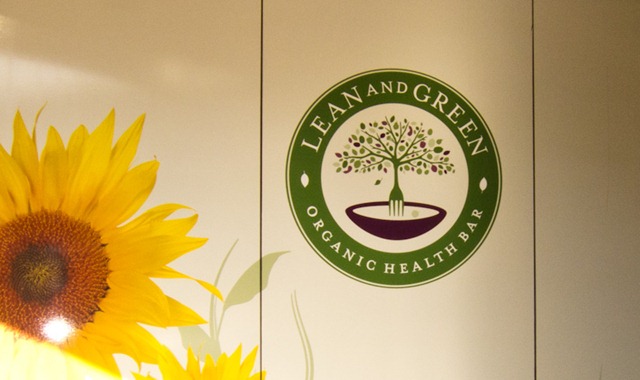 It was also picked as La Jolla's best veg restaurant recently.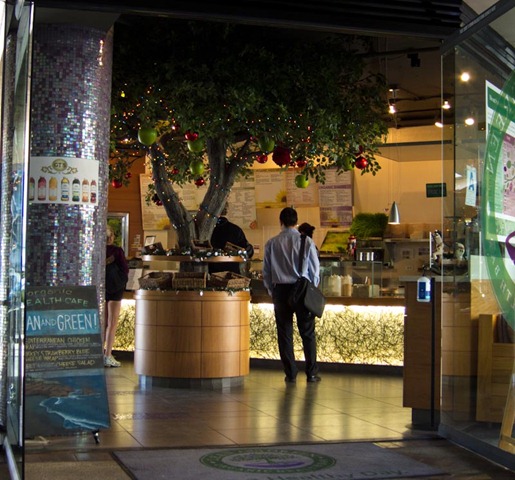 You can click on the menus below to enlarge.
My customized wrap was great! I stuffed it full with all kinds of veggies (carrot, roasted red pepper, avocado, cukes, tomatoes, red onion, artichokes, shrooms, etc) and hummus.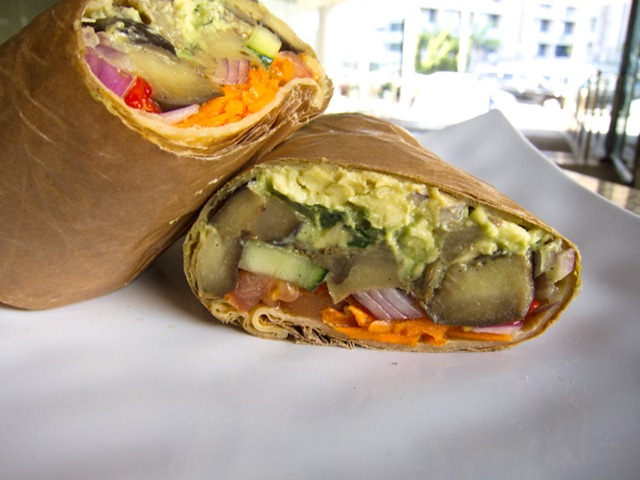 I had their veggie juice to go with it. Fresh veggie juice is such a treat when travelling. I'm  too lazy to make it at home these days and I don't find it very cost effective in the off season. Smoothies are my drink of choice when at home, but fresh juice all the way on vacation.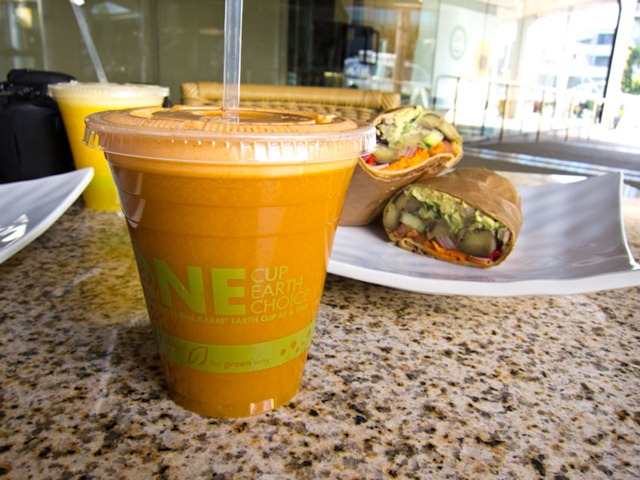 See you for Part 2!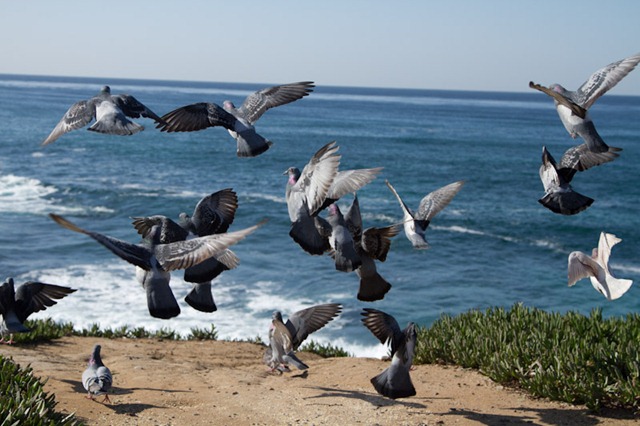 PS- Today is the last day to enter the One Lucky Duck Gift Pack giveaway!