Happy Birthday to my Brother in Law, Steve!
Steve just so happens to be smitten with my baked goods, so every birthday I spoil him with a new vegan treat to enjoy.
I've been meaning to make these Peanut Butter Chocolate Pillows by Isa & Terry for a very long time now!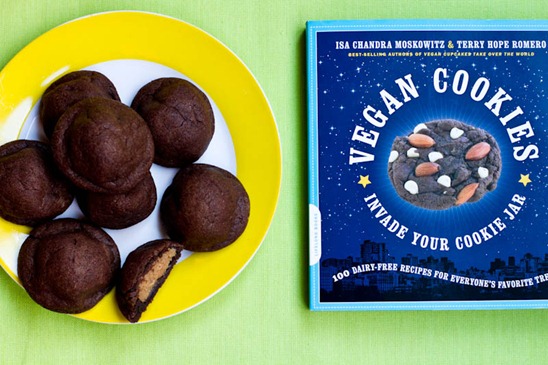 I think I was a bit intimidated by the process of making these cookies. Stuffing a peanut butter ball into a cookie didn't exactly sound fool proof (and trust me, I can mess up the easiest things at times!), but these cookies have been so well reviewed on other blogs I knew it couldn't be that difficult.
It turns out that it is fool proof! So fool proof in fact, I would go as far to say that these would be really fun to make with kids.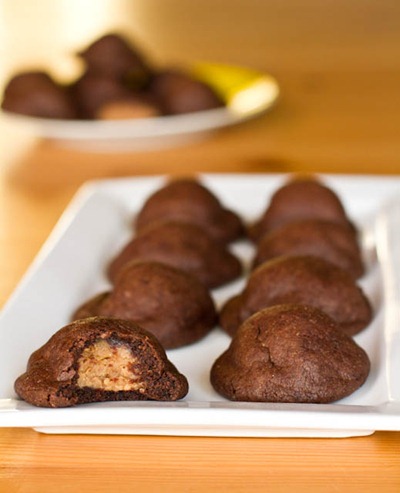 I'll show you the step by step process to show you just how easy it is!
You start off by making your chocolate dough and your peanut butter dough. I mixed both by hand. When the chocolate dough got stiff, I got in there with my hands and kneaded it together. Sometimes, you gotta get dirty in the kitchen!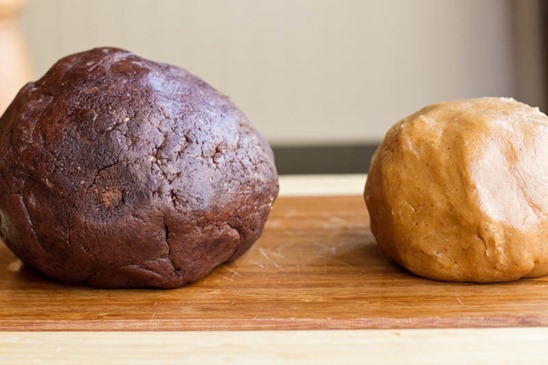 Umm excuse me sir, that's not dirt in my nails, it's chocolate dough…duh.
Break your peanut butter dough ball in half.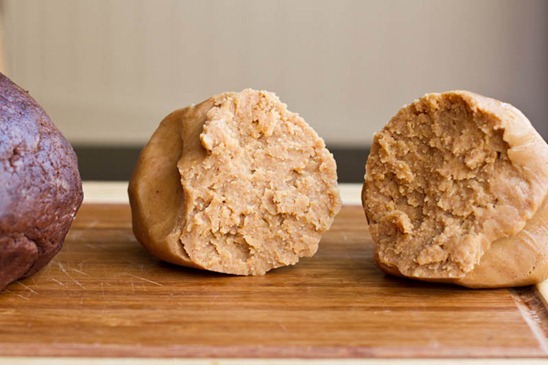 Break each half in half again and then break each quarter into 6 pieces (as even as possible):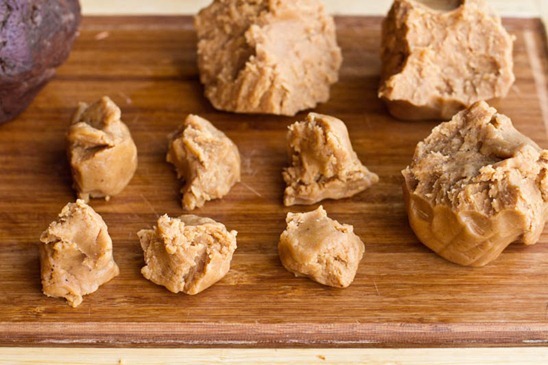 This simply makes it easier to get even pieces.
Roll in hands until smooth: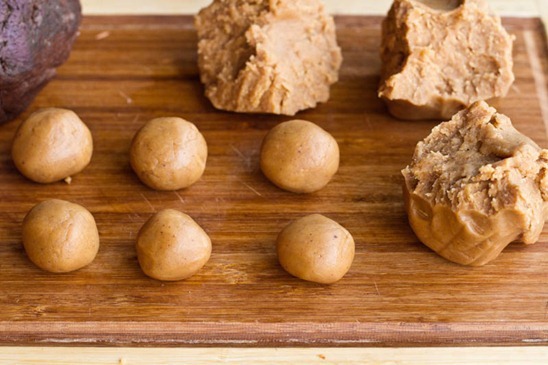 Repeat for the other 3 quarters: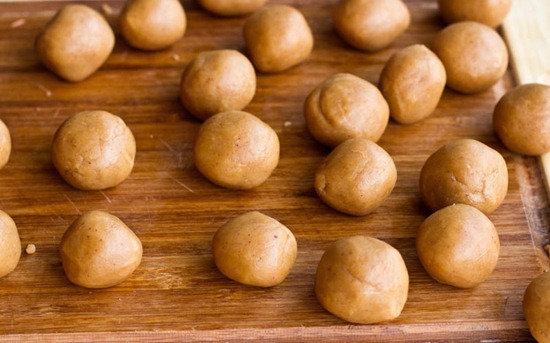 I ended up making 25 balls instead of 24 because that's just how it worked out. And I obviously wanted an extra cookie!
Grab a chunk of dough (about a heaping tablespoon) and place it in your palm. With your other palm, flatten and press the dough until you have a large thin disc like so: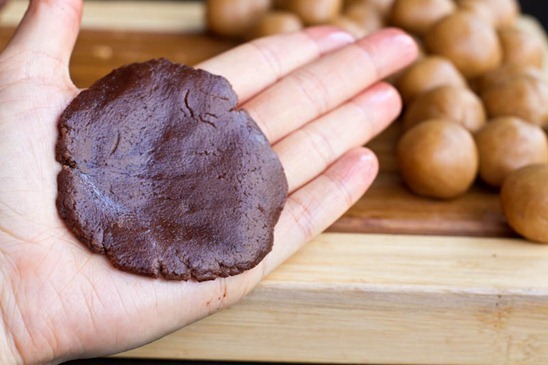 Place a PB ball in the middle of the disc: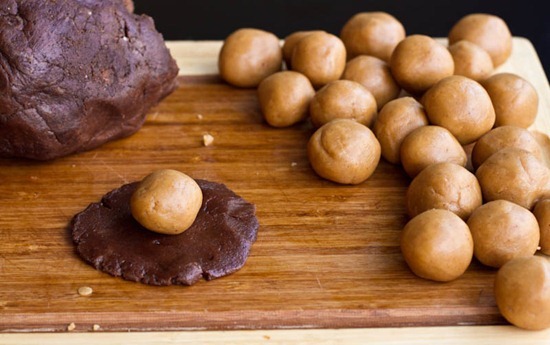 Wrap it up (the dough may crack a bit but not to worry!)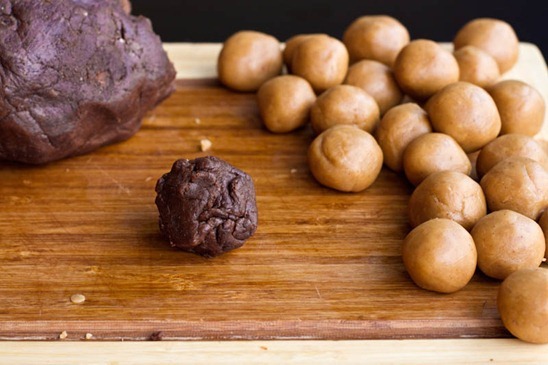 And roll it in your hands until smooth: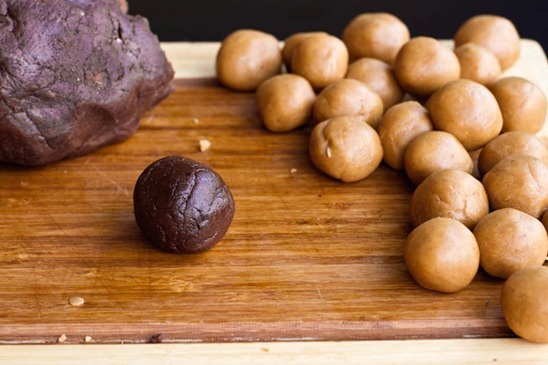 Repeat for the rest!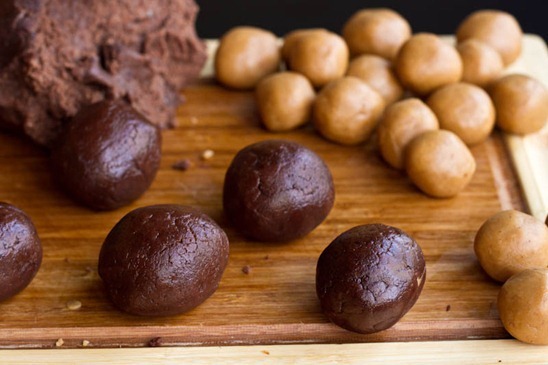 See, fool proof.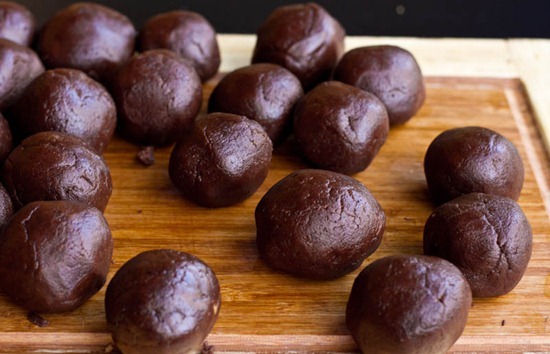 You may be tempted to do this…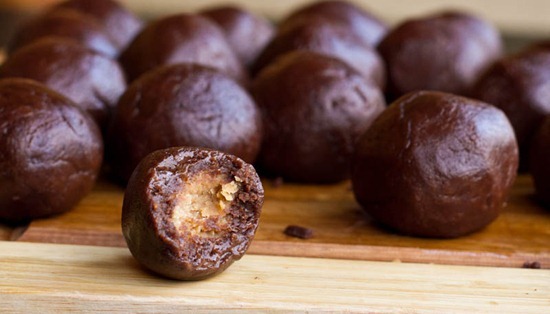 and you wouldn't be alone. You may debate whether baking is even necessary. Then you remember these are not for you. Doh!
Bake at 350F for 10 minutes exactly.
Excuse me cookie, is that a PB ball or are you just happy to see me?!
sorry, lame.
Yup, they look just like the picture in the cookbook! I love when that happens. They also taste just like I imagined them to- like a peanut butter ball in cookie form. Granted, they are by no means a healthy cookie, but what would a birthday be without a mild sugar coma?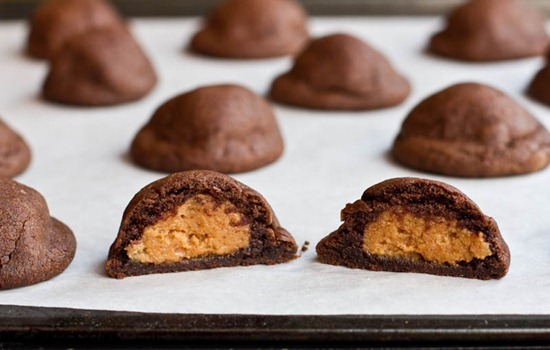 Now, I face the impossible feat of ignoring these all day long. I guess I didn't plan that one too well now did I?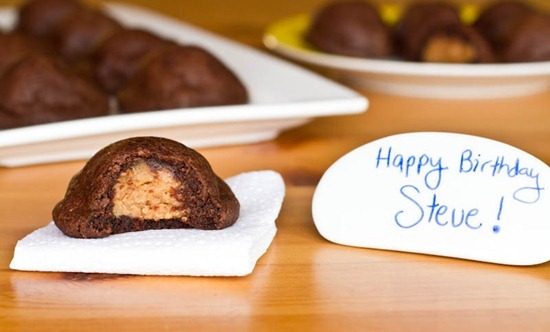 Not only is it Steve's lucky day but it's yours because Isa posted the recipe online for all your cookie pleasure!
I made just 1 change to Isa's recipe:
I used coconut oil instead of canola (I melted it first)
Click here for the cookie recipe.
May the cookie pillows be with you!