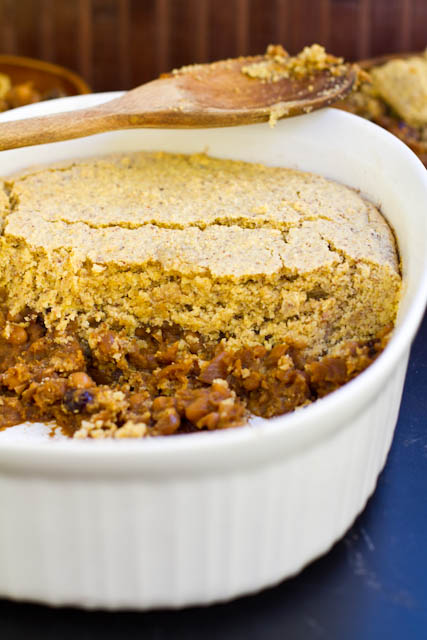 I always say the best recipes follow the worst disasters. And that's just what happened yesterday. Because if one more thing went wrong, I was debating putting up a 'Closed, please come again' sign on the blog all Thanksgiving weekend.
The first step was admitting that I'm all baked out at the moment, which probably means I won't bake for 3 long days before I'm desperate to bake something again. Cooking tends to be less risky when creating new recipes anyways. It's not an exact science and I get to be careless and wild.
Add an extra tablespoon of milk by mistake? There are bigger problems. Dump an extra 3/4 cup of vegetables into the pot? I encourage it. Spill the container of salt in the pot? Ok, that's bad. You know I've been there. And scooping off the salt on top…it doesn't help one bit.
The more I think about it, the more I really love to cook. Salt spills and all.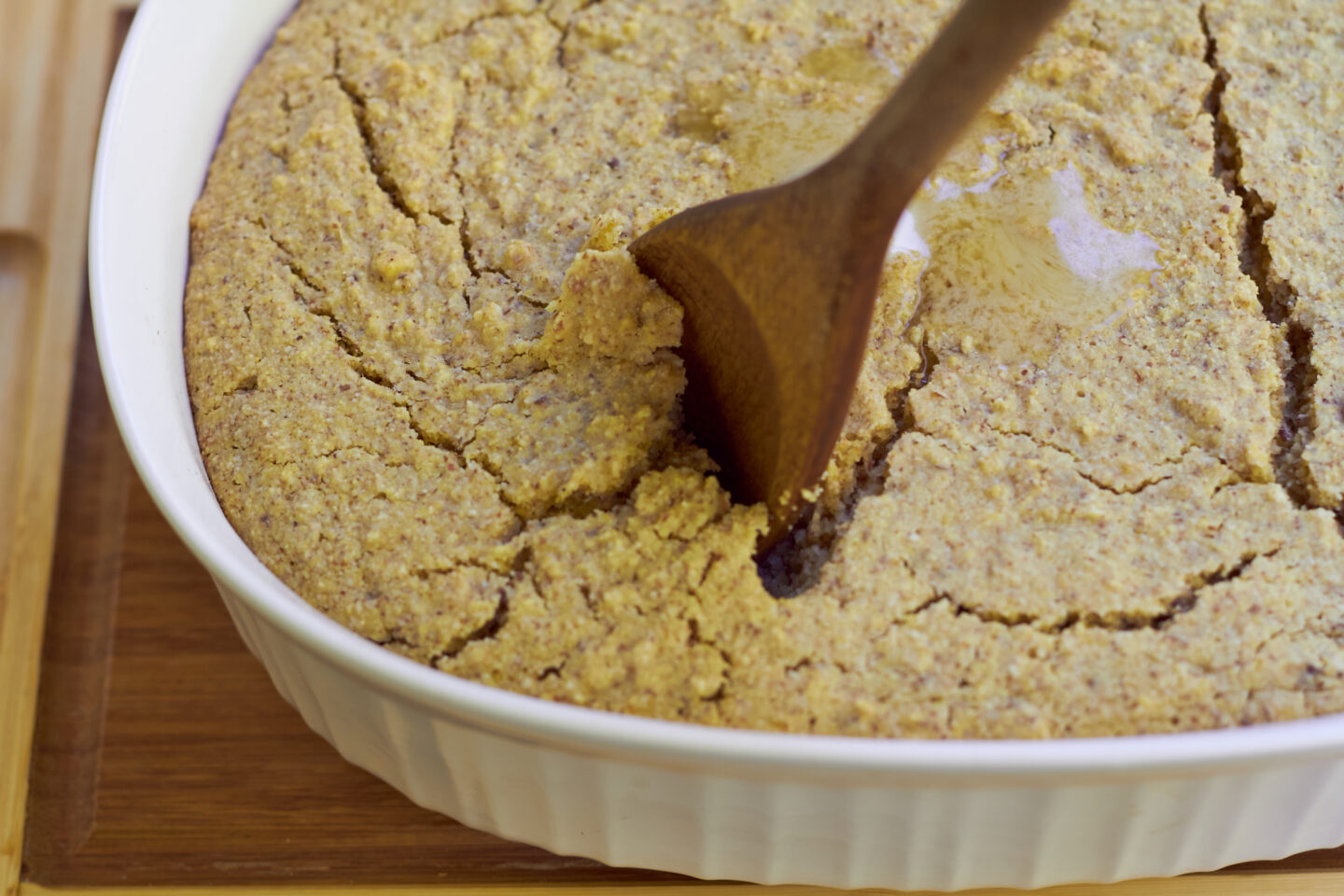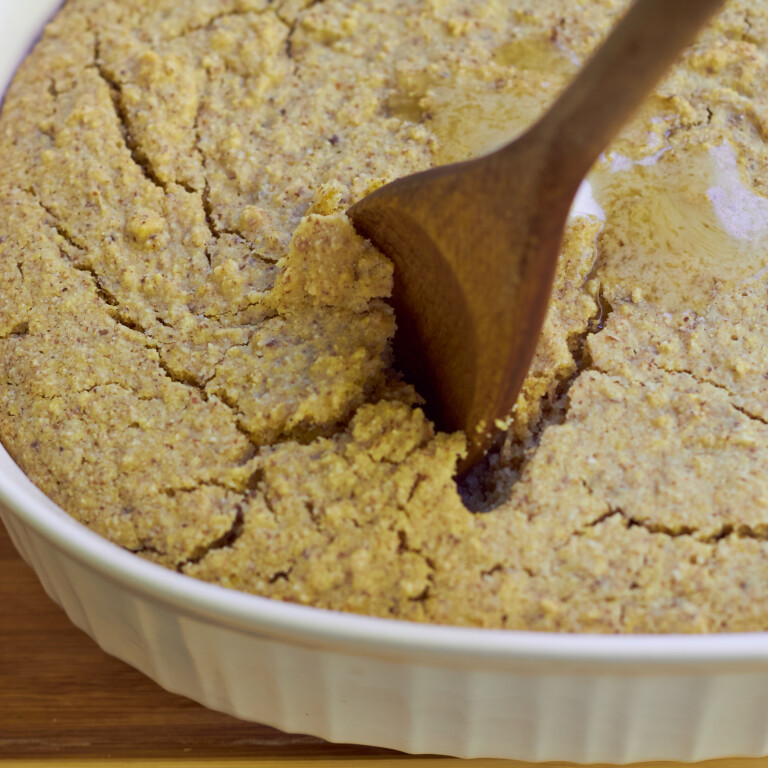 Pumpkin Maple Baked Bean Cornbread Casserole

Yield

6 servings
Prep time

Cook time

Total time

Maple baked beans with a pumpkin twist all topped with a lightly sweetened cornbread. The result is a casserole that kept us coming back for more and more. See my tips & suggestions below on making-ahead, substitutions, and Thanksgiving potluck options. Adapted from Maple Baked Beans and Food.com vegan cornbread.
Ingredients
For the Pumpkin Maple Baked Beans
3 (15oz) cans navy beans, drained and rinsed
1 sweet onion, chopped finely
1 large garlic clove, minced
3 tbsp blackstrap molasses
4-5 tbsp pure maple syrup, to taste
1.5-2 tbsp regular mustard
1 tbsp ketchup
2 tbsp apple cider vinegar
1/2 cup canned pumpkin
1/4 tsp ground cinnamon
1/2 cup dried cranberries
1 tsp kosher salt, or to taste
For the Vegan Cornbread
1 cup cornmeal
1 cup flour (I used 1/2 cup oat flour and 1/2 cup almond flour successfully, but other flours should work)
2 tbsp ground flax
3/4 tsp kosher salt
1 tbsp baking powder
1/4 cup organic cane sugar
1 cup almond milk
1/4 cup + 1 tbsp light-tasting extra virgin olive oil (or canola)
Directions
Preheat oven to 400°F. In a pot, add a splash of oil along with the chopped onion and garlic. Cook over medium heat for 5 minutes.
Now add in the rest of the ingredients and mix well. Cook over low heat until thick, about 10-15 mins. You can make this the night before and leave it in the fridge like I did.
Cornbread: In a bowl, mix the dry ingredients. In a separate bowl, mix the wet ingredients. Add wet to dry and stir until combined.
Grease a casserole dish (I used 2.3 L), spread in the maple beans, and spoon the cornbread mixture over top. Bake at 400°F for about 35 minutes until golden and a toothpick comes out clean. Serve immediately with a bit of Earth Balance on top if desired.
Tip:
Does not keep well for leftovers (it dries out a bit). I suggest serving immediately or halving the recipe if needed.
Nutrition Information
(click to expand)
This casserole is inspired by Jessica's Chili cornbread pasta bake as well as Ashley's version.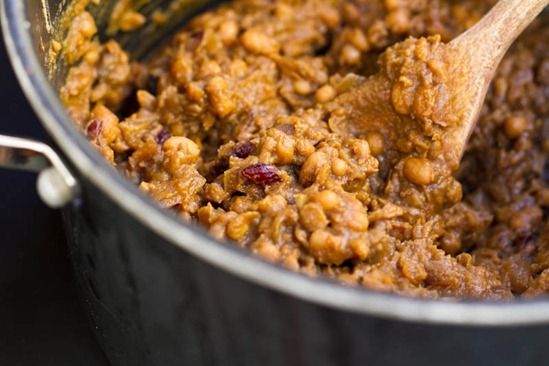 I decided to play around with my Maple Baked Beans recipe and it turned out fantastic. The old version is a slow cooker version, but I wanted to create one that could come together in just 15 minutes. I also added some pumpkin and a touch of cinnamon for a seasonal kick!
Boy, was I glad I did. And I saved my pumpkin from growing hair over the weekend.
As I tasted and cooked, I kept saying something was missing. I tried adding just 1 tablespoon of ketchup and it all came together perfectly. Surprisingly, this was not Eric's idea but I think he's rubbing off on me!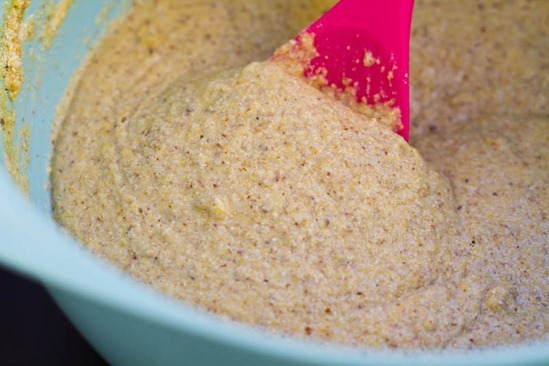 The cornbread comes together in just a few minutes.
I spread the bean mixture into a 2.3L greased casserole dish.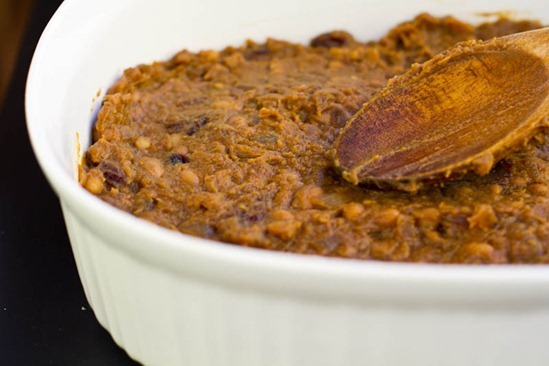 The cornbread layer went on top!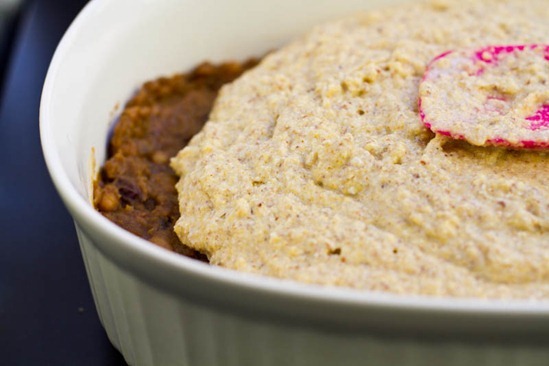 Then I baked it for about 35-40 minutes until golden. Cook time will vary based on the size of dish you use.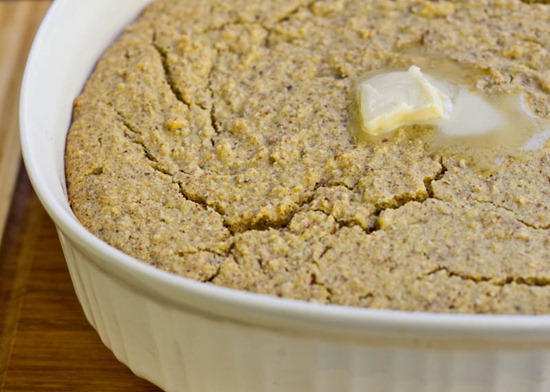 Sweet, Sweet casserole we have a winner.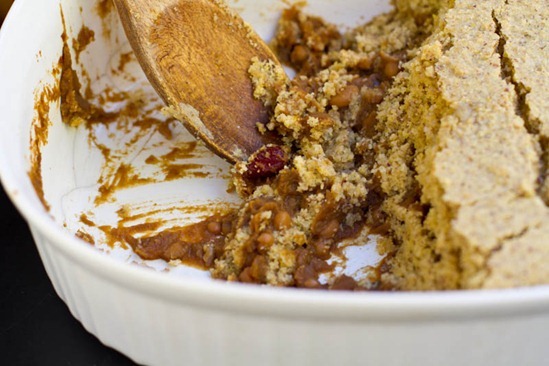 Comfort food to the max.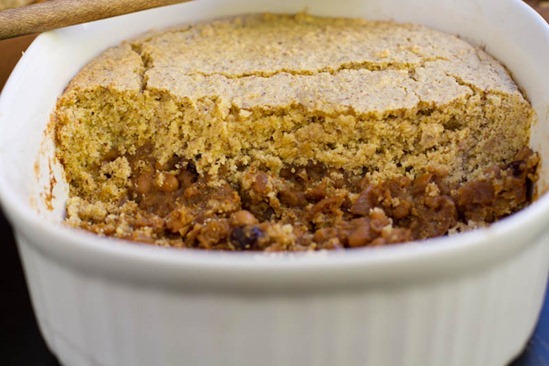 Some things to note:
1) I suggest serving this immediately for best results. I tried reheating it in the microwave and it was still good, but keep in mind that the beans soften the cornbread with time. It's best served immediately.
2) If you plan on bringing this somewhere for Thanksgiving, here's what I would do: Prepare the bean mixture on the stove top at home and scoop it into your casserole dish. Add your DRY cornbread ingredients into a large zip-lock bag. In a jar or leak-proof container, add your milk and oil (unless of course you can get these two ingredients where you are going!). Once you arrive, all you have to do is mix the wet and dry cornbread ingredients, spread on top of beans, and bake. Just an idea!
3) Can I bake the cornbread on its own? Updates: I baked the oat flour and almond flour version on its own and it was quite crumbly, so I will need to work on the GF version more. I also tried using spelt flour and it held together quite well, but it wasn't the best tasting version. More testing required! I also plan on making a pumpkin cornbread too.
4) I made the bean mixture the night before and let it sit in the fridge overnight. It saved time and also helped the flavours develop a bit more.
5) The cornbread is quite thick- about twice the size of the bean mixture when baked. We didn't mind it one bit (I actually preferred lots of cornbread), but I thought I would mention it in case you have different expectations.
For my Canadian readers celebrating Thanksgiving this weekend, have a great one! If you're looking for last minute Thanksgiving recipes, check out my post from last year for lots of ideas. If you're not celebrating, I still encourage you to make this casserole!
We're off to my in laws tomorrow, with vegan food in tow. It's a good thing they already know I'm crazy.