Good afternoon!
Thanks for the great response to the Glo Canada sale! There is one 25% off coupon left if you still want to get your hands on one.
Last night, I was not feeling motivated to workout. I decided to just put on my workout clothes and see where they would take me!
After a few minutes of sitting at my desk in my workout clothes (ok, ok 30 mins), I decided that it was now or never. I knew I couldn't eat dinner right before a workout, so I used my delicious slow-cooking dinner as my bait. I figured the quicker I worked out, the quicker I could have dinner.
It was perfect running weather outside. The sky was a crystal blue and the air was crisp and cool. I could smell BBQ's wafting through the air. To make the run more interesting, I decided to go on a 'Canada Day Eve Running Tour' of the neighbourhood. I saw lots of Canada Day flags and lots of cotton-tail bunnies. Before I knew it, I had done 4 miles in about 35 minutes, with a strong, sprinting finish. I felt so good when I got home!
If you feel like skipping a workout, just put on your workout clothes and then decide afterwards! Odds are you will end up doing some type of activity.
Oh and dinner was sooooo worth the wait! I made one of my favourite Canada Day recipes- Maple Baked Beans. This was my first time making a vegan version and it turned out better than I could have imagined.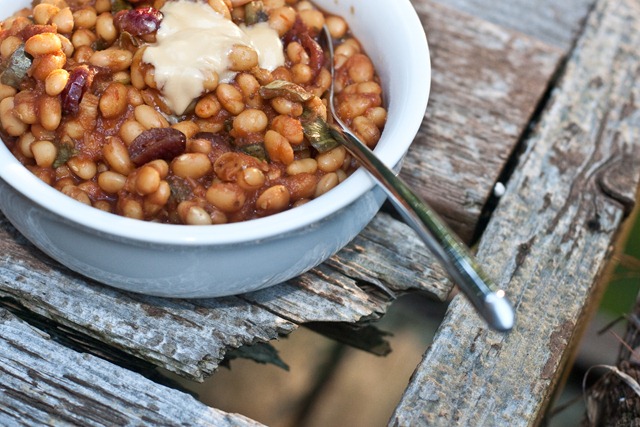 Canadian Maple Baked Beans
[Adapted from here]
Ingredients:
4.5 cups cooked navy beans (approx. 3 (15-ounce) small cans)
1 large sweet onion, diced OR 1-2 green onions (I recommend sweet onions though)
3-4 tbsp blackstrap molasses
3 tbsp maple syrup
2 tablespoons regular mustard
2 tablespoons apple cider vinegar
8 oz/1 cup canned diced tomatoes
1 teaspoon fine grain sea salt
Handful of dried cranberries
Maple butter, to drizzle overtop OR pure maple syrup
Directions: Rinse and drain navy beans. Slow-cooker method: Add cooked and drained beans into the slow cooker. Chop the onion and place the onion, molasses, maple syrup, mustard, vinegar, salt, tomatoes, and cranberries (optional) into the slow cooker and stir well. (Alternatively you can also cook these on the stove top or baked in the oven!). Cook over high heat for about 4-5 hours (however they can be eaten after just a couple hours of cooking), or cook them on the lowest heat setting for 7-8 hours. Make sure to check the beans frequently as I am not sure if this mixture will burn. After scooping into bowls, scoop on a bit of maple butter or drizzle pure maple syrup on top. Serves 3-4.
This has to be one of the easiest recipes out there! Just toss everything in, stir, and cook!
I think it goes without saying that the house smells amazing when this cooks! I used green onions instead of sweet onions because we have a little situation in our house right now…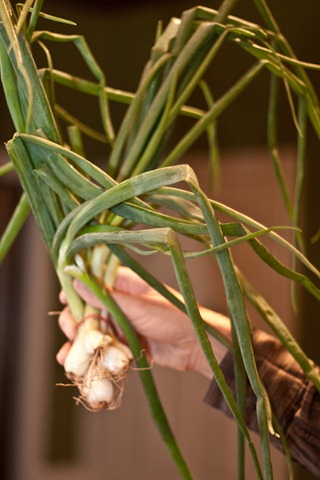 We are currently being overtaken by green onions thanks to last night's CSA!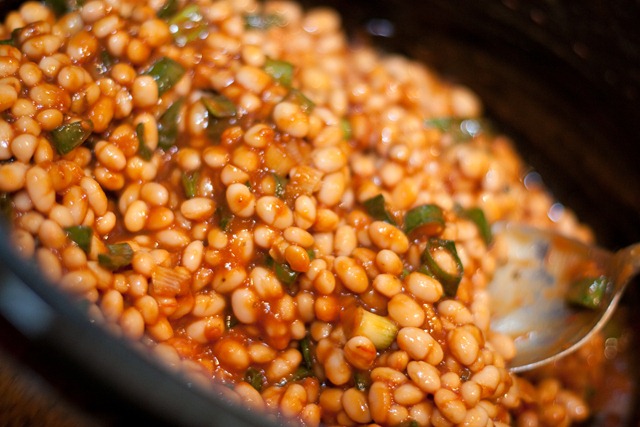 I threw in some dried cranberries at the last minute. I loved the pop of red. They were great and got all juicy and plump after slow-cooking.
I dreamed of this on my run.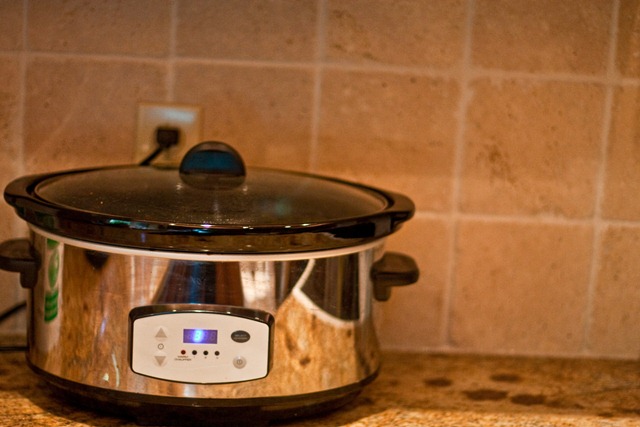 I took some maple butter and drizzled it on top.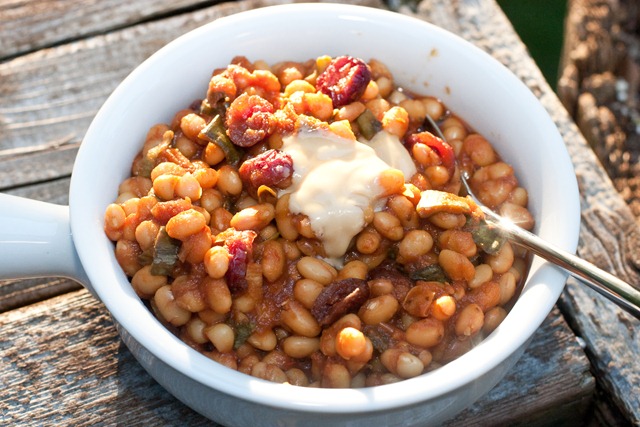 I LOVED it. Every last bite. Actually, I had another bowl at 10pm last night! The maple butter was amazing on top.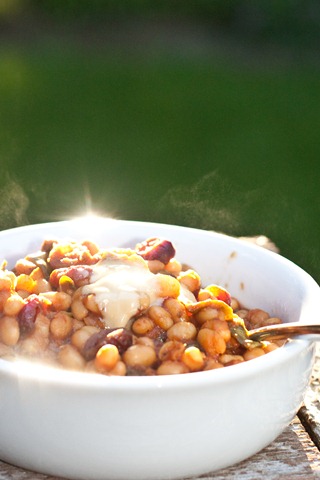 Eric really enjoyed it too. He had the beans stuffed in a bun!
Lots to do to prep for Saturday's market…..gulp! I will see you Friday AM!