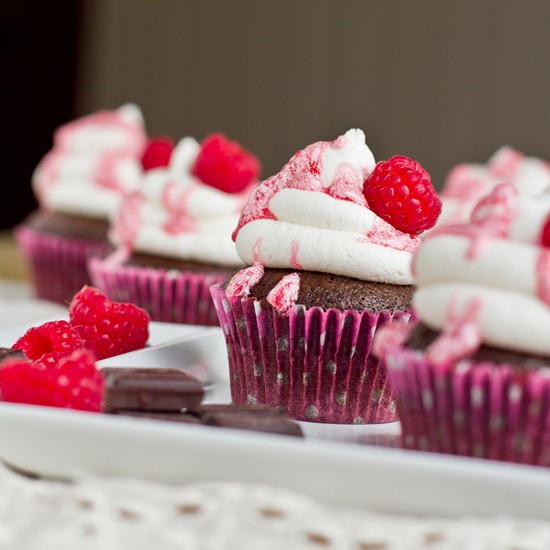 It's my party and I'll cry eat delicious cupcakes if I want to!
Ok, it's not technically my party, but it is my girlfriend's birthday tomorrow and we're have a girl's get together for lunch. I was ever so politely asked (note: begged) to bring a dessert along and I have had cupcakes on my mind ever since!
It feels like forever since I have made cupcakes (which probably means 2 weeks in my world) and I knew I had to do something to remedy this situation.
Liz loves cupcakes. I love cupcakes. Other people love cupcakes. It's a win-win-win. Beat that Team Sheen.
Cupcakes, to me, are a triple threat. They are one of my favourite desserts to bake (easy), decorate (fun + easy), and photograph. You really can't screw up a photograph with a cupcake in it!
It's impossible.
On second thought…sometimes cupcake photos can turn out like poo-poo…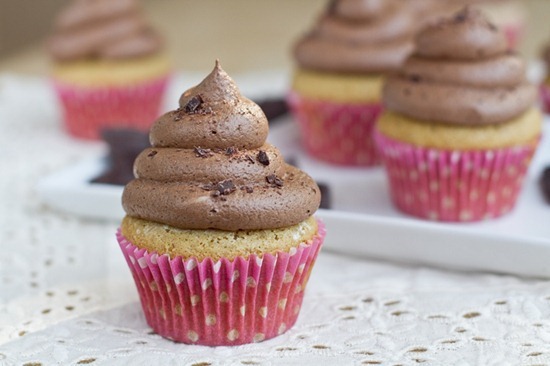 I present the ever-horrifying chocolate turd cupcake.
In all my excitement, I didn't realize that I had piped perfectly formed turds on my beloved cupcakes until after I uploaded the photos.
It was not a proud moment.
Eric and I could not stop giggling at them. Seriously. It was bad.
Shits 'n giggles?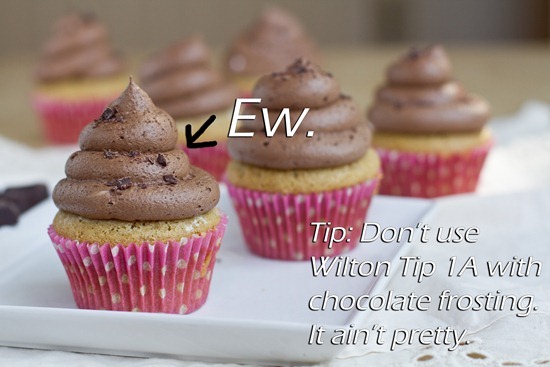 Luckily, I redeemed myself with these delicious Chocolate cupcakes topped with fluffy sweet clouds of frosting and a fruity raspberry glaze. They are a fun cupcake to bring to any Spring or Summer gathering because they are just so light and fluffy with a hint of fruit on top. Gathering or not, you should make them just because you are special. That should be reason enough!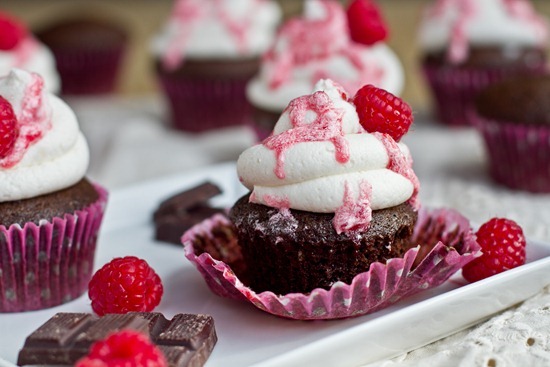 I love cupcakes because the batter can be thrown together in just a few minutes. This recipe doesn't get any easier too. It is literally- 1) Mix wet, 2) Sift in dry, 3) Mix. 4) Scoop.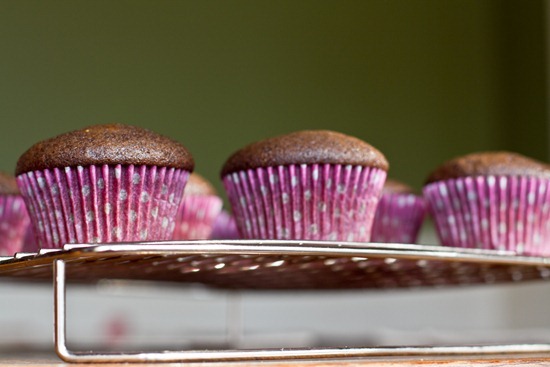 Vegan Chocolate Cupcakes
Yield: 12 cupcakes
Adapted from the famous eggless chocolate cake recipe. <—awesome!!
Cupcake Ingredients:
1 cup non-dairy milk (I used Vanilla Almond milk)
1 cup sugar (I used natural cane sugar)
1/3 cup extra virgin olive oil (or other oil)
1 tbsp apple cider vinegar
1 tbsp pure vanilla extract
1/2 tsp pure almond extract (optional, but awesome)
1.5 cups unbleached all-purpose flour
1/3 cup cocoa powder, sifted (I used Dutch-process)
1 tsp baking soda
3/4 tsp kosher salt, to taste
Directions:
1. Preheat oven to 350F and line a cupcake pan with cupcake liners. With an electric mixer, beat together the following ingredients in a large bowl (non-dairy milk, oil, sugar, apple cider vinegar, vanilla, almond extract). Beat on medium speed for a minute or two.
2. Now sift in the dry ingredients (flour, cocoa powder, baking soda, and salt). Mix well, until the clumps are gone.
3. Spoon the batter into prepared cupcake pan, about two thirds full for each. Bake for about 22 minutes at 350F, or until the cupcake slowly springs back when pressed with a finger. Allow to completely cool before frosting.
4. LICK THE BOWL!
My Aunt got me hooked on this famous eggless chocolate cake recipe years and years ago! I adapted it only slightly. It always seems to turn out no matter how I make it!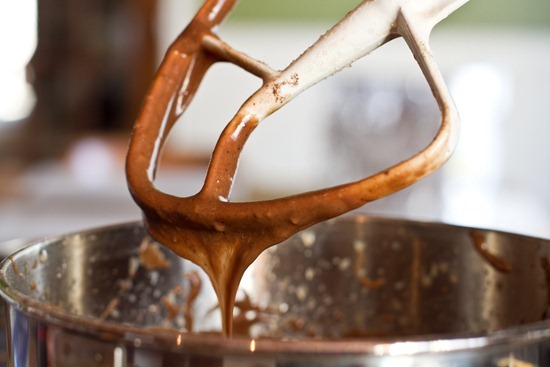 These cupcakes are chocolaty, fluffy, and flavourful with a hint of almond and vanilla.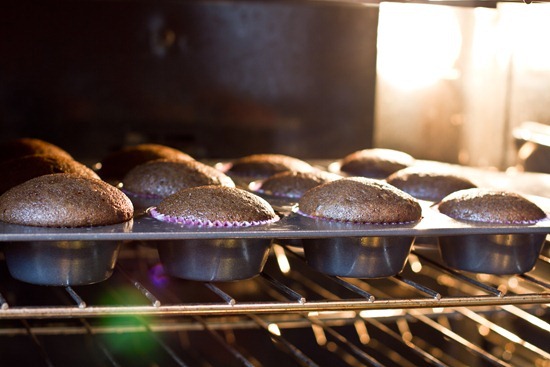 While the cupcakes are cooling, make the frosting.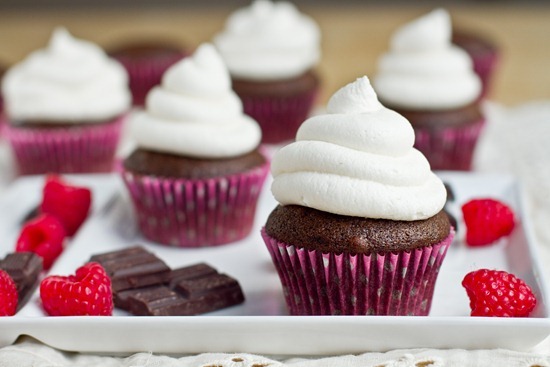 [print_this]
Fluffy Almond 'Buttercream' Frosting
Yield: ~2 cups
Ingredients:
1/2 cup Earth Balance buttery stick or equivalent, room temperature
3 cups icing sugar, sifted (I used organic)
1/2 tsp kosher salt
1 tsp pure almond extract (may sub. other extracts)
1.5-2 tbsp non-dairy milk, to achieve your desired consistency
Note: If making the frosting as shown in the pictures, please double the frosting recipe above.
Directions:
1. In a mixing bowl, beat 1/2 cup of Earth Balance (or equivalent) with an electric mixer. Add in the milk, extract, and salt. Mix. Now gradually add in the sifted icing sugar, starting with 1 cup and mixing slowly until fully combined. I like to use my stand mixer when making frosting because I leave it mixing for about 5-10 minutes until nice and fluffy. Alternatively you can beat the frosting with a handheld mixer, for at least 4-5 minutes. Reserve about 1/2 cup of the frosting if you want to make the raspberry glaze (shown below).
[/print_this]
I thought I would show you how I like to pipe my cupcakes!
My favourite decorating tip in the entire world is the very large Wilton 1A tip, as shown below. It eats small tips for breakfast. And you don't need a coupler either!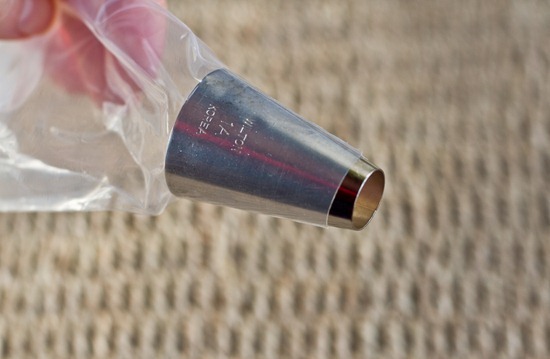 1) To use, simply insert the tip into a pastry bag. Snip off the end of the bag so the tip fits through (as shown above).
2) Now place the pastry bag into a tall glass to hold it up and fold down the sides around the glass (image left).
3) Fill the bag with frosting and carefully twist the end of the bag tightly (image right). Secure the end with a rubber band, if desired.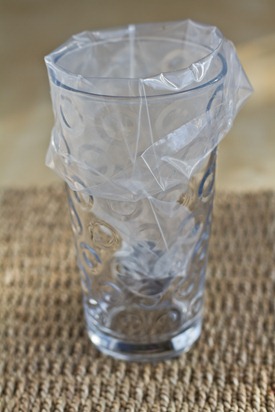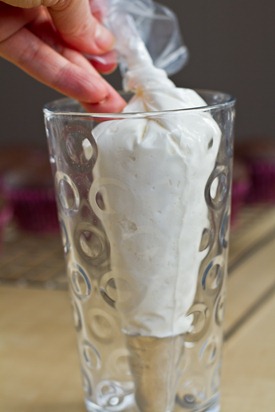 Now you are ready to pipe delicious, fluffy mounds of frosting! Don't be scared, it is easy! You can always do a couple practice trials too and don't worry they don't have to look perfect.
To pipe, start near the centre of the cupcake, squeezing the frosting out evenly working your way up the cupcake in circles. I like to make 3 tiers for an extravagant effect.
This is a great how-to video!
Fluffy clouds of heaven.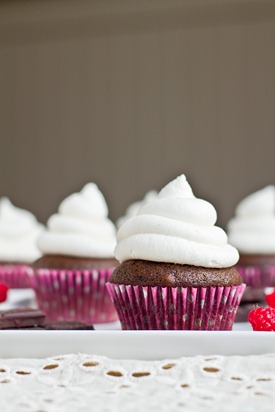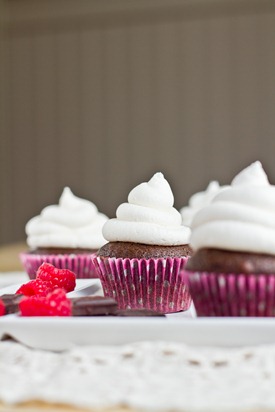 You can stop right there or you can top them with a glaze if you are feeling frisky like I was.
I saved a bit of the frosting (~1/2 cup) and I made a raspberry glaze. I mashed about 5-6 fresh raspberries with a fork and mixed it with the frosting. The raspberries release a bit of water and the frosting thins out into a lovely glaze that you can drip over the cupcakes. It added a lovely hint of raspberry to the cupcakes that paired well with the chocolate and almond flavours!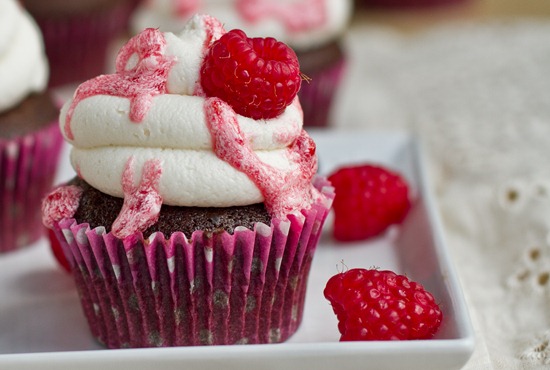 Of course, I was 'forced' to taste-test before giving them to Liz.
I slowly unwrapped the corners of the liner, revealing a chocolaty cupcake…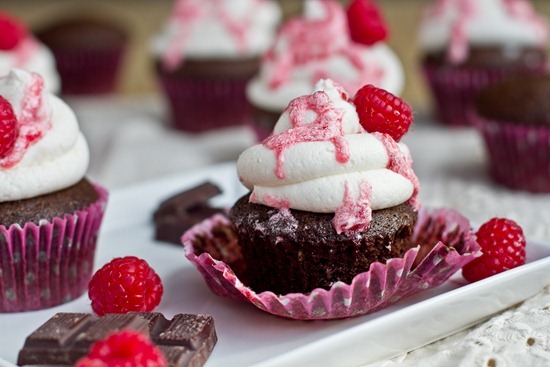 I slid the fork through each layer of fluffy frosting…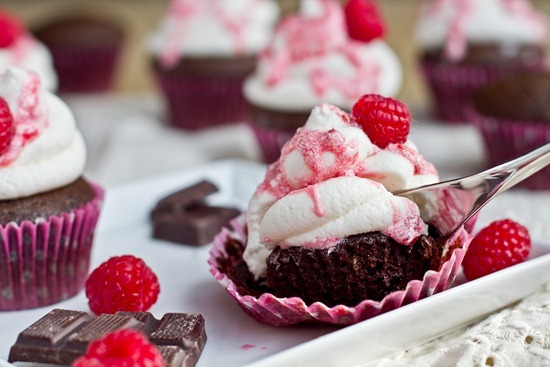 And I devoured every last crumb!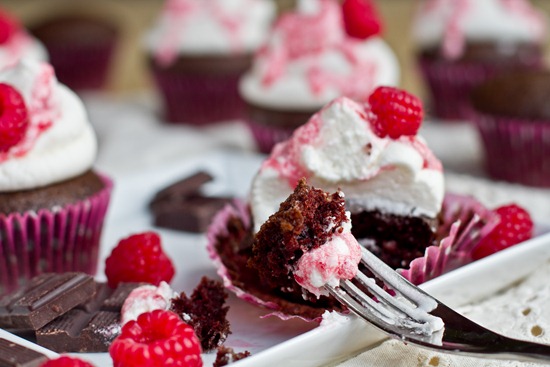 After devouring this cupcake in a blissed out trance, I deemed they were birthday quality, which is sort of a shame because I wanted to keep all of them. I am comforted knowing that tomorrow I will be able to enjoy another at lunch. ;)
Sweet Dreams.