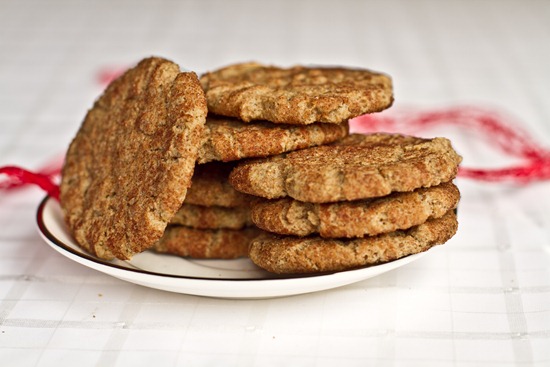 I have always loved Snickerdoodles, but it occurred to me today that I have never made a vegan version before.
A Snickerdoodle is a type of sugar cookie that is rolled in cinnamon sugar and has a beautiful crackled surface. They are often over-looked when it comes to cookies, but I just love their simplicity and short ingredient list.
You can make Snickerdoodles crisp or soft depending on your preference and you can also determine their thickness with an adjustment to the temperature of the dough before cooking. If you bake the dough at room temperature the cookies will be flatter and spread out more, but if you bake the dough when it has been chilled in the fridge the cookies will remain thicker and more pillowy.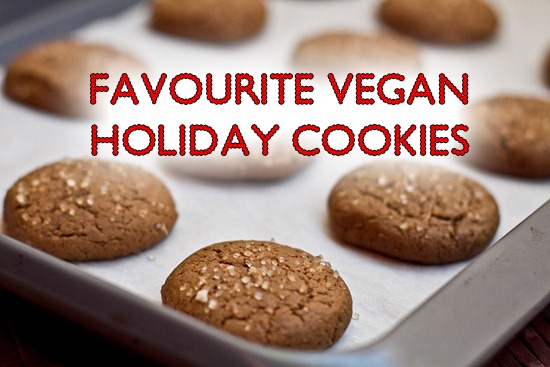 This Vegan Snickerdoodle is the first cookie in my Favourite Vegan Holiday Cookies feature. From now until the end of the holiday season, I will be featuring a new vegan holiday cookie at least once a week. If you have any suggestions for cookies you would like to see, let me know. I won't be able to get to all of them, but I will try to make popular requests! :)
Shall we begin?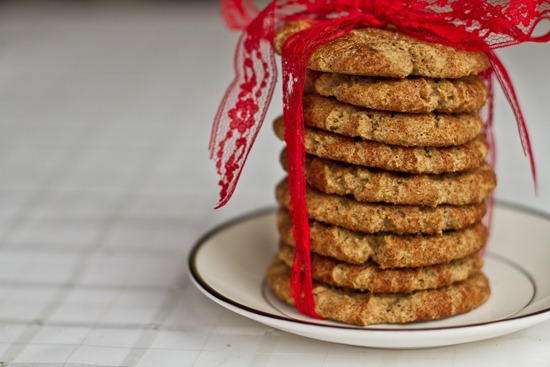 [print_this]
Snickerdoodles
These vegan Snickerdoodles have a crisp edge with a soft centre and they are a breeze to throw together. Instead of all-purpose flour, I amped up the nutrition in these cookies by using whole wheat pastry flour. I also reduced the sugar substantially while still creating a delicious tasting cookie. If you prefer, you can use 1 cup of all-purpose flour for a more classic Snickerdoodle. This recipe makes about 10 cookies, but it can easily be doubled if you'd like a bigger batch.
Inspired by Joy of Baking.
Ingredients:
1 cup whole wheat pastry flour (or all-purpose flour)
1/3 cup + 1 tbsp white sugar
1/4 tsp cream of tartar* (see note)
1/2 tsp baking soda
Pinch of cinnamon
1/2 tsp pure vanilla extract
1/2 flax egg (1/2 tbsp ground flax + 1.5 tbsp warm water)
1/4 cup Earth Balance (or butter)
Cinnamon sugar: 1 tbsp sugar + 1 tsp cinnamon, mixed together
Directions: In a small bowl, mix the 1/2 flax egg. Set aside. In a medium sized bowl cream the sugar, Earth Balance (or butter), and vanilla until incorporated. Add in the flax egg and beat for about 60 seconds. In another bowl, whisk the dry ingredients together (cream of tartar, baking soda, flour, and pinch of cinnamon). Add the dry mixture to the wet mixture and stir well. Use your hands to knead together the dough. Shape the dough into a ball and wrap it in plastic wrap. Place in the fridge for 1 hour.
After 1 hour, preheat the oven to 375F and take about 1.5 tbsp of dough and shape into a ball. Roll in cinnamon sugar and then press the ball with a fork to flatten slightly. Repeat 9 more times to make 10 cookies.
Bake for 10-12 minutes. (If you want chewy cookies bake for 10 minutes and if you want crispy cookies bake for 12 minutes.) Cool for about 10 minutes. Makes 10 cookies.
Note: I have heard that you might be able to get away with substituting the cream of tartar and baking soda with baking powder. However, I have not tested this out myself. If you try this leave a comment and let me know how it worked out.
[/print_this]
There are not many ingredients at all in these cookies! Very easy to throw together.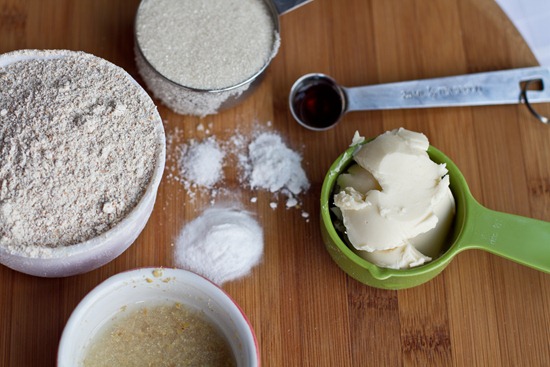 I also made a mini-batch because sometimes you just want a handful of cookies and not enough to feed the entire neighbourhood. ;)
However, you can easily double or triple this recipe should you wish.
Cream together your Earth Balance (or butter), sugar, and vanilla…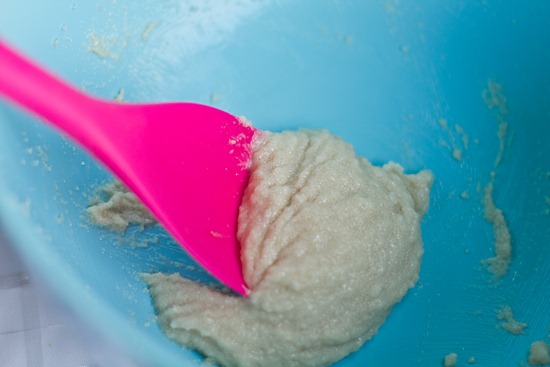 Beat in the 1/2 flax egg…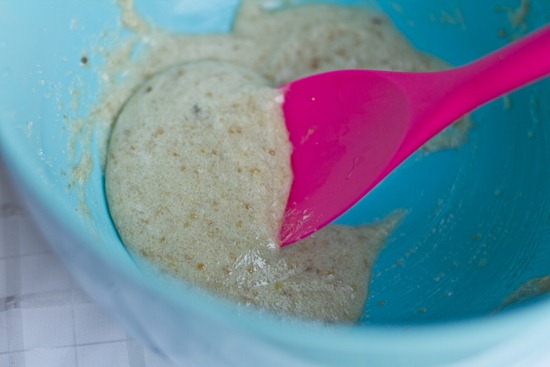 Add dry ingredients…and stir.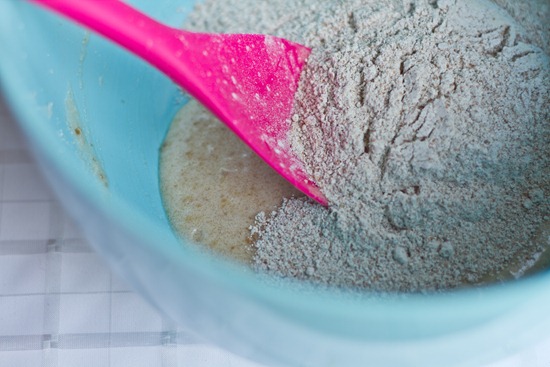 It will look something like this. Now get in there with your hands and squish it all together!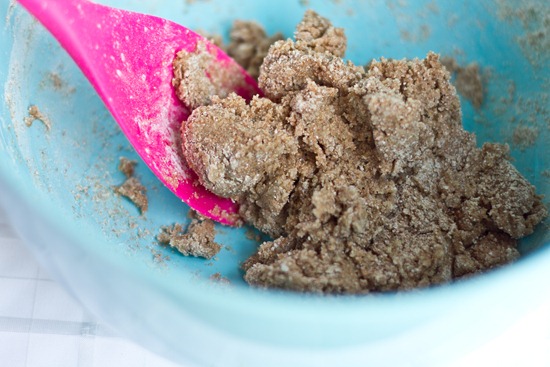 Form a slightly flattened ball and cover with plastic wrap.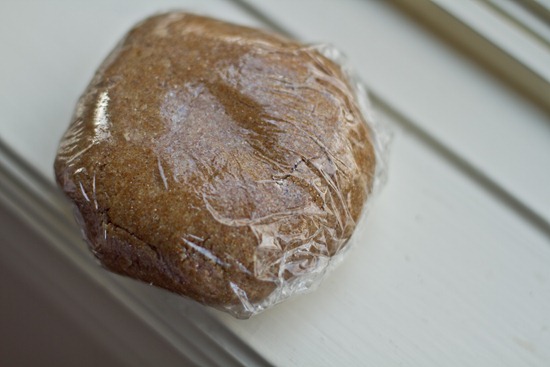 Refrigerate for 1 hour.
Chilling the dough results in a slightly thicker and more pillowy cookie. However, if you don't mind flatter Snickerdoodles you can bake them right away. The cooking time might differ slightly though.
Make your cinnamon sugar.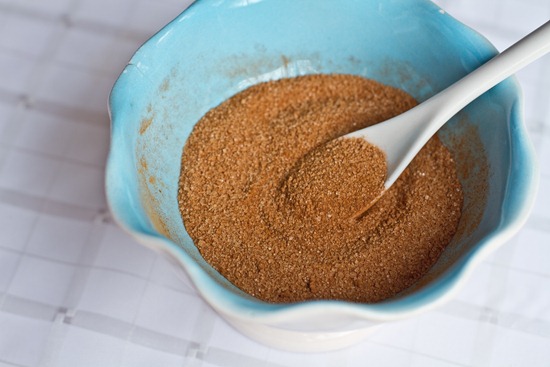 I reduced the sugar a lot in this recipe and I got away with it because I knew the cookies would be rolled in cinnamon sugar. There is no sense in making a super sweet cookie when you will be rolling it in sugar. The result was PERFECT too!!
After chilling, roll into 10 balls.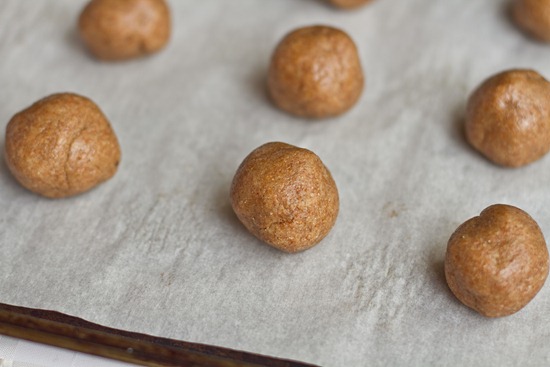 Roll in cinnamon sugar.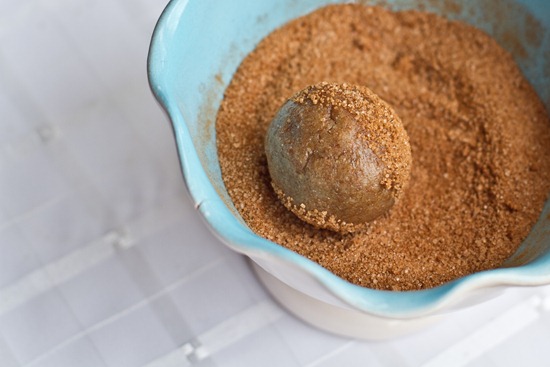 Flatten slightly with a fork.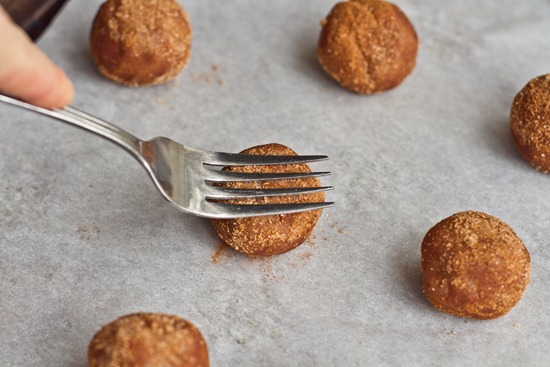 Easy!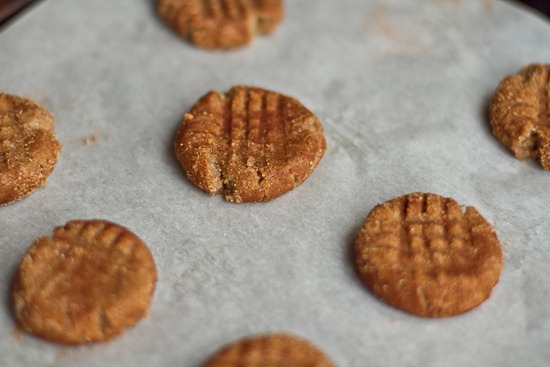 Now bake for 10-12 minutes at 375F. I baked mine for 10.5-11 minutes and the result was a crispy edge and a soft middle.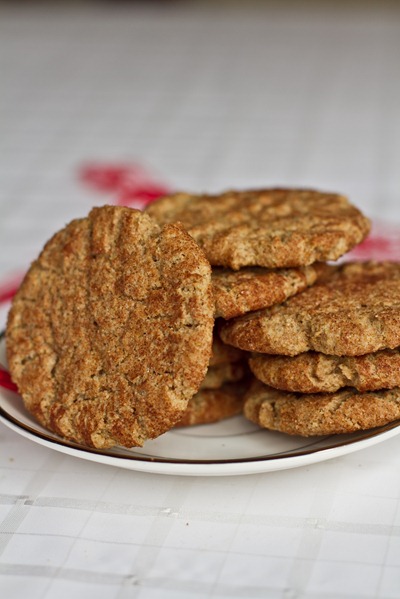 I am in love with the slightly crunchy edge and soft centre and light cinnamon flavour.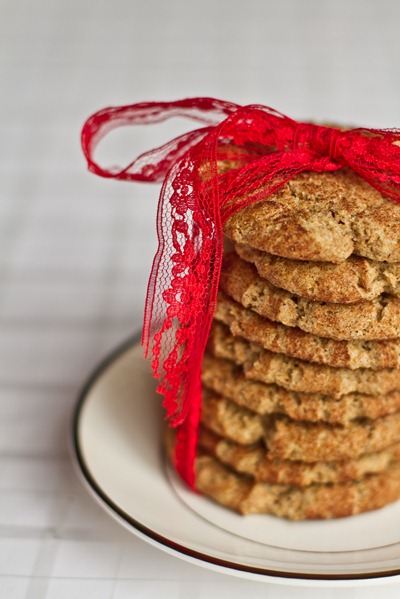 These Snickerdoodles are definitely in my top 5 cookies of all time!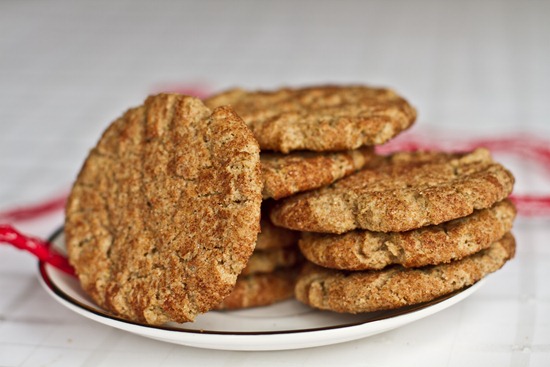 What are your favourite holiday cookies?