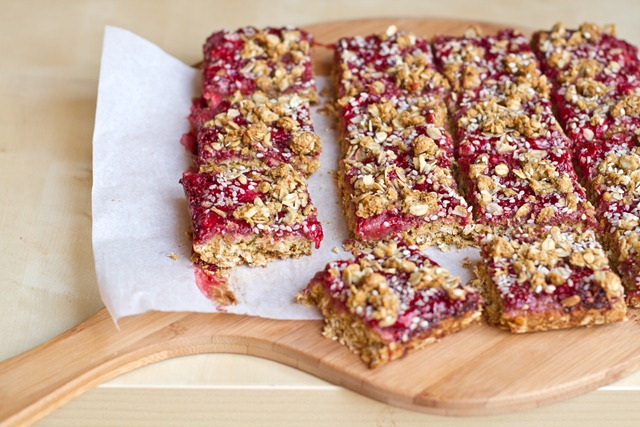 I wouldn't call myself a procrastinator in most areas of my life, with the exception of a few things such as business taxes, receipt entering, and organizing my Recipes page. I usually accomplish my tasks before they are 'due' without feeling in a panic and I also like to arrive early for meetings, appointments, and dates. Yesterday, my Project Food Blog entry was almost finished by mid-afternoon, save for a few last minute edits. It wasn't due until 6pm, so I had time on my side. I started working on other things and all of a sudden it was 5:40pm. Eric said, worried, 'Aren't you going to upload your post?'
I figured I still had quite a bit of time left so I kept working on things. At 5:45pm and I hit publish, thinking nothing of it.
And that is when I realized that our internet connection was dead.
Stay calm.
Luckily, after a few minutes the internet started to work again! I thought all was fine and dandy and I hit publish again. Painful minute after painful minute passed and it still had not uploaded. We have a very slow internet connection and I was convinced that Live Writer was going to time out on me. Finally, it posted at 5:58pm and I submitted the post in my Foodbuzz profile. I was just under the wire by mere seconds.
Moral of the story: Never put your faith in technology. It will go wonky at the last second and your blood pressure will go through the roof.
If this stress-inducing episode occurs, you can comfort yourself by making oat squares, with a healthy twist. I had strawberries leftover from the dessert pizza I made on the weekend, but you could also use pre-made jam too.
Or just eat Peanut Butter Chocolate Ganache and call it a day. Both methods are completely acceptable.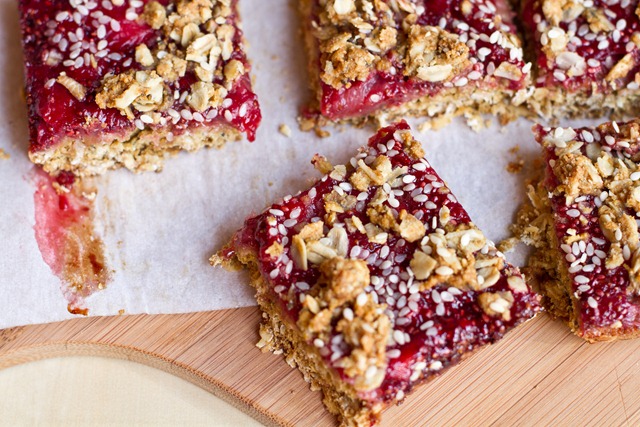 Healthy Strawberry Oat Squares with Homemade Jam
Ever since I was a young girl, I have loved strawberry oat bars and I would often have Strawberry nutrigrain bars in my lunches. While these squares aren't a nutri-grain bar, the taste is similar. I have made this popular square much healthier, cutting the sugar and butter by half, and of course, it is vegan too. I hope you enjoy them as much as I do. You won't be able to stop at just one. Or three!
Adapted from Food.com.
Ingredients:
For Oat Base:
1.5 cups regular oats
1 cup whole-grain Kamut flour (or mix of white and whole wheat)
1/2 tsp baking soda
1/2 tsp sea salt
1/2 cup Sucanat sugar (or brown sugar)
1 chia egg (1 tbsp chia seeds+ 4 tbsp warm water, mixed)
1/2 cup + 2 tbsp Earth Balance, melted
1/4 cup pure maple syrup
2 tbsp almond milk
1 tbsp sesame seeds (for topping only)
For Strawberry chia seed Jam:
Ingredients:
2 & 1/4 cups chopped strawberries, finely chopped into 1/4 inch pieces OR approx 1 cup pre-made jam
3-4 tbsp sugar, to taste (liquid or dry sweeteners will work)
1-2 tbsp chia seeds
1 teaspoon pure vanilla extract
Directions: Preheat oven to 350F. Line a square pan (I used a 9×9) with parchment paper and oil the sides of the pan and base.
For the jam: In a medium sized pot, add the chopped strawberries and sugar. Heat over medium until the strawberries begin to sweat and it gets a bit watery. Once it cooks down a bit, add in the chia seeds, and stir well. Bring to a low boil and then simmer over low to medium heat for at least 10-15 minutes. Once it has thickened a bit, remove from heat, stir in the vanilla, and cool for 15-30 mins (you can pop it in the fridge or freezer to cool quicker). I like to add the mixture to a mini food processor and process it until mostly smooth.
In a small bowl, mix the chia or flax egg and set aside. In a large bowl, mix the oat base dry ingredients: oats, flour, Sucanat/brown sugar, baking soda, salt. In a small bowl, mix the melted earth balance, maple syrup, almond milk, and chia egg. Stir well. Add the wet mixture to the dry and mix well, using hands if necessary. Set aside 1/2 cup of the dough for the topping. Pour the oat mixture onto the square pan and press down with fingers. Use a pastry roller to smooth out if desired. Pour on strawberry mixture and smooth out. Now sprinkle on the reserved 1/2 cup oat mixture and sprinkle on. Now sprinkle on 1 tbsp of sesame seeds or coconut. Bake at 350F for approximately 30 minutes. Allow to fully cool for at least 30-40 minutes before gently removing from pan. Slice and then store in a container in the fridge to keep firm.
In my first attempt at making the strawberry 'jam' I added in a tablespoon of cornstarch after about 10 minutes of cooking. I was left with clumpy white bits of cornstarch throughout. Flop #1. I think I should have thinned it out with a bit of water first.
Second batch: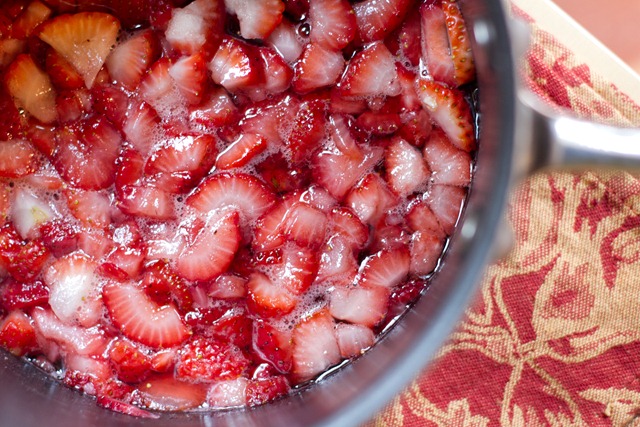 For the second batch of jam, I thickened it up with chia seeds! Arrowroot powder might work well too.
Spread your delicious crumbly mixture into the pan: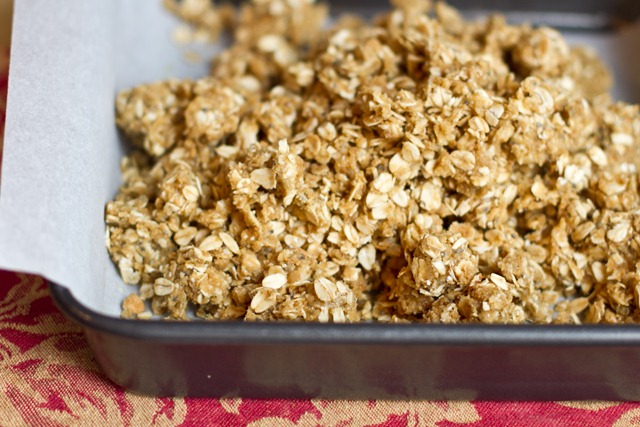 Roll it out if you are obsessed with your Dollarstore pastry roller like I am.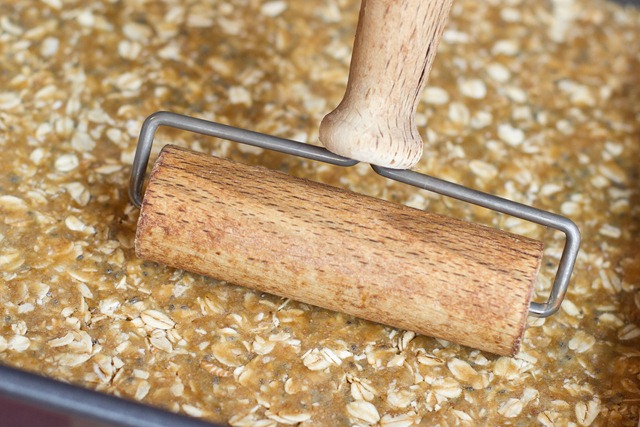 Mmmm. Smooth and lovely.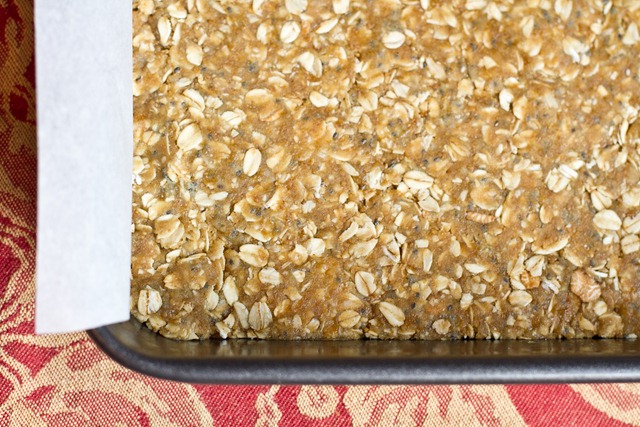 Spread on your cooled jam: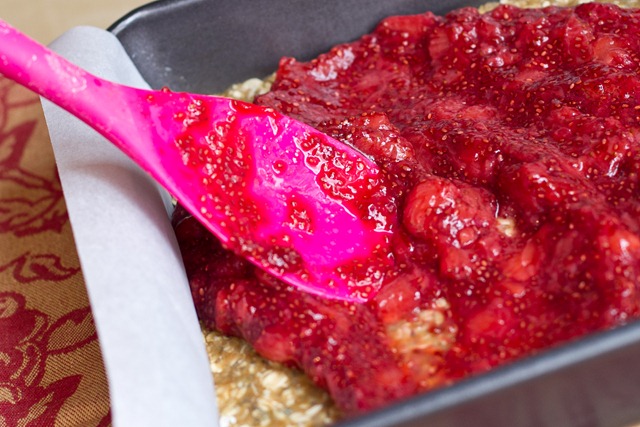 crumble on the oat mixture that you set aside…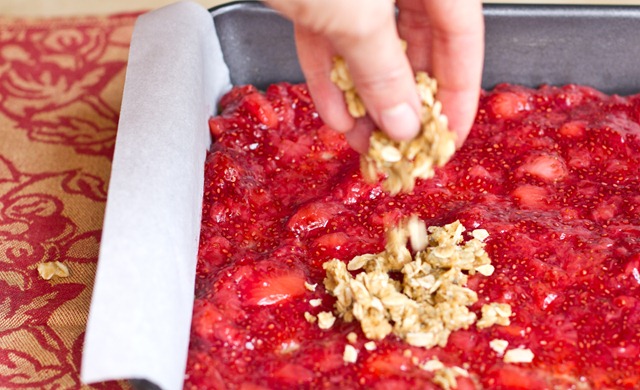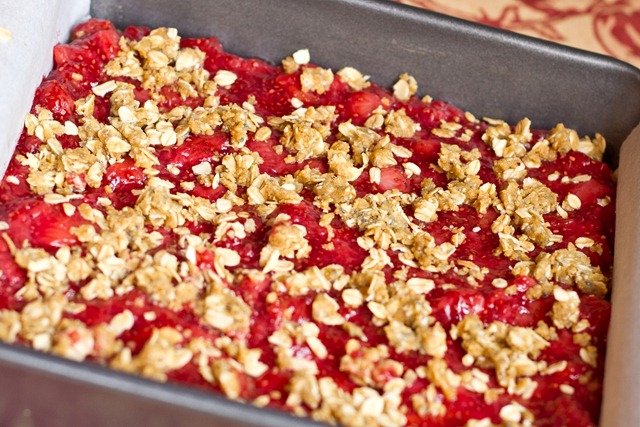 Sprinkle on sesame seeds or coconut to make it really pop.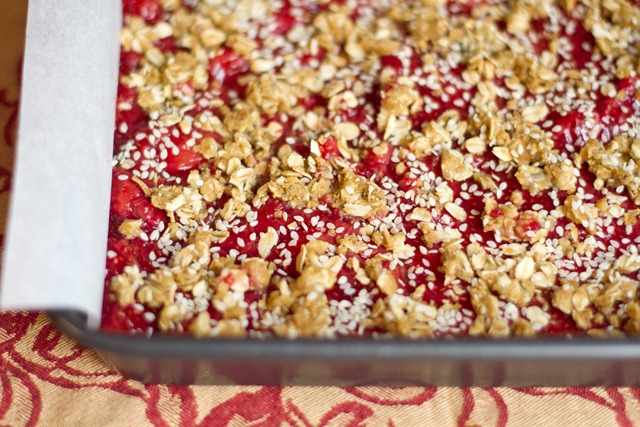 Bake for about 30 minutes at 350F.
That's what I'm talking about.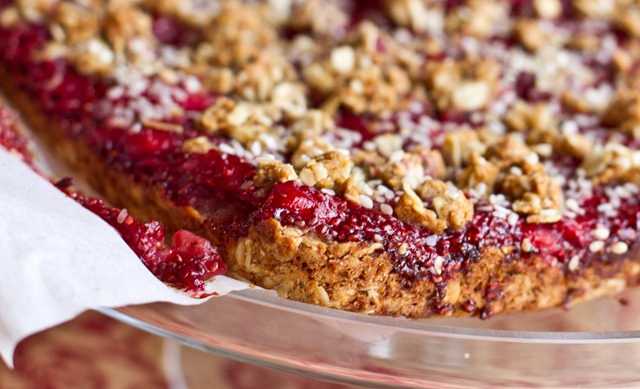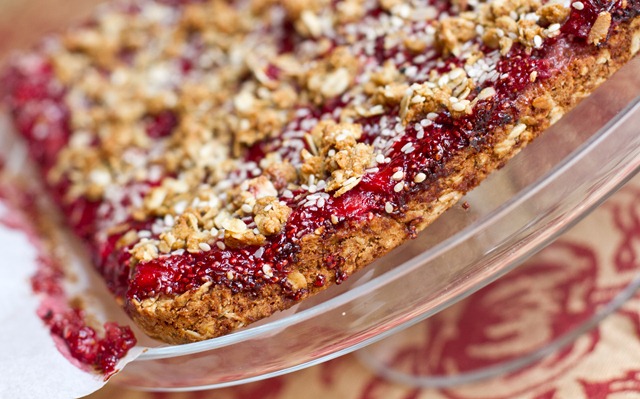 Slice into 16 squares.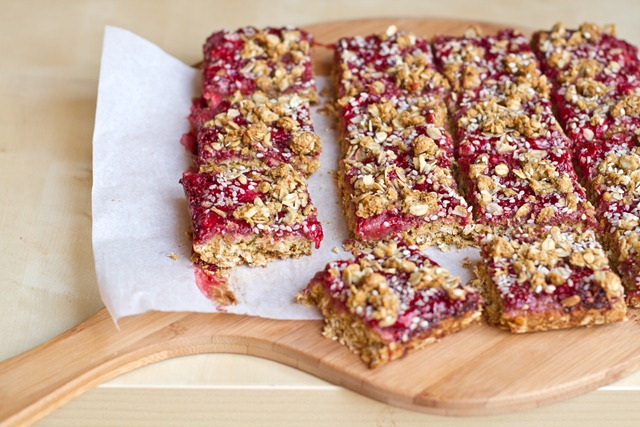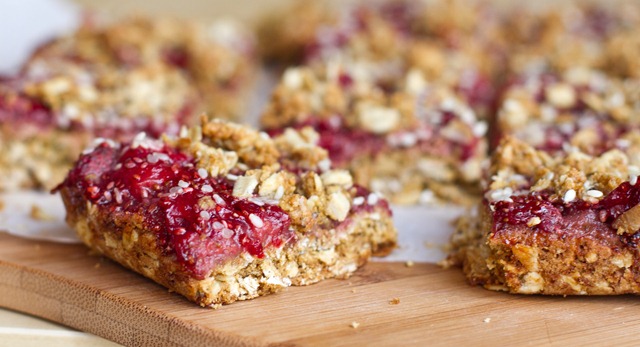 or you can make bars and wrap them up for lunch!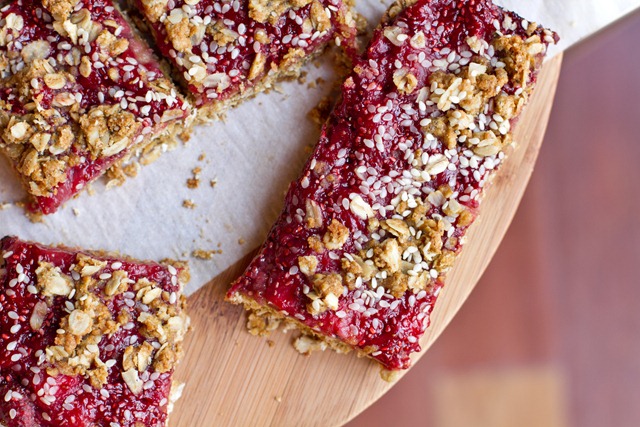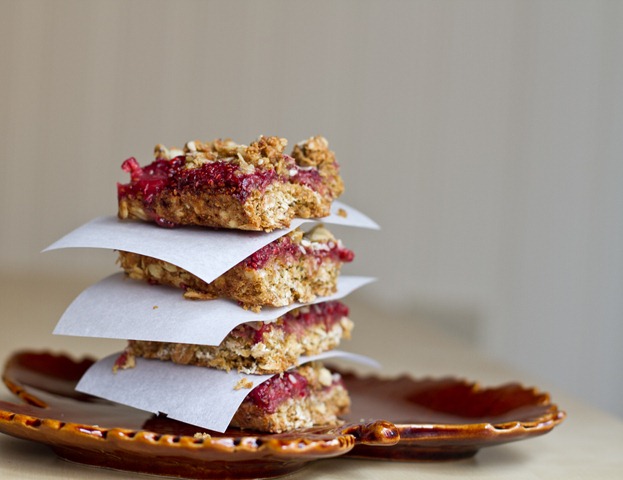 You will not be able to eat just one. Three if you are lucky. I had to shove these into the freezer asap. ;)
They are delicious.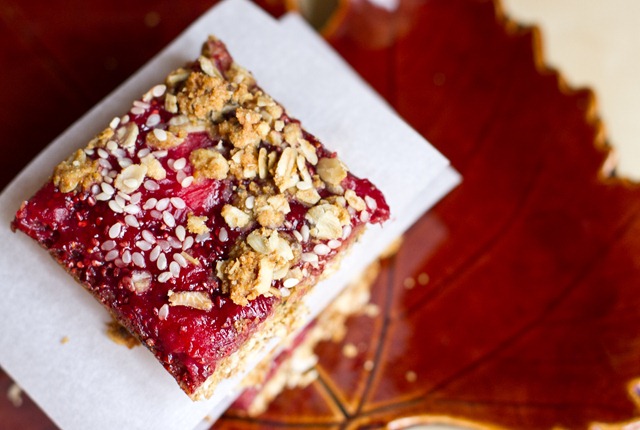 I'm thinking you could have a lot of fun with this recipe. More fun than should be legal perhaps. You could try making blueberry, raspberry, or even peach jam! I am getting excited just thinking about the possibilities…
Update: A comment below suggested making these with pumpkin butter! That would be wickedly delicious and seasonally appropriate to boot.