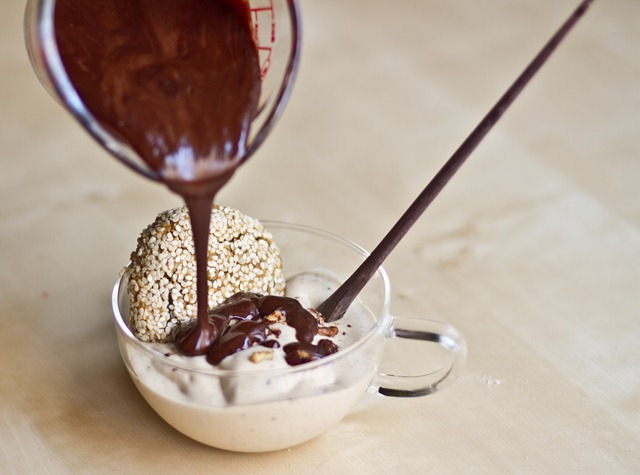 When I found out yesterday that I received Reader's Choice for Challenge #4 of Project Food Blog, I almost fell off my chair. Thank you all so much for taking the time to vote for me!!! I am really going to have to think of something damn good for Reader Appreciation day on Oct 31st! ;)
When I want to show someone that I appreciate them, I bake them up a delicious vegan dessert. Now, I'm not too sure how chocolate ganache ships, but I figure sharing the recipe with you is the next best thing.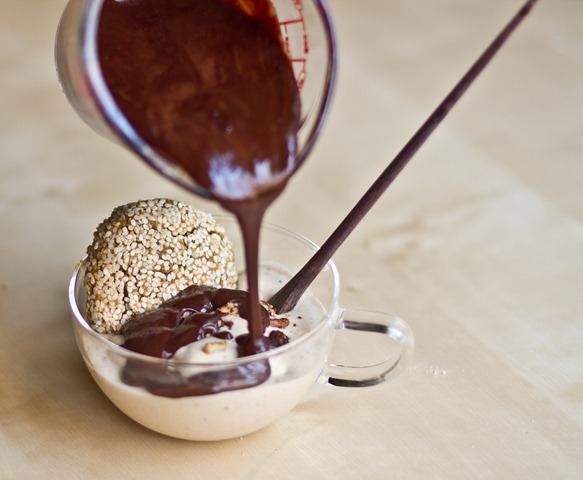 Making Vegan Peanut Butter Ganache is actually very easy and only take a few minutes to whip up!
Grab the following ingredients: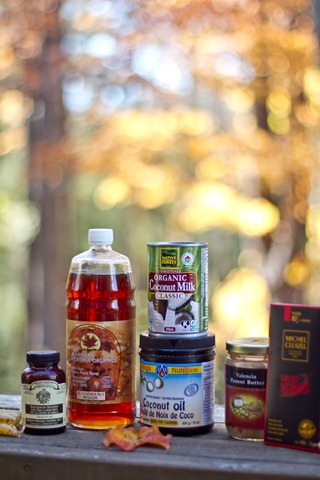 That would be: Vanilla bean paste or pure vanilla extract, pure maple syrup, full-fat coconut milk, non-hydrogenated coconut oil, smooth peanut butter, sea salt (not shown), and good quality dark chocolate.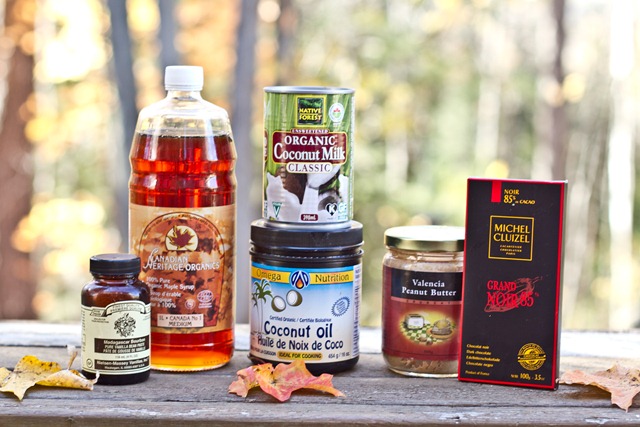 Using a high quality dark chocolate will bring your Ganache from so-so to outstanding.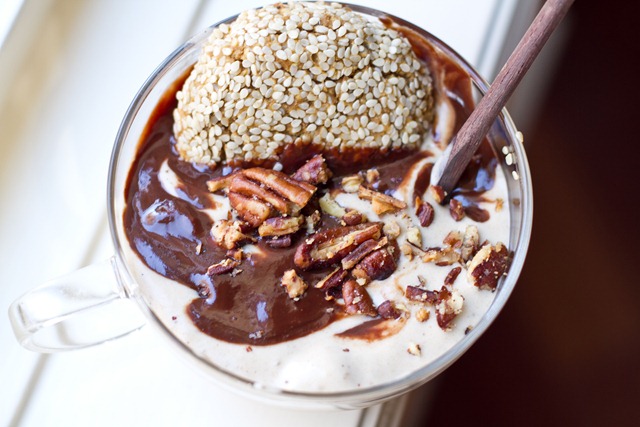 Vegan Peanut Butter Ganache with Peanut Butter Soft Serve Sundae
Ingredients:
1/2 cup high quality dark chocolate
1-1.5 tbsp maple syrup
3 tbsp smooth peanut butter
6-7 tbsp coconut milk (not low fat!), or more to thin as desired
1 tbsp coconut oil
1/2 tsp vanilla bean paste or 1 tsp vanilla extract
pinch sea salt
Directions: In a medium sized pot over low-medium heat, add chocolate and oil and stir well until melted. Be sure not to overheat and burn. Now add in all ingredients and stir well. Adjust ingredients to taste. Add more syrup or coconut milk to sweeten or to thin out as desired. You can customize it to how you prefer your ganache. If this is for cupcakes, you probably want it more thick, whereas if it is for chocolate sauce on ice cream you will probably want it thinner to pour it out. Heat on low for a couple minutes and stir well until consistency is achieved. Pour over Peanut Butter Soft Serve (below). Makes just over 1/2 cup.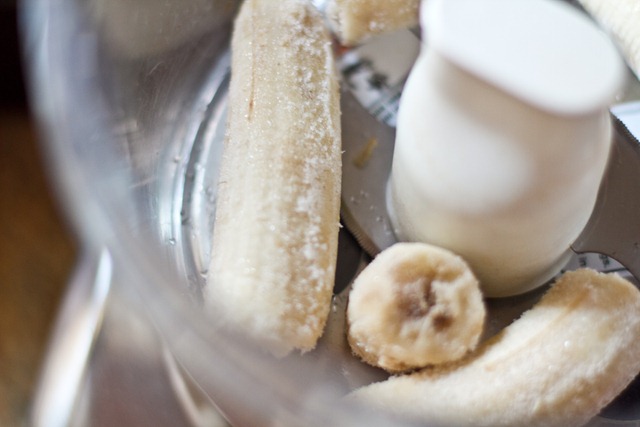 Peanut Butter Banana Soft Serve
Adapted from Banana Soft Serve.
Ingredients:
2 frozen bananas
2 tbsp peanut butter
1/2 tsp vanilla bean paste or vanilla extract
Directions: Process all ingredients until smooth scraping sides of the food processor as necessary.
The troops: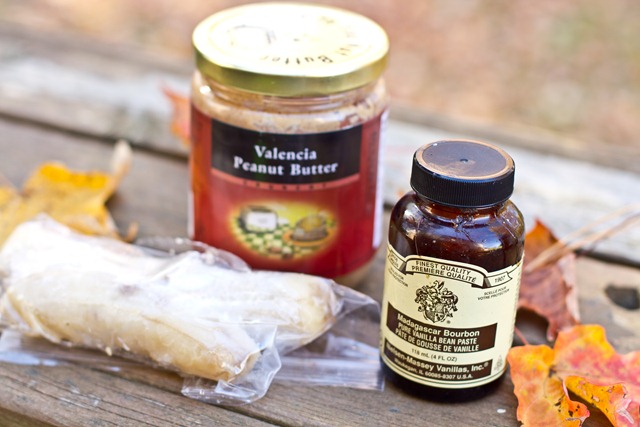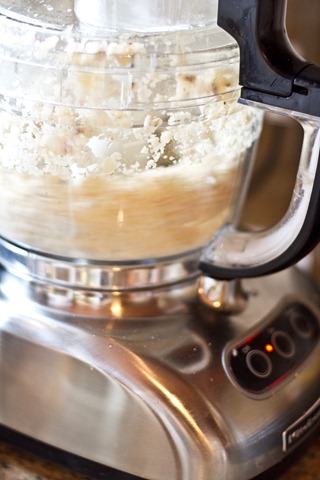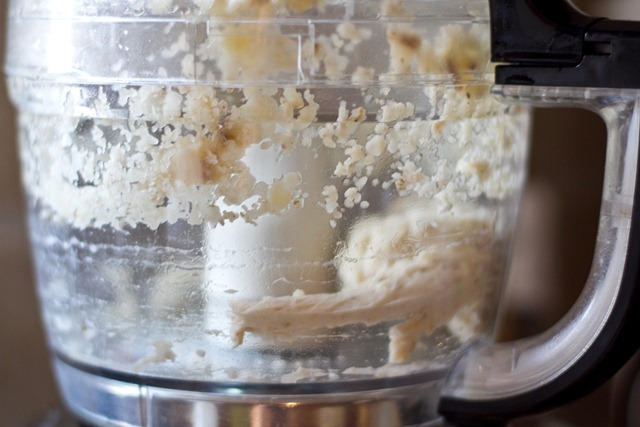 Wheeeeeeee. (That is what the frozen banana and PB is screaming in there.)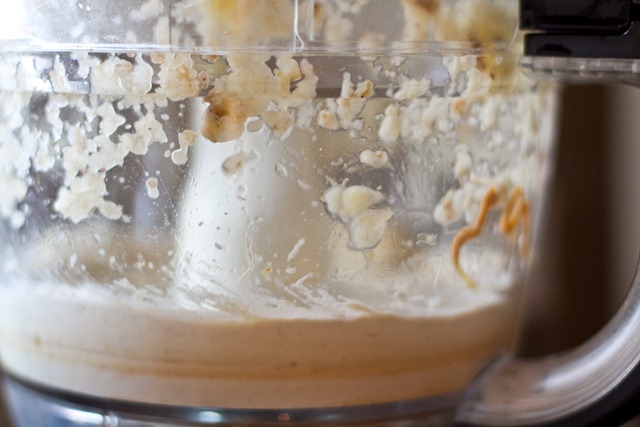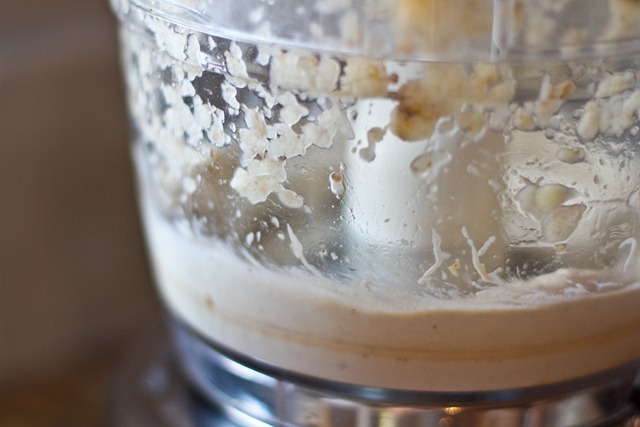 Mark my words, I will never miss ice cream again. Ever.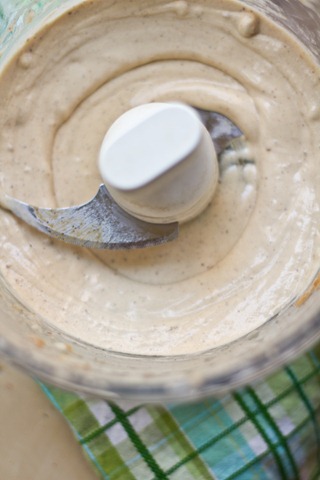 Adding in the vanilla bean paste made this really pop.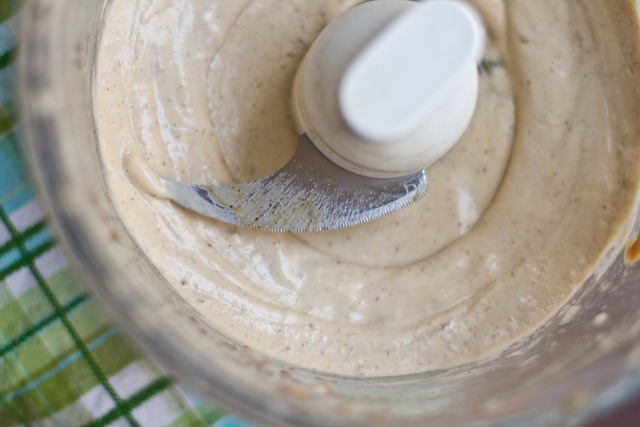 Now the fun part!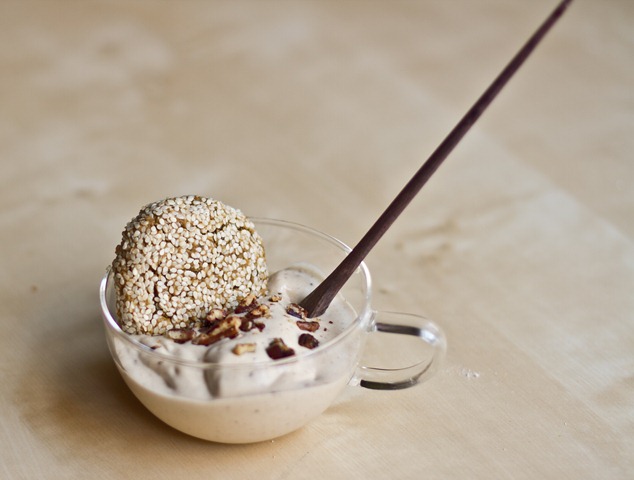 Grab your desired amount of PB Soft Serve and add on some toasted pecans and a Power Me Up Pumpkin Sesame Cookie. We need to make this a FALL dessert after all, right? ;)
Now pour on your warm PB Ganache….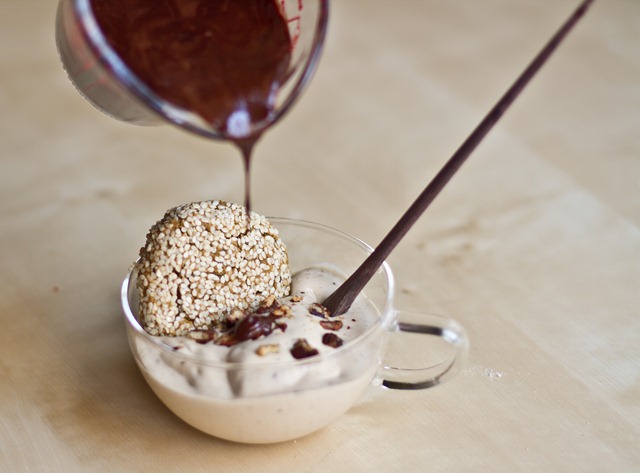 Oh dear me.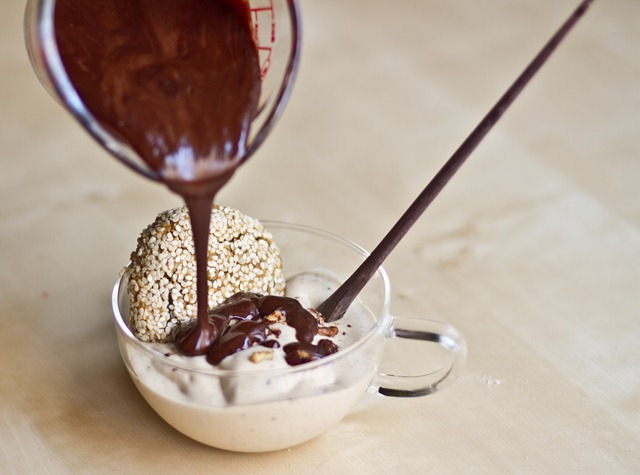 I'm really having fun at this point.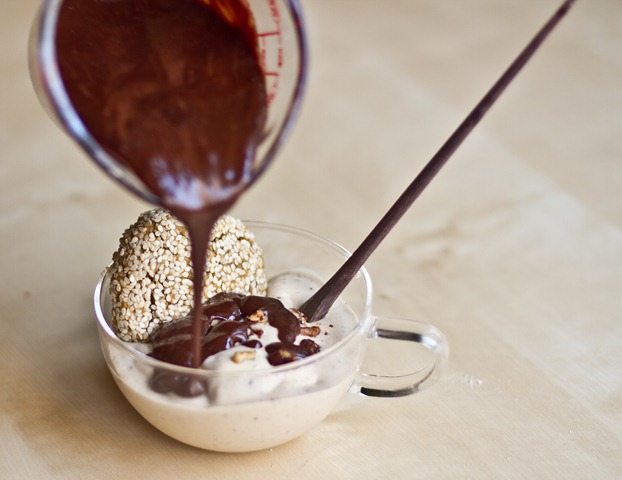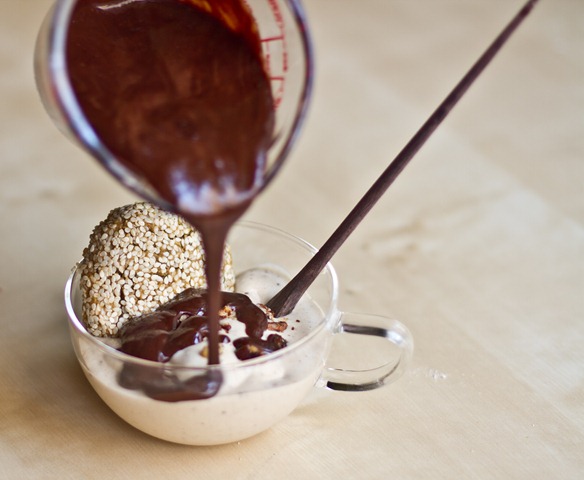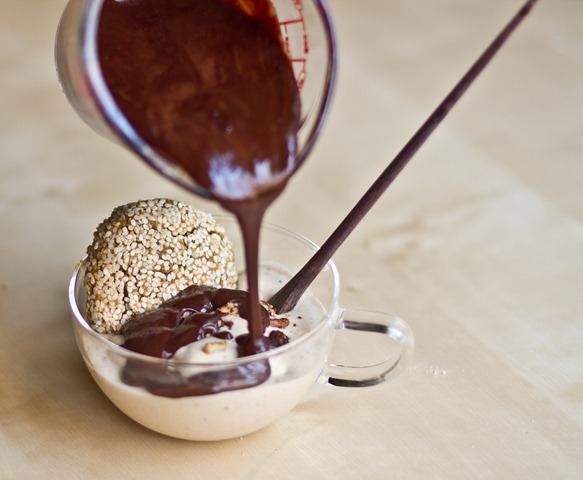 I went a little crazy. It is not easy to pour ganache and snap pictures at the same time!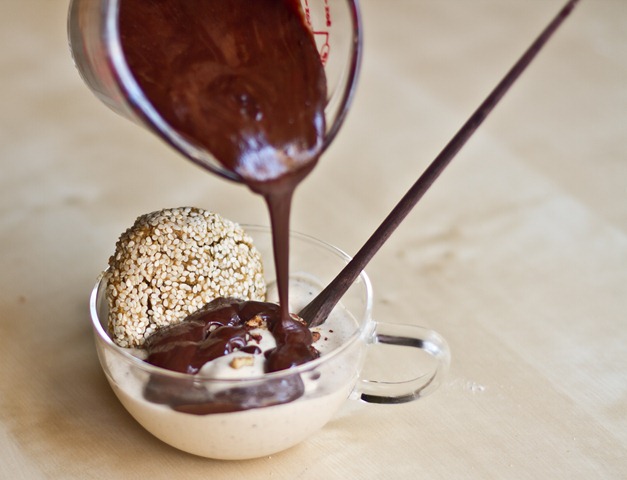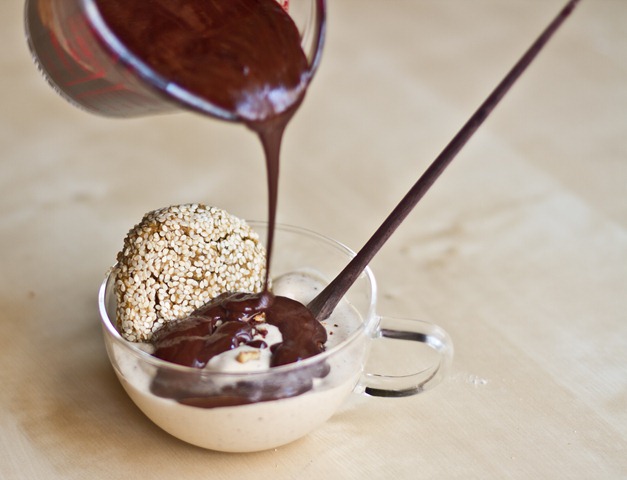 That'll do.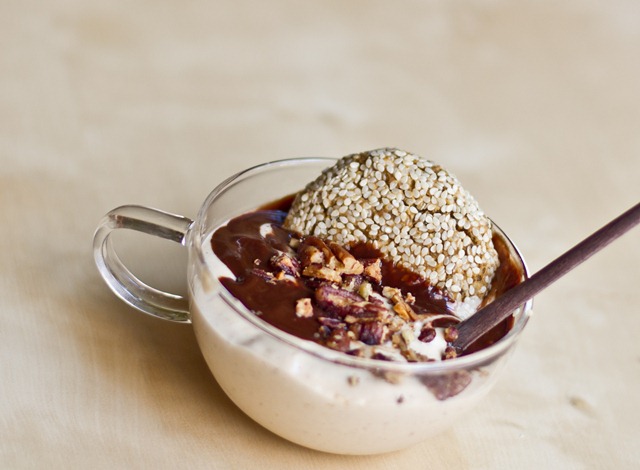 And dip.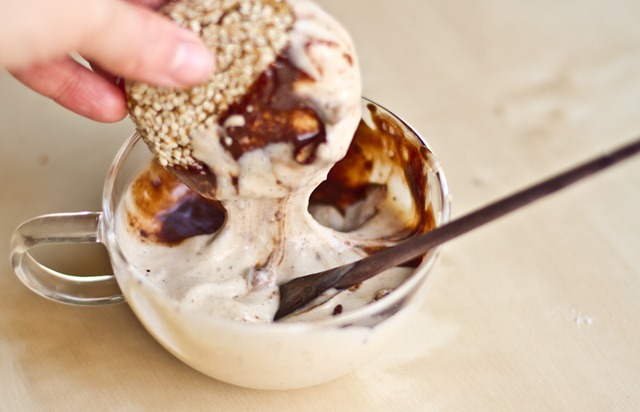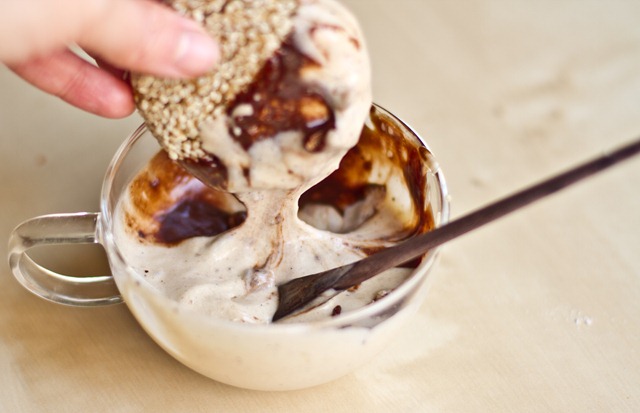 These cookies were just brought to a whole new level. ;)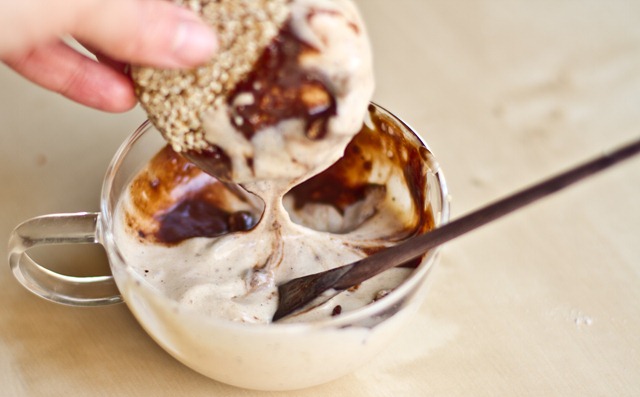 It was pretty much mind blowing.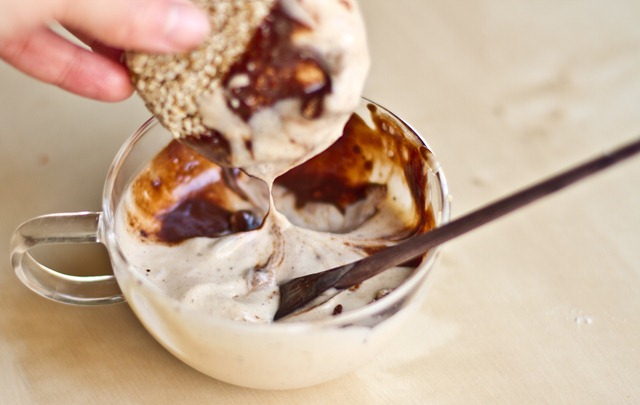 Now go make yourself a bowl, kick-back, and relax. It is the weekend after all.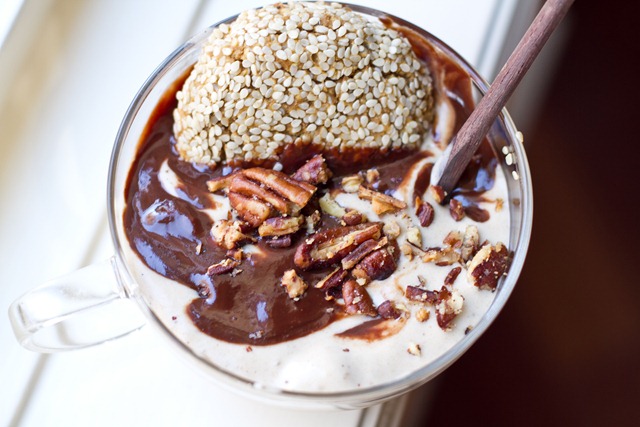 So about Challenge #5, which is due tomorrow…
The bad news:
I went through about 10 pizza dough flops last night. I also have flour in nooks and crannies that I may never find.
The good news:
I finally nailed my pizza this afternoon. It was worth every second when I saw it come out of the oven and tasted it for lunch. I don't think I have ever been so excited to share something on the blog! Stay tuned for my Challenge #5 post tomorrow afternoon. :)
Now go make yourself some Peanut Butter Ganache.