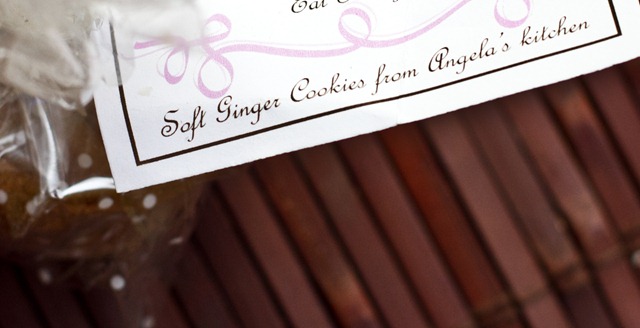 Two weeks before we got hitched, I made 375 Soft Ginger Cookies.
For some crazy idea unbeknownst to me, I decided that I was going to bake all of our guests delicious wedding favours as a token of our appreciation for their attendance.
How hard could it be, right?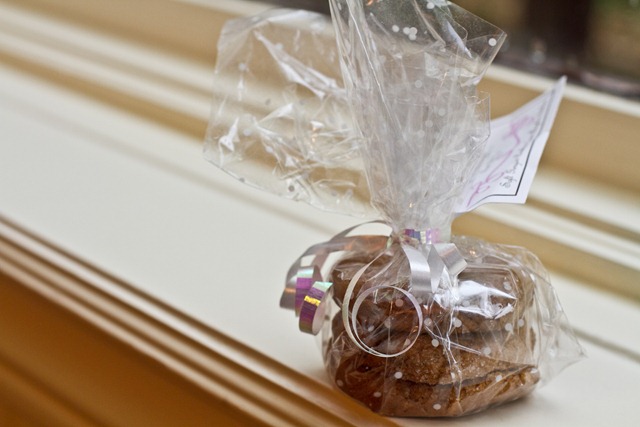 [Is it creepy that I saved two of these favours and I still have them 2 years later!?]
Don't answer that. ;)
Amazingly, I finished the favours just in the nick of time with special thanks to my 'Little Elves' who worked tirelessly wrapping and labelling the cookies…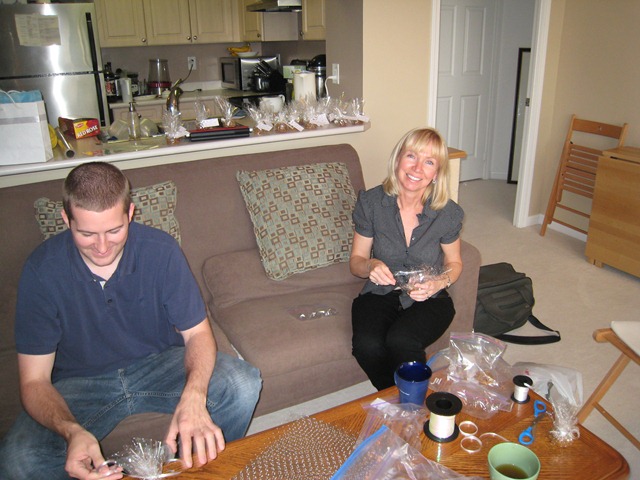 The girls and I tended to more important things, like getting our hands and feet polished for the big day…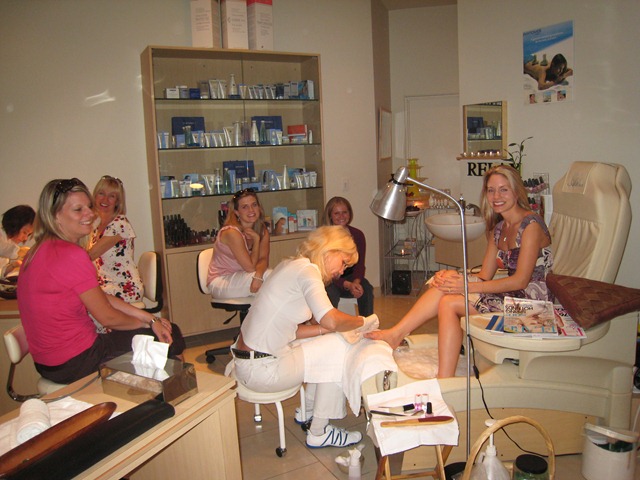 …getting our hair buffed…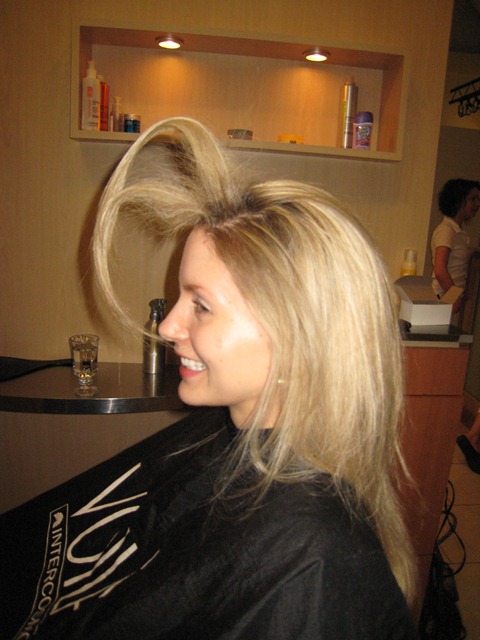 And curled into a coif…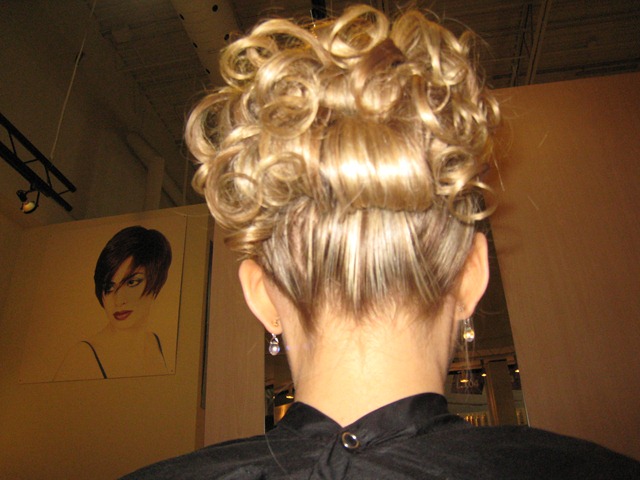 …celebrating on the town…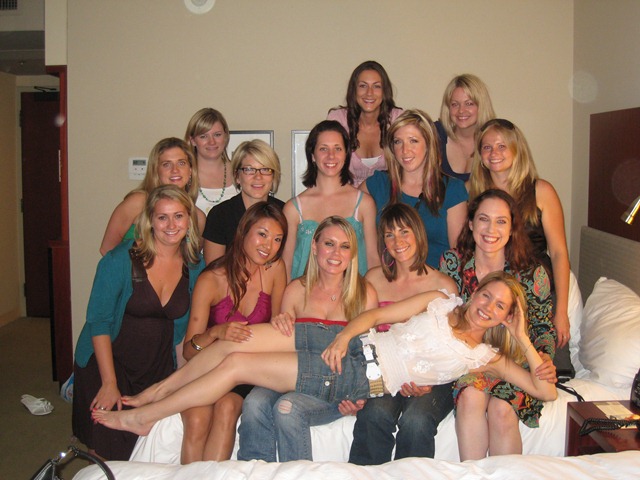 And trying not to get too confused at the wedding rehearsal…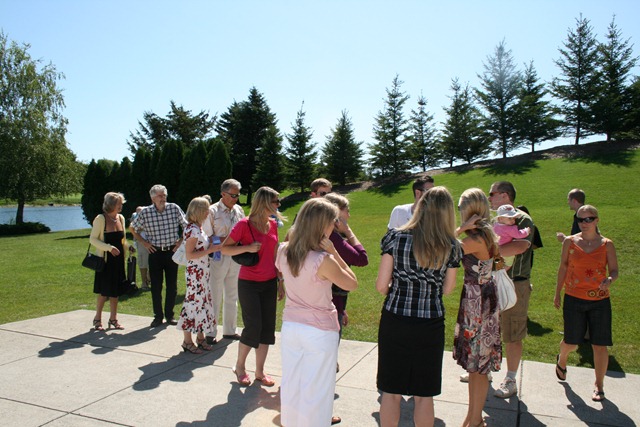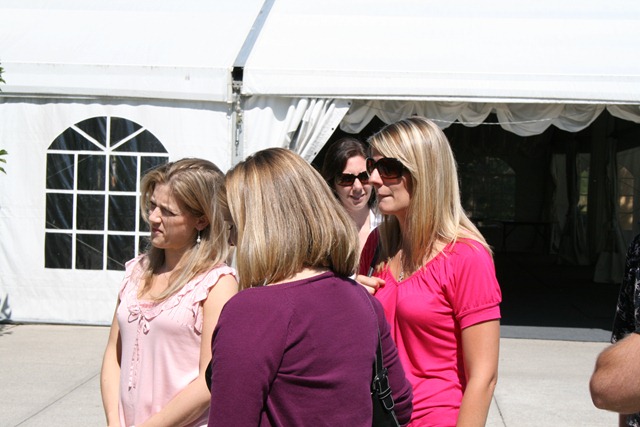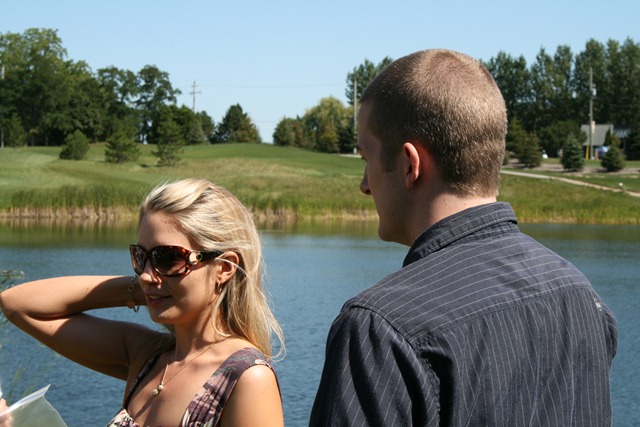 Not long after our entrance into the reception ballroom, I realized that many of our guests had already dug into the cookies and polished off every last crumb! [I swear we didn't deprive them of appetizers either!]
These were just some darn good cookies.
Our guests went a little crazy over them…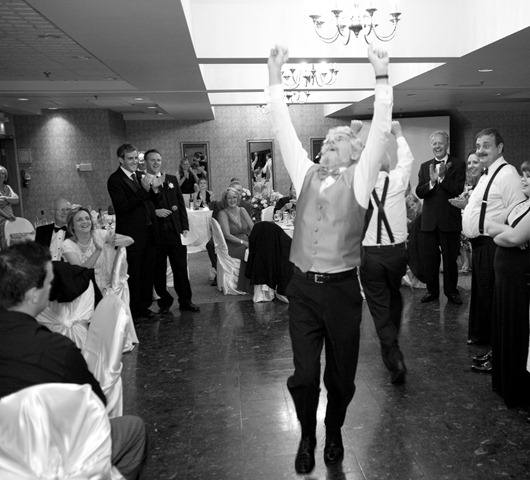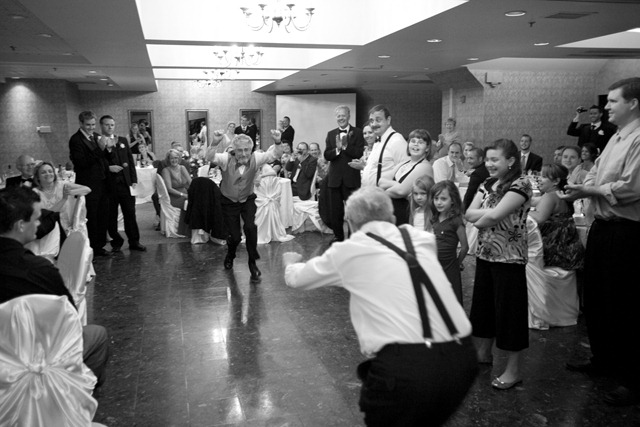 As did the boys…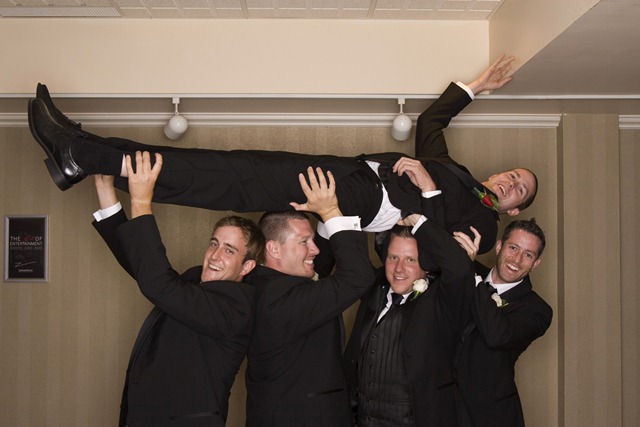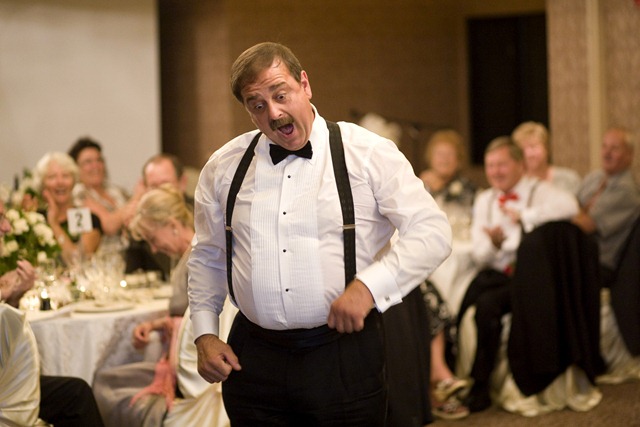 [However, that could have been the wine talking, I can't be sure.]
Eric's Uncle Steve came up to me during the reception and told me something I will never forget:
"Angela, I didn't think I would ever say this, but these Ginger Cookies are better than my mother's ginger cookies that I grew up eating my whole life…'
Again, that could have been the wine talking.
All I remember thinking is, 'Ohhh, yo mama gonna whip yo ass.'
[print_this]
Wedded Bliss Soft Ginger Cookies
I adapted these soft and moist ginger cookies to make them vegan and they turned out even better than I remember. They also freeze wonderfully. I carefully froze the cookies in plastic wrap + ziplock bags (double wrapped) leading up to the wedding and they were as fresh as ever on the big day!
Ingredients:
1/2 cup + 2 tbsp Earth Balance buttery stick
1/2 cup organic white sugar
1/4 cup blackstrap molasses
1/4 cup pure maple syrup
1 tsp pure vanilla extract
Flax or chia egg (1 tsp ground chia or flax + 4 tbsp almond milk)
1/2 tsp Himalayan sea salt
1 tsp ground cinnamon
2 tsp ground ginger
1/2 tsp ground cloves (optional)
1 tsp baking soda
2.5 cups all-purpose flour* (see note below)
Turbinado sugar, for garnish
Directions: Preheat oven to 350F. Line 2 baking sheets with parchment paper or grease with butter. Mix flax or chia egg in small bowl and set aside. In a large bowl, beat together the Earth Balance and sugar until combined. Now add the molasses, maple syrup, flax/chia egg, and vanilla and beat for another 60 seconds or so. In a medium sized bowl sift together the dry ingredients (flour, baking soda, ginger, cinnamon, sea salt, optional cloves). Slowly add the dry ingredients to the wet while beating with a mixer to combine. Beat until smooth and mixed well, about 20-30 seconds. With slightly wet hands, shape the dough into 1-1.5 inch balls and place 2 inches apart on the cookie sheet. Carefully flatten ball slightly with hand and sprinkle with turbinado sugar. If making 1 inch balls, bake for no longer than 10 minutes at 350F. If making larger cookies, bake for 11-12 minutes. Cookies will slightly firm up after removing from oven. Makes 26 small cookies.
Note: I tested the cookies with an equal mixture of whole wheat and white flours (1.25 cups each) and the all white flour cookies were by far the best tasting. The whole wheat version cookies were a bit tough and I would not suggest using whole wheat flour.
[/print_this]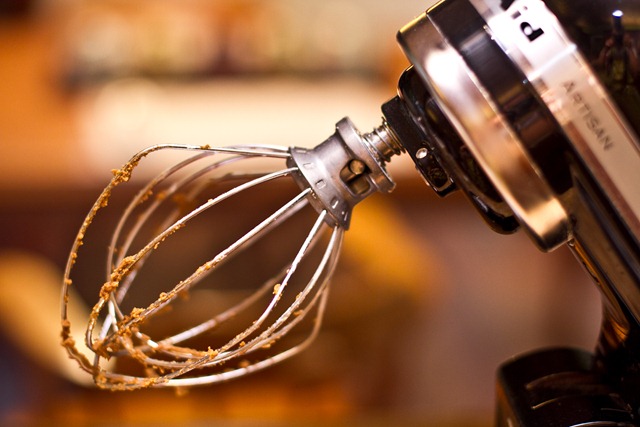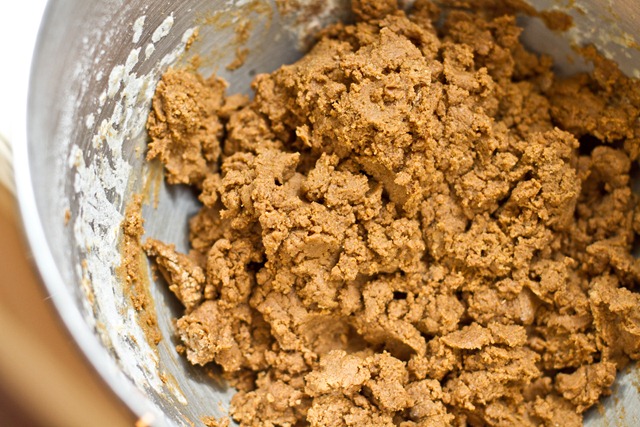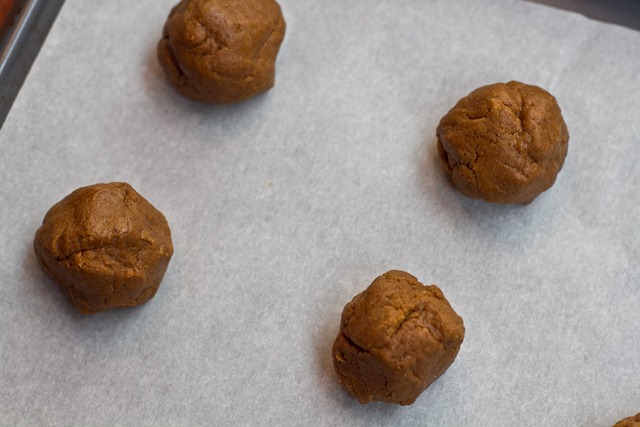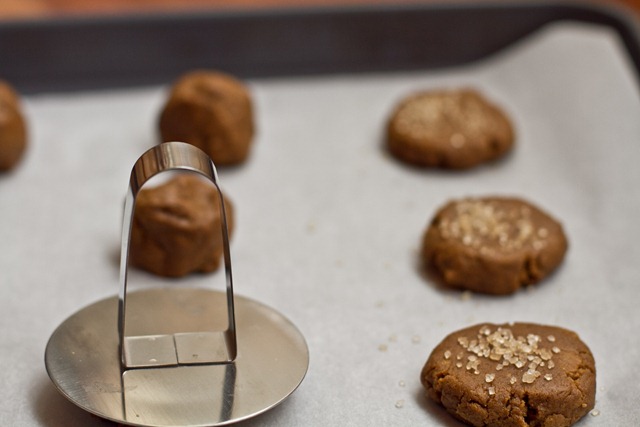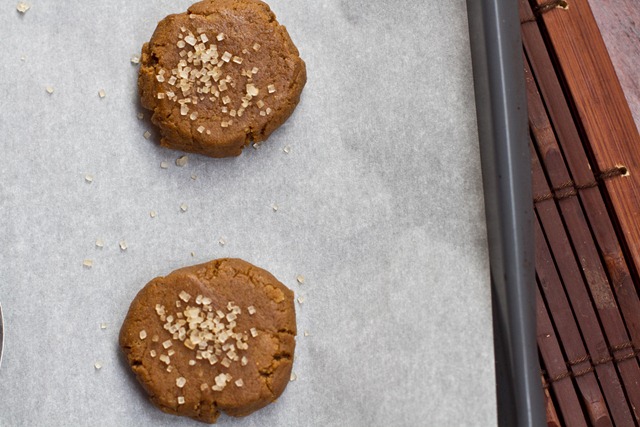 The first batch I made last night turned out ok, but not perfect. They were cracked and not as moist as I wanted them to be…I knew another trial was necessary.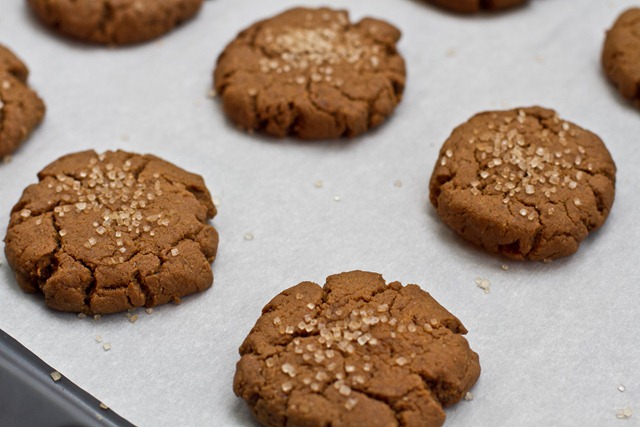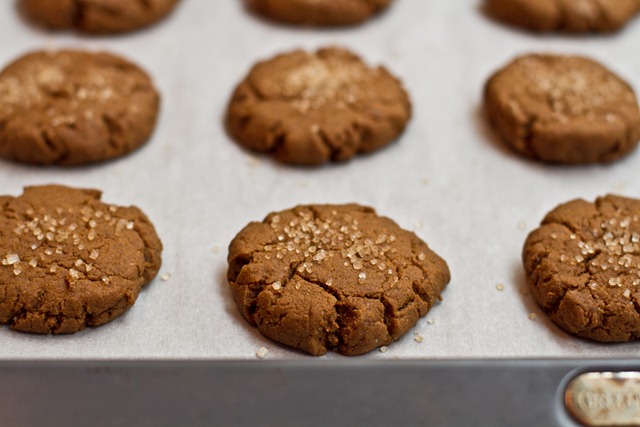 This morning I was back at it at 5:45am, making my second batch!!!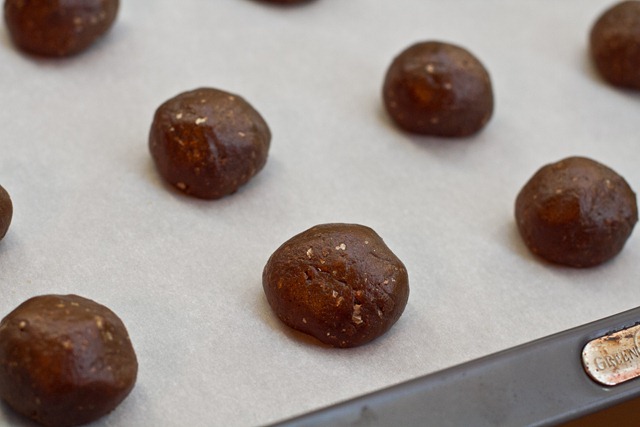 Luckily this batch turned out just right.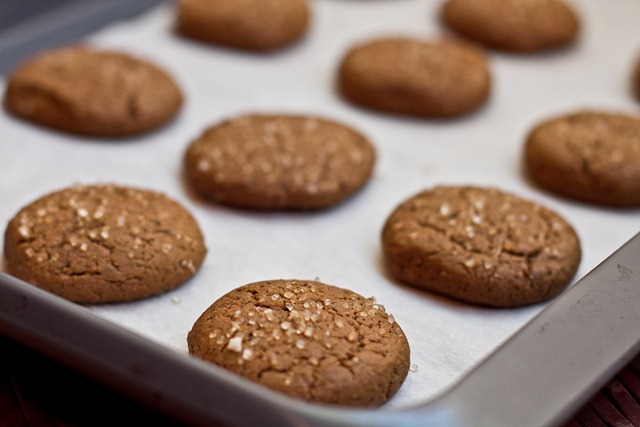 I was so smitten by them, I crumbled a ginger cookie on top of my Gingerbread Vegan Overnight Oats!
Outrageous.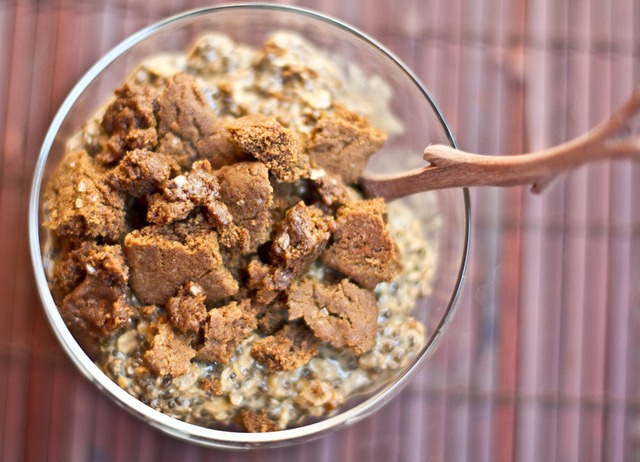 And now I shall squeeze in a run before I get baking Glo Bars. It is finally not raining outside so I think I might have to hit the great outdoors and bundle up in my warm running clothes. I need some sunshine in a major way.
Have you ever baked or cooked something for a large group of people? What did you make and what was it for?