I always say that it was my baking that wooed Eric hook, line, and sinker.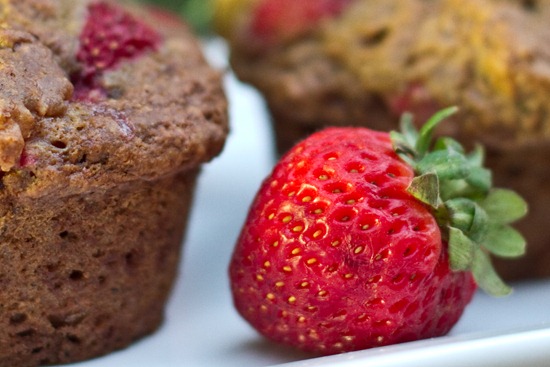 You might be surprised but, it wasn't my sarcastic teasing, astounding ability to trip over invisible objects, or occasional snorting when I laugh that wooed him.
Nope.
It was the baking.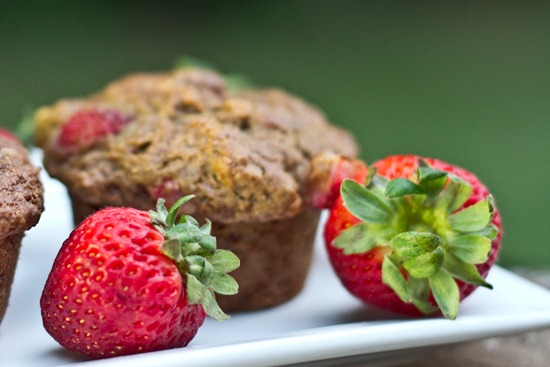 [Although, might I add the above mentioned 'qualities' grew on him like a bad weed. He now lives to see me trip and snort when I laugh. He is cruel like that.]
Back in high school and university, I used to bake Eric a huge batch of muffins almost every week and he would snack on them around the clock, fueling himself through classes and late night binges of World of Warcraft.
I know. *swoon.
The only difference between now and then is that back then I used muffin mixes from a bag and now I make them from scratch, but in all seriousness, those muffin mixes do make a mean muffin!
However, I learned that making muffins from scratch is much, much cheaper. And quite easy too. :)
The week before Eric proposed to me, I made him a particularly delicious batch of muffins. They had strawberries and banana and a pinch of magic.
From then on, they were called the love muffins.
Upon first bite, they cast a love spell over the person eating them. Use at your own risk….
[print_this]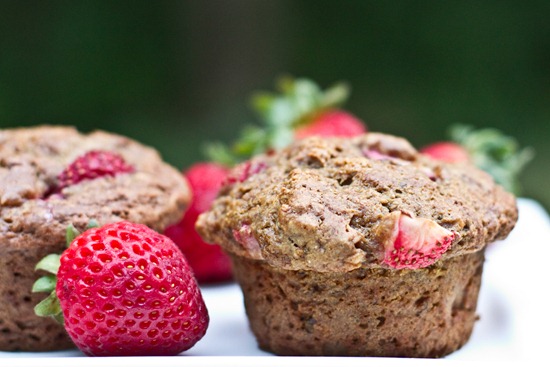 Yield:
9 large or 12 small muffins
Ingredients
1 cup whole grain spelt flour
3/4 cup unbleached white flour
1/4 tsp. Himalayan sea salt
1/2 tsp. ground cinnamon
1/2 cup Sucanat (or brown sugar)
1/2 cup toasted pecans
1 tsp. baking soda
1/2 tsp. aluminum-free baking powder
1.5 tbsp. ground chia seed (or flax) + 1/4 cup water
1.25 cup almond milk
2 heaping tbsp. coconut butter
3 tbsp. nut butter
2 tbsp. pure maple syrup
1 large banana mashed, left a bit chunky
3/4 cup strawberries, chopped
Instructions
Preheat oven to 375F.
Grease a muffin tin and set aside.
In a small bowl mix the ground chia and water and set aside.
In a large bowl mix all dry ingredients (flours, salt, cinnamon, Sucanat, pecans, baking soda + powder). Set aside.
In a medium sized bowl, mix all wet ingredients (chia + water mixture, milk, warmed coconut butter, nut butter, mashed banana, maple syrup). Mix well.
Add wet to dry and stir.
Fold in chopped strawberries, reserving 1/4 of them to sprinkle on top of muffins.
Scoop mixture into muffin tin and sprinkle on remaining strawberries.
I made 9 large muffins and I baked them for 25 minutes at 375F. Alternatively you can make 12 smaller muffins too. Baking time might need to be adjusted.
[/print_this]
These taste down right dreamy.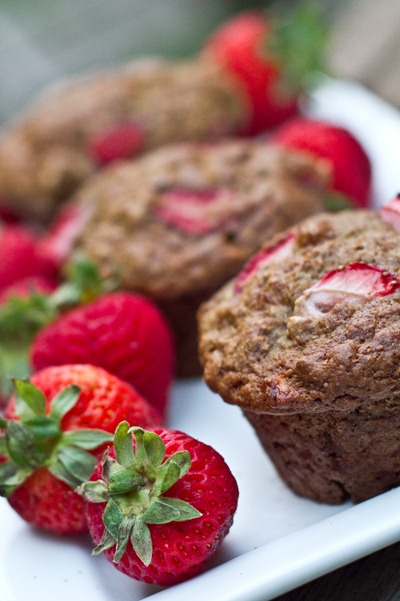 Now be warned, the love spell only lasts until the last muffin is consumed! Then, the spell will be broken and your magic carriage will turn into a pumpkin.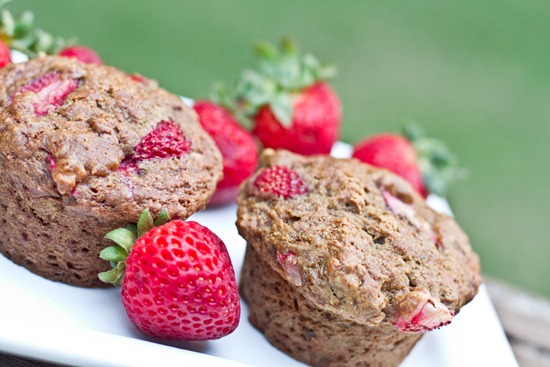 But you know what they say, when life gives you pumpkin make scuffins.
Have you ever wooed someone with your cooking or baking? Do you have any signature dishes that make 'em weak in the knees?