Good morning!
There is nothing I enjoy more than going on a shopping spree at Bonnie Togs.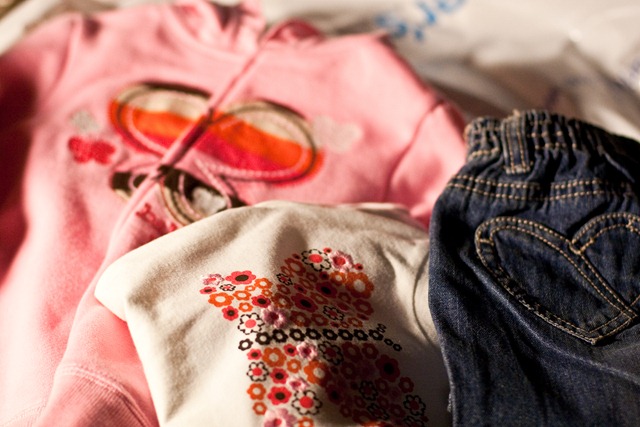 I love, love, love shopping for kids clothing. It is honestly one of my great joys. The clothes are just so cute! I could stay in the stores for hours looking at all the cute dresses and itsy-bitsy shoes.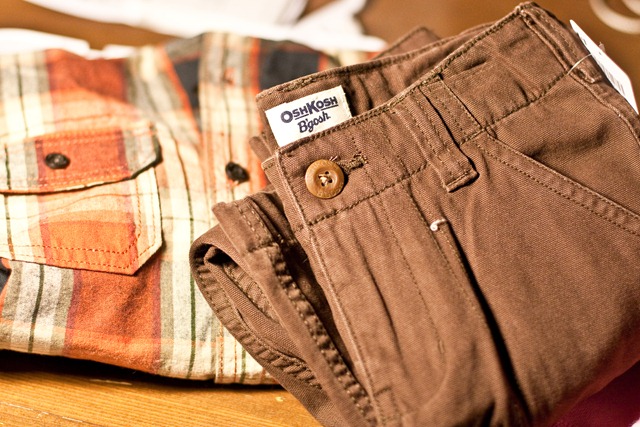 I hope my niece and nephew like them!
Look what our CSA brought us this week…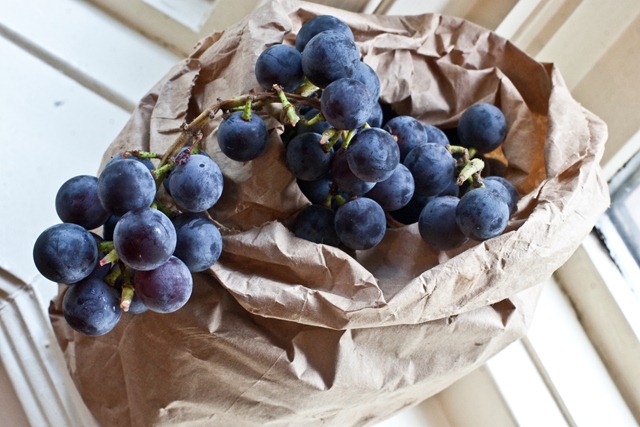 Grapes!
Well, that is what the CSA (Plan B Farm) called them, but to me I would expect they are a certain variety of grapes?? Surely, they can't just be called plain old grapes, can they…?
They are delicious, sweet, and juicy.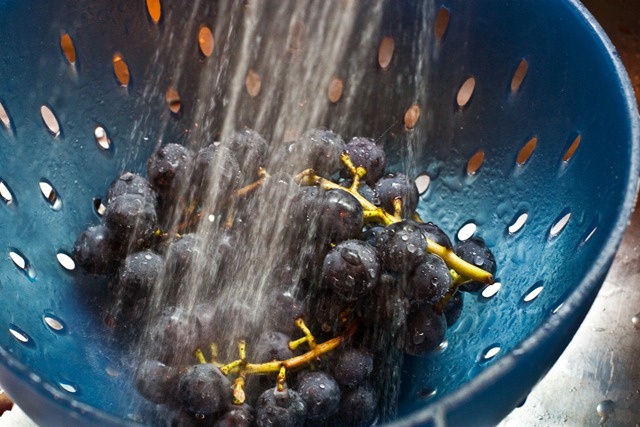 And then I did the unthinkable.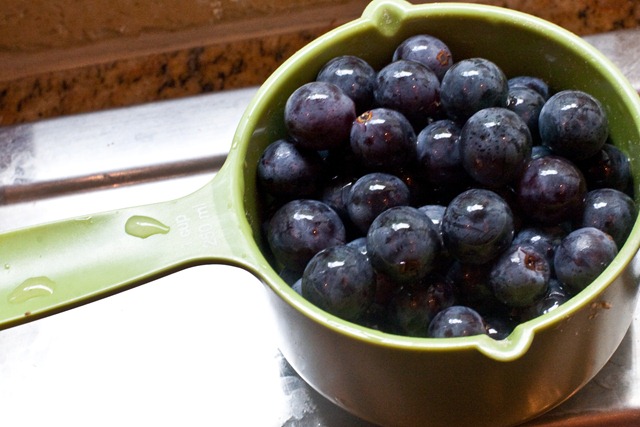 I baked with them.
I know, I know, first avocado, now grapes.
I figure there is a first for everything in my kitchen.
They actually taste and look like blueberries, so I figured they could be a good substitution in a breakfast cobbler…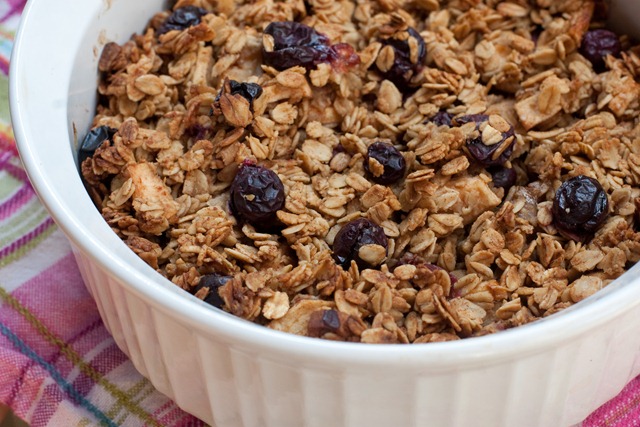 Grape, Banana, & Apple Cobbler
This was my first shot at making a cobbler without a recipe and I was pretty happy with it. The end result was a very chewy and moist cobbler- this isn't a crisp if that is what you are looking for. If you want to make it crispier, you might want to use more Sucanat and less maple syrup, just as an idea. Have fun with the recipe and don't be afraid to play around with different add-ins!
Ingredients:
2 cups regular oats
2 tbsp flour (I used spelt)
1 cup blueberries or grapes
1/4 cup Sucanat (or brown sugar)
1 ripe banana, peeled and chopped
1 apple, peeled and chopped
1 tsp cinnamon
1/2 tsp sea salt
1/4 cup Earth Balance
3-4 tbsp pure maple syrup
1/2 tsp fresh lemon
Directions: In a large bowl add the chopped apple, banana, grapes, oats, flour, sea salt, cinnamon, and Sucanat. In a medium sized bowl mix the slightly melted Earth balance, lemon, and maple syrup. Add wet to dry and mix well. Place in a casserole dish and bake at 350F for 70 minutes. Note: Next time I would bake at a higher temperature so it wouldn't take as long…probably 400F for 50 minutes? Watch it carefully to avoid burning. Serve hot or cold. Top with your favourite nut butter!
The soy-free Earth Balance I use…
A few weeks ago, I did a blind taste test on Eric using Earth Balance and his regular margarine on toast. He pointed to the toast and said with much confidence, 'This one is MUCH better, it has to be my margarine.' and I grinned and told him it was Earth Balance and he has been enjoying it ever since!
It works great in baked goods too.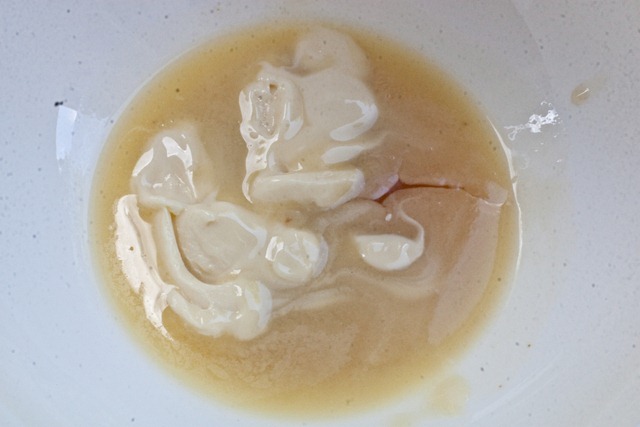 Whisk the maple syrup and Earth Balance until they are one.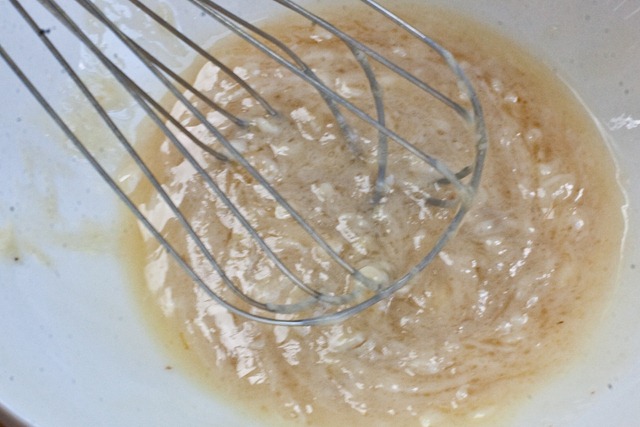 Squirt some fresh lemon…
Just a tiny squirt…no more than 1/2 tsp or the lemon will overwhelm the dish.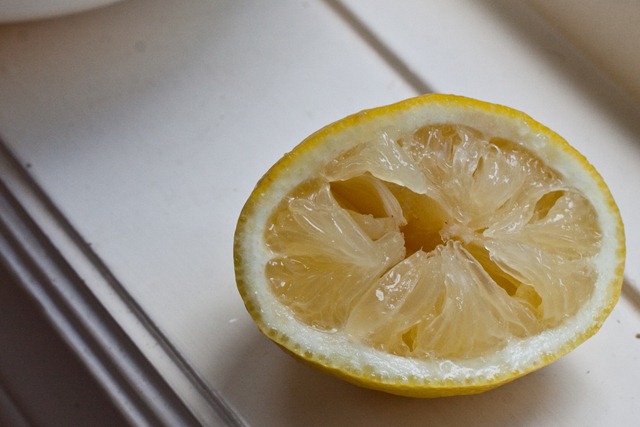 I'm sure you can find a way to use up the rest of the lemon. :) Spike some water…or a margarita…
I made a much needed batch of lemon sugar scrub. Love that stuff! Dare I say it is my favourite face scrub ever?
Chopped apple, grapes, banana, oats, Sucanat, cinnamon, flour, and sea salt!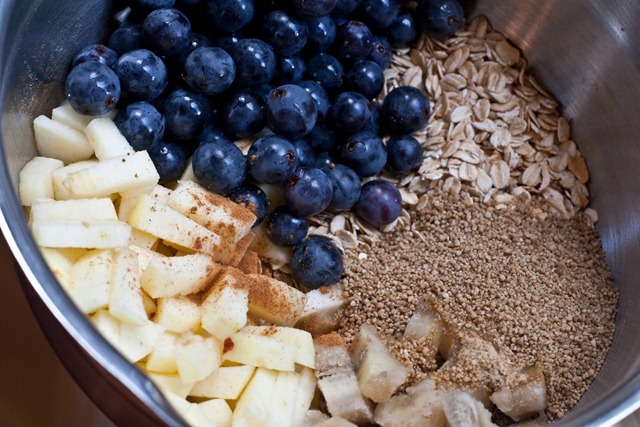 Mixed up: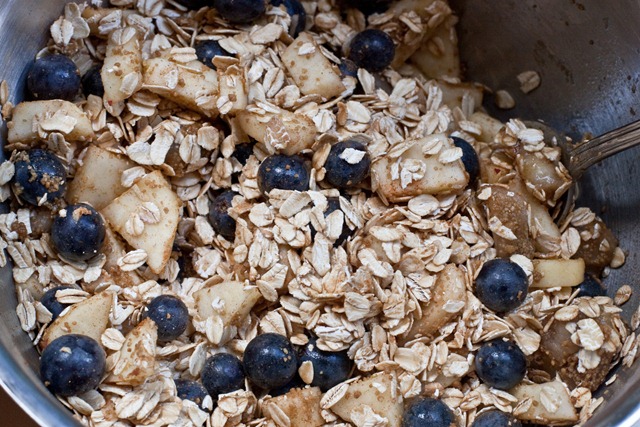 Dressed up: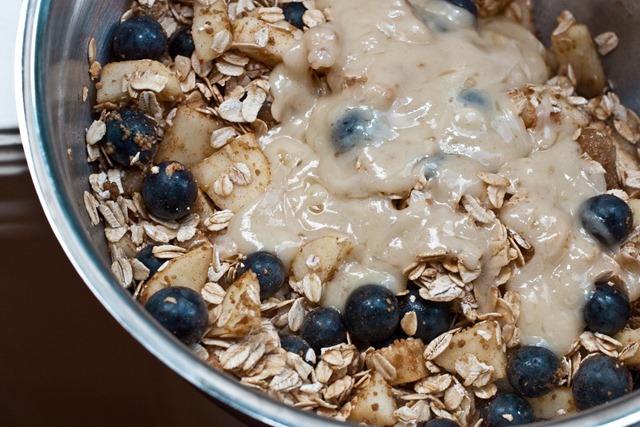 I saw something green in the mix and I realized it was the inside of a grape!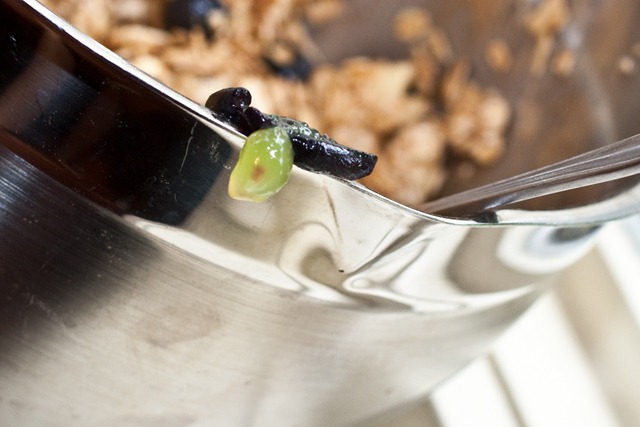 Whew.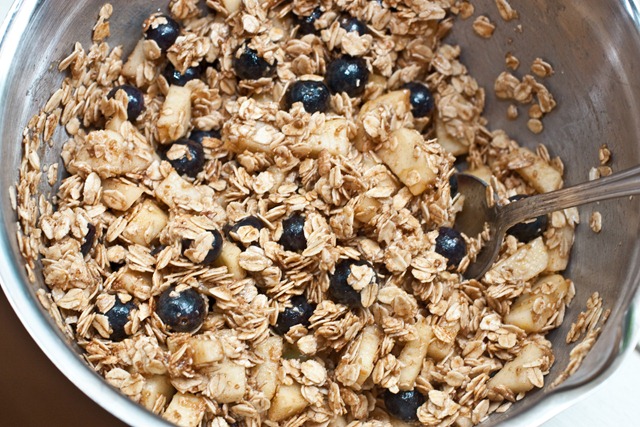 into a casserole dish…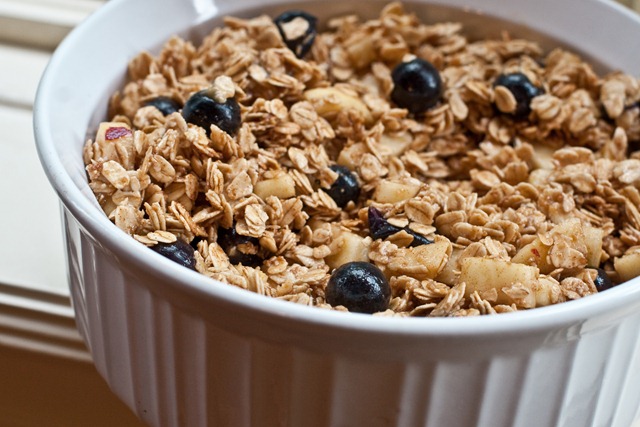 And baked for 70 minutes at 350F. Next time, I would bake it at a higher heat to speed up the process. The cobbler doesn't get very hard, but it remains quite soft and chewy almost like overnight oats.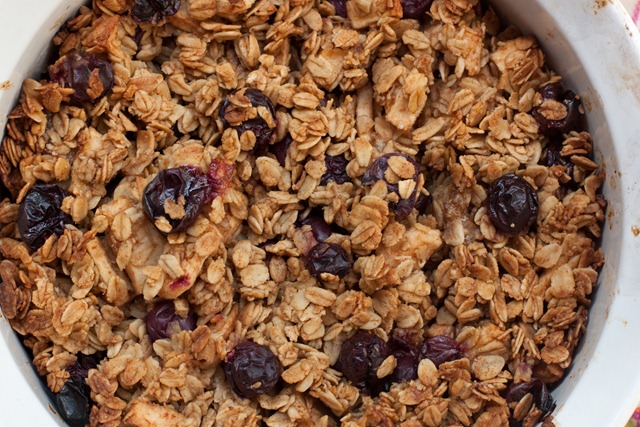 While this was baking I hit the road for a glorious run in some glorious sunny and crisp weather. I had two medjool dates and some tea before I left. I decided to run a 10k today.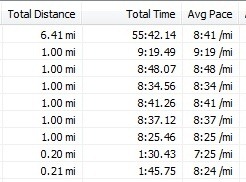 The run was pretty uneventful except for seeing 3 pheasants cross the road in front of me!! They are so funny to watch. My 10k (6.2 mi) time was 53:55 mins. and then I ran another 0.2 miles to get home. The hills were killing me during the last mile!
When I got home I tried the cobbler right out of the oven and it was quite good, but I suspected I would like it even better cold, so I threw it in the fridge while I showered and did Polly's Yoga for Runners.
It was delicious cold and it got all clumped up in big chunks. Mmmmm.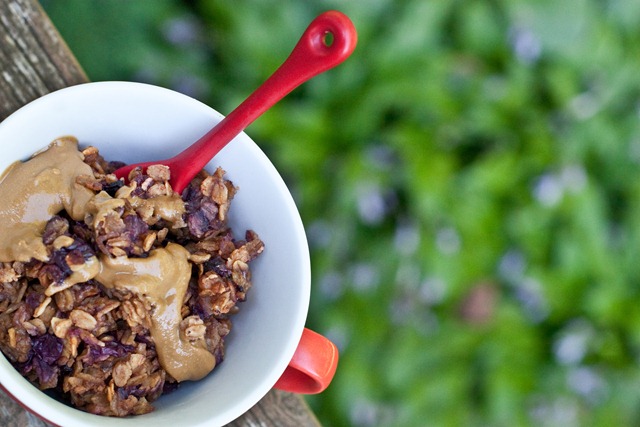 I spooned some TJ's Sunflower Seed Butter on top. Man oh man was this heaven in a cup!!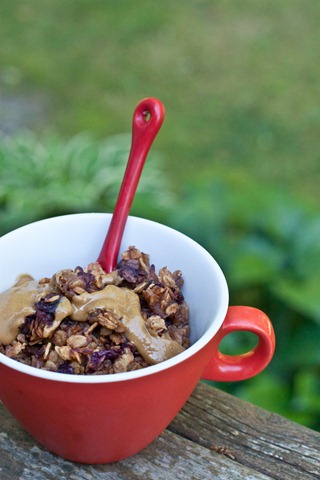 To my delight, the grapes tasted really good in this. Very refreshing and juicy. I'm not sure if 'regular grapes' would work in this, but these ones sure did.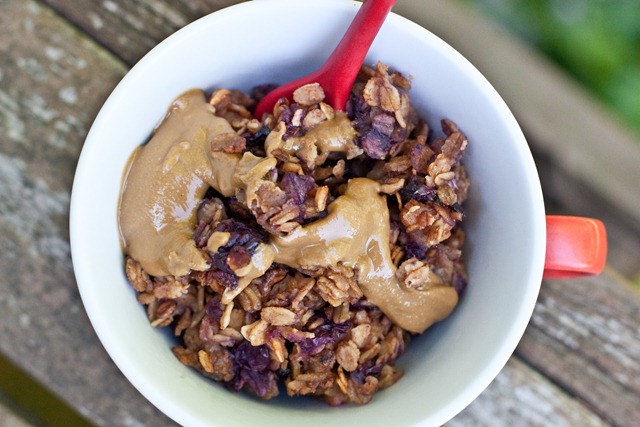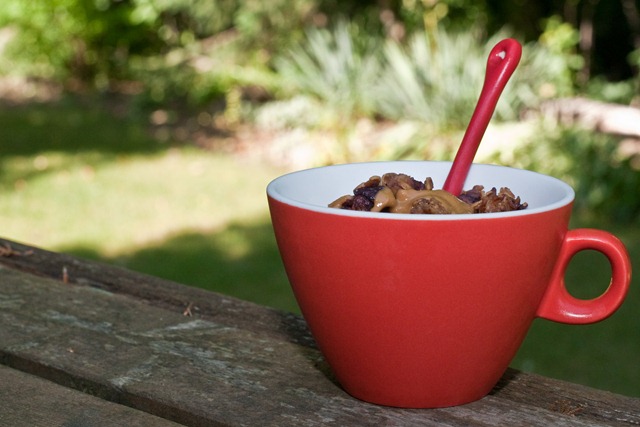 I'm off to do a bit of cleaning, make a chocolate sauce for the brownies, and then pack for our weekend getaway. I will do my best to get a post up tonight. Have a great start to your weekend! :)