Good morning!
Wow, quite the morning it has been over here! I woke up to the doorbell ringing again, only this time it wasn't teenagers playing nicky nicky nine door, but it was Kristin here for her work shift and wedding favour consultation! For some reason my alarm hates me and didn't go off this morning. I really missed those two hours of productivity I could have had…they are forever lost in the abyss…lol.
I guess my body needed the sleep perhaps, so all is not lost. I am really excited because next week I am doing custom Glo Bars for Kristin's wedding. They are going to be fun!
After that, I had some major issues with the shipping module when I was trying to get my packages shipped out. Some mornings are just 'one of those mornings' I guess. It is 10am and I still have not had breakfast yet.
Let's get to this delicious power snack recipe I told you about last night!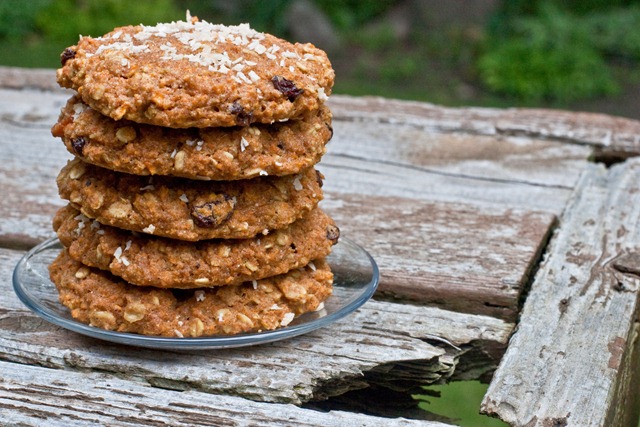 Healthy Carrot Cake Power Scuffins
I call these 'scuffins' because they are a hybrid between a scone, cookie, and a muffin! They are packed with nutrients, healthy fats, protein, and fibre and make an excellent power snack when you need a burst of energy. If you like these you should also try my Pumpkin Chia Spelt Scuffins.
Adapted from Pumpkin Chia Spelt Scuffins and Carrot Cake Breakfast Cookies.
Ingredients:
1 cup whole grain spelt flour
1/2 tsp baking power
1/4 tsp fine grain sea salt
1.5 tsp pumpkin pie spice (OR: 1 tsp cinnamon, 1/4 tsp nutmeg, 1/4 tsp ginger)
2 tbsp extra virgin olive oil
1/2 cup pure maple syrup* (note below)
1 tsp pure vanilla extract

Chia/flax egg

: 1 tbsp ground chia seeds + 3 tbsp water

OR

1 tbsp ground flax + 3 tbsp water, mixed and set aside for 5 mins
1/2 cup regular oats
1 cup shredded or grated carrots (approx 2 medium)
1/4 cup raisins
1/4 cup toasted, chopped walnuts
Coconut, for garnish
Directions: Preheat oven to 350F. In a small bowl, mix the chia/flax egg and set aside. In a large sized bowl whisk together all of the dry ingredients. Using a food processor or grater, process/grate the carrots. In a medium sized bowl mix together the wet ingredients (carrots, vanilla, oil, maple syrup, and chia/flax egg). Add wet to dry and mix until just incorporated. Stir in the walnuts and raisins. Scoop mixture onto a baking sheet lined with parchment paper or greased with oil. Scoop about 1/4 cup for each Scuffin to make 6 large scuffins. Wet hands and shape into a circle if desired. Sprinkle with coconut. Bake for 25 minutes at 350F. Top with coconut butter for an extra treat!
Nutritional info: (Per scuffin, Approx) 265 kcals, 9 grams fat, 1 gram sat. fat, 5 grams fibre, 4.4 grams protein, 61% vitamin A, 10% iron, 59 mg calcium, 180 mg potassium.
Note: These are not overly sweet baked goods, so if you prefer your baked goods quite sweet, I would maybe add a couple tbsp of sugar in addition to the maple syrup.
Before going into the oven…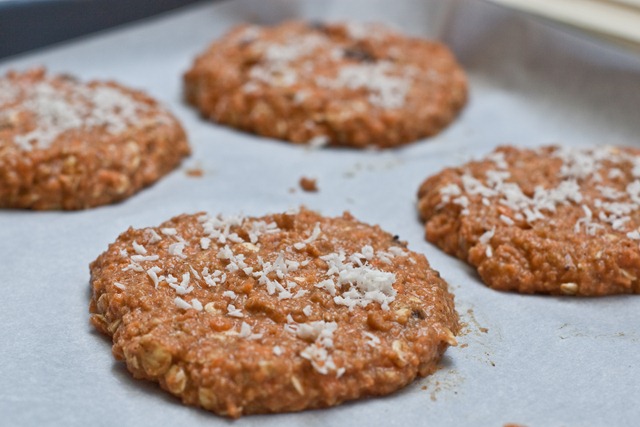 and after baking for 25 minutes!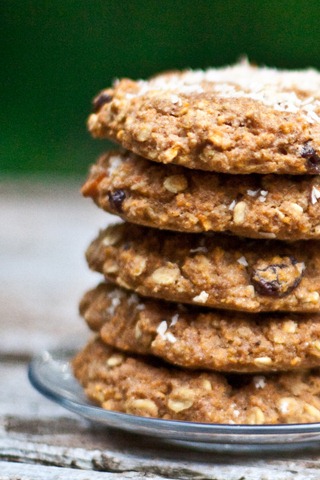 They are just delicious! I will definitely be making these again. The recipe makes 6 large scuffins so it is the perfect recipe to make on a Sunday afternoon…you get to eat one out of the oven and then wrap up 5 leftovers for each day of the work week!
I did have a bit of time last night to read EPL and I am almost finished! So good. I'm hoping to have another quote in tonight's post…it is going to be a good one so stay tuned.
Ok, I am finally going to make a Green Monster and then back to work.
Have a great day!