Good morning!
Today is a rest day for me so I used my extra time this morning to work on a fun kitchen project that I am putting together!
Recognize any of these pictures?  :biggrin: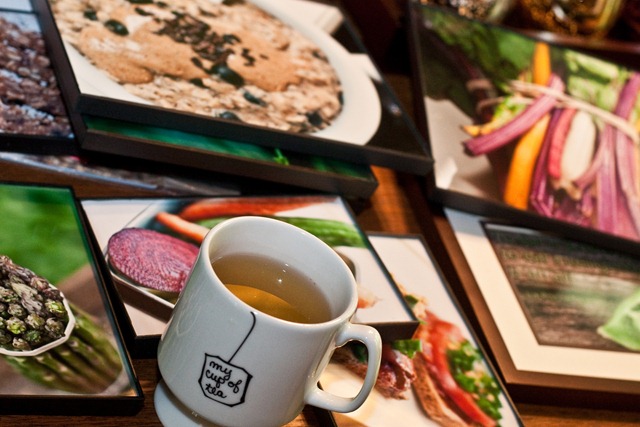 I'll be showing more pictures in my next post. Eric and I also need your help with a couple things!!
Then it was time for Vegan Overnight Oats!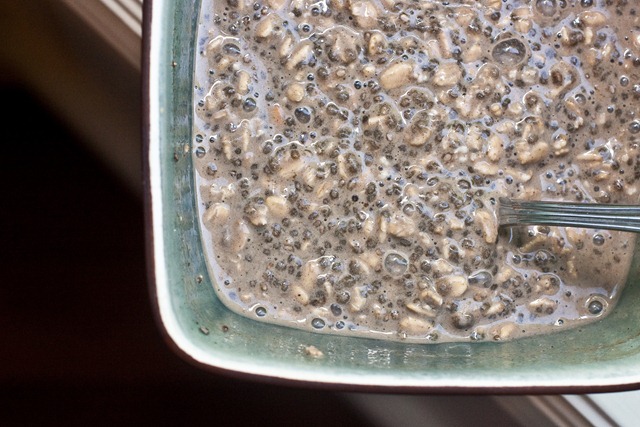 With Peanut Butter Banana Soft Serve.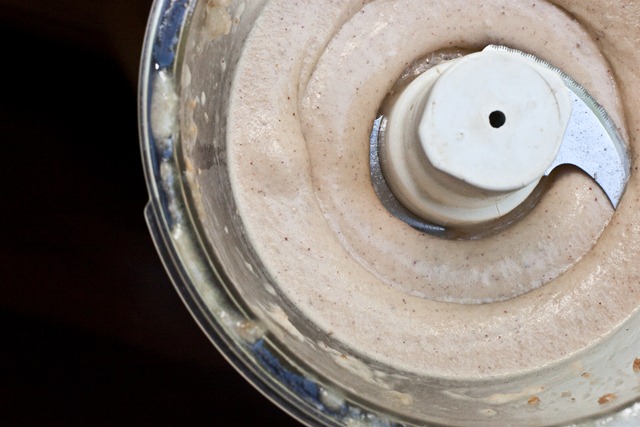 Peanut Butter Crunch VOO Parfait:
Vegan Overnight Oats (I used 1/2 cup oats, 1 tbsp chia seeds, 1/4 scoop Amazing Grass Chocolate Amazing Meal powder, 1 cup Almond Milk)
Peanut Butter Banana Soft Serve
Gluten-Free Rice Crisp (the crunch)
Cacao Nibs (more crunch!)
It was unbelievably good…probably one of my top 5 that I have made so far!!! I felt like I was eating a blizzard!
Indoors and outdoors…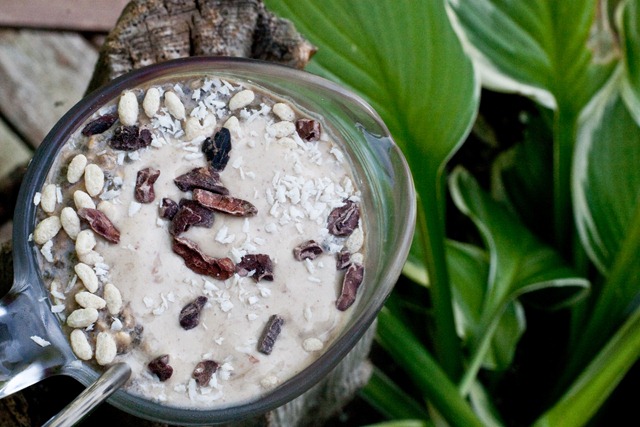 The best is when it gets all swirly and mixed up. It is sheer bliss. I really don't want summer to end! I am going to have to wear a winter jacket this winter when it gets cold in the mornings, just to make my vegan overnight oats!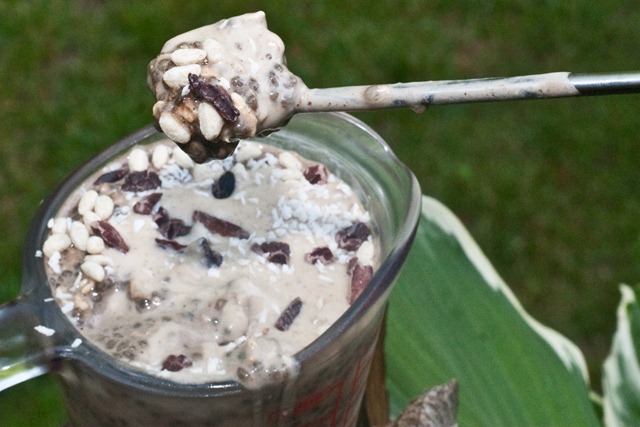 Many of you have been asking me questions about the negative splits I have been talking about in my running posts so I thought I would put together a FAQ post on the topic today. I am by no means an expert, so I source Runner's World when needed and I am mostly speaking to my own personal experience.
How To Run A Negative Split
"What is a negative split?"
A negative split is when the second half of your exercise (e.g., run, bike, swim, etc) is faster on average than then first half of your exercise. The object of a negative split is to conserve your energy in the first half, allowing for a strong finish during the second half. This strategy is also very useful if the second half of your route has a lot of hills.
For example, this 4 mile run IS a negative split:
Mile 1: 10:11
Mile 2: 10:24
Mile 3: 10:01
Mile 4: 9:04
This is a negative split because mile 1 + mile 2 = 20:35 mins and mile 3 + mile 4 = 19:05 mins. It is a negative split because you completed the second half of your exercise 1:30 mins faster than the first half.
This 3 mile run is NOT a negative split:
Mile 1: 8:30
Mile 2: 10:06
Mile 3: 8:50
You can easily tell that this is NOT a negative split because your 3rd mile is slower than your first mile (8:30 min/mile), really mile 2 is irrelevant here because your simply split it in half.
Mile 1 = 8:30 + half of mile 2 = 5:03 totals => 13:33 mins
Mile 3 = 8:50 + half of mile 2 = 5:03 totals => 13:53 mins
Thus, the second half of this run is 20 seconds slower than the first half of the run. Not a huge difference, but this would not be a negative split.
"How do you run a negative split? I have a very hard time finishing faster than I begin."
Last summer, I could not run a negative split for the life of me. Almost every single one of my runs would end with a slow, dying crawl. With each mile I would often get slower and slower until I was finished. I longed to run negative splits, but I never made it happen.
I have been able to run negative splits lately and I attribute this to a few reasons:
1) Garmin 305
The Garmin 305 was one of the best purchases I have ever made. It allows me to see the time of each mile as I run and I can gauge what pace I need to maintain to run a negative split. Without a training watch it would be very hard for me to determine if I am running negative splits. It has also been helpful for me when setting a goal of running each mile faster than the previous mile. I got my Garmin 305 at Costco and it was significantly cheaper than other retail stores (although you can purchase it online for a bit less).
Of course, it is possible to run negative splits without a training watch (if you know the distance of your route and have mile markers), however I did not have the motivation until I got Dwight!
2) Decide you will run a negative split!
Negative splits just don't 'happen', you have to decide before your run that your goal is to run a negative split and then you have to be conscious of this your entire run. If you want to zone out, I don't suggest trying to run a negative split because they take a lot of focus and looking at your mile split times. Part of the reason why I love running negative splits is because I am doing math in my head and it is a great distraction on runs. The runs fly by when I aim for a negative split.
3) Start off slower than normal, between 1-2 min/mile less than you normally would run on fresh legs.
Normally, when I start a run I want to go fast on my fresh legs. I am happy at about a 7:45-8 min/mile pace at the start, however when my goal is to try a negative split, I try to make my first mile around a 9 min/mile pace. These times will vary for everyone, but you have to find what is comfortable for you. It will take some playing around with it until you find what works for you…this is part of the FUN of learning to run negative splits! Lots of trial and error. If you are having trouble achieving a negative split, you are likely running much too fast in the first third portion of your run.
4) Run slow for the first third, pick it up in the middle, and finish strong!
I love how Runner's World puts it: "Patiently run a bit slower for the first third of a run, pick up the pace in the middle and finish with strength and speed." [source].
5) Go out with a bang for each mile 
End each mile very strong and fast, just like you are finishing a race. When I do the math in my head sometimes I realize that I need to boot it in order to make my goal of doing a faster second mile than the first. This often leaves me running hard at the end of each mile to meet my time goal.
5) Take at break at the beginning of each mile and when necessary
I like to finish each mile strong, so I typically take a walking break at the beginning of each mile. This works for me because I get a breather and then it gives me energy to tackle the next mile. I take a break to walk at least once a mile, if not more. There is no shame in walking as much as you need to! When I first started running, I used to run for 1 minute at a time. Over time, you will build up your endurance. [For my running story see the post I did called 'From 1 minute to 10 miles']
6) Sprint the last few hundred metres of your run as you would in a race.
Finishing strong is one of the best feelings in the world. I only wished I had started doing it sooner!
7) Walk for a cool-down
This is crucial as you will be very out of breath after sprinting and your heart rate is soaring. I typically walk about 0.25 mile after my runs.
8) Stay Hydrated
I don't know how I ever survived my runs without my Camelbak. I bring it on short runs and long runs. I always say I didn't know how much water my body really needed until it was readily accessible!
"Why does it work?"
Runner's World puts it nicely "The reason this works is because it can take your body several miles to get warmed up. After that, your muscles are charged, your joints lubricated, and mood-boosting endorphins flood your system. You'll find yourself running faster without feeling any more effort." [source]
"What are the benefits of doing negative splits? Why should I do them?"
Negative splits are not for everyone, but they can be great for the following reasons:
1) They build running confidence
2) They improve endurance
3) They are a fun distraction while on runs and a great challenge
4) You improve your math skills (lol)
5) They will help you run strong in races
6) They force you to adjust your pace and give you motivation to run faster and harder than you normally would
7) Injury prevention (it allows your body to warm up properly)
Have you ever tried to run a negative split? Do you think you would try it out?
Updates:
There is a new shipment of Glo Bars at Ambrosia today! There are also more variety packs, Crave, Empower, and Adore Glo Bars in the shopping cart.
Have a great day!