Last night I got to be a kid again…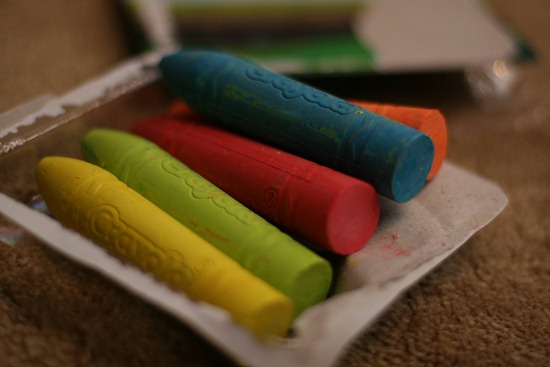 Chalk and I go way back.
Did I mention that when I was a kid I used to 'play school' a lot? I would pretend I was a teacher and I had a whole room full of 'students' which were all of my stuffed bears, of course. Sometimes, I managed to con OSGMOM or my sister Kristi into participating for a bit or a friend that was over. I used to make up attendance lists and everything. :lol: I remember calling out everyone's names on the very long list and say things like, 'James? JAMES?! James isn't here today I guess.' [heavy sigh].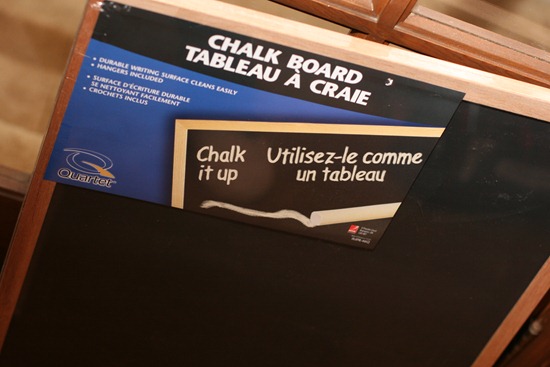 Eric and I started gathering some items for the Oakville Organic Farmer's Market that begins very SOON. Orientation is this Saturday and the market begins the following Saturday on June 19th!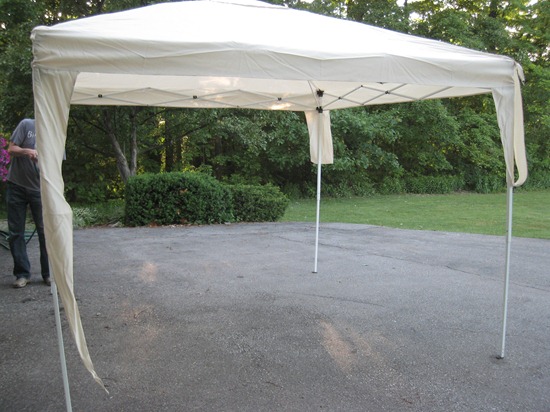 We went for the cheapest canopy tent we could find- on sale for $69 at XS Cargo a couple months ago.
The jury is still out as to whether it will keep out the rain. We are going to test it this weekend…fingers crossed that it does…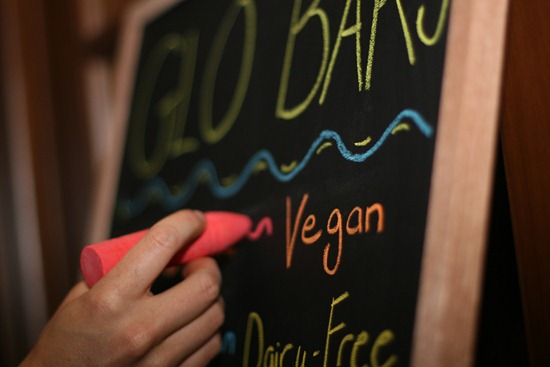 I bought two chalkboards that I will hang from each side of the tent. I am going to list the Glo Bar flavours and prices on the boards. If this isn't home-made, I don't know what is!
The jury is still out as to whether our $69 tent will hold up two chalkboards. Minor details! We also need to make cement pails to tie the tent to (it's a safety requirement).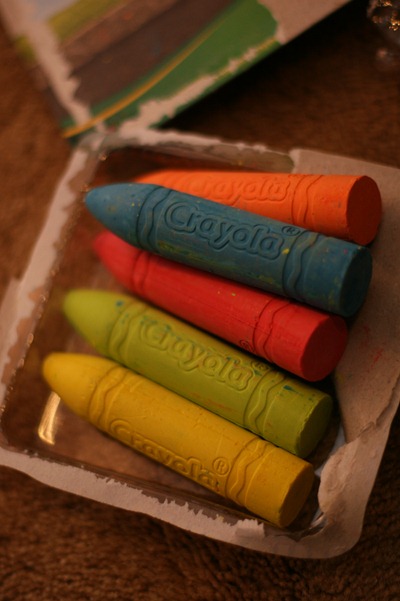 Then I got dizzy from chalk fumes because I had to erase and start over so many times. I certainly have lost my touch!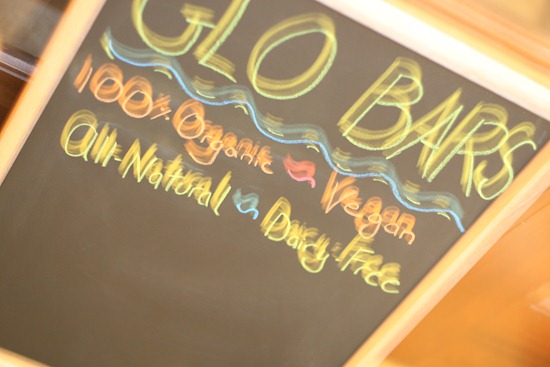 Speaking of dizzy…this placemat never fails to make me feel like I spent all night at a club or an amusement park.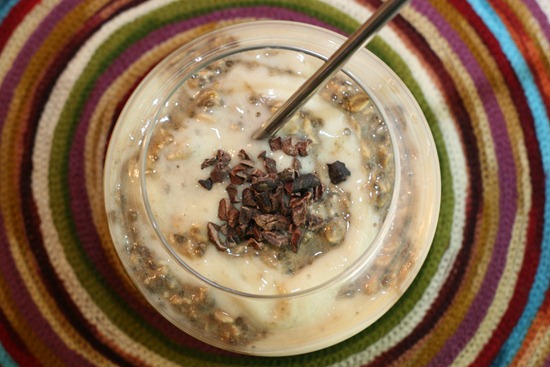 See any resemblance?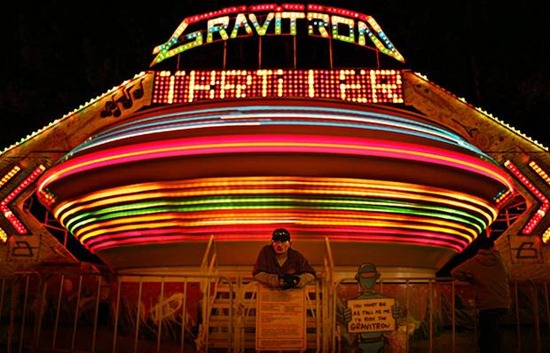 I used to love the Gravitron!
:pinch:
This angle is a bit easier on the eyes…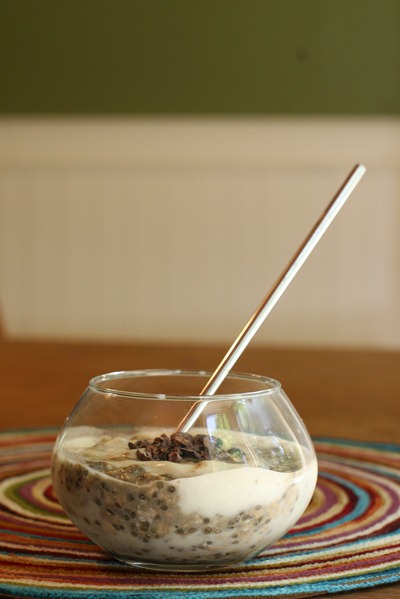 I really wanted to show you something new for breakfast because you are probably sick to death of looking at Banana Soft Serve Vegan Overnight Oats, but I could not bring myself to make anything else.
Don't even mention the word Green Monster…I will shed a tear. My Kitchenaid blender is in a very sad place where blenders go to die. The body still remains in my kitchen, but the spirit has left. (I hear that Vitamix blenders are never found in the blender graveyard.)
Speaking of Energizer Bunny Blenders, check out the top 5 blenders according to a Consumer Report's test of over 80 different blenders:
1) Vita-Mix: for $499 from Pleasant Hill Grain.
2) Oster BCBG08: for $39.99 from Bed Bath and Beyond.
3) Breville 800BLXL: for $277.91 from Amazon.
4) L'Equip 306500: for $163.13 from Amazon.
5) Blendtec Total Blender: for $399.99 from Amazon.
[Of course, Consumer Reports wants your cash forked over before they will let you see the entire study in their June 2010 issue…I just may have to buy it!]
I thought it was very interesting that Vita-Mix came out on top while Blendtec was 5th. I have been debating between the two for a while. I also loved that the second best blender was the $40 Oster! Anyone have this one?
Back to breakfast.
I had my parfait with raw cacao nibs sprinkled on top: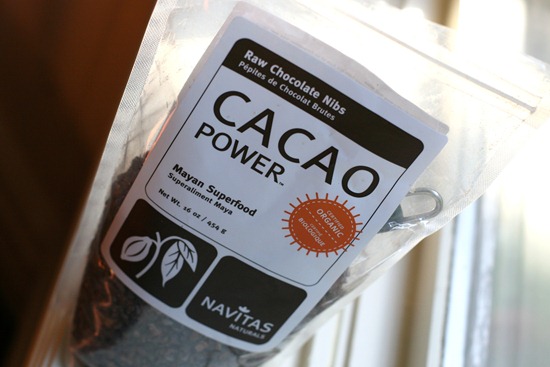 Some of you have been asking me about the raw nibs. Raw cacao nibs are very nutritious- they have more antioxidants than blueberries, red wine, and green tea, and they are rich in many vitamins and minerals such as zinc, magnesium, and beta-carotene. The nibs are also high in fibre with about 9 grams per 28 gram serving.
Be warned though, raw cacao nibs are very bitter (now I know why chocolate has so much sugar added to it!) and are best enjoyed along with something very sweet (like banana soft serve). They are very crunchy and add a wonderful texture to other sweet foods.
Giveaway Alert:
I realized I promised you a post about tri talk, however that clearly did not happen. It is coming. I am still processing a few thoughts in my mind… :whistle:
Enjoy your day!