Hello there!
Our Plan B Organic CSA Share began last night! It was pretty much torture waiting all day long until our evening pick-up time…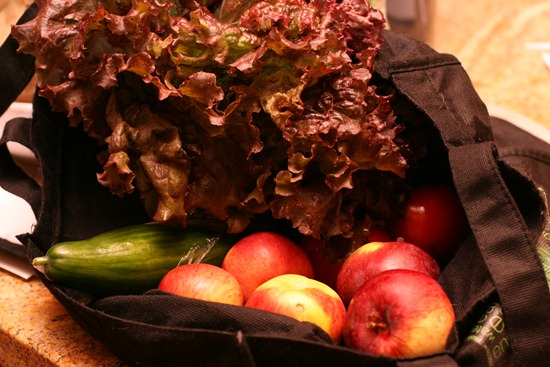 This is the first time we have ever had a CSA share, so I was really excited to get started.
Here are the types of foods that are in season in June in this area. I bolded what we received.
June – Asparagus, Baby Salad Mix, Lettuce, Spinach (?), Green Onions, Radishes, Greenhouse Tomato & Cucumber, Strawberries, Swiss Chard, Kale, Broccoli, Shiitake Mushrooms, Beets, Sugar Snap Peas, new potatoes, Carrots + apples.
We have a half share which is enough for 1-2 people, however I could easily chomp my way through a full share I'm sure! :biggrin:
I love knowing that these foods come from local organic farmers working hard every single day to try and make a difference in the system. It feels good to support their efforts and get some fresh organic produce in the process.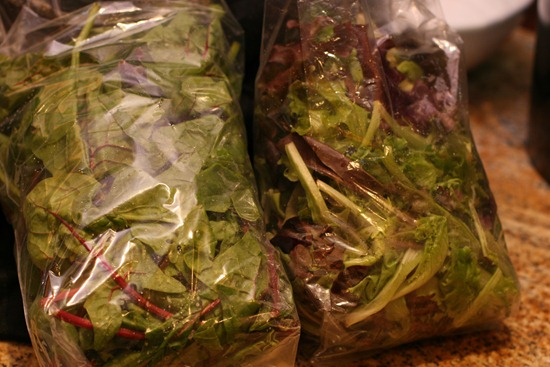 I'm not sure what the greens are on the left…spinach??
I handled this food ever so carefully when I put it away.
I stare at it in awe, I appreciate it, and I try and think about how I will use it.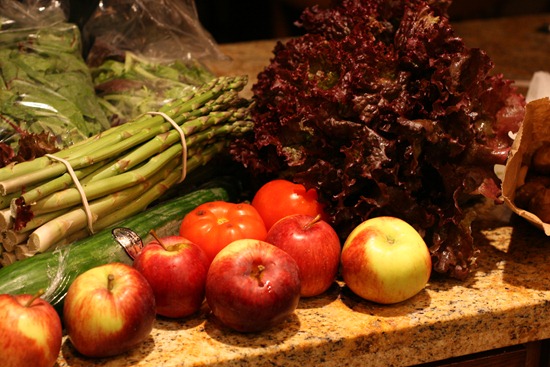 Any ideas? :biggrin: Maybe we can make this a weekly challenge- 'Help Ange build a recipe from her CSA produce!'
I was really hoping I was going to find some kale in the bag because our local grocery stores don't carry organic kale. Maybe next week though.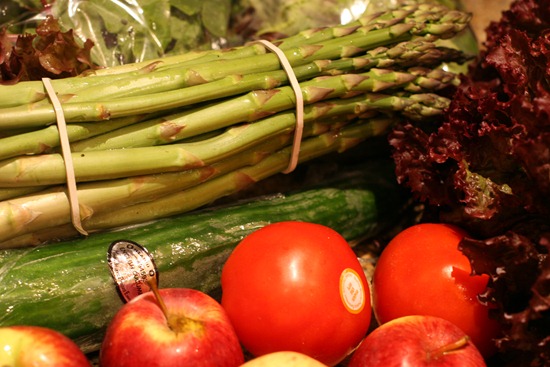 These are the cutest little apples I have ever seen….bumps and marks and lots of character!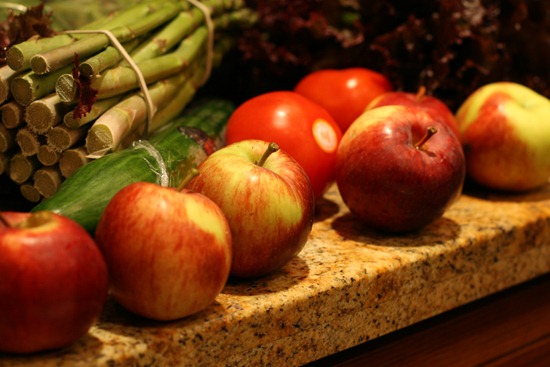 After caressing my produce, I made breakfast!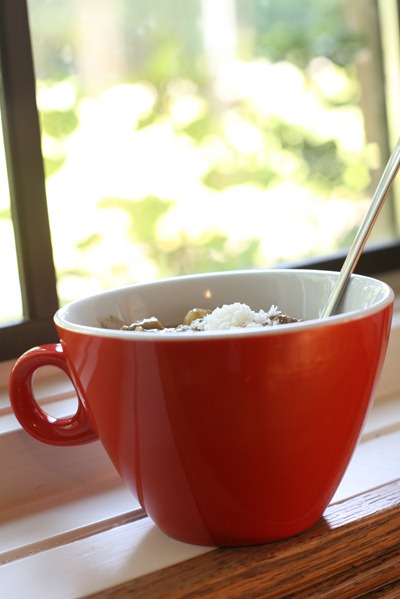 I had some Vegan Overnight Oats 'marinating' in the fridge (it was a triple batch) so I just scooped out a serving, mashed a big banana into the bowl (with a fork), and topped it with shredded coconut and my coconut oil + maple syrup dressing (1/2 tbsp coconut oil + 1/2 tbsp maple syrup).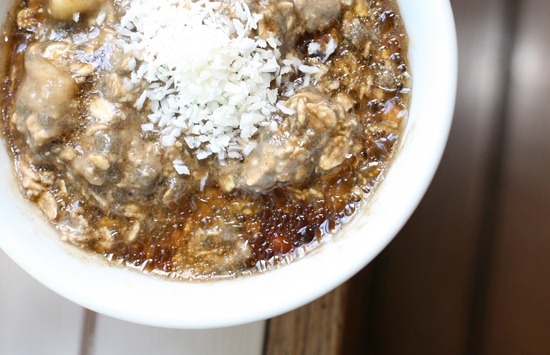 I used to look at overnight oats and CRINGE at the thought. Now I am completely in love. Funny how things turn out. If I had a dime for every email that I got from new Green Monster lovers that said 'I thought those green drinks looked SO gross…and then I tried one and fell in love. Now I drink one every morning!'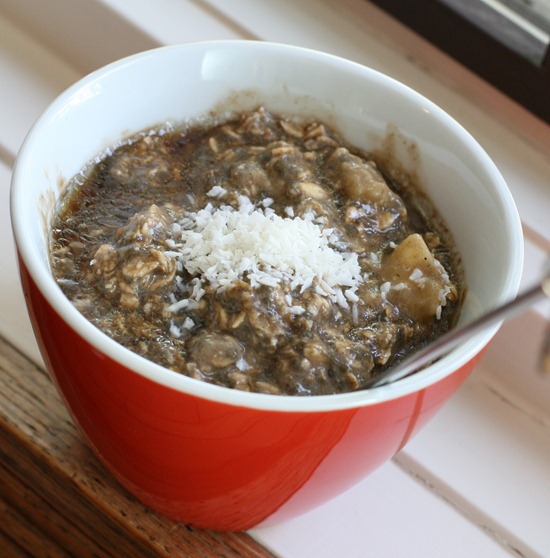 I must admit I am missing my Green Monsters! As you may know my Kitchen Aid blender is broken once again. I am trying to decide if I am going to go BIG with a Vitamix or a Blendtec OR if I am going to try a mid-range brand that I have heard good things about (Oster, Hamilton Beach, or  Breville). Decisions, decisions!
This morning I worked on shipments, ordering stock, and baking. Before I knew it, I was hungry for lunch!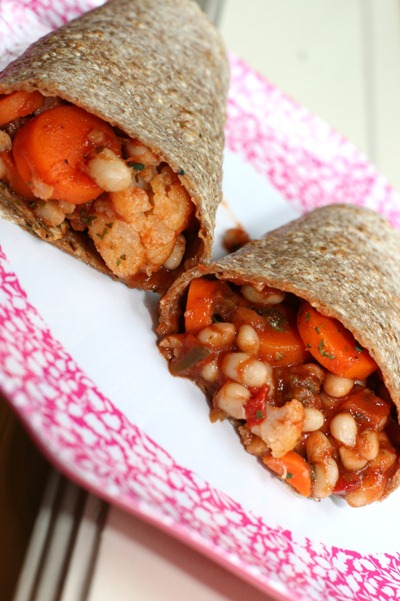 I had an Ezekiel wrap filled with about 1 cup of Navy Beans, pasta sauce, mixed veggies, dried parsley, and ground pepper and sea salt.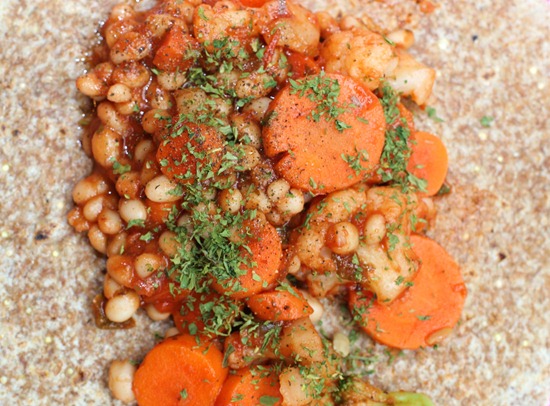 Mmmmmm.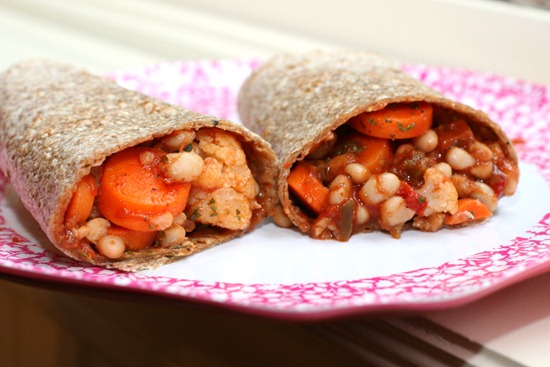 I also had a juicy apple.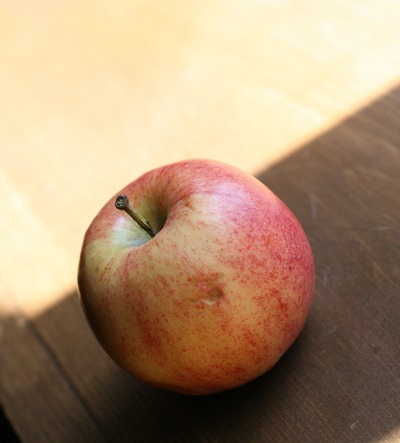 Afternoon snack will be this guy…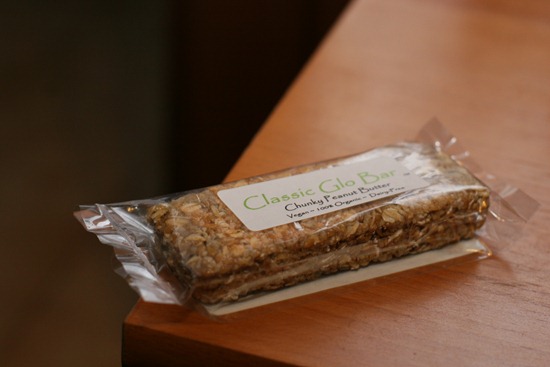 Have you ever supported local farmers either through a CSA or by going to a Farmer's Market? Do you find that your city or town has a lot of access to local and/or organic products? Why or why not?
Have a Terrific Thursday!