Good morning!
A big thank-you for your support with my new Liberate Glo Bar launch last night. We sold out! I will be letting you know when more will hit the shopping cart.
I could not believe it but my body bounced back so quickly from my half marathon on Sunday. You might remember my second half marathon when following the race, I took 2 weeks off exercise because I just felt worn out. Well, this 3rd race was much different. I felt so good yesterday, I was actually craving a bike ride. I did just over 7 miles– with hills- and the legs felt fine. My blister is still very raw, but luckily the motion of cycling didn't push on the blister and make it hurt.
Here is what I did post-race
I was never one to ice my sore muscles, but after my experience with this race, I am definitely going to add icing to my repertoire. It seems to really help. For how to ice SAFELY see this article. It is a very important read before icing!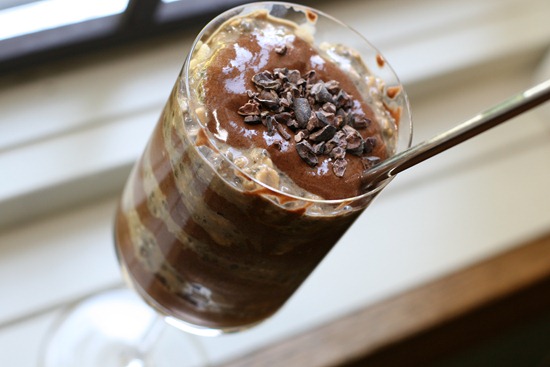 This morning I dove into some chocolate banana soft serve vegan overnight oats…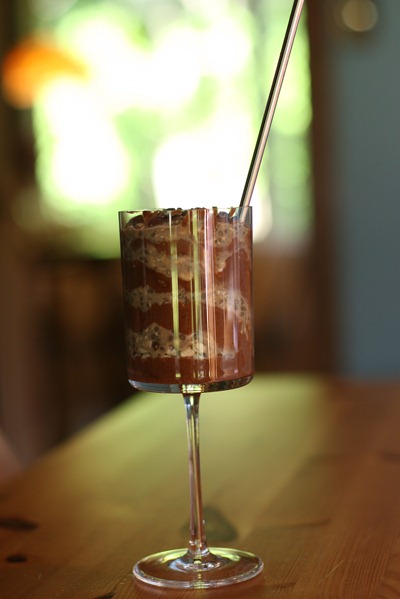 For my video demo on how to make these delicious breakfast parfaits, see here. I am hoping to do demo videos of all of my favourite and most popular recipes. I just need to go through my crazy long recipe page! Any suggestions on what recipe I should do a video of next?
The only thing I changed in this batch was that I added a heaping tablespoon of cocoa powder while making the banana soft serve. It turned into a chocolaty dream!  I can't decide what I like better- banana soft serve with carob powder or cocoa powder! They are both amazing.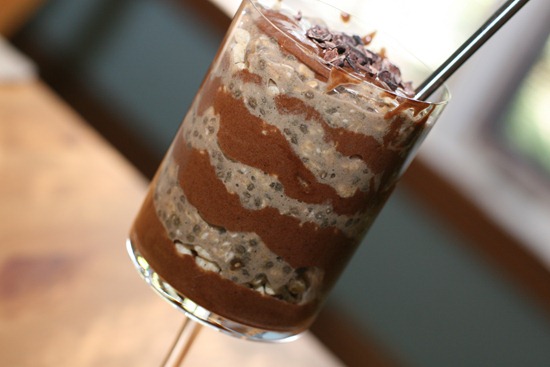 I also meant to mention last week that I started making TRIPLE batches of the vegan overnight oats to save a bit of time at night.
Triple batch of Vegan Overnight Oats
Directions: Whisk all ingredients together and place in fridge. Good for 3 mornings! Note, you can also make a triple batch of 1/2 cup oat servings, by using 1.5 cups oats, 3 and 1/4 cups milk, 3 tbsp chia seeds, 1 tsp vanilla, and 1/4 cup protein powder. It just depends on what serving size you prefer! Sometimes I make my VOO with 1/2 cup and sometimes with 1/3 cups, it just depends on how hungry I am and also what toppings I will be adding on.
If you look closely you can see a layer of Nature's Path Rice Crisp near the bottom!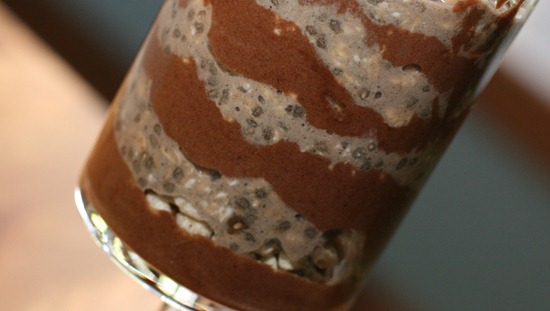 With Cacao nibs to crunch on.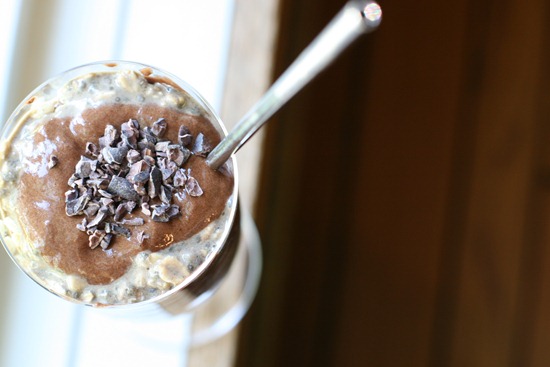 Health News Round Up:
It's that time again for some of my favourite health articles from the past week. Oh, and I also threw in a couple things that made me giggle (see humour). Laughing is healthy, right?
Spottings:
See you this afternoon for a very unique 1,000 words post. Hint: It involves me drawing a comic. Oh yes.
Have a great hump-day!