Hello. Fancy meeting you here! :)
My workouts this week have been strong and solid. There is no doubt in my mind that not running in Sunday's race was the right decision.
I will never let myself feel a twinge of guilt ever again when I listen to my body!
Monday I ran an 8km– on my own time- and I saved $35! My legs felt really good after a day of rest and stretching.
Tuesday was a lovely rest day once again. I have actually changed my Spring Training Plan around a bit to include MORE rest days! I have found that since my workouts have been quite intense and involve strength work, my body craves more rest. I have been taking about 2-3 rest days per week. This is a big thing for me because in the past I used to never let myself take rest days. Three cheers for being good to the body.
I have been doing some light stretching/yoga on my rest days for about 10 minutes or so, followed by about 5 minutes of meditation (Enya + lights out + laying down = bliss).
Today was a great 3 mile interval run:
1/2 mile: 6.2 mph, incline 2%
1/2 mile: 7.2, incline 2%
Repeat intervals until 3 miles are done
Total time = 27 mins for 3 miles
Something that excites me: I haven't had to use my knee sleeves while running. I wonder if that is because my leg muscles supporting my knees are stronger due to the strength workouts? I am very happy about this. I hope that I can keep it up when I hit the pavement come spring.
I capped off my run with the Booty Camp Fitness Intermediate workout and a ton of stretching.
I was a hungry, hungry hippo for lunch!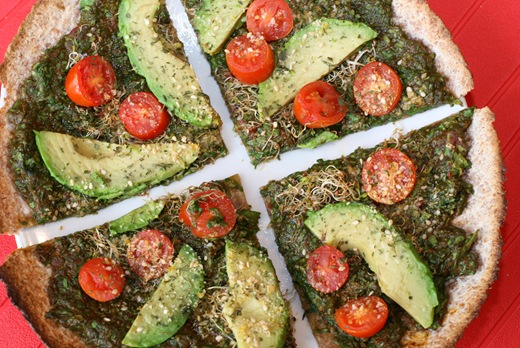 Green Goddess Pizza with Vegan Parmesan Cheese
Ingredients:
1 Ezekiel Tortilla Wrap
2 T tomato paste or pizza sauce
1-2 cups baby spinach
Pinch sea salt, to taste
1/2 Avocado, sliced
6 cherry tomato, sliced
Leftover sprouts
basil and parsley , to taste
2 teaspoons 3 Minute Vegan Parmesan Cheese
Directions: In a food processor process the spinach. Stir in tomato paste and salt. Spread tortilla with spinach mixture. Add sliced avocado, tomato, vegan parmesan cheese, and seasonings. Broil in the oven for about 3 minutes on low- watch carefully! Serve immediately.
3 Minute Vegan Parmesan Cheese: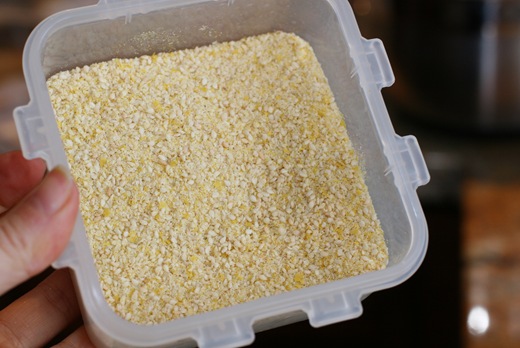 This was really tasty. The green sauce was a nice change and was a fun way to sneak in some greens.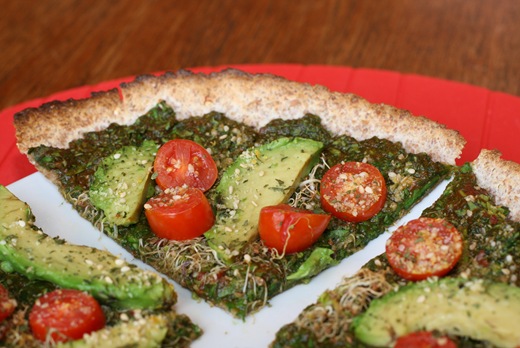 These Ezekiel tortillas have really grown on me. I don't mind them at all anymore and the thickness is kind of fun to chew.
Talk about a thin crust!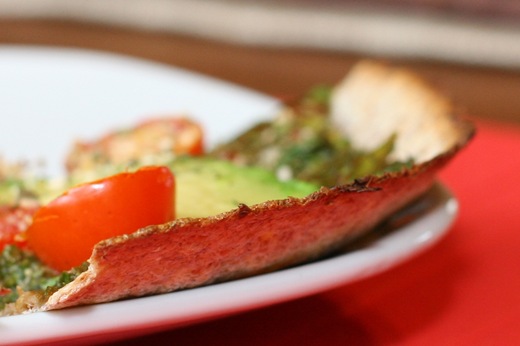 My pizza had a soft belly so I folded it into a sandwich. Mmmmm.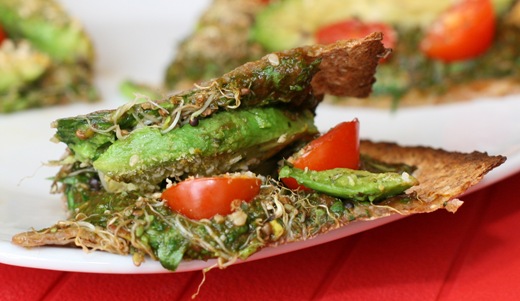 Little known fact- I used to hate avocado! When Eric and I went to Mexico late in 2007 I got hooked on the resort's guacamole. There is no better guacamole than fresh from Mexico! Once home, I decided to buy avocados and I was hooked ever since.
With Japanese Sencha green tea and a discount, bruised pear which was worth way more than I paid for it! It was at the peak of juiciness.
My snack this afternoon will be an Adore Glo Bar (which are on sale today FYI)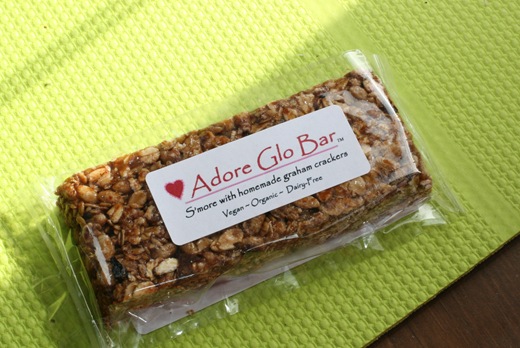 Updates:
Size Healthy Around The Blog World:
Back to work I go. I have 150 more Glo Bars to make and then a late afternoon business meeting. I need to get everything finished for the Hockey games tonight!! Going to be 'hum-dingers' as my dad would say. ;)

The essential thing is not knowledge, but character.
Joseph Le Conte