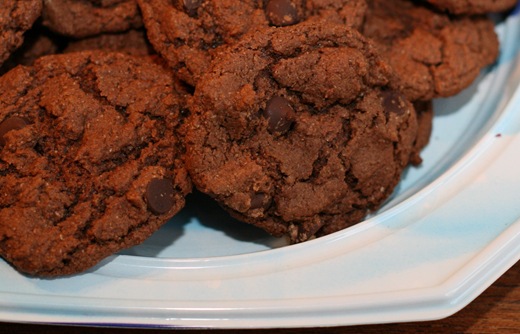 10 Ways To Know The Holidays Have You Going Off The Deep End: Take 2
1) You get into a fight with a 10 year old over the Last Nintendo Wii at Wal-Mart. You know kung-fu and you will use it.
2) You have a fanny pack filled with wrapping supplies: Tape, ribbon, and bows. You have a pair of scissors in a tool belt holster. You wear it proudly to the post office.
3) You have been singing so many Christmas Carols, your voice is a bit hoarse. People avoid you because they think you've got the Swine.
4) You start eating your Corn Flakes with Egg Nog instead of your regular 1% milk.
5) You have a huge melt-down in the post office when you realize that you missed the cut-off for shipping out your packages. You call Canada Post and sob……Whyyyyyyyyyyyy.
6) You have not seen your cat for days because you accidently wrapped Fluffy in a box.
7) You dog is wearing some type of santa paraphernalia- antlers, Santa hat, bells, etc.
8.) You camp out overnight in front of the shopping mall, so you can be the first to sprint through the doors.
9) You vow to knock out the next person who asks you if your sweater is for a tacky Christmas sweater party.
10) You've eaten so many Christmas cookies your family starts calling you Mrs. Christie.
Vegan Dark Chocolate Peppermint Cookies
These peppermint cookies are a breath of fresh air during the often hectic holiday season. The best thing about them is that the prep work is less than 10 minutes and they only take 11 minutes in the oven. Now that is something to smile about!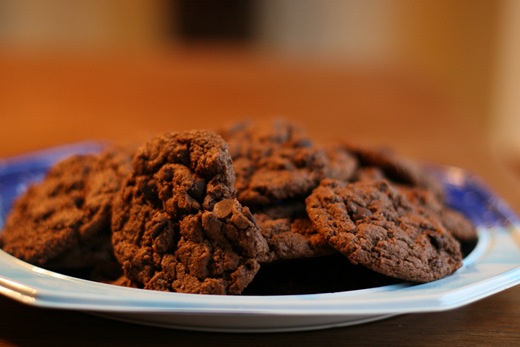 Ingredients:
1/2 cup + 2 tablespoons non-dairy dark chocolate chips
2 1/4 cups spelt flour
5 T cocoa powder
1 T chia flour (or 1 more T of cocoa powder)
2 t baking powder
1 t baking soda
1/2 cup organic cane sugar
1/2 cup pure maple syrup
1/4 cup agave nectar
2 t pure peppermint extract
1 t pure vanilla extract
1/2 cup coconut oil, melted
Splash of Almond milk (if batter is dry)
Directions: Mix dry ingredients (chips, flour, cocoa, chia flour (optional), baking powder, baking soda, cane sugar) in a large bowl. In a smaller bowl mix the wet ingredients (coconut oil, maple syrup, agave, extracts). Add wet to dry. If batter is dry add a splash or two of non-dairy milk. I added about 1 tablespoon. Spoon onto baking sheet lined with parchment paper. Cook for 11 minutes at 350F and no longer. After 1 minute of cooling, transfer to cooling rack. Yields approx. 25 cookies.
Recipe adapted from Dreena Burton's Chocolate Mint Melties found in ED&BV.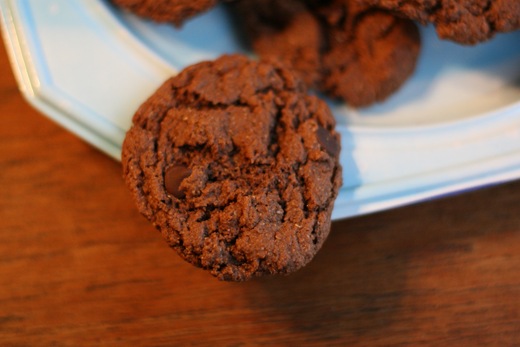 These cookies delivered the PEP!!!!
The entire house smells like peppermint too. It's wonderful! Eric doesn't even like peppermint and he loved these cookies. I love that spelt is the flour used in these cookies. Spelt is so much healthier than traditional white flour. They took me under 30 minutes to make from start to finish too!
Have you made any Holiday Cookies yet? What kinds?
~~~~
I'm off to finish work, cooking (one last appetizer to make!), cleaning, and sweater prep! Stay tuned for the party recap. :D
HAPPY FRIDAY!