Ladies and gents, I have been rocking the yoga this week!
Specifically, the P90X Yoga that I mentioned earlier this week. Eric borrowed this from a coworker and we have had it sitting around for ages now. I finally dug it up and gave it a whirl!
If you've been following the blog for a while, you probably remember my stint with yoga in December 2008/January 2009. I dove full force into yoga, 30-Day shred, and training for a marathon. It was no surprise that I sustained an injury from the over-training.
I have grown a lot since that time and I realize that I am the type of person who likes to focus on one main goal or challenge, instead of spreading myself all over the place. When I was training for my races this summer and fall, I was focused. I had tangible goals and I met them.
There has always been this lingering desire for me to practice yoga on a regular basis. I think this is the perfect time for me to explore something new. I find that I am craving flexibility and tension-relief exercises. I haven't done anything of the sort in months! Baking all day has left me with really stiff and sore back muscles and I hope that yoga will help with that.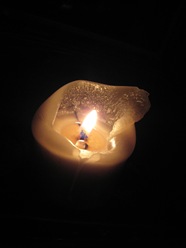 I have been turning out the lights in the office and lighting a few candles. This instantly relaxes me, similar to baking when the sun rises and everything looks clean and crisp outdoors.
I haven't set a time limit. I just go until I feel tired and stretched out. Tuesday I ended up doing 15 minutes, Wednesday I did 25, and Thursday I did another 15.
I immediately knew that I was going to like this DVD because it didn't seem too 'out there' for me. It seemed like a normal group of people practicing yoga. I liked that the group involved a male athlete who had just started to take up yoga to help with his athleticism! Many athletes in all different areas practice yoga as a way to improve their chosen sport. I think it can really help with my running too because I have obviously gotten really tight and was doing nothing about it.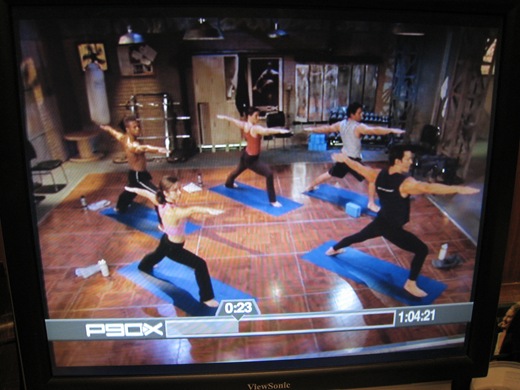 I can't review the entire 90 minute DVD since I have only done 25 minutes, but I can tell you what I liked about it so far:
1) Aside from the instructor's heavy breathing, he is quite easy to listen to and learn from. He explains things clearly.
2) The DVD counts down the time remaining (far right) as well as how many seconds are left in each interval. I don't pay much attention to it, but it is nice to have.
3) For the first 25 minutes, I was able to follow along with the poses without too much difficulty. At some parts they moved a bit quicker than I did, and this caused me to lag a bit, but it wasn't a big deal.
4) In addition to the instructor naming each pose, the bottom of the screen also displays the name. This really helped me learn each pose name. I find when instructors just say it, I never really picked them up. I am a visual learner! I love how clear this DVD is.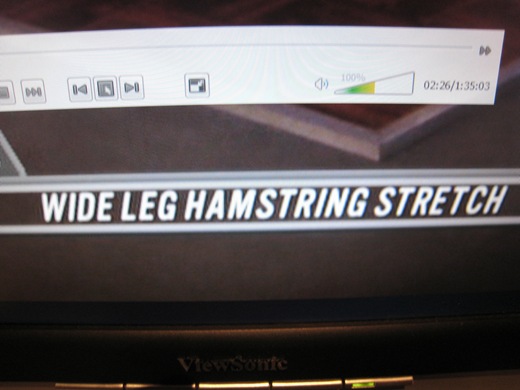 Here is what I didn't enjoy:
1) Downward facing dogs
I despise them with every core of my being. My arms are so sore!!!! I could see enjoying this pose if I was flexible, but it really is no fun when you aren't. I hope this improves over time. This DVD had many series of down dogs over and over and over again. I found it felt a bit long. Again, I hope that improves as I improve. I also need to work on my mental game and focus because I am not as zoned out as I would like to be.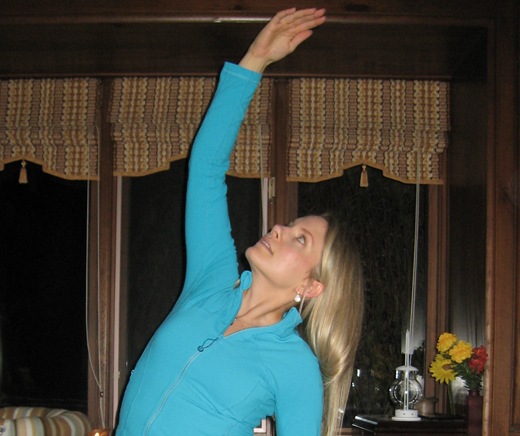 At the start of the DVD, the instructor says, 'Free your mind of all the clutter'. It really is necessary to get into it. Tonight my mind wasn't into it and I could tell. Eric and I sort of had a stressful night and I was just not able to tune out my thoughts.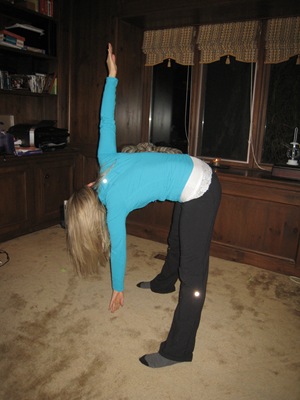 To all you yogis out there: What are your tricks for zoning out and being present in the moment? Does it just come with practice?
What do I think of yoga so far?
All and all, I am enjoying it so far and I am trying to keep my spirits up despite feeling like I suck. I think the reason I get so frustrated with yoga is because for me it is not easy to see improvements with it as fast as I would like to. Yoga, to me, seems abstract. With something like running or weight training, I have clear tangible evidence of my hard work in terms of numbers. I know that my flexibility will improve and I will notice that over time, but it is just not what I am used to I guess!
Yoga is probably one of the hardest challenges I have given myself because of my lack of flexibility and my fidgety personality. When I was young, I always scored POOR on my flexibility tests in gym class. I also am the type of person who can't sit still, so it is no surprise that I did not gravitate toward yoga.
I got frustrated with my down dogs tonight and Eric said something very clever. He said, 'It's not about whether you do the pose exactly right or not. It's not about your form. It is whether you are challenging your own body. Are you stretching? Well, then you are doing it right.'
Who is this guy? lol. Apparently, he was a yogi in his past life! ;) Wise words from my man.
~~~~
I think I need to stop focusing on my form so much and start focusing more on how my body feels and where my mind is. I think I will find that it is much more pleasurable this way.
~~~~
Do you do yoga? What was it like when you started? Tell me your story!

There is an amazing giveaway going on for GLO BARS! Enter here!