Hi there!
Don't forget to enter Amazing Grass Grand Prize Giveaway– the contest ends today at 7:30pm EST. Up for grabs are SEVEN 17oz tubs of Amazing Grass powders!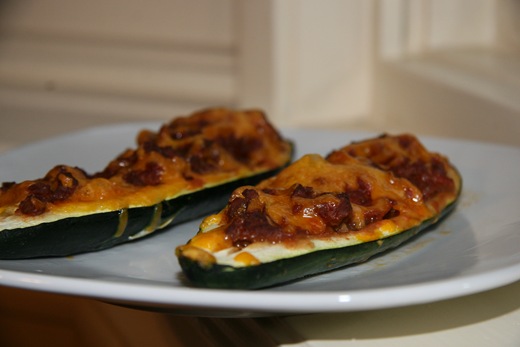 Last night, I walked into the kitchen, of course with no idea what to make for dinner (do I ever have a plan???). Remember when I tried to plan my meals for a full week in advance??? Did you notice it lasted one week? haha.
I am learning to embrace my true self I guess…
I am just not a meal planner!
Whew, that felt good to get out.
Moving on…
I opened the veggie keeper and I spotted 3 zucchinis. Hmm.
The wheels were turning. My eyes glanced around the fridge door.
Half a package of St Ives Veggie Ground Round.
Half a bottle of salsa.
This could work!
I decided to make Zucchini boats, which I realized I haven't made in a very long time! I always forget how quick and easy they are. It was seriously 5-10 minutes of prep work (and that included the photography!).
Here we go…
Step 1. Carve the inside out (save scraps!):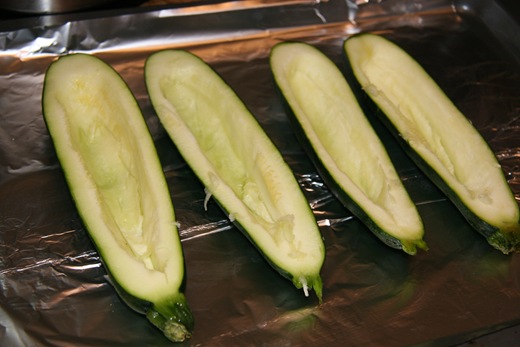 Step 2. Mix equal parts of salsa and ground round (or whatever tickles your fancy!):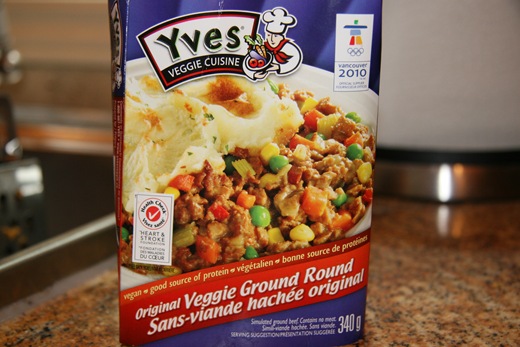 I had half a bottle of salsa left so I just mixed it right in!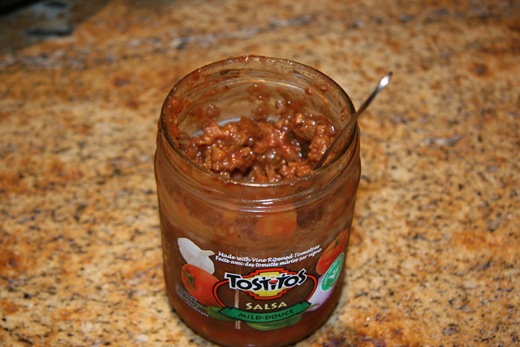 Step 3. Fill the boats! This is the fun part :D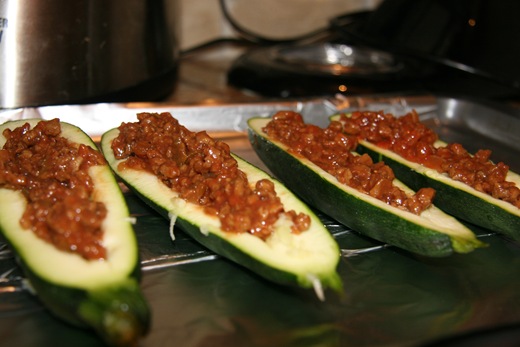 Step 4: Sprinkle cheese over top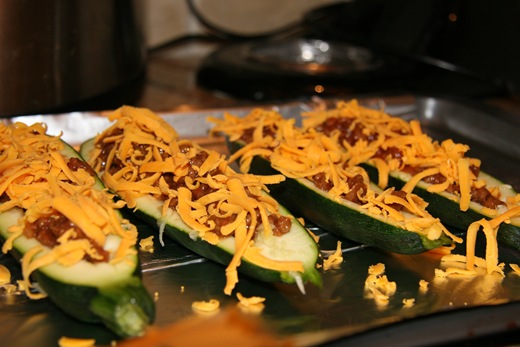 Step 5 (optional): Take scraps and make a mini casserole!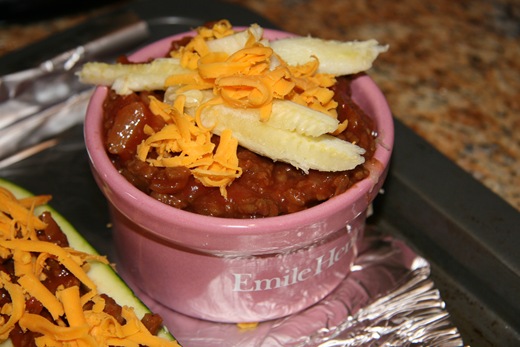 Step 6: Bake for 20-25 minutes at 350F.
It's that easy! :)
I was blown away by the taste. Eric also loved this dish….even the veggie products! Amazing!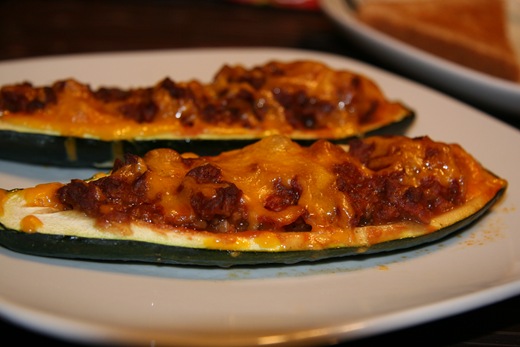 The Veggie ground round toasted up in the oven and it was almost like a 'loaded' potato taste.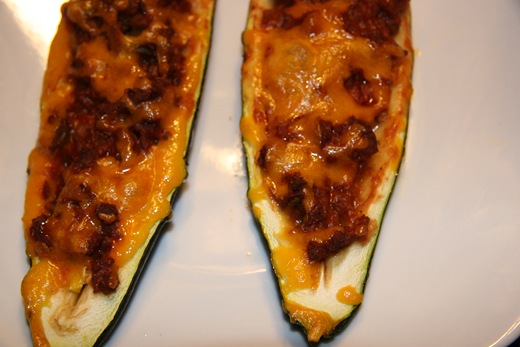 I had about 4 oz of Merlot:
Eric had a Cerveza ;)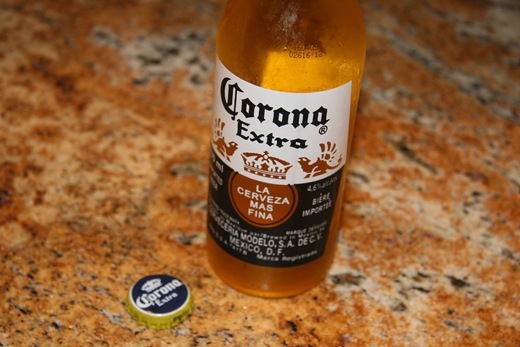 With a side of toast with some olive oil margarine to keep the toast theme going!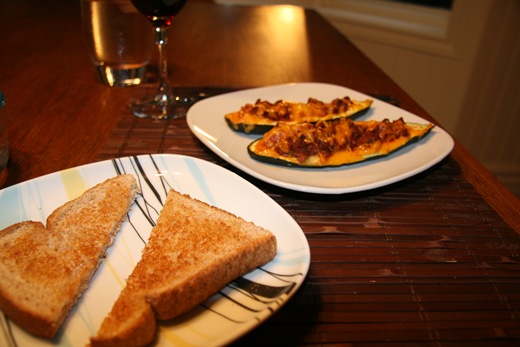 These zucchini boats were so good. I could have eaten 3…or 4…  ;)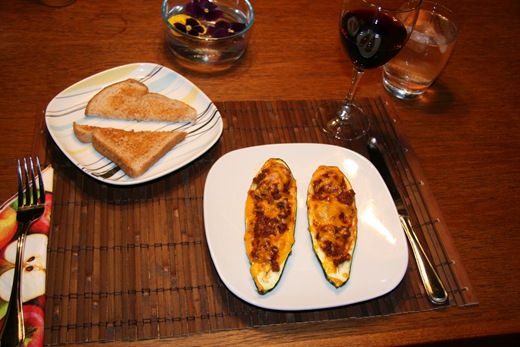 I have that leftover mini casserole for part of my lunch today…can't wait!
Dessert was 1/2 a S'moore Glo Bar: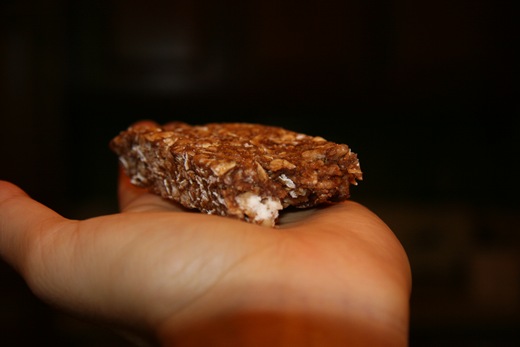 And some Banana softserve: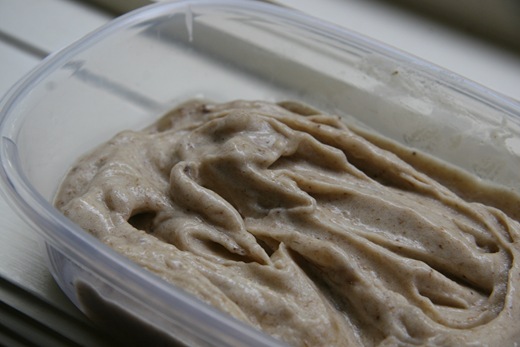 ~~~~~
Do you stuff veggies?
Potatoes, zucchini, mushrooms, peppers, etc??
What is your favourite way to stuff a veggie? I sense a huge stuffing obsession coming on in this kitchen…. :D
Ciao!