Do you want to win some fabulous Amazing Grass prizes as part of the Summer Glow Boot Camp?
Here is what is up for grabs!
FOUR 8.5oz Amazing Grass powders
Amazing Grass T-Shirt
a shaker
Awesome, right!?
What you have to do to enter:
Leave a comment on this post telling me something you have learned about health, fitness, or nutrition in the past little while- can be from anywhere…school, an article, news, blog, etc.
WANT 10 more entries??? Email me your green monster story to be featured on Green Monster Movement. You must send all of the following: your recipe, a picture, and a brief description. Email: [email protected] If you have already submitted your green monster, just email me and let me know.
Contest closes Thursday July 23, 2009 at noon EST
Contest open to US and Canadian residents only please.
~~~~~~~~~~
Check out this picture I found on the website last night! At the finish line…I actually sprinted and caught up to these three people.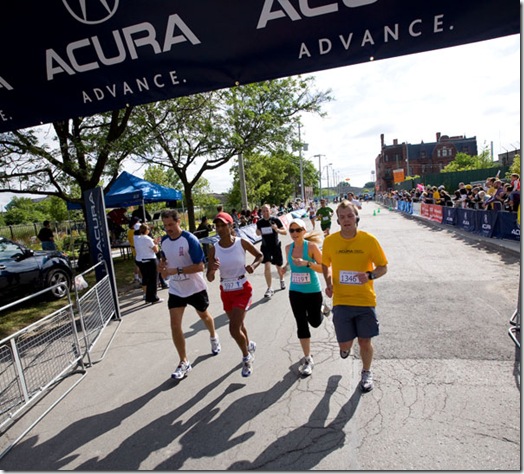 Note:
I wasn't anywhere near this pack!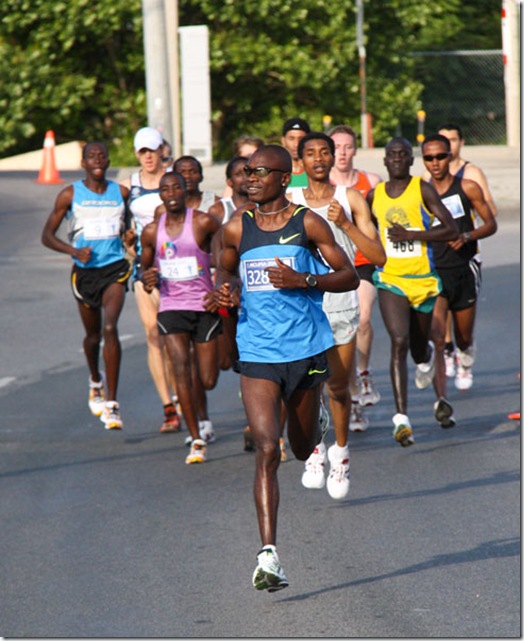 HARD CORE!!!!!!!!!
By the way, that wasn't all the food I had yesterday!
There was more…
I ended up eating the rest of this Optimum bar!
It was just kinda sitting there….so…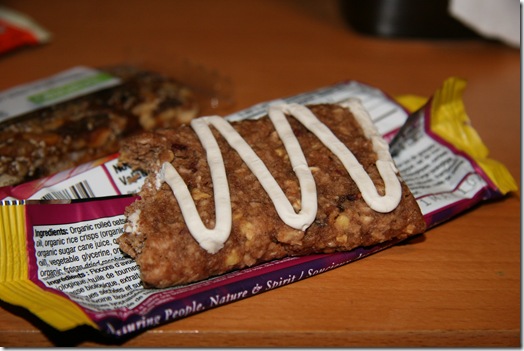 In my belly it went! Nothing was safe near me yesterday!
I didn't care for it much. Actually, I scraped off the icing and ate it plain. It was better without it. :) I gobbled that up and was still hungry before bed, so I had a few handfuls of cereal. I couldn't believe it but when I went to bed I was still hunrgy! But, then I passed out from exhaustion. Eric was like, 'I'm super hungry too'…lol…like I said, the spectator sport is HARD work! He slept for 4 hours yesterday afternoon! bahaha.
I can't believe it, but I'm barely, barely sore at all today! This is absolutely mind-blowing to me because I am typically always sore after long runs, and I was very sore after my 10k race last month. I think my pre-and post race nutrition plus immediate and continued stretching throughout the day yesterday REALLY helped! I think I stretched about 5 times yesterday and then a long one in bed before I hit the hay. :) Stretching rocks!!!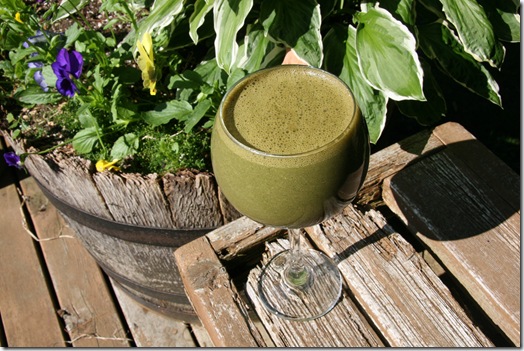 This morning, I wanted to celebrate my race with a fun new Green Monster, I'd like to call
Chocolate Peanut Butter Banana Bomb Green Monster
Ingredients:

1/2 serving PC extra-firm organic tofu
3 cups steamed spinach (I made a big batch yesterday and put it in a glass pyrex dish)
1 T PC Just Peanuts Peanut Butter
1 T cocoa powder
1/2 T carob powder
1/2 scoop Amazing Grass Chocolate infusion powder
1 cup PC low-fat soy milk
1/3 cup water
3 cubes ice
1/2 T coconut oil
1 T chia seeds
1 small banana
Print Recipe
Wow was this GM ever amazing!!! I felt like I was sipping on the smoothest, most luxurious drink ever. It was creamy, creamy, creamy! It actually made more than in the glass below and I quickly chugged it back straight out of the blender. ;)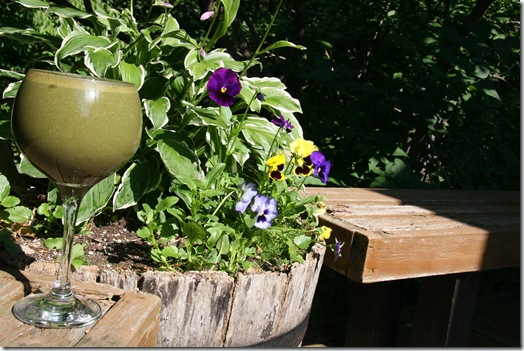 I've got a crazy busy day of orders today (about 6!) so I need to get cracking in the kitchen.
Thank you to everyone for your congrats on my race!!! You all rock!
Have a great day!