Good afternoon! :) I am glad you enjoyed this morning's fun poll feature! I had a lot of fun putting that together. I would love to review the stability ball desk chair as well as the Reebok sneakers, myself! I have super bad posture at my desk and I think this chair could help me. I also think the sneakers are a fun idea to try out. :)
As part of the Summer Glow Boot Camp, I have decided to add an optional challenge for the rest of the month of July!
I am challenging myself and all willing participants to try out my new Green Monster challenge for the rest of the month.
How it works:
Commit to 1 green monster per day
Change your recipe each day
Email me (

[email protected]

) your favourite new recipes + 1 photo!
It is that easy! I always say that since I have been drinking Green Monsters, I have noticed a huge increase in my energy, zest for life, and glowing skin, hair and nails. I have also noticed a decrease in cravings and colds! I have not had a cold since I started drinking these GM's- and even more so since I started adding Amazing Grass and Kyolic Garlic Extract. So why not incorporate GM's into the Summer Glow Boot Camp?
I have a new favourite Green Monster recipe for all of you today that I am just over the moon about!!
It will leave you glowing and sparkling as much as this glass!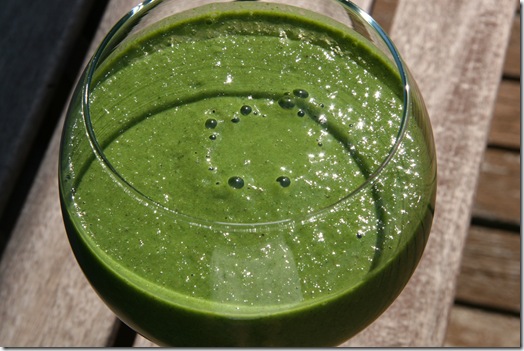 The new ingredients. So fun.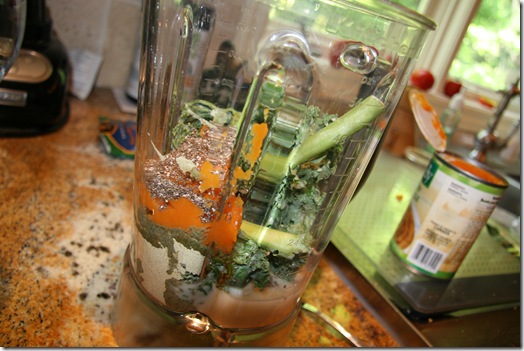 As I mentioned, I have been on the hunt for cheap chia seeds for my personal use and my bakery! Over the past few weeks, I have been in talks with major Chia distributors to try and get bulk orders of chia for my bakery. I'm not sure if I mentioned this or not, but I plan on adding Chia seeds to ALL of my Glo Bars once I get my bulk order!!!
Wait a second here missy, what is the hype over chia seeds?!
Well, let me tell you!
Chia seeds are basically the new flax seed.
Benefits of Chia Seeds:
3x the antioxidant strength of blueberries

5 grams of fibre per serving

15x the magnesium than broccoli

2.5x the protein in beans

6x the calcium in milk!

3x the iron in spinach
WOW!!!!!!!!!
30% of the chia seed's oil is Omega 3 oil. 40% of its oil is Omega 6 oil. This provides the nice balance those who take supplemental Essential Fatty Acids are looking for. The chia seed's substantially dense percentage in alpha-linolenic fatty acid also makes this seed a healthy dietary source of fatty acids.
You do not need to grind the Chia Seeds to digest it. It is a relatively easy to digest seed, whereas

flax seeds are not

. Often, one has to grind flax seeds to be able to process them in their digestive system. That is not the case with chia seeds (amazing huh!!)
The chia seeds are great for athletes because they are highly hydrophilic. Being hydrophilic means it absorbs large amounts of water. Chia Seeds can absorb over 10 times their weight in water making them a great enhancer in hydrating our bodies. They absorb the water we drink holding it in our system longer.
Studies show that eating chia seed slows down how fast our bodies convert carbohydrate calories into simple sugars. This leads scientists to believe that the chia seed may have great benefits for diabetics.
The chia seed gels when becoming wet and this gel, when in our digestive systems, helps prevent some of the food, hence calories that we eat from getting absorbed into our system. This blockage of calorie absorption makes the chia seed a

great diet helper

. Eating the seeds also helps dieters by making them feel fuller faster so they will be less hungry!
Chia seeds provide antioxidant activity
Chia seeds are detoxifying!
Mix Chia seeds into yogurt, sprinkle them on cereal in the morning, add to salads, or even add them to your baking. There are many ways to add chia seeds into your daily routine!
So what did I put in my super detoxifying Green Monster, you ask?
Super Detox Green Monster Recipe
by Angela
Ingredients:

1.25 cup PC low-fat soy milk
1/4 cup water (or a bit more to thin out)
2 cubes ice
1 T chia seeds
3 organic kale leaves (or use spinach)
1 squirt Kyolic Liquid Garlic extract
1/3 cup canned pumpkin
1/2 t cinnamon
pinch of nutmeg
1/2 scoop Amazing Grass Wheat Grass
Print Recipe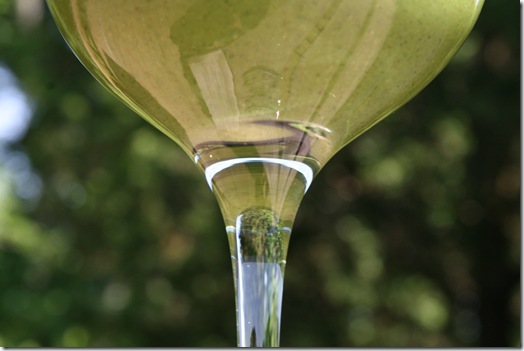 Fun photography!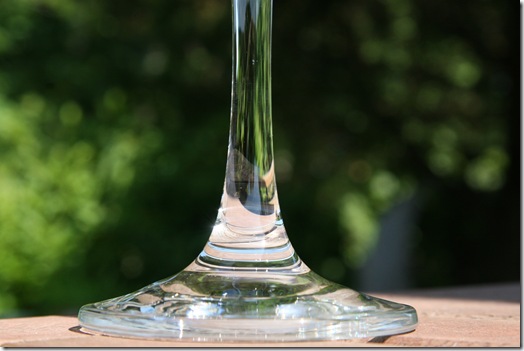 This green monster was hands down perhaps the most invigorating and energizing green monster I have ever had!!!
I didn't even need to add a banana because the spices and cinnamon made it smooth and like pumpkin pie almost. Oh wow was this ever great!
Of course, you can add in a banana or some sweetener to suit your taste buds, but I found that it didn't need it.
So let's review why this GM is so darn awesome:
GREENS!
Chia seeds
Liquid garlic
Pumpkin
cinnamon
Amazing Grass (more greens!)
All of these foods are super foods! I dare you to try this recipe and try to tell me you don't feel amazing afterward! :)
~~~~~

Recycled furniture is the BOMB!!!!!!!
Look what my BIL and SIL gave us!
We now have a dining room table!!!! Score!
Table #2- lovely!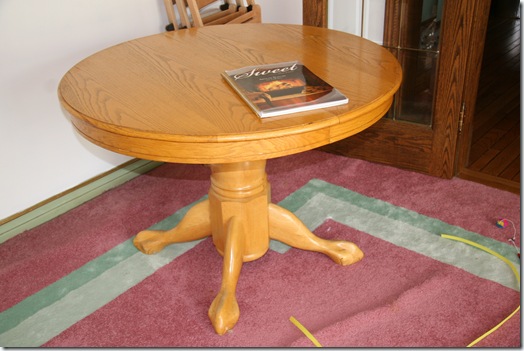 And a banquet table that Eric is going to use for his shop or I am going to use for my packaging line. ;)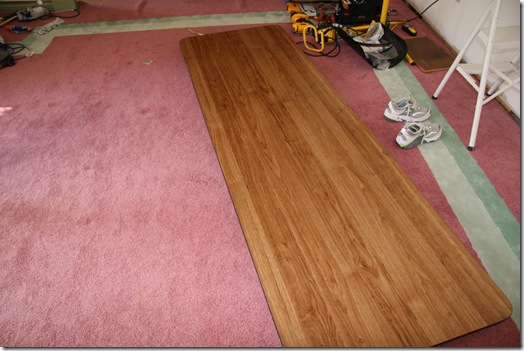 Eric and I already have plans on how to re-finish Tables 1 and 2. We are going to sand them down and stain the top a dark wood stain and then paint the bottoms. Eric will be showing all the ideas and pictures over at Soup Up My House in the days and weeks to come! He is excited to have more projects, heh. :)
Today's question:
Do you have any 'recycled' or hand-me-down furniture in your current place of living? What is it and who is it from?
Personally, I LOVE recycled furniture. For one, it helps the environment, two it saves money, and three you can do fun projects with it and not worry about messing it up too badly!
Most of the furniture in our house is all recycled actually!
Let me review:
Our current kitchen table + chairs is from my in-laws
Our brown couch is from my brother in law Steve
Our blue couch + chair is from my brother in law Dave and SIL Ewa
Our coffee table is from Dave and Ewa as well
Our bed frame is from my mother in law
We also have a couple shelf units from various people
In university, my mom and stepdad gave us their old couches to use
We have tons of recycled dishware, utensils (again from university days)
What about you?