Good day, Oh She Glows reader's!  I'm Krista from Krista's Kravings and I'm pleased to be doing a guest post for you all today.  When Angela contacted me about doing this I had just put a batch of muffins in the oven….a combination of flavours that I had not yet tried.  They turned out fabulous so I decided that this would be the recipe to share for this post.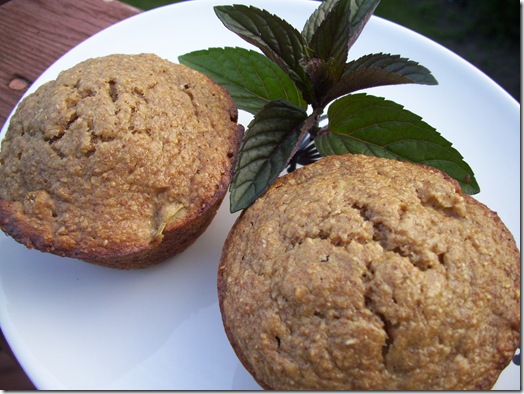 -2 cups whole wheat flour
-1/4 cup of brown sugar (not packed)
-2 ¼ tsp baking powder
-1 ½ tsp cinnamon
-1/4 tsp nutmeg
-1/4 tsp salt
-1/2 cup Egg Beaters (or 2 eggs)
-1/4 cup agave nectar
-1 tsp vanilla extract
-2 cups very ripe pureed bananas
-1/2 cup diced fresh rhubarb
Directions:
*Preheat the oven to 350 deg and lightly grease 12 cup muffin pan
*In a large bowl, combine dry ingredients (first 6)
*In a smaller bowl combine wet ingredients (next 4)
*Add wet to dry stirring just until it comes together
*Fold in rhubarb
*Disperse batter into muffin cups.  They will be quite full
*Bake for 30 minutes, allow to cool in pan for 10 minutes and then transfer to a wire rack to cool completely
 
Enjoy!  Just a quick side note here. Three bananas should do the trick in getting you 2 cups pureed.  I pureed the bananas in my Magic Bullet with a splash of water which worked out perfectly, but mashing then up should work just fine, too.
A big thank you to Angela for trusting me to entertain you for a bit!  I hope you enjoyed this post.  For more muffin recipes, and others too, please come visit me at www.kristaskavings.blogspot.com.
Have a great day!
~Krista