Last night Eric and I watched the Fast and the Furious. I made it though about the first 45 minutes and then I lost interest! lol. Don't get me wrong, I enjoyed the eye candy, but I had a few things on my mind.
Mainly, what goodies I might bake for the race sale! I loved all of your suggestions and I fully agree that my bars and granola would be huge hits. The only thing I have to test this week is whether my Glo Bars fare well in warm conditions. I am going to order individual packaging so I can prepackage all of my goods beforehand and tie them with a nice bow. I also love the idea of attaching my business card through the ribbon! Genius!
As for a flyer, I hope I am going to have enough time to put one together because I think it would be great to give out. I am still waiting to hear from the race director and how it is all going to work (i.e., who will be selling them, etc). Obviously I can't be there to sell everything as I am in the race!
This morning I had a standing breakfast: Green Monster while I baked!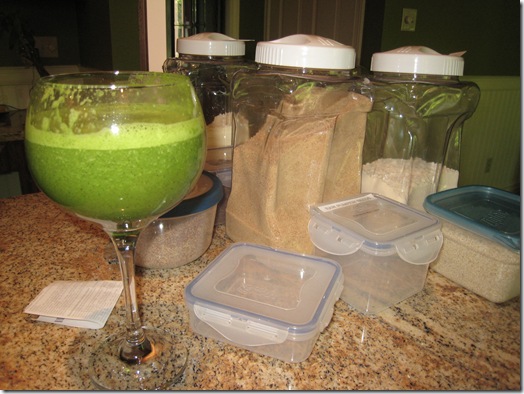 1 1/4 cup unsweetened Almond Breeze
3-4 cups spinach
1 T natural peanut butter (I bought some last night and let's just say it has been WAY too long since I have had PB in the house!!!!!!!!!)
1 T flax
1 scoop Hemp powder
1 squirt Kyolic garlic
1/2 banana
This smoothie combo was da bomb!!!
And I really need to start buying regular natural peanut butter more. I haven't bought it in over a year and a half because I was always buying Almond Butter for the health benefits, but wow regular 'ol PB is like no other!!!
Let's just say I didn't have as much luck with my Vegan Oatmeal Raisin cookies!
Today I used my new organic sucanat sugar instead of brown sugar and I had some major crumbly batter on my hands. I added some coconut oil, but they couldn't be saved. The cookies that resulted were still good and held together fairly well, but they aren't up to Glo Bakery standards! Back to the drawing board!
Before: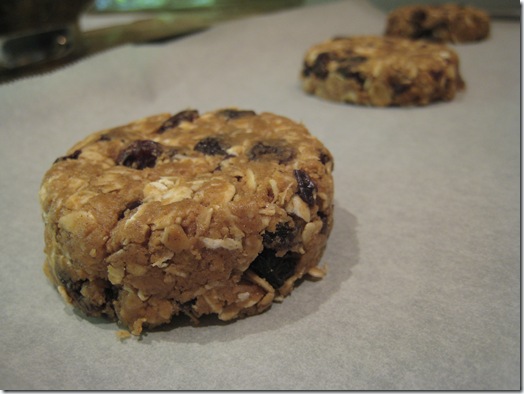 After: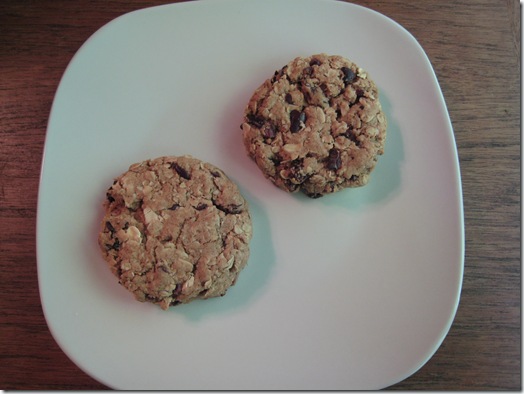 I sampled about 1/2 of a cookie. :)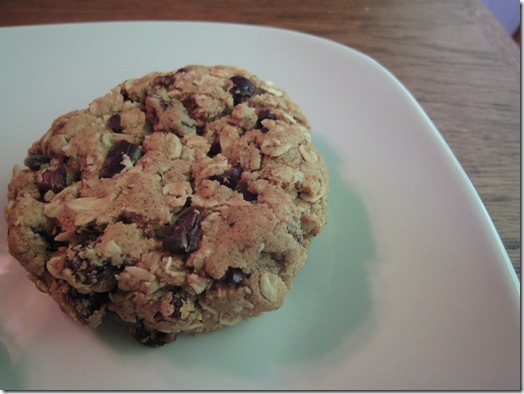 Sigh…
I am a VERY tough cookie (critic!!!!). :D

Yesterday I received a great question asking me to talk a bit about how I came to enjoy exercise!
Juie says:
TELL US!! How did you learn to enjoy exercise!?!

You should make a post on it!!

p.s. u have such a passion for exercise and we would all love to hear about it and how you made it such a passion and why you enjoy it so much!!

You inspire me!!! :]]
Growing up, I was always very active in sports- I did track, played volleyball, fastpitch softball, figure skating, ballet, swimming, etc. I was always happy when I was doing something that was competitive. I am competitive by nature and I love a good challenge!
The sports that I played gave me various levels of internal and external challenges. I had challenges set by myself and challenges set by my team or my coach or even the spectators! I thrive on this type of motivation to keep me going.
And I loved me some rollerskating (and then eventually rollerblading when I was cool enough!)
This was at Christmas in Florida: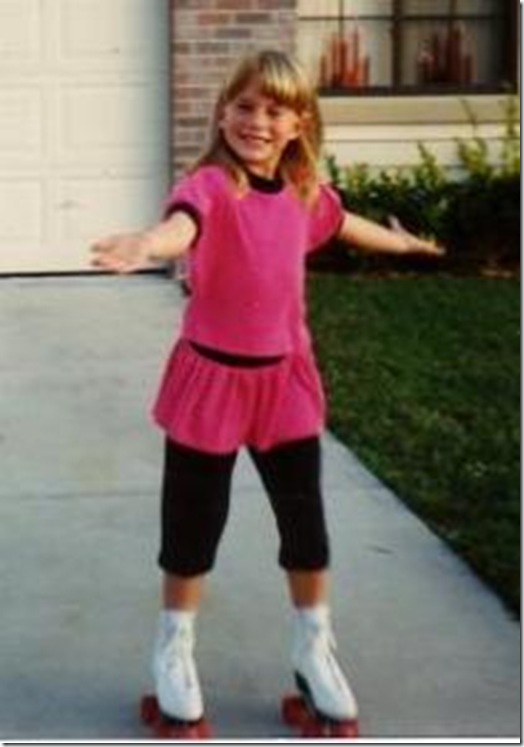 Because my personality is competitive, it was no wonder that I quickly started to dread my workouts in the gym for many years. I didn't offer myself too much varity and generally stuck to the same workout day in and day out. Part of what I used to love about being active was missing for many years. I saw exercise as a means to an end. Something I had to get through just so I could feel better afterward. Now, of course, there are many days that I still struggle with this feeling and I will be the first to admit that I don't always want to hop on the treadmill some days! But I am learning to enjoy the process much more.
When I set a goal of running my first race and raising money for charity I felt exercise come alive in me again. I felt like I had a goal and my competitive nature made me work hard to get there. The past 2 months, my Bikini Body Boot Camp Challenge has also had a wonderful impact on me! It has given me something to shoot for and to hold myself accountable. It has been fun doing the challenge with all of you and feeling like we are a team!
Recently, I also started doing the 30-Day Shred. I bought it way back in January but was unable to do more than 1-2 workouts due to my injury. I am loving the challenge that the Shred is giving me, and I also enjoy taking my measurements every month or so to see how my body changes- no scale necessary! It has reaffirmed to me that strength training is a very important part of overall health (and one that I neglected for a LONG time!!). I love feeling strong now and I find myself wondering how strong my body can get and how this will benefit my cardio workouts!
I think when it comes down to it your personality plays a key role in what you will enjoy with exercise.
If you are a highly sociable person, you will probably be miserable on the treadmill or elliptical, but you will probably come alive from the energy of a group in a group class.
If on the other hand, you are an introvert, you may enjoy long runs on your own, but cringe at the idea of running a race with 20,000 others.
There are so many factors that go into it. I always say it is fun to make a list and see what you come up with:
For example, answer the following questions:
Do I like being on my own or with people?
Do I have a competitive nature?
Am I a morning, afternoon, or night person?
What do I dislike most about my current exercise?
When in my life have I enjoyed exercise the most?
What activities or sports did I enjoy as a kid?
I think it is always important to look back to when you were a child to see what you enjoyed. As a child, we didn't have any preconceived notions of what exercise should be, how many calories we burned, or what we HAD to do.
Today's question: Do you currently enjoy exercise? Why or why not? What type of exercise do you enjoy the most? What do you dislike the most?
Don't forget tomorrow I am unveiling my BEFORE and AFTER BBBC changes!

Goodluck Meghann in her marathon this AM! And congrats to Heather for completing hers!!