Do you ever have these days where you feel like you are being pulled in a million directions? That's how today has been! I think I have gotten a lot accomplished, but I am not sure because it has been a blur, lol.
My meeting this morning went fabulous! I always get myself so worked up over things and I get really anxious (I have always had problems with anxiety ever since I was a child), but there was no reason for it!
I am finally approved for my business license and I should be getting everything in the mail very soon! I also have my Food Safety Certification Exam on Monday so I will be studying all weekend for that! Glo Bakery is really coming together though and I am just so thrilled about it all! :)

Breakfast!!
I was so nervous this morning I wasn't hungry for breakfast until 11am! :( I had some tummy troubles after I had some green tea. Sometimes when I have green tea on an empty stomach it makes me feel sick. Anyways, any anxiety left after my meeting and I had a big green monster to make me happy. :) The GM was followed by some homemade Soy yogurt with nuts and dried fruit! YUM!
This smoothie was one of my healthiest yet!!!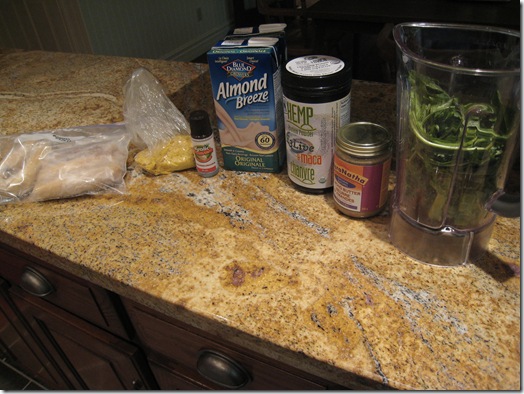 Ingredients:
1 T MaraNatha Raw Almond Butter
10 organic dandelion sprigs
1 organic kale leaf (running out!)
1 scoop Hemp Protein powder
1.25 cup Almond Breeze
1 tsp Nutritional Yeast
1/2 frozen banana
1/2 cup pumpkin (I really need to use this more!!!!)
Kyolic liquid garlic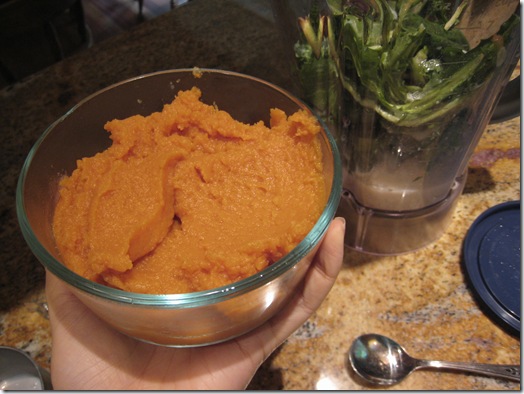 The smoothie was pure heaven!!!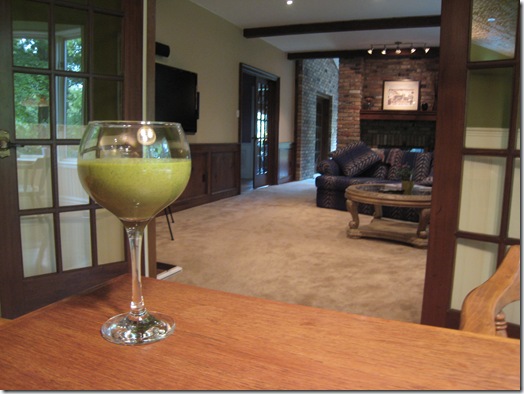 The pumpkin makes it smooth, smooth, smooth. I really need to use it more often!!!
I also have been getting lots of questions about the organic dandelion. To be honest with you I don't notice it AT ALL in my smoothies! Even using 10 sprigs of it today I didn't taste it one bit. I totally recommend trying it out!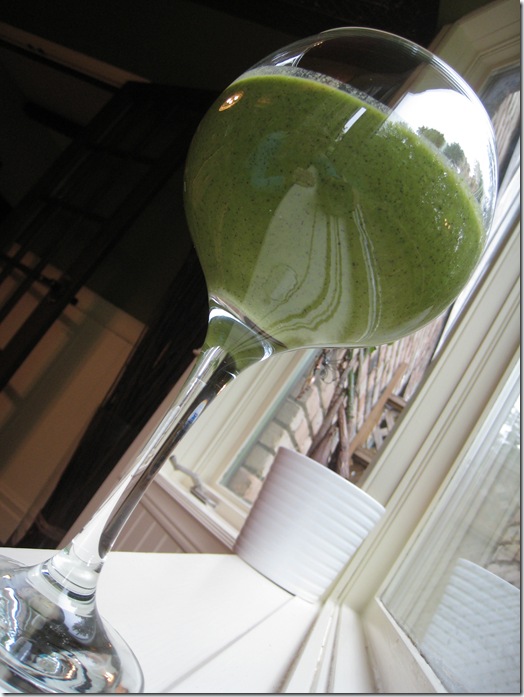 It went down like butta!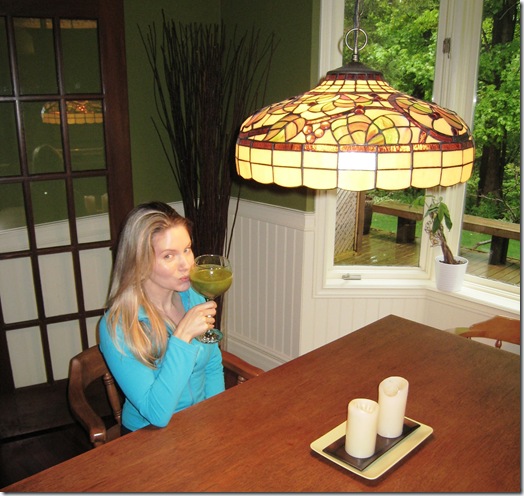 My lunch was on the road today while I was getting some bakery supplies and groceries! I had a 12" veggie footlong at Subway (not pictured- forgot my camera!).
Here are some pictures from my grocery shop: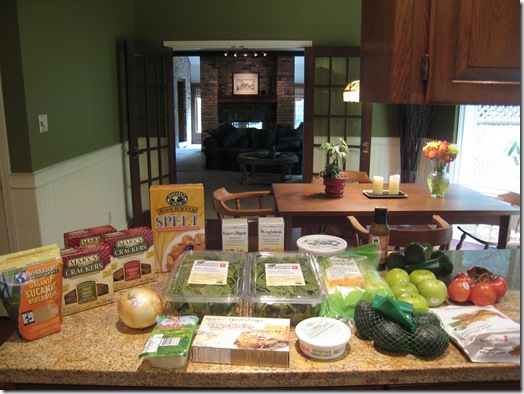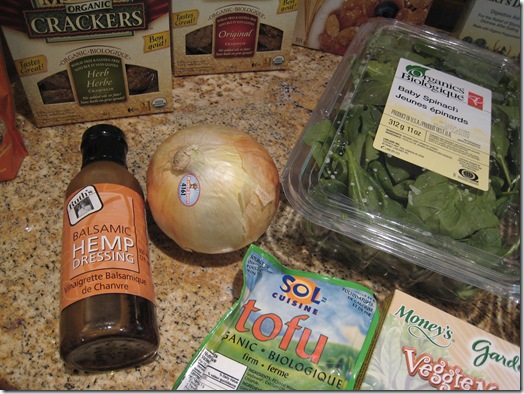 This is my first time trying out The Balsamic Hemp Dressing! It looks right up my alley though- only 25 cals per serving and 1.5 grams of fat and all natural ingredients.
Mary's Crackers were on sale $1.50 off at Loblaws!!! I got 3 boxes. :D Woot!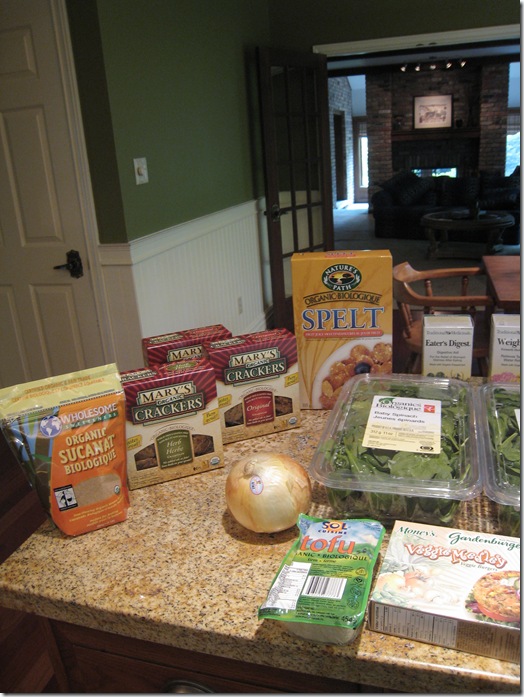 This is also my first time buying Sucanat sugar! I can't wait to bake with it.
Sucanat (Sugar Cane Natural) is sugar in its most natural form. It is extracted from the sugar cane and the freshly squeezed juice is evaporated by a special Swiss process. Only the water is removed. This process preserves all of the molasses. Sucanat is organically grown with no added preservatives and additives.
Facts about Sucanat:
Brown sugar contains only 0.5% mineral salts while Sucanat contains 3.0% mineral salts.

It is completely natural, and has a taste that changes and gets sweeter as you eat.

You can use Sucanat anywhere you would use brown sugar.

It has a lower sucrose level than conventional sugar.

It is sugar in it's most raw form
[Source]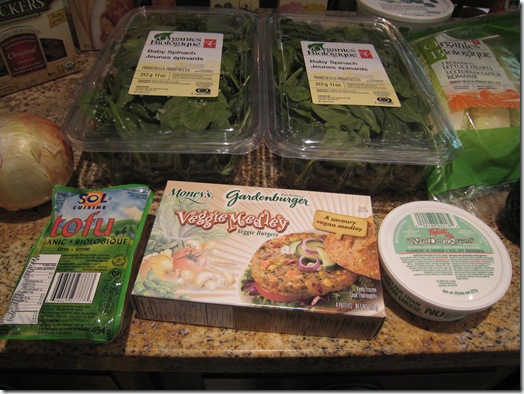 I tried some new teas this week:
Eater's Digest for stomach upset after eating (I get this alot)
Weightless for water retention and bloating (ladies you know what I'm talking about!)
Well, I have to get back to work! I have a lot left to do before our late dinner tonight. I am going to try to put together a video BAKING demo tonight! Stay tuned :) I am also going to show you pictures of my baking goodies!
UPDATE: Shop 4 A Cause now has over 45 entries for your shopping pleasure!!! June 11th baby! All the details of my auction will be released in a newsletter for the Twenty Valley Niagara Country Run tomorrow, going out to 10,000 runners! I am so thrilled about this. :) Get this- the race gives out wine samples DURING the run!!! Right up my alley! lol. I can't wait. If anyone is running this race please email me and maybe we can meet up!
Today's Question: Are there any foods that you buy weekly that are a MUST buy? Aside from normal staples of course. Anything others find weird?
For me lately it is obviously greens for GM's, avocados (obsessed), new teas, almond milk, and Spelt cereal. Those are on the list every week! I would add organic dandelion and organic kale but my local grocery store doesn't always carry organic kale and they never carry organic dandelion (got at Whole Paycheck Foods).