I took inspiration from a recipe in Eat Drink & Be Vegan and came up with my own baked tofu that I can share with all of you.
Tangy Almond Baked Tofu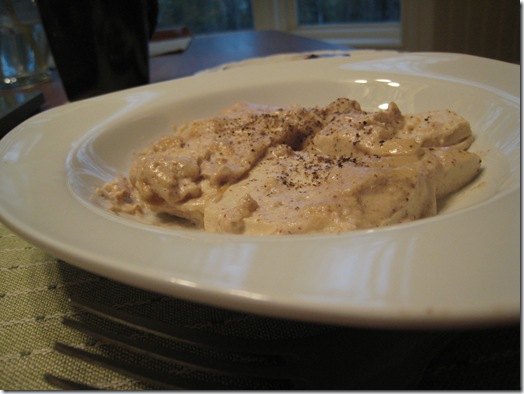 Ingredients:
1/2 package of extra firm tofu
3 T Raw Almond Butter
1 t of minced garlic, or 1 garlic clove, minced
1/2 t ground ginger (fresh is best but I didn't have any)
1.5 T Tahini
1 T agave
Just under 1/2 c water
1.5 T apple cider vinegar
Directions: Preheat oven to 375F. Mix all ingredients by hand very well. Chop tofu into 1/2" pieces. Score each piece so marinade can soak in. Pour half of sauce into a small casserole dish. Add tofu and pour remaining sauce over top. Refrigerate for 1 hour or simply cook immediately. Cover with aluminum foil before baking and bake 15 mins. Uncover, stir, and cook another 7 minutes. Serves 2.
Scoring the tofu with a knife: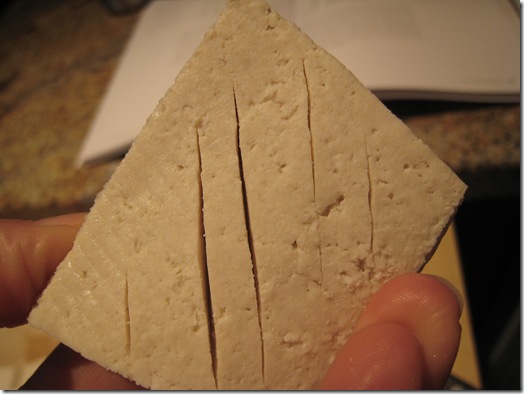 Before baking: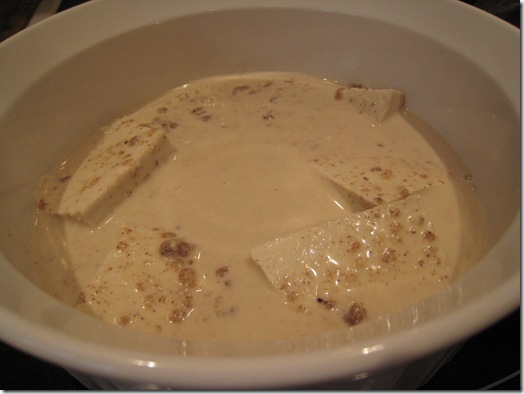 After baking:
My dinner:
The taste?
Well, the sauce was amazing. It was like a more thinned out version of my almond butter. :) So very creamy with a slight tang from the vinegar. This sauce would be awesome on chicken!
The tofu? I admit, I was not 100% sold on eating tofu like this. The texture was a bit hard to get used to, and I am not typically grossed out by ANY textures. I wonder why it is the tofu that gets to me? I ate it, but it wasn't quite like I imagined it to be! I much prefer the tofu in my smoothie. I would really like to try grilling my tofu to make it crispier. The tofu tonight was just a bit too rubbery!
Along with 1/2 a flatbread bun                 and a few handfuls of classic smarties :)
Here are two new supplements that I bought on sale at the grocery store: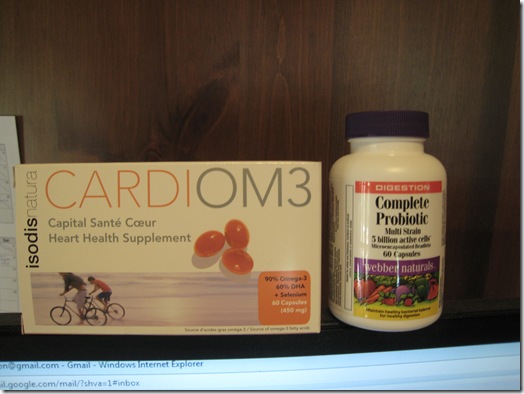 Omega 3 capsules (that I have been out of for a while now) and Probiotics! After hearing Kris Carr rave about the probiotics I knew I had to try it out, especially since I don't get probiotics from dairy yogurt anymore.
So now I am taking the following supplements:
2 Calcium/Mag.
1 vitamin D
1-2 probiotics (it says up to 3 a day)
1 omega 3
Do you take any supplements, if so what do you take and why?

I didn't end up going outside today to workout because the sun hid behind a cloud when I went to workout and I couldn't be bothered. I am such a sun snob! I only enjoy working out outside when it is sunny. lol.
My workout:
Duration: 52 mins.
Incline: 15%, speed 3.7 mph
Max heart rate: 157 bpm
Avg heart rate: 143 bpm
Distance: 3.11 miles
Feel the burn: 435 kcals
I took a couple 'strength' breaks during my treadmill workout today. I did 2 side planks and 30 leg lefts on each side. I love doing strength breaks during the treadmill workout because sometimes I just need to get off and do something else!
Today I was also studying for my food exam that is coming up in early June- so I was very very bored. Learning about bacteria, pathogens, parasites…not my cup of tea!

Glo Bakery cupcakes inspire another artist!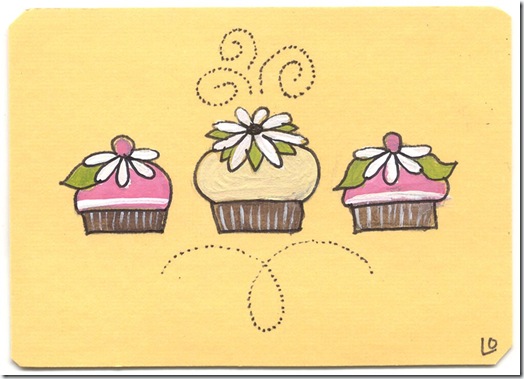 This awesome design comes from the lovely Lisa over at The Lunchbox Project. Check out her super cute food designs! :) Thanks Lisa- you rock!
Glo Bakery Logo:
I finally completed the logo after many revisions! I ordered my business cards today from Print100.com. They had the best prices out of all the quotes I got- including free shipping! Special thanks to the wonderful Lindsay and Mara for the help!
BEFORE: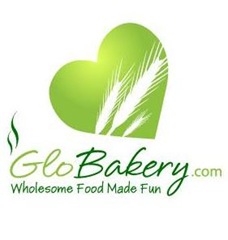 I could honestly spend hours and hours longer twiddling with this logo and the business card design, but I had to just order the damn things and move onto another project! It was taking up way too much time.
I tried things like shrinking the heart, but to my surprise it looked worse, so I went back with the original size. I also think I am going to tone down the yellow glow on the Wholesome Food Made Fun, but other than that, I'm pretty happy with it.
On my business cards, I got 'hot stamping' in green for the Glo Bakery.com. It will have a green metallic finish on it and really catch the eye.
Peace out homies!

"The dress must follow the body of a woman, not the body following the shape of the dress."
Hubert de Givenchy