Sorry Gmail Tasks.
I went from this: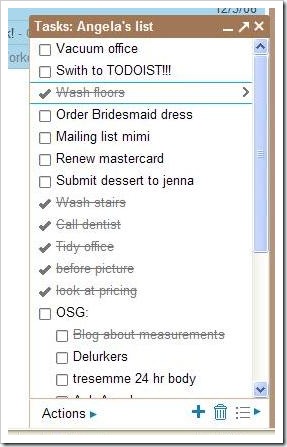 To this: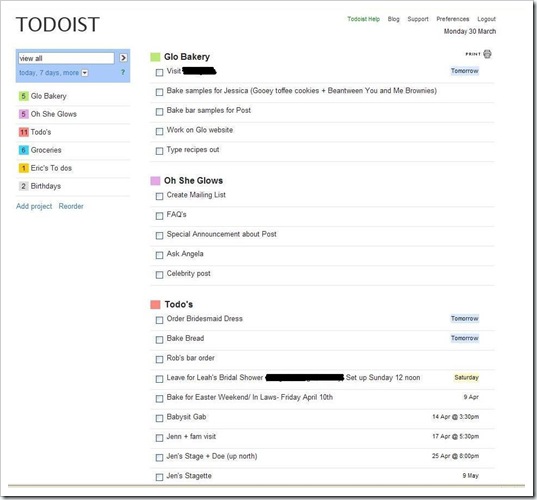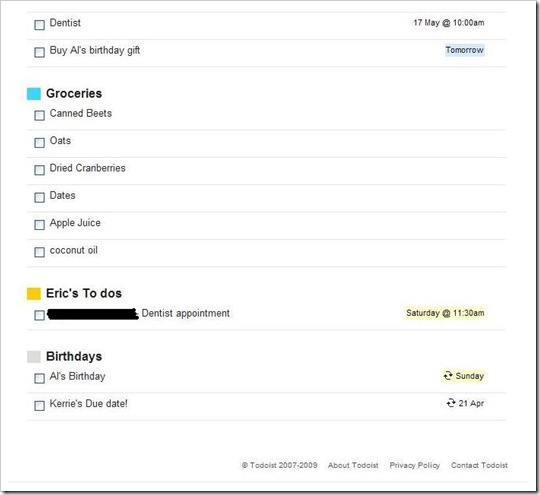 How did I ever live without Todoist?!
I admit, I was resistant to trying out Todoist. I tried to get the hang of it months ago and gave up. I don't get the hang of new tech gadgets very easy and I prefer simple things! :)
But I have to thank Kath for giving me the extra nudge. She sent me an email last weekend. She said I had to try it out…so she changed her password and let me log into her own account to play around! How sweet is that?
So after drooling over her grocery list and her agonizing over her school list, I thought to myself: Todoist dot com is a gem in the rough!
Even though I initially liked the appeal of Gmail's simplicity, I admit, it was even too simple for a simple gal like myself! ;)
For instance, I couldn't add dates to things and organize by date. Todoist allows you to do this with ease.
It took me probably about a half hour of playing around to really feel comfortable with it, but I am SO happy I did. Everything is organized all in this nice tidy place! Just look at those screen shots!
I can even add a folder for Eric's Todos. He is not a list maker by any means, so this will allow me to help him out. He can even log onto my account and check out his todos. hahahaha. Not likely going to happen but a wifey can dream right?! FUN!
So thanks to everyone who suggested trying out Todoist! I am a happy camper.
Try it out yourself!

I have to admit my workout today was a struggle!
I don't know why but the past several days I have had to force myself to stay on that treadmill. Does anyone else go through these funks?
I wasn't on the treadmill for more than 5 mins. and I wanted to get off! It didn't help that my Satellite wasn't working and I had no TV to watch. No magazine either. Just a Before picture starring back at me. And to be honest, it wasn't working!
I had to pull out all the ropes to peak my motivation.
I decided intervals– and fast- were needed! These intervals let me get off the treadmill for short periods of time, allowing my body to feel at rest, at least temporarily!
Here is what I did:
Before my workout: 1 set of 15 tricep dips for BBBC
minutes 1-5: Walked speed 3.8, incline 15%
15 Tricep dips
Minutes 6-10 walking, 3.8, incline 15%
Last set of tricep dips
Minutes 11-15, speed 4.0, incline 10%
1 min. plank
Minutes 16-20, walking speed 3.8, incline 15%
1 min plank
Minutes 21-25, walking speed 4.0, incline 10%
1 min plank
Minutes 26-30, walking speed 3.8, incline 15%
1 min plank
Minutes 31-35, walking speed 4.0, incline 10%
1 min plank
Cool down for 8-10 mins, speed 3.8-3.0, incline decreasing from 10% down to 5%
Stats:
Duration: 49 mins.
Max heart rate: 158 bpm
Avg heart rate: 135 bpm
Feel the burn: 338 kcals
I am wondering if I didn't have enough fuel for my workout? I didn't have carbs at lunch so perhaps that was why. Before my workout I did have this apple, so I thought that was enough, but perhaps my body disagreed!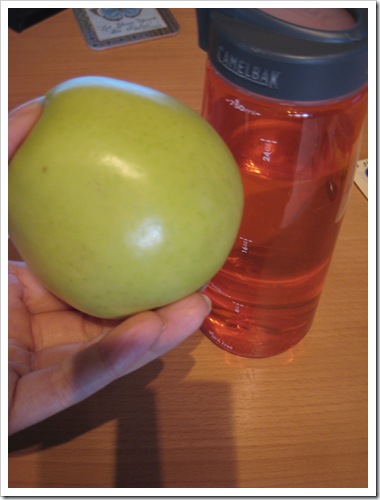 My body also could be a bit run down judging from the past couple days headaches and general tiredness.
I will make sure to have a carb heavy lunch or breakfast tomorrow and see if that makes a difference.
Edit: Yup, I'm pretty sure it was the lack of carbs. I just had toast with an avocado, small piece of cheeseless leftover pizza, and a few handfuls of cereal. I feel much better. lol.
Tonight's questions:
What are your favourite pre and post workout snacks/meals?
Do you try to eat carb heavy foods before workouts?
What snack or meal do you find holds you over the most?
As I mentioned in this afternoon's post, tomorrow is our celebrity interview! See you tomorrow for the fun! Who hoo!!! :D