Good morning!
I started my morning off with some laughs over at Yourself In Five Years. OSG was featured in Nate's post 'This Week In Blogs' Roundup.
Please go over to read this post. It is seriously funny. But come back.
[In case you are wondering, yes, every time I say that word it will magically appear in neon pink. It's just cool like that.]
was mentioned in this week's round up.
Nate listed a few ways that he could participate in OSG BBBC.
"1. I could take my picture wearing a women's bikini

2. I could go with imitation being the most sincere form of flattery, and also ask my blog readers to send in bikini pictures

3. I could send in my picture wearing a speedo and an "I Glo" baby tee."
Personally, I think Nate hit the nail on the head with #1.
The question is, who wouldn't want to see Nate in a women's bikini?
I personally challenge Nate to send in his picture for the contest so that I can give him due recognition by featuring his hard work on the blog.
In other Earth Shattering OSG news:
Eric is still on the hunt for spiders.
This morning as I was typing this post one crawled out from my keyboard. I almost DIED.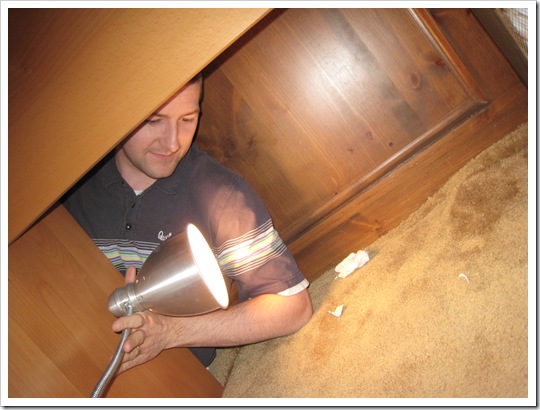 The Two Blondes finally had success with their bread machine:

My bikini body workout yesterday!
As I said I got to chat with my mom the whole time I was on the treadmill so it went by super quick. Well, mostly she chatted and I tried to catch my breath, but it was all good.
The details:
47 mins.
Max Heart rate: 153 bpm
Avg heart rate: 138 bpm
Speed 4.0, incline 12%
Feel the burn: 340 kcals
I also did the BBBC Challenge #1 which was 3 sets of push ups and 2 sets of Wigg's Ab moves. My arms are really sore today so I am going to switch up the next challenge to legs.
OSG Bikini Body Boot Camp Challenge Day 2:
For today's challenge, I am asking everyone to do 30 mins. of heart-pumping cardio as well as 2 sets of lunges and 2 sets of squats. Do as many reps as you can- you are the best judge for how difficult it is!
Speaking of Bikinis, I am dying to get this VS Bikini (and about a gazillion others on that website!)
We are off for a Green Monster, then off to furniture shop and my relatives place for a visit!
Enjoy your Saturday :)