I knew my mom would love this title!

Tonight's post is on Fix-Ups + Fitness.
Why? Because I busted my butt cleaning all day and I'd like a pat on the back. tee hee. No really, I do! I sure hope hubby reads this tonight. Wait, he never reads my blog :( Sniff, sniff. I have a deadbeat hubby blogger! LOL. Maybe Matt can talk some sense into him?
Ok so back to my cleaning spree.
Eric and I like to call it The Fake House. We got that term off of Everybody Loves Raymond and have been using it with a twinkle in our eye ever since.
That is the term used for cleaning the house like a mad person before company arrives. When they arrive we present to them The Fake House. When they leave the Authentic House resumes itself with a huge sigh.
I mean, our guests really don't think we keep the house like that all the time do they? Could they?
I am the first to admit that we let our house get messy and leave it longer than we probably should. Sure, I do surface cleans quite regularly, but the deep down cleans don't happen as much as I would like. A work in progress if you will.
Coming from our condo in Toronto, that was a mere 840 sq. feet, looking after our house is much different.
Tonight's question: If you don't use a room and you keep the door closed do you have to clean it?
If a dust bunny falls on the floor and no one is around to clean it, is it really a mess?
Yes, these are the questions I pondered today while cleaning. I wish I had my voice recorder to record all of these brilliant thoughts. It is amazing how the fumes from the cleaning agents can really light my brain cells on fire.
Ok, ok I will post some pictures and stop rambling like a crazy person. Sheesh, so demanding.
I got rid of the Dust Bunnies on the stairs. I was so sick of looking at them!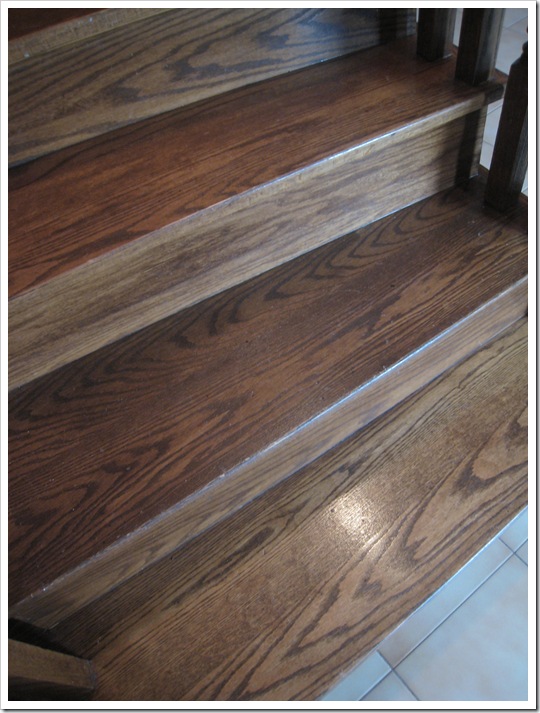 Just call me Molly. At your service.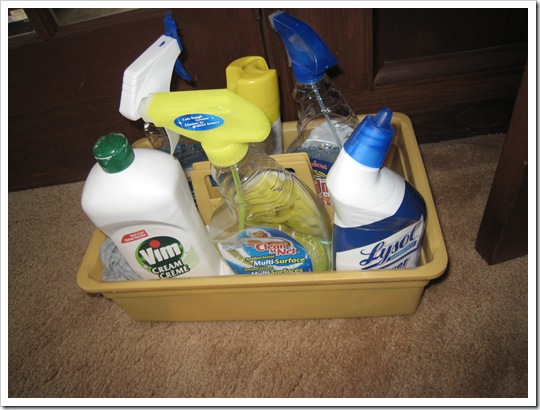 Say goodbye to these harsh cleaning agents. Once these bottles are Dunzo, I plan on switching to all organic cleaners!
I cleaned off tons of clutter on the kitchen counter. It is crazy how much stuff piles up. Mail, boxes, newspapers, baking stuff, notes, etc etc!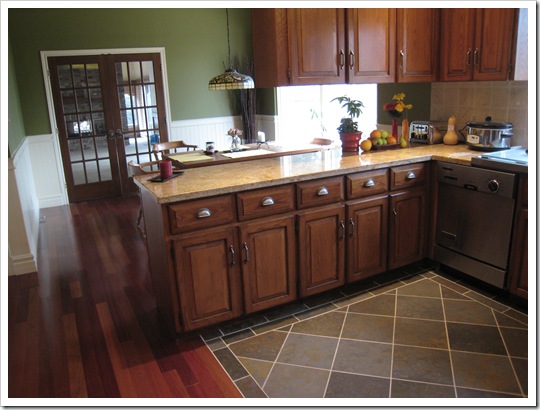 Shoot. I should have taken a before picture of the desk. It was COVERED in crap. I hope no one opens the drawers. LOL.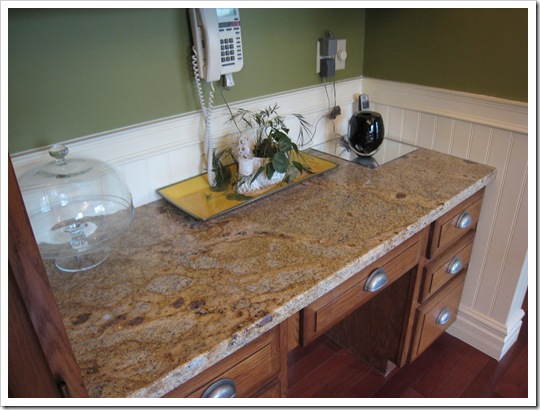 I also did the bathrooms, hallway, etc. I still need to do the Office. [OMG! IT's OFFICE night!!! I just realized! lol]
My mom and stepdad's Refresher: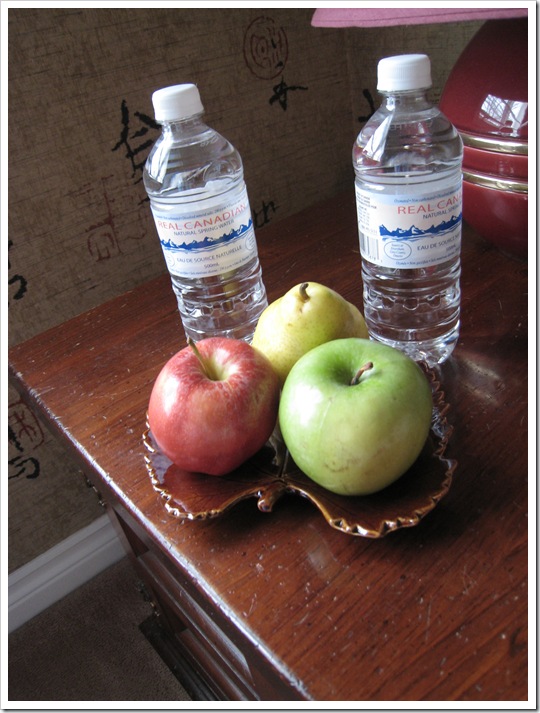 If they think they are getting Glo Bakery products they are sadly mistaken!! bahaha.
Sketchie chases the broom, mop, and vacuum cleaner. *sigh
I wish I was done…but I'm not! I still have to wash the hardwood in the kitchen and then help Eric move the couches back into the Family room when he gets home from work. Almost done..

I admit, I was feeling quite inspired for my workout today after receiving all of your emails about the OSG Bikini Body Boot Camp Challenge! So many of you have signed up. That is so awesome. I was just telling Melissa that we should organize a big OSG photoshoot at the end and show off our sexy selves. ;) Or I could put together a slideshow or something fun.
My workout:
40 mins. on the treadmill

Max heart rate: 160 bpm

Avg heart rate: 143 bpm

Feel the burn: 310 kcals
Today I watched a special weight loss special on The Doctors while I worked out. It was great! Jillian Michaels was a guest host. Did anyone else catch it?
It was super motivating and made the time go by much quicker.
Today I decided to take a break from the interval runs and just walk. I don't want to overdo it too fast.
Here's what I did:
Walked at speed 4.0, incline 12% for the first 15 mins to warm up

at minute 15 I got off the treadmill and did 10-12 push ups followed by 2 side planks approx. 30 secs each.

I got back on the treadmill and walked at same speed and incline until minute 20

Then I got off the treadmill, and repeated the pushups and planks

I did this until minute 35 (that was my last interval) and then I cooled down from minutes 36-40 at speed 3.5 incline 5%
It was a great interval workout and the time just flew by! Because I mixed in pushups and planks I got a TOTAL BODY workout.
My eye was on the prize- Bikini Body Boot Camp!
Ok, we're at T minus 3.5 hours until my parents arrive. I best get back to it!
Tonight's questions: 1) What exercise did you do today (or are planning on doing tomorrow) for Bikini Boot Camp?
2) I have an Eggplant and a cabbage in the fridge and I want to make a dinner out of 1 (or both) Anyone know any dinner recipes?? I rarely rarely cook with either of these! HELP!

See you tomorrow for Baking Day!