Good morning!

Is everyone ready for a super, Antioxidant packed giveaway to start your Thursday?? I sure hope so, cuz this one's great!
The lovely Janny from POM send me 2 sets of coupons to give away to my lovely readers! Naturally I was thrilled at the idea of giving away POM products on Oh She Glows. Afterall, antioxidants help neutralize free radicals in our body. These free radicals harm and destroy healthy cells! What's a girl to do???
Fight back of course!
I like to think of antioxidants as nutrient powerhouses, that enter our body and clean up the bad guys.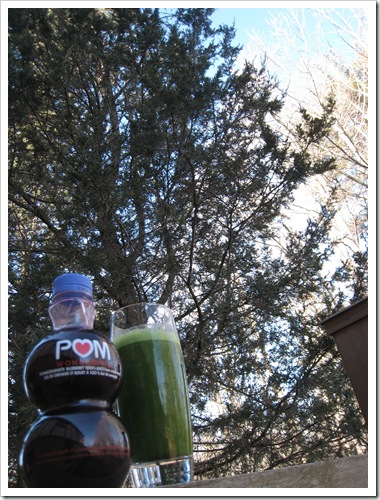 Who wouldn't want that?!
Of course, I had to make my first Green Monster with POM juice this morning!
Could my insides have been any happier? I think not.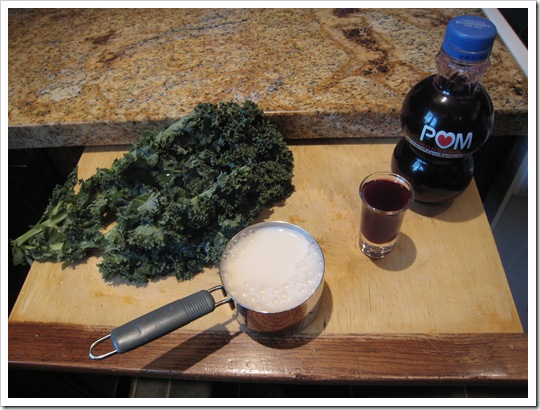 The contents:
1 cup Almond Breeze in Original
3 organic kale leaves
1 'shot' of POM juice in Blueberry
Remember: If you are new to Green Monsters, I always recommend adding a banana for some sweetness, as well as a bit more liquid.
The result:
This smoothie was awesome! It had a hint of blueberry. It was so pretty when I was blending it…it was this gorgeous pink and purple colour. Of course, if you don't use as much kale as I do, it would be a deep purple hue! :) I will definitely be buying this for a treat to create some new recipes with.
Clinical Research Studies:
Naturally I was drawn to the clinical research information about POM! I am still a nerdy researcher at heart, what can I say.
"After only three months, blood flow to the heart improved approx. 17% in a group that drank POM Wonderful 100% Pomegranate juice, but worsened approx. 18% in the placebo group. The study included 45 patients with coronary heart disease."
"Compared to patients taking a placebo, those men drinking 8oz. of 100% Pomegranate Juice daily for 4 weeks were 50% more likely to experience erectile improvement in this study of 53 subjects."
The Contest: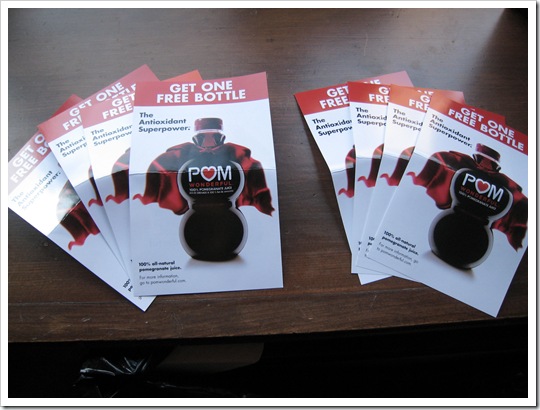 We have 4 US coupons on the right, and 4 CAD coupons on the left!
Here's how you can win some delicious POM of your own!
1) Visit the POM website and tell me what your favourite POM advertisement is and why. Click on 'POM Truth' at the top left of the homepage, then click on 'POM Ads' on the top right hand side of the page. Now tell me your favourite ad!
1b) It is imperative that you tell me whether you are Canadian or American on your comment below!
2) Want to win another vote? Link back to this contest giveaway on your website! No blog? Have no fear! Send an email and copy your friends on it telling them to visit my contest giveaway. Please copy me on the email. [email protected]
Rules:
1 Canadian Winner will be picked at random to win 4 CAD POM Coupons
1 US Winner will be picked at Random to win 4 US POM Coupons
Contest Closes: Thursday March 26th at 7pm EST.
Please leave only one comment below.
You must tell me whether you are a US or Canadian resident!
Goodluck!!! :)
See you this afternoon for some Wedding Workshop Photographs! As well as my Sweet Wheat Sugar cookies with fun cookie cutter designs.