Hey everyone! WOW…thank ALL of you for your amazing comments on my yoga post this morning! So many people shared their experiences and gave great recommendations for me. Awesome. I had a hunch that I was not the only one who felt a bit defeated with certain yoga DVD's or videos. I loved this comment by Sarah:
"This may sound like a silly comment but if you don't enjoy yoga….then don't do yoga. And don't feel guilty about it! It is possible that you just haven't found an instructor or type of yoga that you click with. Keep trying and definitely go to a studio, it's the best way to get into it. But if after all this trial and error, it's ok to say "this is not for me." I know so many people whose healthy lifestyles motivate them to want to do all things healthy, but it's ok to pick and choose. You don't have to do something just because it's good for you. You should do activities that you enjoy!"
Ummm…heck yea! I couldn't agree more. I will admit that I do have a bit of guilt when I can't get into the yoga! It is such a trend right now and you hear people rave about it, and when you feel like you are 'failing' (which I don't think it is by any means), you feel like you are 'missing out'. But as I was reading many of your comments, I kept saying to myself…'Don't feel bad that you don't like it, how silly!' but that is how I feel at times myself. The truth is, we are all passionate about something. For some it is tennis, others running, some yoga, etc. Would you expect a yogi to want to to a kickboxing class? Probably not. Then why should some of us place expectations on ourselves to do something we aren't feeling? We shouldn't.
The thing I want to figure out for myself is this. Do I actually dislike yoga and that is the way it will be? Or have I not found the 'right fit' for me yet. I'd like to think it is the latter but we shall see! I have only experienced 1-2 'in person' yoga classes and they weren't too bad, but they weren't great. I've tried Part 1 of Bryan Kest's Power Yoga as well as some of Yoga Today's videos. That is it. I have barely made a dent, so I will certainly check out many of your suggestions and see if I can find the right fit for me! If not, be damned with it! lol.
The last thing I would want for myself or anyone else is to start feeling down because you don't like a particular activity. The point is we tried and gave it our best. The other reason that I think I have been disliking the yoga is because it is HARD and I am INFLEXIBLE. I am used to excelling at the activities that I do. Growing up I was a fastpitch softball player (competitive), I played volleyball, figure skated, ballet, etc. I was able to learn those activities pretty well, but because I am not flexible the yoga gets frustrating for me. And I know that is a big reason why I haven't clicked with it so much. I think I put too much pressure on myself to nail the moves instantly. I just want to improve my flexibility over time! :)
I am definitely going to try Yoga Downloads again. Wanna hear a funny story? I downloaded it before (a free one) and I opened it and there was no video (just audio), so I thought it was BROKEN and wouldn't work on my computer!!!! LMAO. Sings….*blonde moment* Eric and I always sing that when I do something silly. I like to have a sense of humour about things.
Black Cloud
So why the black cloud title? Because today has been one of those days!
My mother and I left for the wholesale craft place to pick up packaging and some party decorations. Well, I asked her to drive my car because I didn't know how to get there. And wouldn't you know it she got a speeding ticket! It was awful. We both felt so bad and it was a rotten way to start the day. We tried to put it behind us, but I felt so guilty because I was the one who asked her to drive. Those things happen I guess.
We got to the wholesale place and I was in heaven. Ribbons, and bows, and sparkles…OH MY.
Here are the packages that I bought to test out for my bakery: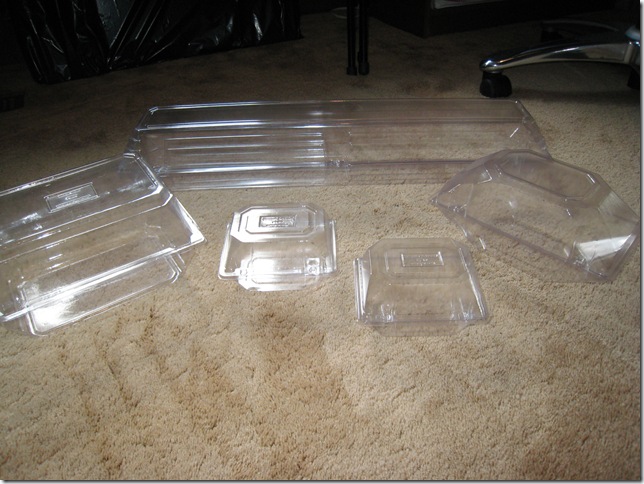 They turned out to be flops- already! Most of the packages have already broke or they won't close right. lol. I guess I will have to go to an actual bakery wholesaler. Ah well, maybe I can make some use out of them just using them for gifts!
And then I got Leah some shower decorations…that I can't show you! :) I am a bridesmaid in her wedding, and her shower is April 5th. I can't wait to see her!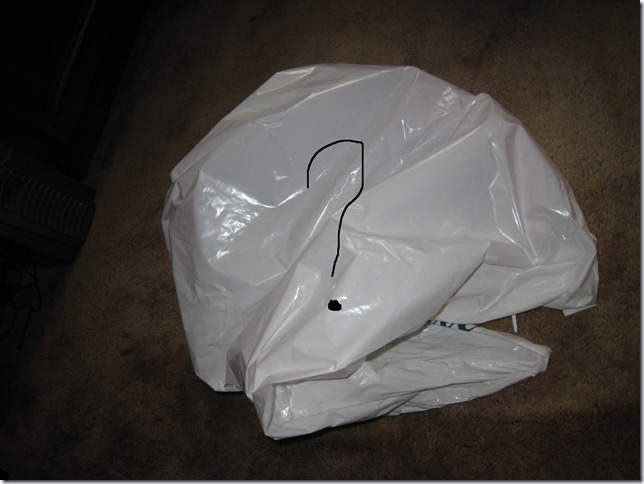 Then I picked up a parcel at the post: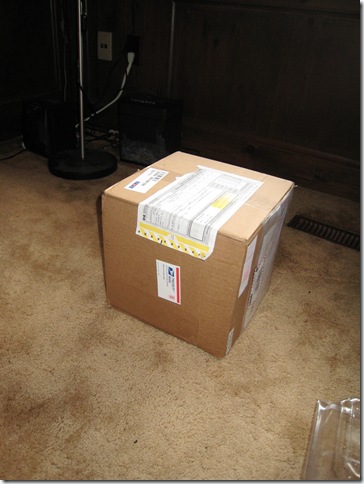 I had totally forgotten about the Glo Bakery items I purchased!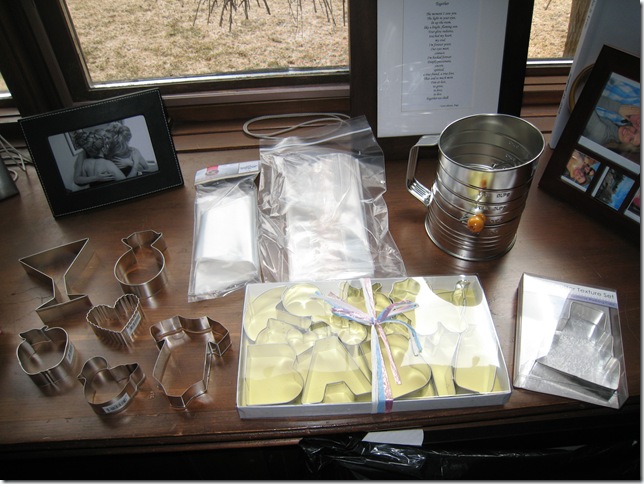 The loot:
Various cookie cutters: Weddings, bridal showers, baby showers, etc. (The box in the middle is ALL baby stuff! So cute)
A Sifter that was on sale for $5 (I can't believe this is my first sifter!)
Goodies bags
Piping bags
I am so pumped to use this stuff!
My Eats:
Sorry guys, not many pictures today since I was in a complete rush. I have only been home a total of 30 mins. all day.
Breakfast: Green Monster
Lunch: Spelt cereal, apple, Amy's Organic Crackers
Snack: Green Monster #2 (I needed something FAST so I could drink it and get stuff done, I'm SO behind today!)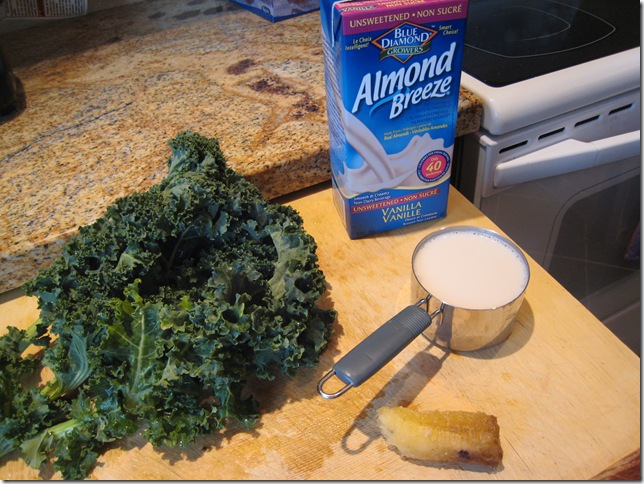 Wedding Dress Plan: In order to save a few calories, I use a SUPER ripe (i.e., black) banana for some sweetness. I only have to use 1/3 of a medium sized banana to make it sweet because it is so ripe and flavourful. Calorie savings: Approx. 70.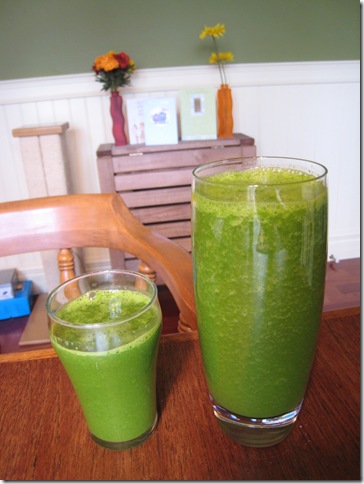 I actually used 1.5 cups of Unsweetened Almond Breeze in this because I had a TON of kale. It tasted amazing and healthy.
I was glowing…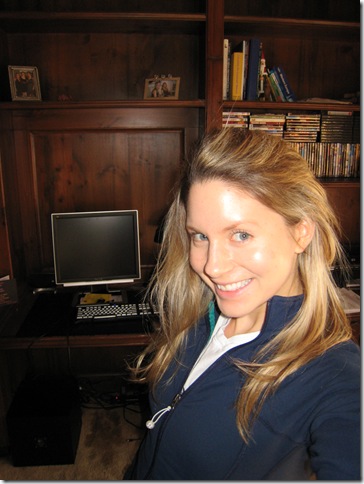 Germany Shooting:
On a sad note, I'm sure most of you have heard about the tragic shooting that happened in Germany. I am so saddened by this kind of thing. What is the world coming to? It is depressing to think about. My heart goes out to all of the victims and families.
Coming from a psychology background (I have my Master's in social psychology), instances of violence such as this always reaffirm to me why I have always thought our school systems need MORE support. Many schools are so underfunded and can barely keep a single guidance counsellor on board. I have spoken with a school counsellor in my area and she said that she is so overworked and doesn't have enough time to provide all of the children with the help they need. We need to focus on PREVENTION if we are ever going to stop the outbreak of violence in our schools!
Does anyone else have any experience in the school system? What is your school like? Underfunded? Or just right?
See you tonight for the NEW workout that I did this afternoon. :)
"Wisdom is knowing what to do next; Skill is knowing how ot do it, and Virtue is doing it." David Jordan