Good afternoon on this splendid Friday!
I hope everyone is having a great start to the weekend (or thereabout!). Anyone up to anything fun?
Eric and I have a date with our family room ceiling- yup, that's right folks, we are shaving the popcorn ceiling. Going to be fun times.
Maybe I should run while I have the chance?! :D
I realized that I am long overdue for an update of what I bought…I missed last week so please forgive me!
~~~~~~~~~~~~~~~~~~~~~~~~~~~~~~~~~~~~~~~~~~~~~~~~~~~~~~~~~~~~~~~~~~~~~~~~~~~~~~~~~~~~~~~~~~~~
What I bought Week 3 + 4
Feb 8-20th 2009
1) Bulk Barn– $ 15.27 [Spelt organic flour, organic spelt flakes, dates, goji berries, tahini]
2) Post office– $32.31 + $14.18
3) Bulk Barn– $17.32 [Valentine's candies, raw pistachios, pink sugar, raisins, turbinado sugar, brown sugar, white sugar, heart cookie cutter]
4) Shop Light– $33.89
5) V-Day Dinner at Moxie's– $75-$50 gift card = $25
6) Drug store– $14.18 [Deodorant + other things I don't recall]
7) Groceries– $50.51 + $25.24 + $45.09
8) Dollarstore– $9 [vday cards, bristol board, vday decor]
9) Gas– $32 – $gift card = $0
Total Spent over 2 weeks: $281.99
Average per week: $140.99
My thoughts:
I am really happy with the last 2 weeks, especially considering that Valentine's Day was managed so well. We used a gift card for Moxie's (thanks sis!) that helped out a ton so our whole dinner (including tip) only cost us a mere $25. Additionally, instead of over spending on Eric's gift like I normally do, I bought him something off his list that was on sale (work light) and decided to 'hand make' him a slideshow. He ended up loving it and I felt great because I put so much time and love into it. We also got our cards at the dollarstore.
Also, we still have a couple gas gift cards to use up so our gas didn't cost us a penny- sweet!
I also sold a Lululemon hoodie on Ebay and made about $110 CAD….nice! I plan on putting this money toward a new Lululemon Shape jacket. :D
I am also proud with how much we are cutting back on groceries. Over two weeks we only spent around $120 (or $60 per week)- before the budget we were spending about $125-$135 per week alone. We have cut back by over 50%…it feels really good! :)
Question of the day: Have you recently made any cut backs in your life? What were they? What sacrifices did you make and what things are you not willing to sacrifice?
If you recall, one of my huge sacrifices was that I stopped buying Ezekiel bread ($5-6 per loaf) and instead we now buy no name whole wheat bread ($1.29 per loaf). I have to admit, the no name bread is so disappointing after eating the wholesome goodness of Ezekiel bread for so long.
This prompted me to put on my thinking cap this week and so I created super economical and wholesome Organic Spelt Tortillas that were not only cost efficient but easy to make! I plan on making these once per week. They only cost me $1.10 per 8 tortillas- WOW!
I also stopped buying Maranatha Raw Almond Butter for the time being. I scrapped the bottom of my empty jar the other day and a piece of me died inside. I am having a burial for the jar in my recycling bin tomorrow. Service to be held at 10am.
Maybe Maranatha will shoot some my way? lol. A gal can dream…
Lastly, I gave up my store bought hummus and I made my own. I now buy my chickpeas uncooked in bulk and a huge batch (2 cups) of hummus is only 50 cents!!! It is delicious and economical.
All and all this was a very productive past 2 weeks! Stay tuned for next week's update. I have been getting the shopping bug lately…stay tuned to see if I can resist it!
~~~~~~~~~~~~~~~~~~~~~~~~~~~~~~~~~~~~~~~~~~~~~~~~~~~~~~~~~~~~~~~~~~~~~~~~~~~~~~~~~~~~~~~~~~~
The other day while I was waiting for Eric at the car dealership, I pulled out all of my gift cards that I have in my wallet: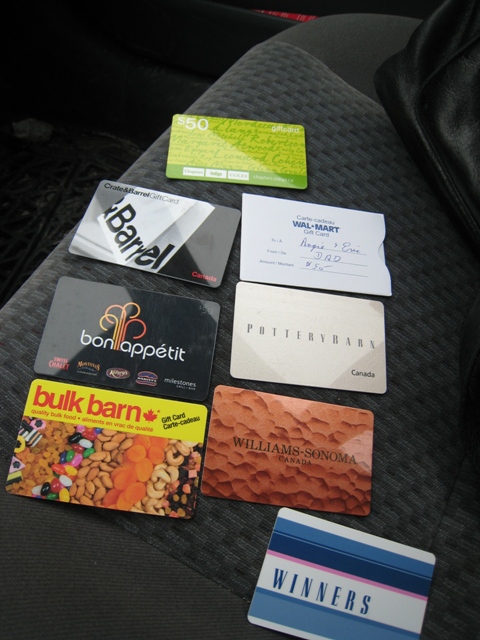 My family loves giving Gift cards for Christmas and birthdays so I have aquired quite the collection of them! Here is what I have:
Bulk Barn $5 (Got this after spending over $15 last week! sweet!)

Winners-$20?

Williams Sonoma– $100

Pottery Barn– $50

Bon Appetit restaurant gift card for Swiss Chalet/Milestones/etc.- $50

Wal-Mart– $50 (thanks dad!)

Crate & Barrel– $30?

Chapters– $15
Total gift cards amount: $320
Sweet!!!! :)
I have two major purchases that I want to buy and I have to somehow find out of I can get them at any of the above stores:
Anyone know?
~~~~~~~~~~~~~~~~~~~~~~~~~~~~~~~~~~~~~~~~~~~~~~~~~~~~~~~~~~~~~~~~~~~~~~~~~~~~~~~~~~~~~~~~~~~~
See you tonight for two more Glo-ing bakery reveals! Also, the details of the 1st Official Oh She Glows Oscar party this Sunday! Stay tuned. :D
What we see depends mainly on what we look for.
– Sir John Lubbock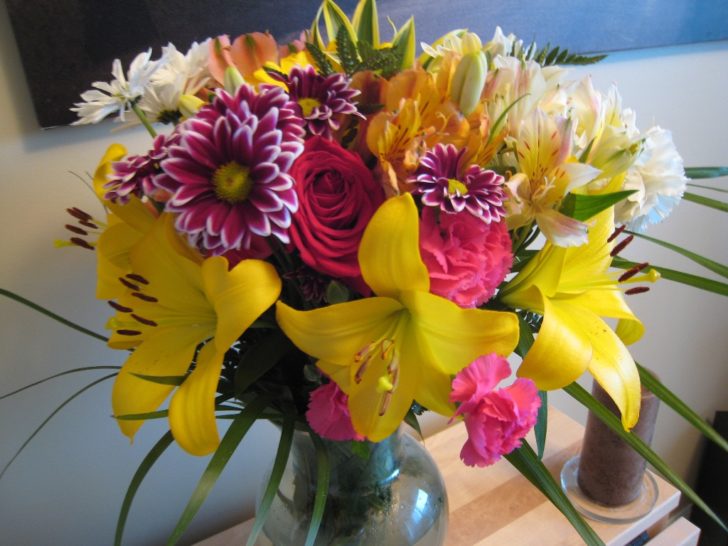 My birthday flowers May 2008…possibly the most beautiful flowers I have ever seen!