I can't begin to describe how amazing my condo smells right now!! I must share with you all one of my favourite muffin recipes that I found on allrecipes.com (love that website….a serious addiction of mine).
[print_this]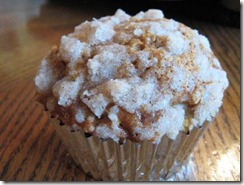 Ingredients
2 1/2 cups all-purpose flour
2 cups sugar
1 tablespoon pumpkin pie spice
1 teaspoon baking soda
1/2 teaspoon salt
2 eggs, lightly beaten
1 cup canned pumpkin
1/2 cup vegetable oil
2 cups finely chopped peeled apples
Topping Ingredients:
1/4 cup sugar
2 tablespoons all-purpose flour
1/2 teaspoon ground cinnamon
1 tablespoon butter or margarine
Instructions
In a large bowl, combine flour, sugar, pumpkin pie spice, baking soda and salt.
Combine eggs, pumpkin and oil; stir into dry ingredients just until moistened.
Fold in apples.
Fill greased or paper-lined muffin cups three-fourths full.
For topping, combine sugar, flour and cinnamon.
Cut in butter until mixture resembles coarse crumbs; sprinkle 1 teaspoon over each muffin.
Bake at 350 degrees F for 30-35 minutes or until muffins test done.
Cool in pan 10 minutes before removing to a wire rack.
[/print_this]
Before going into the oven: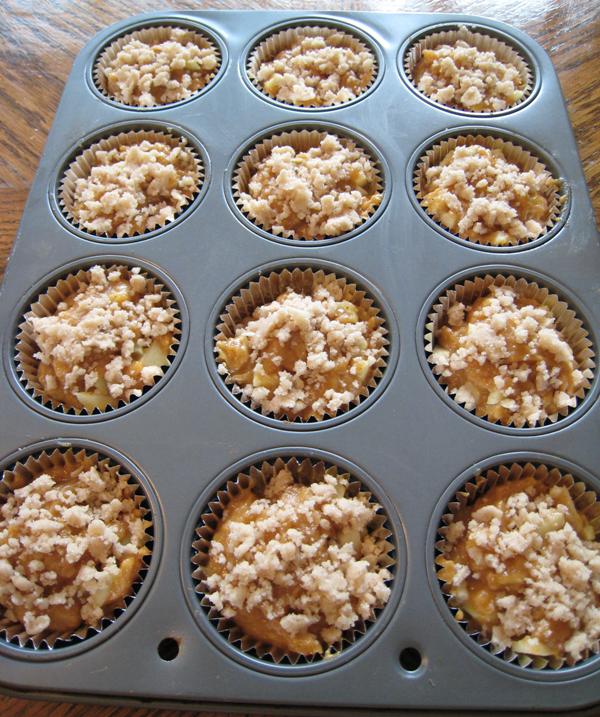 After 33 minutes @ 350 degrees: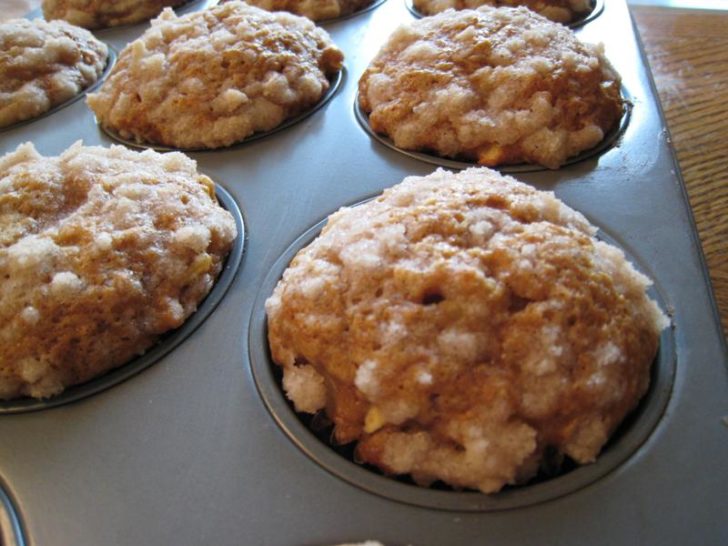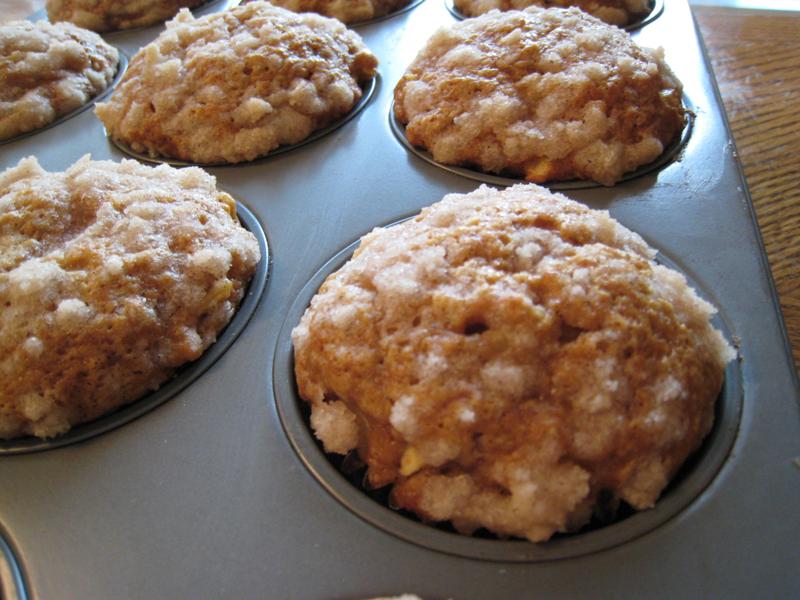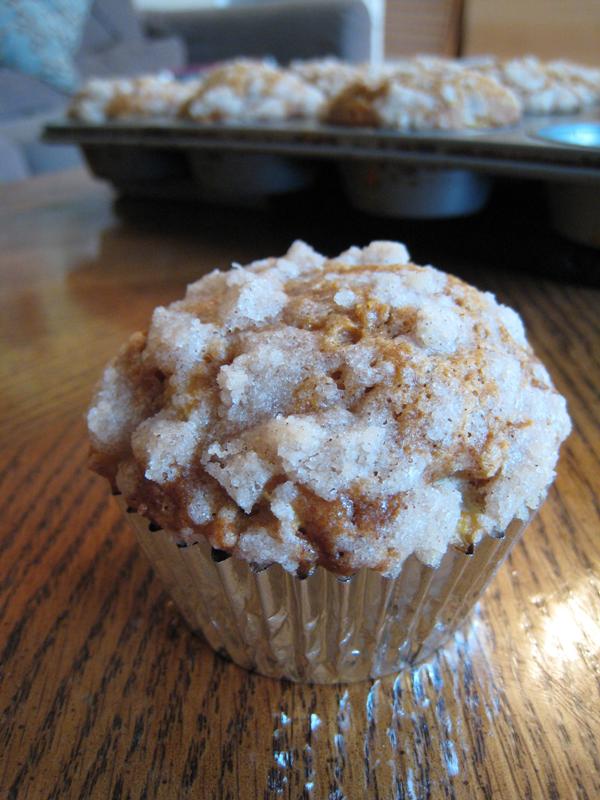 YUM!!!!!!! :D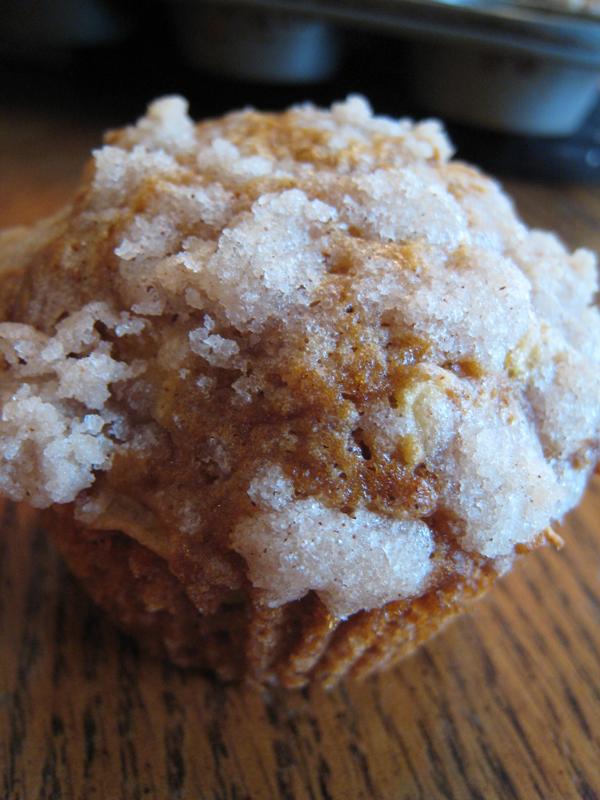 Anyone want to come over and have tea and muffins? :hhehe… :D
I rate this recipe 5/5 stars….no…mabe 6/5 stars!!!
~~~~~~~~~~~~~~~~~~~~~~~~~~~~~~~~~~~~~~~~~~~~~~~~~~~~~~~~~~~~~~~~~~~~~~~~~~~~
Now….here are some more FAQ's continued from my earlier post:
5. Leah asks, "How often would you say you go to the gym vs. going outdoors for a run? And do you mainly use the treadmill or do you mix it up a little?"
About the indoor vs. outdoor question- I tend to do indoor workouts during the work week because it is quick to get to the gym in my building and I am ALWAYS pressed for time in the morning. I can't workout after work though, I am just too exhausted after a long day. I am definitely a morning workout person! I like to use my weekends for getting outside because I have more time and I can plan my run around when it will be warmest outside. However, this week is supposed to be warm so I may get out for a run or two outside during the week. We shall see!As for my indoor workouts, I tend to stick to the treadmill because I find it the most challenging. I have recently been doing the elliptical for part of my cardio, but I make sure I put it at a resistance 9 so it is very tough, otherwise I find it is easy to just 'coast' along on it. We don't have a stair master, but if we did I would alternate with that because I find it to be a great workout as well.
6. Kristin says, "Sketchie is beautiful, what breed of cat is he?"
He is a Bengal breed and he has 7th generation Asian Leopard in him. Bengal breeds are known to be very dog like and Sketchie is no exception!!! He has tons of energy, loves people and pets, and he can learn tricks :)
7. Beth says, "One quick question: your skin is so pretty – as your blog title says, you do glow! What products do you use on your skin aside from makeup? I've battled some acne throughout my life and I'm still looking for that glow!"
Thank you for being so sweet! I can assure you that I struggle with skin issues just like everyone else. I have battled acne my whole life, and have recently had it crop up again since going off the BCP! To see what I use on my skin, see my 'Glow' page for my favourite products!
8. Meghan says, "Do you just uses the St. Ives scrub to cleanse your skin, or following a different cleanser? Your complexion is gorgeous!"
I just use the St. Ives scrub alone (although I should probably use a cleanser first!?) :)
9. Jenn says, "What is a great all over moisturizer?"
10. Jenn says, "Where do you find the makeup products listed on the other page?"
I buy most of my low-end make-up products at our local drugstore (Shoppers Drug Mart) and the higher end products I buy at Sephora.
11. Jenn asks, "What do you suggest for ab workouts?"
See this post for me performing my favourite ab workouts!
~~~~~~~~~~~~~~~~~~~~~~~~~~~~~~~~~~~~~~~~~~~~~~~~~~~~~~~~~~~~~~~~~~~~~~~~~~~~~~~~~~~~~
Oh by the way, Eric got a gift from my mom too! All the way from Turkey!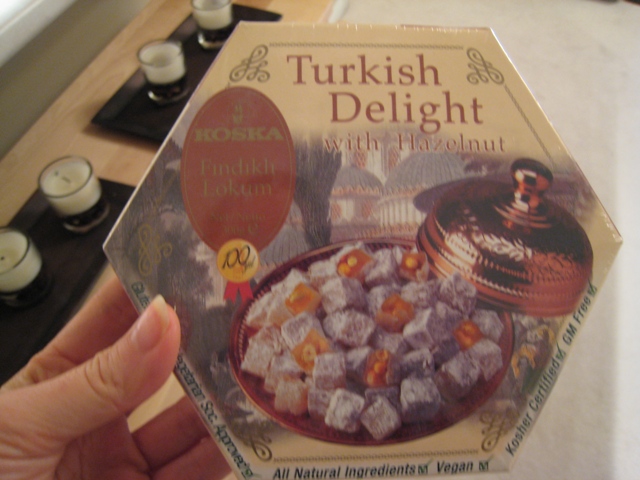 I have never had it before but have always wanted to try it. To my 'delight' I read on the box that it is 100% all natural, vegan, and vegetarian approved! Even better :)
I leave you with our Engagement Pictures Slideshow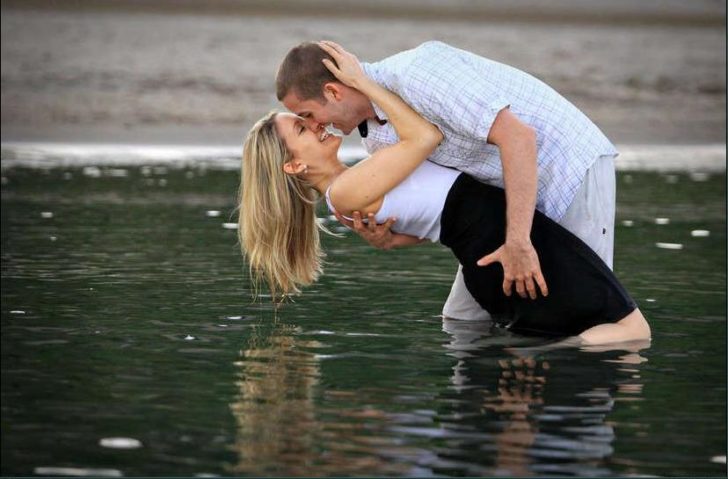 Our photographers are amazing! Honestly, they are the most talented photographers I have ever met. :D The slideshow is to the song 'Crazy Love'
Nighty night lovies!