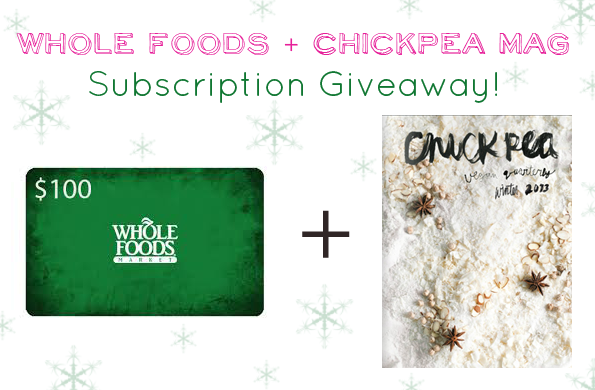 Next up, in the 12 Days of Giveaways are two fabulous prizes. (And one more for international readers at the bottom!)
1) $100 Whole Foods gift card. That's right – 100 bucks to splurge on your favourite Whole Foods products. The perfect gift card to welcome in a healthy 2014!
and
2) 1-year hard-copy subscription to Chickpea Magazine (or digital if you prefer). Chickpea magazine is a quarterly whole foods, plant-based, 100% vegan magazine available in digital and print copies. If you aren't reading this magazine yet, you really should check it out. From the stunning photography, to the tasty recipes, and thought-provoking articles, I can't recommend it enough!
To enter, see below: This contest will run until December 29th at 8am EST. Open to Canadian and U.S. Residents. A big thanks to the fine folks at Whole Foods and Chickpea Magazine for donating the prizes.
International readers! For a chance to win a digital subscription to Chickpea Magazine, simply leave a comment on this Facebook post to be entered. This is open to anyone, anywhere.
Good luck! I hope you are all enjoying your holiday week. :)