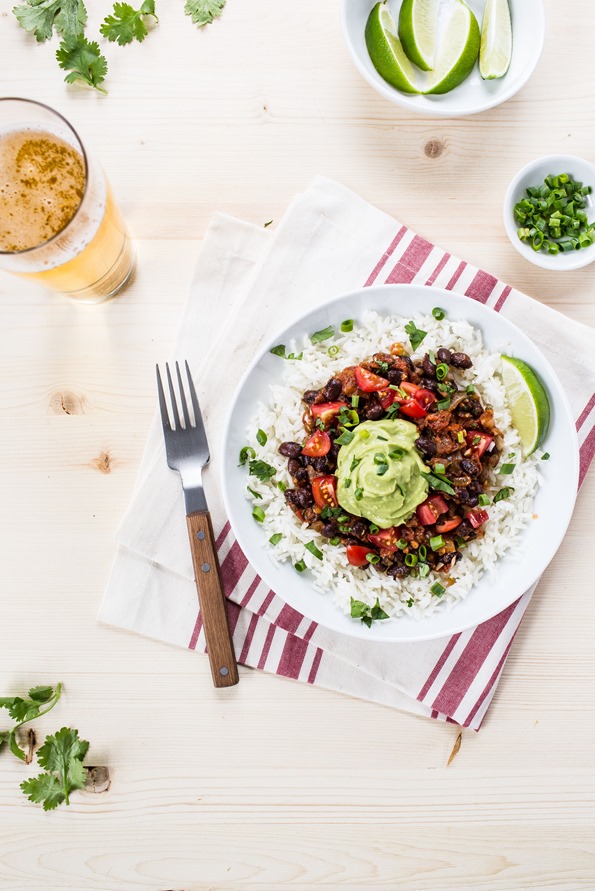 Hello from Scottsdale, Arizona! We're here visiting for a little work and play. I'm so excited to be getting away for some downtime after a busy year. My mom and stepdad are arriving soon too, and Adriana is pumped to have lots of quality time with her Mimi and Papa. The last time we were here I was 6/7 weeks pregnant so it's pretty amazing to be here with my girl this year. That trip, I could barely get off the couch due to 1st trimester nausea (I think I hiked a total of 1 mile, lol); it'll be nice to feel normal again. I plan on making up for the last visit in many ways, especially on the food front! Any new plant-based restaurants pop up?
Our trip is off to a bit of a strange start – we had a series of odd events yesterday during our trek here, and then we woke up to an earthquake (!) last night. It felt like a truck slammed into the side of our bedroom. Luckily, it wasn't too bad (4.1-mag), but it did give us quite a scare in the middle of the night. Aka…I screamed and then said a couple choice words. I immediately checked the baby monitor and Adriana didn't even budge! Oh to sleep like a baby. Anyway, that was quite the welcome.
This hearty meal was thrown together last week and I loved it so much I knew I had to share it with you. Plus, I figured we could all use a balanced meal after the Halloween festivities.
I did a an informal poll on Facebook asking you – burrito (in a wrap) or burrito bowl? Most of you said BOWL….just give me the bowl! Here are a handful of your responses:
Katherine loves the versatility of a bowl. "I love both. But I think there are more options with a bowl, especially for creative rice substitutions that have more nutritional value than a tortilla. And I trust you to make it delicious AND healthy!" (side note: I used classic white rice here (no regrets!! gah, so good), but you can use any base you like – cauliflower rice, quinoa, shredded lettuce, etc.)
Others think a burrito bowl creates feelings of jealousy and envy. Stacy wrote, "With the tortilla! Otherwise, it's a pile of ingredients merely wishing they were a burrito!"
Some of you thought outside the box bowl. Jaya said, "A nice compromise is actually baking the flour/rice/whatever kind of tortilla into a bowl shape, so you get a crispy bowl!" (hello, lover)
Others mentioned giving the option of a wrap by serving the soft tortillas on the side. Jodi wrote, "Bowl for me, but kids would chose burrito. Win win either way!"
So I went with a bowl for this post, but rest assured you can also stuff this into a big soft tortilla wrap. I absolutely love burrito bowls because you can make them as simple or as complex as you want. They can be as basic as plain black beans, sliced avocado, store-bought salsa, and rice, or you can load on a wide array of toppings to your heart's content. I tried to keep this one simple, but also included some interesting components that make it fun and unique. I hope you love it as much as we do!

Photography credit: Ashley McLaughlin Photography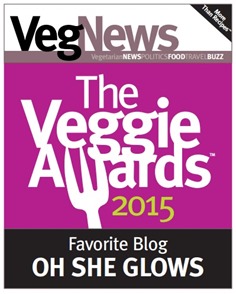 I recently heard that Oh She Glows won "Favorite Blog" in the 14th annual Veggie Awards™. Even though I never feel quite deserving of such a title given the immense talent in our plant-based community, I'm so grateful for those of you who love what I do and take the time to vote. You guys inspire me to grow and improve in so many ways! My 7-year "blogiversary" was on Halloween (seriously, I can't believe it has been that long!), and this blog would be nothing without YOU. My favourite part of blogging is that I've met so many incredible people over the years, so just know that if you've ever taken time to leave a comment or said hello in person, it's not something I take lightly. Or, if you've made a recipe and enjoyed it with your family, even better!
Ps – Thanks for all your reviews on the Pumpkin Gingerbread Muffins! So glad you are enjoying them.
Let's get social! Follow Angela on Instagram @ohsheglows, Facebook, Twitter, Pinterest, Snapchat, and Google+