Hi, my name is Angela and I'm in love with coconut meat. I also like shortcuts, so discovering frozen bags of coconut meat made me a bit giddy…
When I first tried coconut meat I wasn't sure if I liked it, but it totally grew on me. It's lightly sweet, super filling (it packs 8g fibre per 1/2 cup!), and has this irresistible silky, smooth texture. I love just eating it on its own as well as making it into this shortcut "yogurt". Adriana on the other hand…well let's just say when I let her try some of the yogurt (a version with just coconut and water), she made a dramatic gagging face while sticking her tongue out. I guess it's not for everyone. haha! Maybe she'll come around.
These bags of frozen coconut meat are more expensive than buying the young Thai coconuts and retrieving the meat yourself, so it's something I splurge on once in a blue moon when I'm craving a fuss-free homemade coconut yogurt. But it can be whirled up in seconds! And no risk of hacking my hand off with a cleaver (I'm working on my cleaver skills…still not quite there yet). This shortcut recipe isn't a true yogurt because it's not fermented, but that's partly why I love it so much. No wait time, no fuss. I empty a couple probiotic capsules in the yogurt, but you can totally leave the probiotics out if you wish. We'll call this a "cheater's" yogurt. A gotta-have-it-now yogurt. For those of you in the GTA, I find these frozen bags of coconut meat at Organic Garage..I think Whole Foods carries it too. If you want to do it the old-fashioned way, you can do that too of course! I link to a Youtube tutorial in the recipe below.
Hello dreamboat! As I mentioned, this version is super thick! It has a similar consistency to Greek yogurt. You can make it however thick or thin you wish just by adjusting the liquid amount. I find 1/2 cup of coconut water and 2 cups of coconut meat = a lovely thick yogurt…no straining required. Likewise, you can make it as sweet or tart as you want by adjusting the sweetener. I don't like super sweet yogurt so I only add a tablespoon of sweetener into the blender. If I don't want the yogurt to change colour, I use cane sugar (such as in these photos), but I also like to use maple syrup or raw coconut nectar too (which will dim the bright white yogurt a bit). You can also get creative and try making different flavours by adding fruit, chia jam, etc. I think I might try a coconut-mango-lime version next!
I made parfaits with strawberry-raspberry chia seed jam paired with a granola that I'm testing for my next cookbook (in the meantime, check out my Lightened Up Summer granola and the granola clusters in the Oh She Glows Cookbook). This yogurt is also awesome in vegan overnight oats, smoothies, and I hear you can make raw ice cream with it too.
Here is my batch of strawberry-raspberry-vanilla chia seed jam below. As a general rule of thumb for making chia seed jam, I use about 300-450 grams of fruit, 3 tablespoons of pure maple syrup (adjust depending on tartness of fruit), 2 tablespoons of chia seeds, and a pinch of pink salt. You can flavour it with vanilla, lemon, orange, etc. For how to make it, see this post.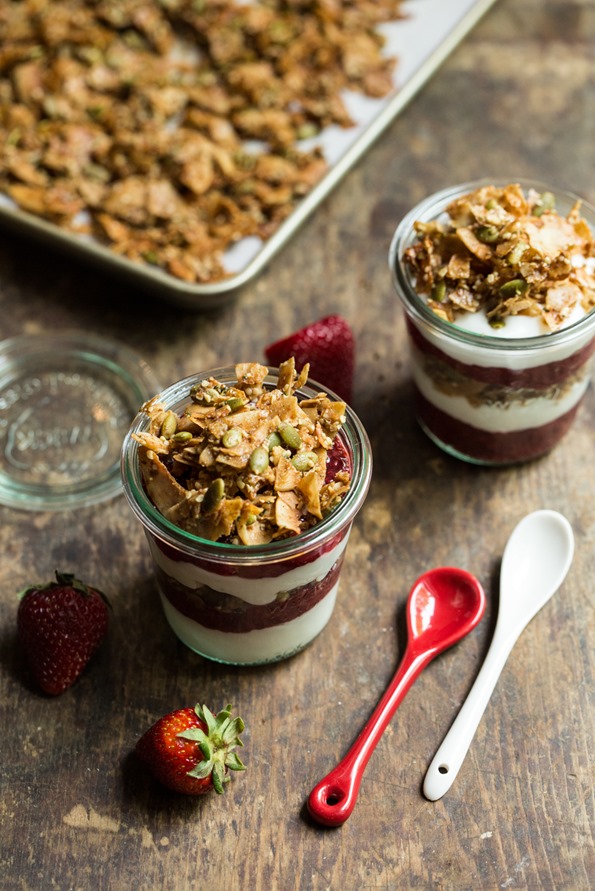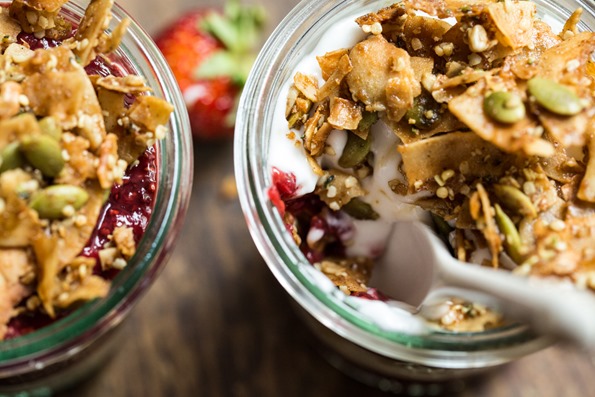 Let's get social! Follow Angela on Instagram @ohsheglows, Facebook, Twitter, Pinterest, Snapchat, and Google+