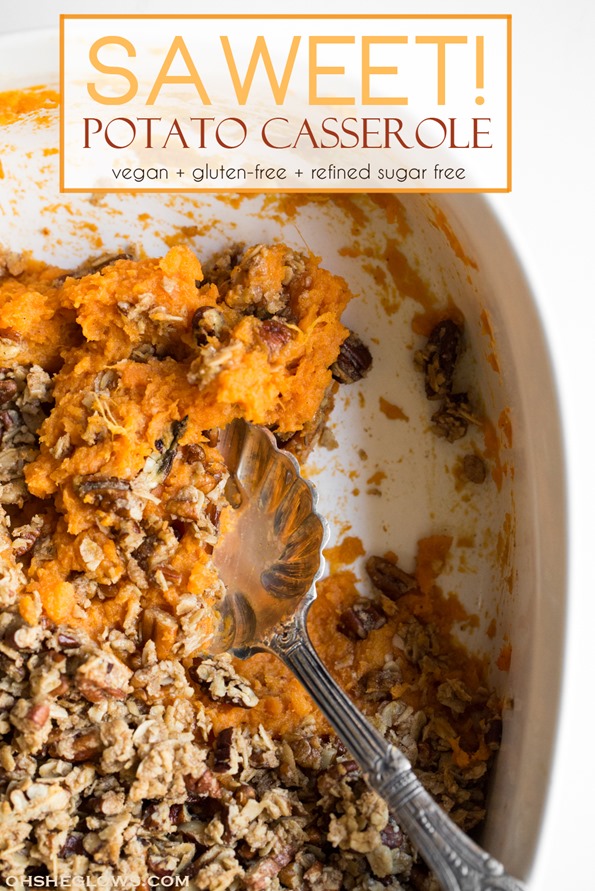 This is a side dish you're going to want on the holiday dinner table. Or maybe, on your regular fall dinner table. Because who can wait for the holidays? It is sweet potato season after all, which means in this house we're cooking them a couple times a week. Give me all the sweet potatoes, please. They are the edible equivalent to a big warm hug.
Now that it's officially November (plus chilly and dark at 6pm…tear…sob), I figure some of us are thinking about happier things…like the holidays and all the delightful holiday food. I know I am. It's my favourite time of the year to cook and bake. For some reason, I always have oodles and oodles of recipe ideas floating through my mind this time of the year and can't keep up with testing them all out. You should see my "to make" list…it's massive!
In preparation for the holidays, I decided to do something I've been meaning to do for a long time; I revamped my old sweet potato casserole recipe from 2009. It's a good recipe, but with 5 years of recipe development under my belt I knew I could improve upon it. This version got lightened up and given a crazy good pecan oat maple crumble topping. It totally blew us away and the previous recipe is all but history in my mind.
Just look at this crunchy crumble…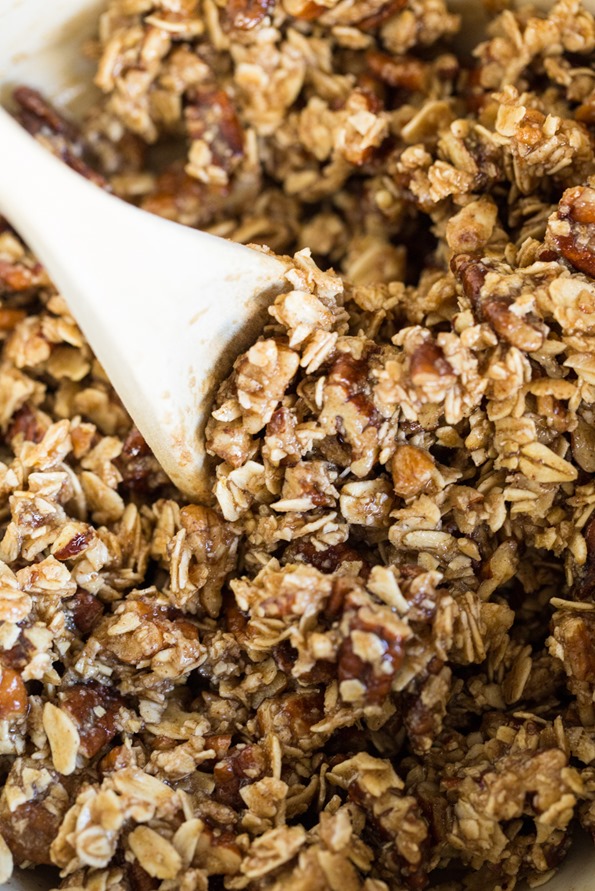 Here are a few things I changed up:
1) cut sweetener by over half (you won't even notice)
2) added some heart-healthy virgin coconut oil
3) added a new and improved crunchy topping – gives it a great texture contrast!
4) made this one gluten-free as the old one wasn't
5) amped up the maple + cinnamon flavours
6) new photos…because 2009 wasn't my best year for photography…hehe
I recommend serving each portion with a pat of vegan butter or coconut oil on top to really take it over the edge. The butter/oil melts and cascades all over the casserole. Bliss!!
I love you, sweet potatoes.
PS- If you haven't tried it already, check out my Sweet Potato Oatmeal Breakfast Casserole. Dessert for breakfast!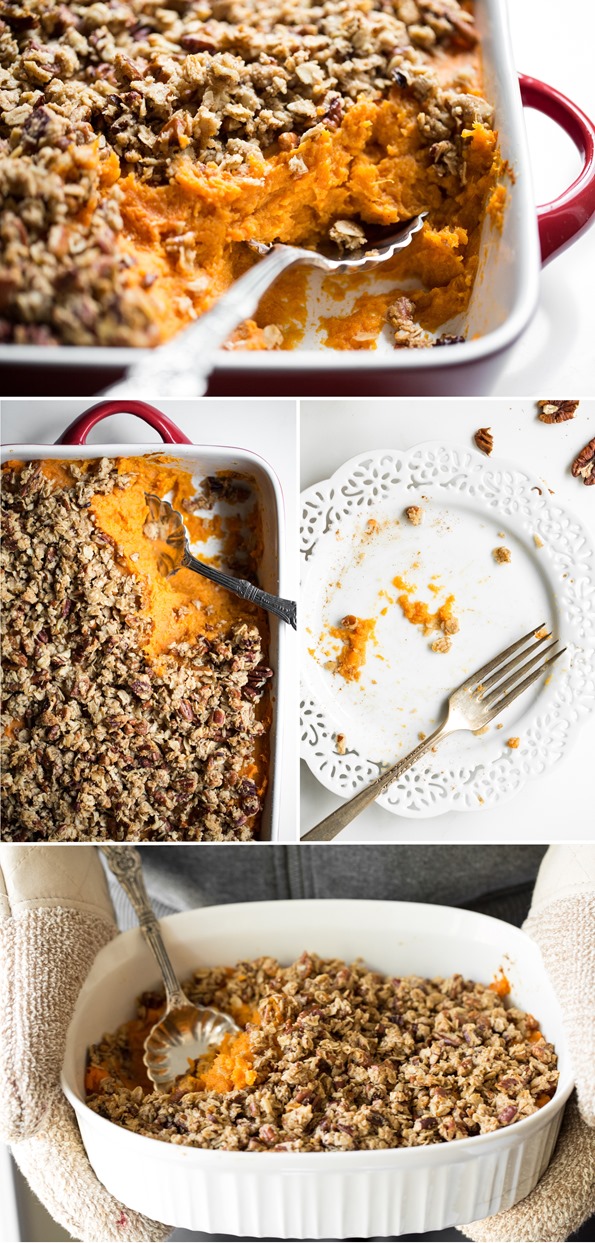 The Oh She Glows Cookbook has been nominated in the Good Reads Choice Awards 2014 in the Best Food & Cookbooks for 2014 category! I'm honoured to be nominated with so many other awesome food and cookbooks. This contest is a popular annual event and it is the only major book award decided by readers. That's you! If you have enjoyed The Oh She Glows Cookbook, I would greatly appreciate your vote of support. You can log in with Facebook and it takes 2 seconds to submit the vote. You can find the voting page here. I'm so grateful to be able to do what I love each day and couldn't do it without your support. Thank you!
OSG Tea Shoppe Contest winner:
Congrats to Erin N. for winning The Oh She Glows Tea Shoppe giveaway! Thank you to everyone who took part and shared in our excitement over the launch. We couldn't be happier with your response and we're working hard to improve each day. If you'd like to send feedback (and we encourage you to do so!) you can find our feedback form here.
Let's get social! Follow Angela on Instagram @ohsheglows, Facebook, Twitter, Pinterest, Snapchat, and Google+