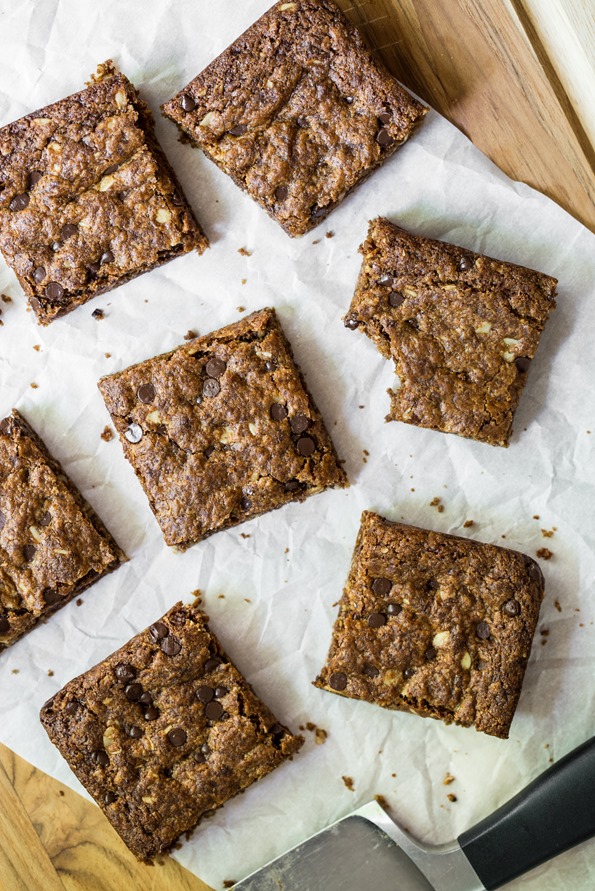 Houston, we have a working oven! This is what I screamed to Eric when I turned on our newly installed oven for the first time this weekend. To celebrate this momentous occasion I made something I've been craving for the past 6 weeks – warm, fresh-out-of-the-oven cookies. [Fact: store-bought cookies just aren't the same.] Then I made oatmeal cookie bars. Somehow I convinced Eric that these were an "anniversary gift" that I made "just for him" (he's been in OSG baked good withdrawal during this kitchen reno), but we all know that this ready-to-pop, basketball smugglin' preggo lady planned on eating her fair share complete with Coffee Shop Worthy Caramel Hazelnut Milk. Yea, it was a good weekend. I hope my oven and I shall never part again.
What can I tell you about these bars? Well, first off, we could not stop eating them. Eric said, "They are so light, I feel like I could eat 6 of them without feeling sick!" I suppose that's a good thing? The gluten-free cookie base is made of up rolled oats (some of which I ground into a flour for binding purposes) and almond flour, just like my favourite GF + vegan cookies on the blog. There aren't any gums or starches to speak of and because of this they are quite delicate when they first come out of the oven, but the crust bakes up crisp, chewy, and slightly caramelized so it's a terrific balance. Let me tell you – the crispy corner pieces are prime real estate! Only your favourite people are worthy of the corner pieces. If you have one of those "Baker's Edge" brownie pans, now would be a good time to put it to use. Then you can avoid that awkward moment when you hand the middle piece to a friend and take the corner piece for yourself.
I used coconut sugar to give the bars a gorgeous dark golden hue and a hint of toffee/caramel flavour. The added bonus when using coconut sugar is that it has a low glycemic index compared to other sugars (35), so it won't spike your blood sugar as quickly. According to my logic, this means I can eat twice as many. Correct? Phew.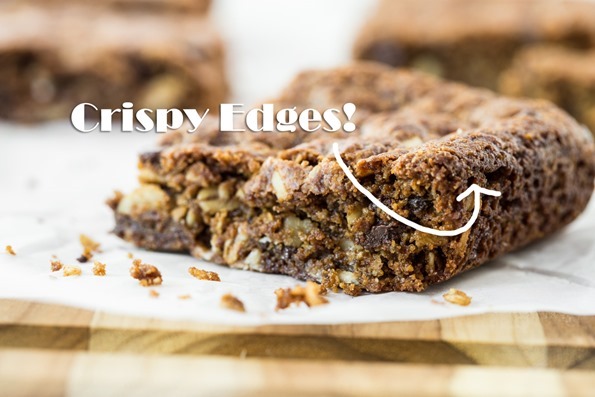 I don't think I need to tell you that these are great with a scoop of vegan ice cream, but I'll throw it out there just in case. We turned one into an open-faced ice cream sandwich by chilling a bar and serving it with a scoop of vegan ice cream on top. Oh my lanta. It's great to have an oven.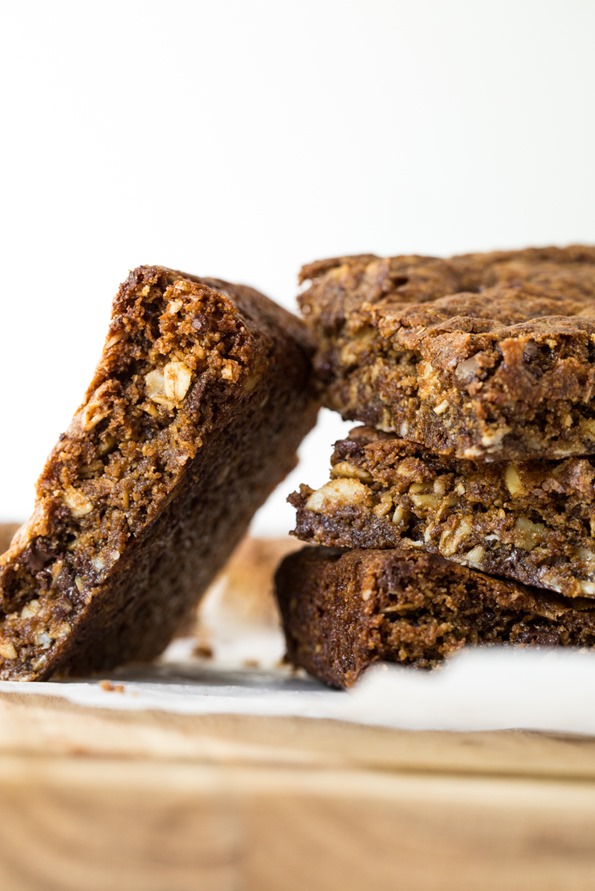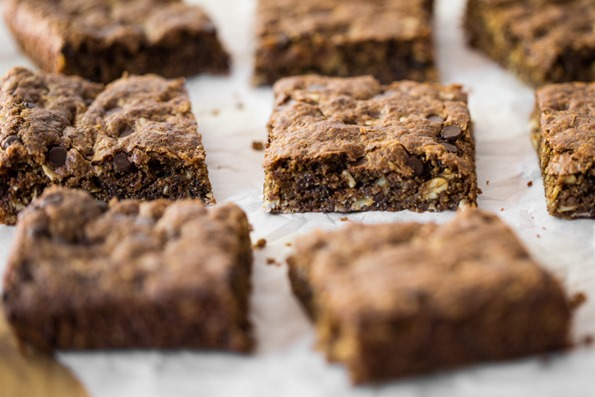 Cheers to September, baking, and working ovens!
Let's get social! Follow Angela on Instagram @ohsheglows, Facebook, Twitter, Pinterest, Snapchat, and Google+