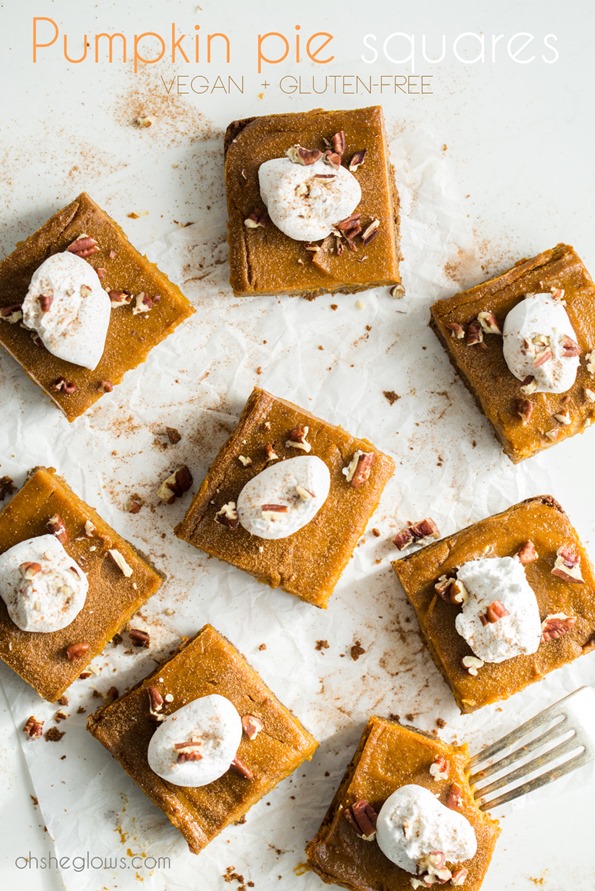 After my last post, I knew I was destined to make a dessert using my gluten-free graham crackers. It's just the right thing to do. Plus, a girl can only eat so many graham crackers for breakfast! You can imagine how nervous I felt testing this recipe – not knowing if it would turn out – as I was risking the demise of my sweet, dear, homemade graham cracker crumbs. Thankfully, there were no graham crumbs harmed in the making of this dessert.
Word on the street has it that the U.S. Thanksgiving is coming up later this month! American friends, are you pumped? I love being a Canadian food blogger because I get to celebrate twice. Or should I say, 30 days before every holiday. I'm trying to come up with a couple more recipes to add to my vegan Thanksgiving recipe collection and this was a solid start! [Well, that's after I decided to re-test and tweak the recipe first thing this morning and then re-shoot and edit every single photo. I like to torture myself sometimes.]
These pumpkin pie squares are the perfect solution when you don't want to make an actual pie, but still want something similar that you can serve on the dessert table with a dollop of whipped coconut cream. Actually, this is one of the best pumpkin "pies" I have ever made, no matter how you slice it.
The homemade gluten-free graham crust, oh that crust, is so flavourful and held together so well. It's one of my favs. All you have to do is mix three ingredients and press it firmly into the pan. No stressing about pressing the crumbs up the side of a pie dish (am I the only one who stresses about that?) or rolling out a crust. The filling is a vegan spin on traditional pumpkin pie filling, similar to the filling in my previous pumpkin pie recipe. It's soft and dreamy, like a beautiful pumpkin cloud.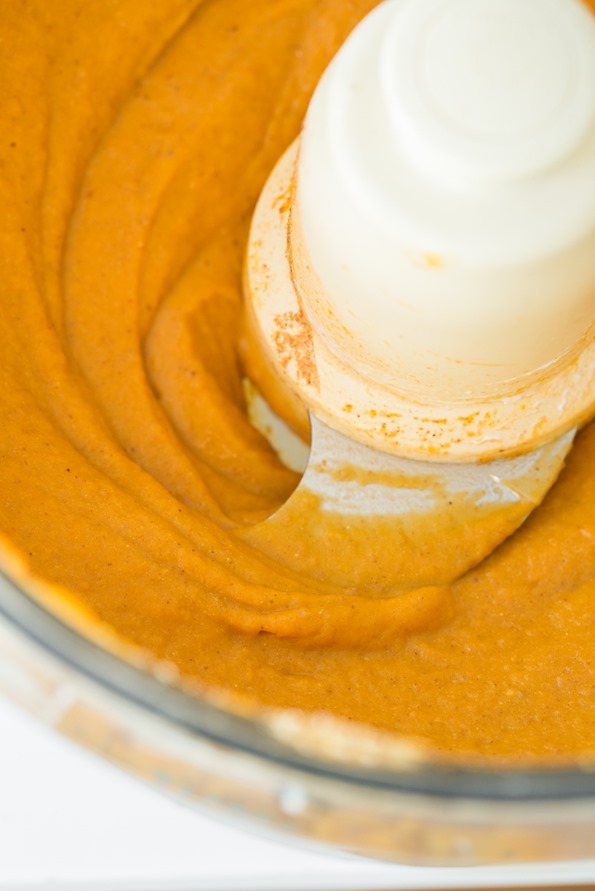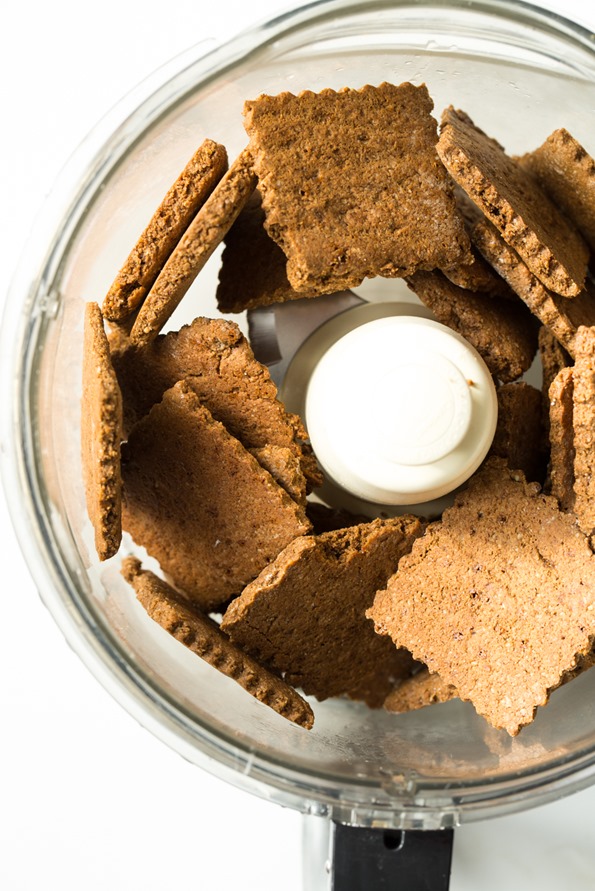 Instant homemade gluten-free graham crumbs, at your service!
I said a prayer to the baking gods, and whirled away…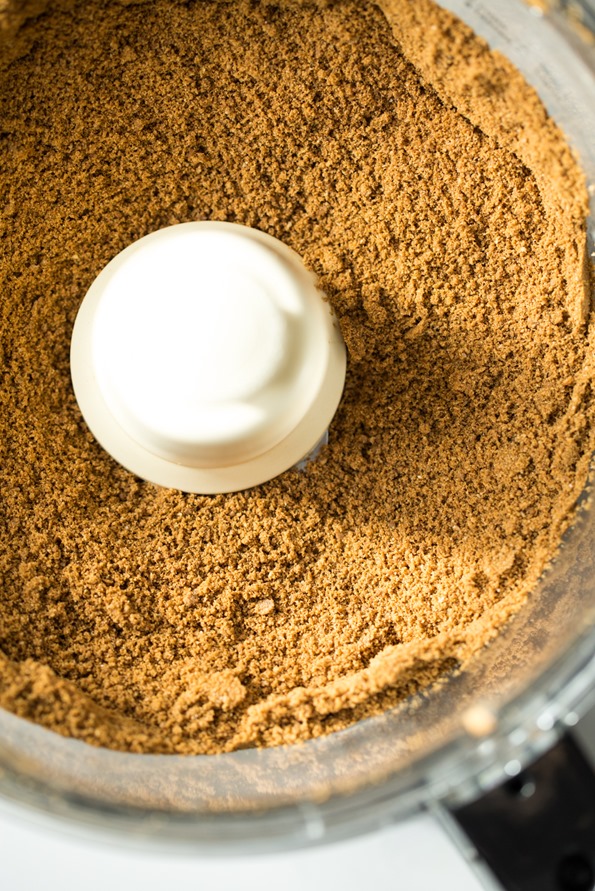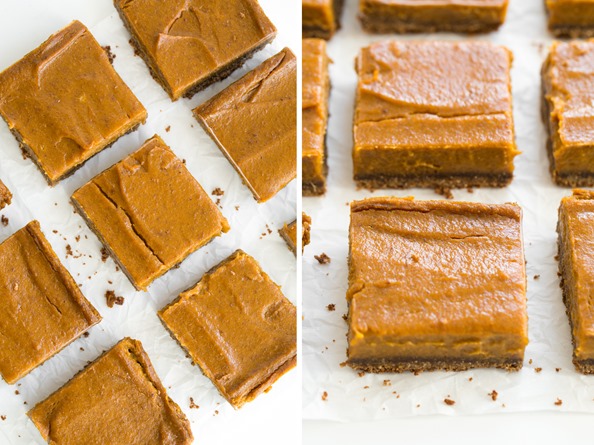 I dolloped coconut whipped cream on top and added a dusting of cinnamon and chopped pecans because I'm a fancy pants.
I'm trying to save the leftovers for a get together this weekend, but it's not looking good.
Must. distract. mouth…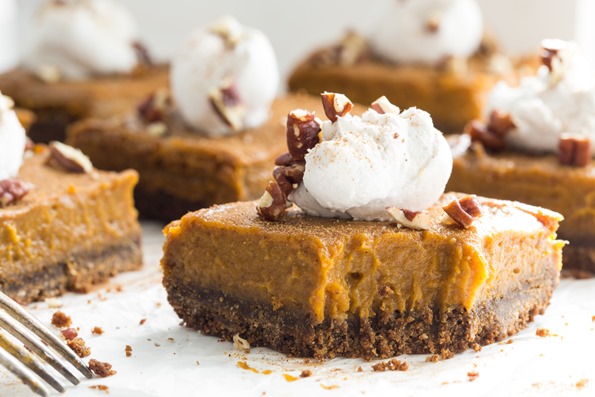 Let's get social! Follow Angela on Instagram @ohsheglows, Facebook, Twitter, Pinterest, Snapchat, and Google+