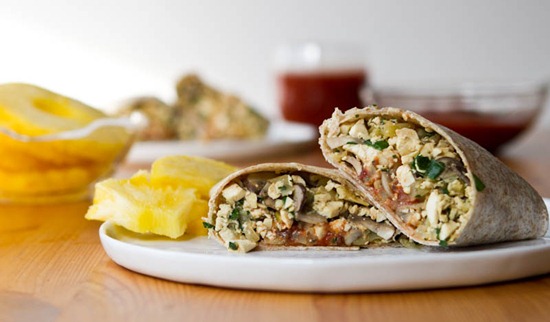 I like to think there are a few different types of "breakfast people":
Those who prefer sweet breakfasts.
Those who prefer savoury breakfasts.
Those who enjoy a mixture of the two.
I think I'm somewhere in the middle, so I guess I would say #3. What about you?
While I don't enjoy super sweet breakfast recipes, I don't mind a bit of sweetness in the morning such as in a Vegan Overnight Oat Parfait or Green Monster. Sometimes, I also crave savoury things for breakfast and can't fathom eating anything sweet in the morning. It really just depends on my mood. Last weekend, I woke up starving with a strange craving for a veggie burger, so I cooked one on the skillet and enjoyed it in an English muffin with hummus and salsa. Was it ever good. Eric thought I was crazy, but it turned out to be a great breakfast. I also love savoury oatmeal from time to time too.
Today's recipe is a savoury breakfast recipe (or make that breakfast, lunch, or dinner…), after receiving quite a few requests from all of you savoury breakfast fans. I agree, there are more sweet breakfast recipes on the blog, but I will try to do some more savoury breakfasts too.
Given my recent discovery that I enjoy tofu, I decided to make my first tofu scramble and wrap it up in a burrito.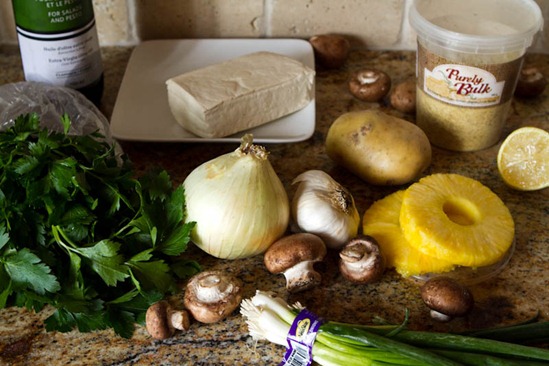 I've seen tofu scrambles all over the veg blog world and everyone always seems to have their favourite version. For my first attempt, I just threw together a scramble based on the ingredients I had in my fridge. That is the beauty of them. Tofu scrambles are very versatile, so if you don't have the exact ingredients in this recipe you can just improvise. I guess time will tell if this is my favourite version or simply the first of many experiments!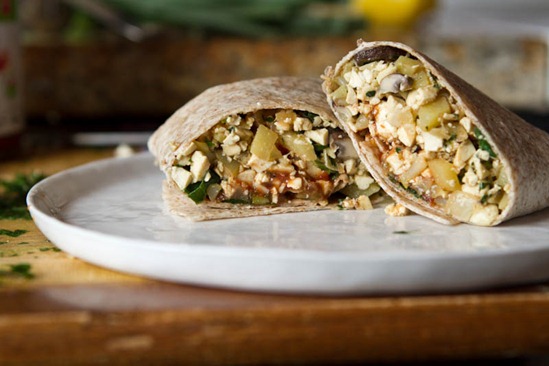 Approx Nutritional Info (per 3/4 cup, without wrap or garnishes): 183 kcals, 5 g fat (1 g sat fat), 331 mg sodium, 22 g carbs, 6 g fibre, 6 g sugar, 17 g protein.
~~~
This baby packs in the protein. Add a wrap and it's easily over 22 grams of protein per burrito.
I added 3/4 cup of the scramble to a large wrap, spooned on about 3 tbsp of salsa…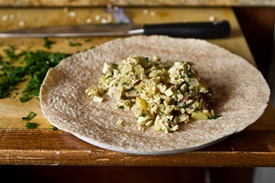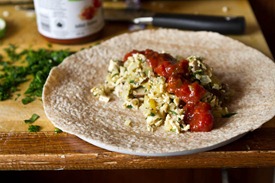 Topped with green onion and a sprinkle of Herbamare: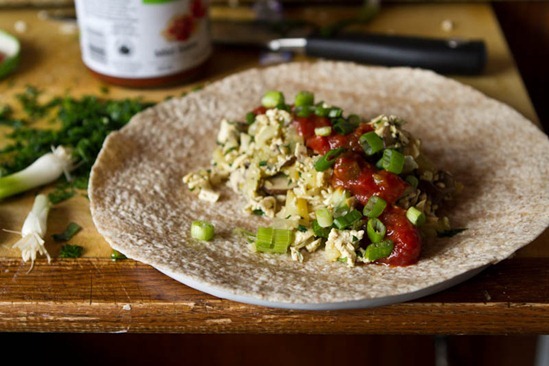 And wrapped it all up!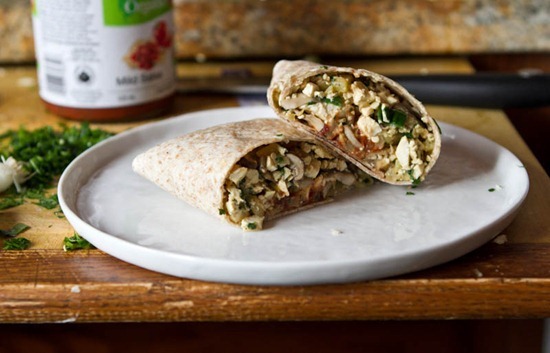 Eric and I actually had this for dinner last night as I was anxious to test it on him. I thought he was going to absolutely hate it, but to my surprise, he loved it. I think it lasted about 1 minute before it disappeared from his plate. :) It was also delicious served with some leftover Vegan Caesar Cocktail and pineapple.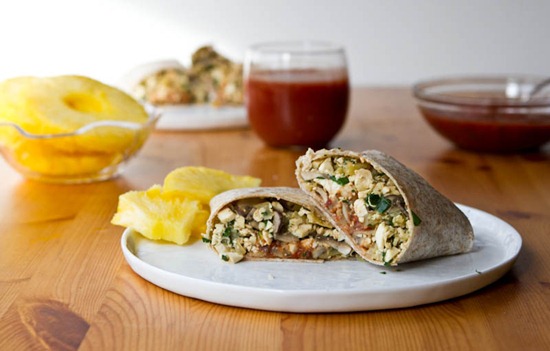 Not a tofu fan?
Try swapping it out for black beans or chickpeas. Gently mash some of them up in the skillet (but leave some whole for texture). I'm sure that would be really tasty too!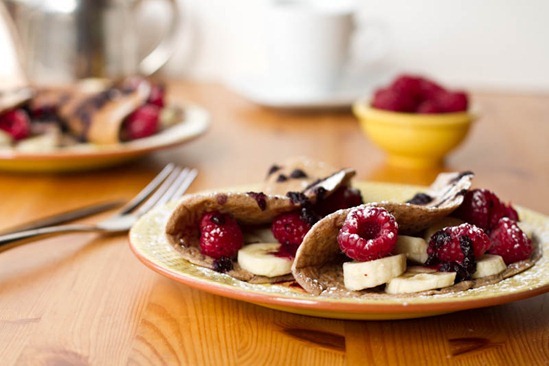 Also, my sweet side can't help but wonder what a sweet scramble would taste like wrapped up…crêpe style. I've been experimenting with some crêpe recipes lately, so I just may have to add a sweet scramble to the list…
Blog Stuff
My apologies for the blog being down yesterday morning. I've had several outages with my host lately despite the blog being on its own private server, so I'm really not sure what's up. Hopefully the issue is now resolved or I may have to punch the computer screen in the face. hah…ok not really. Well, maybe. ;)
Let's get social! Follow Angela on Instagram @ohsheglows, Facebook, Twitter, Pinterest, Snapchat, and Google+