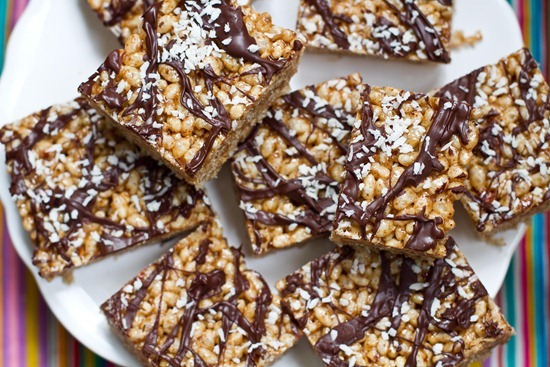 Growing up, I used to be a professional Rice Crispy Treat baker. I'd dump butter in a pot, add a bag of marshmallows, rice crisp, and vanilla.
Spread into a pan.
Stuff in face.
Totally gourmet.
Sticky, sweet, crunchy…and easy enough for a child to make. I still remember sticking the gooey cereal covered spoon straight into my mouth to 'taste test', leaving marshmallow whiskers all over my cheeks. I made them so many times, I memorized the complex and highly detailed gourmet recipe off the side of the cereal box. Like I said, total pro.
Each December, I showcased my skills by making Christmas-themed Rice Crispy Treats, complete with red and green rice crispies and a dusting of red and green sprinkles on top. They were the hit of every class party, the talk of the town, and they matched my Christmas sweater and scrunchie so well.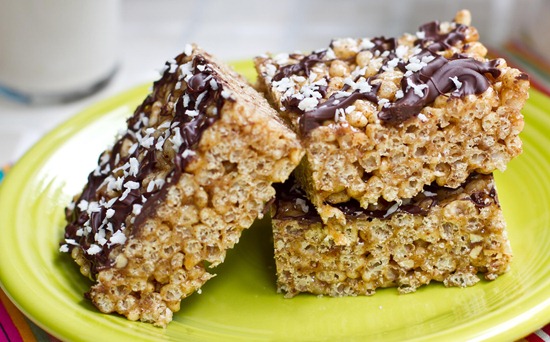 These Almond Butter Rice Crisp Treats are an equally gourmet version (read: no bake) of my loved childhood treats. However, unlike the original, this recipe is made without marshmallows, but I promise you won't miss them!
To make these treats, I used my No Bake Peanut Butter Chocolate Crispies recipe for inspiration- one of the most popular recipes on the blog.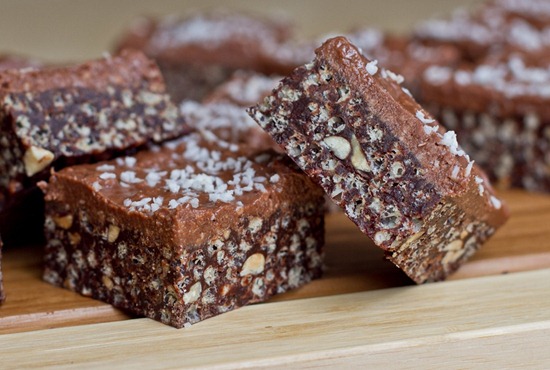 I put on my apron, rolled up my sleeves, and got to work. After 15 exhausting minutes, I had treats whipped up for a special someone.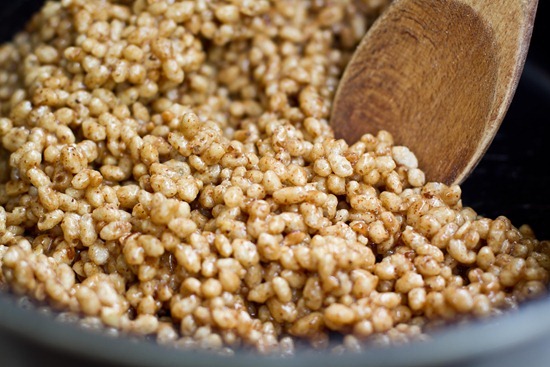 Almond Butter Rice Crisp Treats
Adapted from Peanut Butter Chocolate Crispies recipe.
Yield: 12 squares
Ingredients:
1/2 cup chunky almond butter*
1/2 cup brown rice syrup*
1 tbsp pure vanilla extract
1 tbsp Earth Balance (or non-dairy spread)
1/2 tsp kosher salt, or to taste
3.5 cups Nature's Path GF Rice Crisp Cereal
Chocolate drizzle: 1/4-1/2 cup chocolate chips, 1 tbsp almond butter, pinch salt
Shredded coconut, to garnish
Directions:
1. Prepare an 8 inch by 8 inch square pan, by lining it with parchment paper on both sides.
2. In a large pot over low-medium heat, add the brown rice syrup, Earth Balance, almond butter, and salt. Stir well until combined and heated through. Remove from heat and stir in vanilla extract.
3.. Stir in 3.5 cups of rice crisp cereal until thoroughly combined.
4. Scoop into pan and spread evenly. Press down with fingers or roll flat with pastry roller. Place in freezer to set for 5 minutes while you make the chocolate glaze.
5. In a microwave safe bowl, add the chocolate chips. Microwave for about 60 seconds, stirring after 30 seconds. Be careful not to burn. Stir in the almond butter and pinch of salt.
6. Remove pan from freezer and drizzle or spread with melted chocolate mixture. Sprinkle with coconut and place in the freezer until firm, about 15 minutes. Slice into squares. Bars will hold their shape quite well at room temperature, but you can store in the fridge to ensure the chocolate stays solid.
Notes: 1) You can use any nut butter you like. If you use a smooth variety, you can add some chopped nuts for more crunch. 2) Brown rice syrup is used in this recipe because it is a great binder and it holds together these treats. If you use another liquid sweetener, I can't guarantee that they will hold together as well.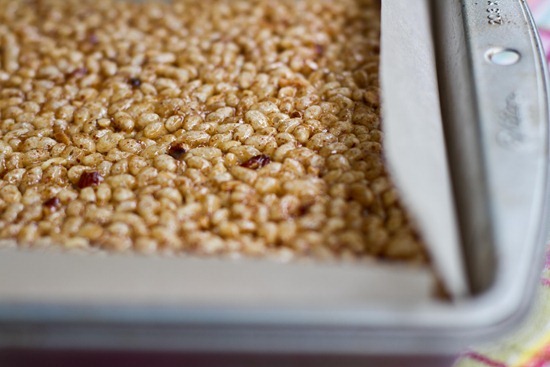 Oh man did this recipe bring back the memories!
You can either drizzle on the chocolate as shown below, or spread it out evenly covering the entire surface, depending on how much chocolate you want. I used 1/4 cup chocolate chips and it was the perfect amount to drizzle. Use 1/2 cup chips if you want to cover the entire surface.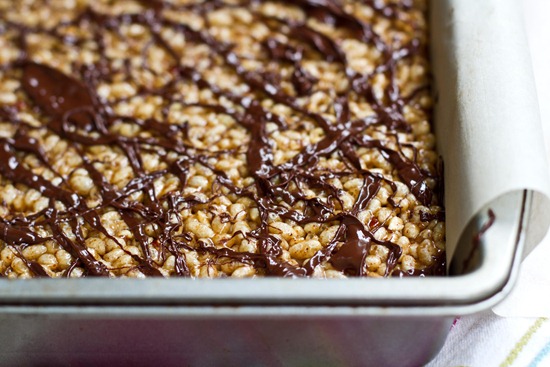 I had to use so much restraint not to eat all of them! Eric also raved about them and was quite jealous when he found out that they weren't for him. :)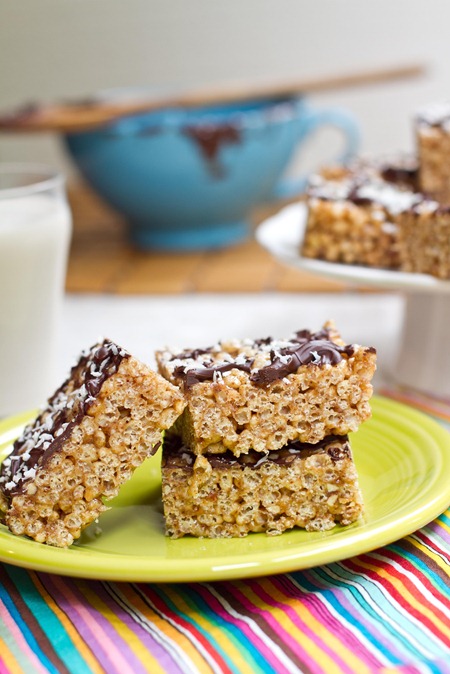 Did you do any baking or cooking as a child? What was your favourite thing to make?
Recipe News:
I'm setting up a new recipe organizational system powered by Recipage! I think you're going to love it as much as I already do. I'm excited to have a better system for quickly locating, searching, emailing, sharing, and printing recipes all in one spot. You can check out the new page here to see the 40 recipes I've entered so far. I still have about 6 gazillion recipes to enter, so bear with me as I try to enter all of them in. ;) I should be finished by 2015. Maybe sooner if I figure out how to copy and paste.
[joking, joking!]
Let's get social! Follow Angela on Instagram (@ohsheglows + @theglowspot), Facebook, Twitter, Pinterest, and Google+