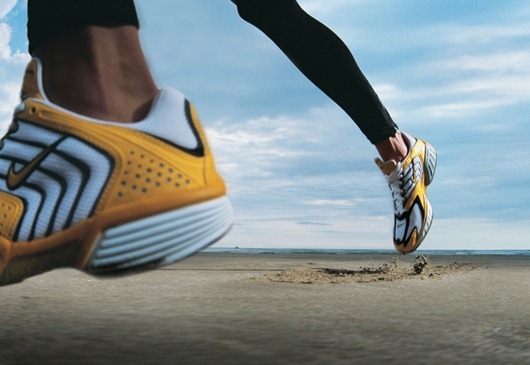 Good afternoon!
I thought I'd give a little update on how my Workout Log Challenge is going so far.  I mentioned last week that I was struggling with motivation and this log seems to be renewing my enthusiasm for exercise. I don't plan on doing it forever, but for right now it's giving me the bit of edge that I was looking for.
I've been sticking to my plan for the most part, with a couple minor hiccups here and there. The log only takes a couple minutes each day and I find it helps me get excited about exercise, especially when I read the weekly recap over.
The week looked like this:
Friday Oct 28th: hot yoga
Saturday Oct 29th: Treadmill hill workout
Sunday Oct 30th: OFF day
Monday Oct 31st: Spin class
Tuesday Nov 1st: OFF day. Skipped planned workout…just wasn't feeling it!
Wed Nov 2nd: Body Pump weight class
Thursday Nov 3rd: Hot yoga
Week summary: 2 yoga classes, 1 spin class, 1 weight class, and a treadmill workout
I'd say it was pretty balanced and fun! I love the variety and the 2 rest days allowed my body time to heal in between workouts.
You can try to read my chicken scratch in the workout log below if you'd like…or not…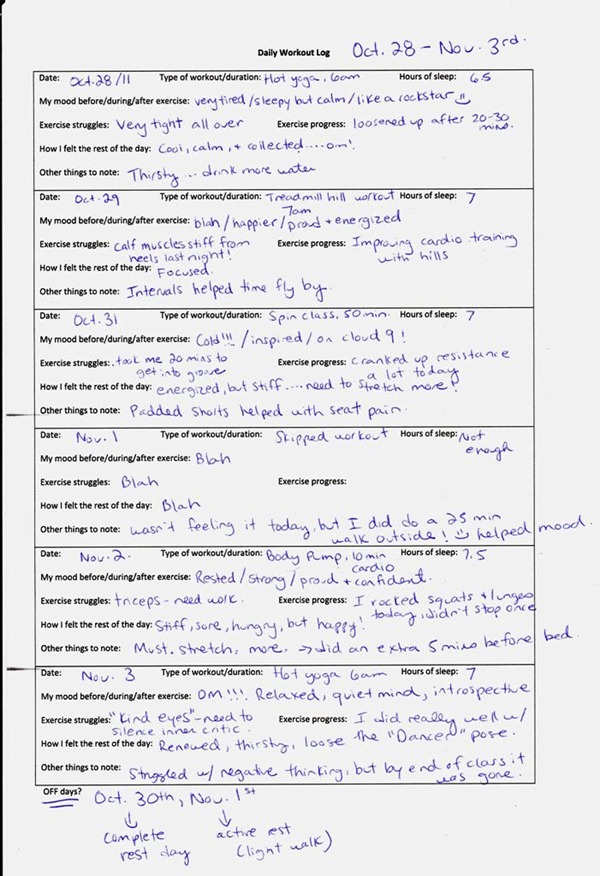 Don't worry that made absolutely no sense to me either.
Some of you asked me what my treadmill hill workouts look like so I thought I would show you an example of what I do. I've been doing these treadmill hill workouts for at least 5 years now and I find them to be the most challenging workout that I do on cardio equipment, even more than running on the treadmill.
What I love about hill workouts: The intervals make the time fly by (it's the only way I will workout on a treadmill!)
What I hate about hill workouts: The hills.
It's complicated. ;)
A typical 45 minute treadmill hill workout for me looks like:
5 min walking warm-up, speed 4 mph, incline 2%
5 min running at speed 6.5 mph, incline 5%
5 min walking at speed 4.2 mph, incline 13%
Alternate running and walking intervals until I hit 40 mins.
5 min walking cool down at speed 3.5 mph, incline 2%
Water breaks as necessary!!
This varies greatly depending on my energy levels and whatnot, but I like to keep it mixed up and as challenging as possible. I worked up to this intensity after a lot of training, so if you are starting out I suggest going at the pace and incline that works for YOU and you can't go wrong. Also, when I don't want to run I just do walking intervals at different speeds and inclines. This hill workout always leaves me covered in sweat and filled with endorphins!