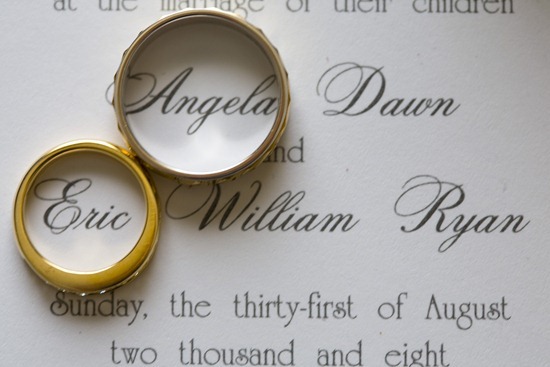 In 2003, after about 2 and 1/2 years of dating, Eric and I broke up. We told our shocked friends and family that it was a mutual break up, but in reality, I never felt that it was. I knew that I gradually pushed Eric away and I built a wall around myself so high that he felt like he couldn't get through.
This 'wall' represented my insecurities, eating disorder, and everything that came with it. It wasn't just the surface things- the obsessiveness, calorie counting, or over-exercising- it was the absence of self-love and my lack of ability to be loved fully in return.
Our breakup wasn't mutual at all though. I pushed Eric so far away that he had no choice but to slowly raise a red flag and surrender. (He claims, to this day, that it was just as much his fault as it was mine, but I didn't see it that way). It is hell living with an eating disorder, but it is probably even more difficult loving someone who has an eating disorder. Any experience that we go through that affects our self-esteem changes who we are, how we act and react, the things we say, how we carry ourselves, the fights we have, and how much we let our loved ones in. Eric got bits and pieces of the 'fun, authentic, happy-go-lucky Ange' and other times he got 'Ange with no self-esteem or confidence'.
On the day we broke up, we lay in bed, crying and embracing each other knowing that as soon as we let each other go it would all be over. I told him that I would change and I would get help once and for all, but he was firm that we needed time apart to grow as individuals. He never said or made me feel that our problems were my fault or that I was the cause of the troubles. He took more blame than he probably even deserved, but I guess it does take two to tango. We talked and cried for hours and hours that day before he finally had the courage to leave. I really didn't think he could do it. We were soul mates after all, high school sweethearts who had big plans for our lives.
I closed the door and collapsed in a heap on the ground, sobbing, but with no sound or tears coming out. I was now officially empty, but not in the way that I had wanted to be. Suddenly, my goal of being 'x' weight didn't matter to me anymore. Nor did it matter how many calories I ate for lunch. I felt like a selfish a-hole. How ironic that I believed being thin would solve all of my problems, when in fact, the pursuit of thinness ended up causing so many more problems than I ever dreamed of.
I sat there expecting Eric to come back knocking on the door.
He didn't, though I knew he wanted to.
Eric wanted to stay in touch, but I severed all communication after I saw him at my birthday party the next week. No calls, no emails, no msn chats, no seeing each other. I had a stiff upper lip through it all, but it was the only way I could move on.
Our break-up had a silver lining that I couldn't see at the time; during our time apart I was able to reflect on things that I needed to change in myself. After the partying (and pretending like I didn't care) got old, I started to work on me for the first time in years.
As it turned out, we ended up getting back together later on that year. By coincidence we ended up in the same Calculus class at our university and after an awkward Long Time No See and small talk, I figured that would be the end of it. For weeks, Eric asked me to catch up over coffee, but I politely declined. My broken heart had never mended itself and I was on guard, but ultimately, I couldn't deny the love that I felt for him. I avoided him like the plague because I knew what we had was still so strong. I decided I was willing to take the risk.
I'm not going to say that it was easy when we got back together because for a long time I wasn't sure if it was going to work. If the insecurities were bad before the break-up, they were twice as bad the months following getting back together. I thought he was going to run away whenever there was a problem, but he certainly proved me wrong. I also proved myself wrong by learning to love myself and to give myself entirely to someone else. We both grew up a lot and we learned how to communicate more than ever.
To me, Valentine's Day isn't about $75 wilted roses, boxes of chocolates, or mushy Hallmark cards. It's not about cramming into an over-packed restaurant and selecting off a special Valentine's Day menu. It's certainly not about the gifts, although I guess any of the above can be fun if you make it. Love isn't always a fairy tale. Relationships are complex and ever-evolving with ups and downs, but I love them just the same.
Most of all, Valentine's Day reminds me that without Self-Love I have nothing.
Without Self-Love I can't give to others in my life. I can't be a good friend, daughter, sister, or wife. Whether you like this holiday or not, you can use it as a time to reflect on the love you give to yourself. If you are anything like me, this is an area that needs constant attention and daily care. My challenge to you is to start a new tradition on Valentine's Day- write yourself a love letter and read it over often!
(Oh and I lied, it is definitely about the chocolate today. I recommend eating it with breakfast, lunch, and dinner.)