Last week on the treadmill, I was reading the latest issue of Self Magazine. In this issue, Janelle Brown wrote a wonderful piece on the danger of detox diets called, 'The Scary New Skinny'.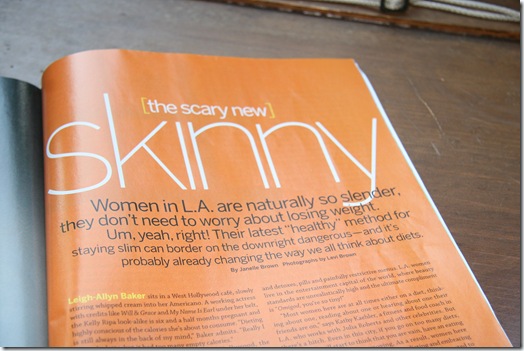 Brown wrote about the latest diet trends that have L.A. women jumping on board. Unlike socially unacceptable trends like starvation diets, liposuction, or dangerous diet pills, these new diet trends are portrayed in a socially acceptable and healthy manner.
Women have always had a huge amount of pressure to be thin, only now, women have this pressure AND we have a new pressure to be healthy while we do it! Many of the previous extreme weight loss methods are frowned upon so women have been seeking healthier ways to lose weight.
But are some of these new trends really healthy?
Brown calls this the 'healthy skinny' movement where friends no longer have to admit in shame that they are on a diet, but can be proud to say that they are following a 'health regime' instead.
Is it really any different?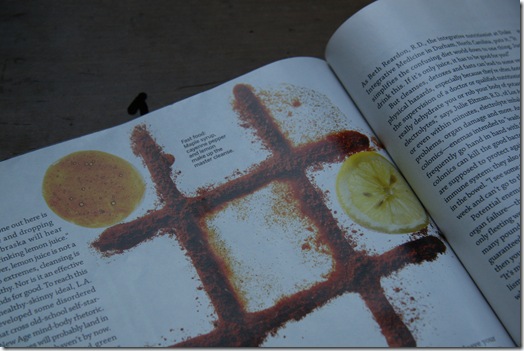 So what are some of these diet trends?
While Spiritual Cleanses have been around for ever, they are a growing trend in LA. Many women are claiming that they are on a vision quest or are connecting with their spirit by fasting. These cleanses involve often sustaining on nothing but liquids such as the master cleanse.
Izo Cleanze and BluePrintCleanse deliver juices to their customer's doors each day. For many, this is the only thing that touches their lips for 3 weeks or longer.
Colonics have become quite popular in recent years with more and more people getting them done to 'flush' out their body of toxins. If performed regularly, colonics can kill the good bacteria in our intestinal tract that protect us from infection. They can also disrupt nerve and muscle function in the bowel, leaving some patients unable to go to the washroom without a colonic.
Extreme Calorie restriction diets
Howard Flaks (M.D.) from Beverly Hills advises his patients to consume only 800-1000 calories a day, under medical supervision. Personally, I am quite shocked that a doctor would advise his patients to consume such a low number of calories. Many of us know how badly restrictive diets can backfire too- they can slow our metabolism and make our body cling to every calorie we consume. Not to mention, feeling extremely lethargic, moody, and lackluster hair, skin, and nails. That is so not hot!
Aimee Popovich, a 39-year old mom and homemaker residing in LA, went on a raw food diet where everything she ate was raw. She said she felt great for the first year and a half, but after that time period she started to notice strange things happening to her body. For instance, she had to urinate often and she had a lot of anxiety. Five months later, she woke up in bed very dizzy and she had a seizure, stopped breathing, and passed out. When she finally came to in the hospital 2 days later, she was told that she was undernourished, devoid of vital minerals, and suffering from kidney failure and brain swelling due to a severe electrolyte imbalance. She also suffered from hyponatremia which is having excess water in the blood and can result in dangerously low blood levels of sodium.
There is even a medical term to classify individuals that have an obsession with health. Steven Bratman, an alternative medicine specialist coined the term "Orthorexia" for such a condition. Orthorexia denotes an eating disorder classified by an excessive focus on eating healthy foods. In rare cases, this focus may turn into a fixation so extreme that it can lead to severe malnutrition or even death.
~~~~~~~~
MY TAKE:
I absolutely loved this article in Self Magazine because I think it touches on a central issue that many women are struggling with right now. As women, we are not only expected to be thin, beautiful, and successful, but we are now expected to be healthy while we do it. Like anything else, it can get taken too far. No matter how healthy someone eats, if they are underweight and/or suffering medical consequences, then it is not healthy. In my nutrition courses, I was told time and time again that our bodies are experts at riding our body of toxins and we don't need detox diets and cleanses.
I have never had a colonic, done a cleanse, or ate a raw food diet. For me, these things just seem too extreme. That is not to say that they don't work for others and they can be done in a safe manner with proper education and supervision. I think this is what was lacking in the article, it failed to mention that some of these things can be done safely.
However, I do love how I feel when when I drink a green monster or when I eat a mostly unprocessed diet. I don't see this as an extreme thing in my life, because I feel better than I ever have, my skin and hair glows, and my doctor tells me that my medical tests come back with flying colours. On the other hand, if I was noticing ill-effects from my diet, I would definitely re-evaluate it. For me, balance is key. I like to eat chips or sweet treats like the rest of 'em, and I know that keeping a balanced approach keeps me feeling my best.
What are your thoughts?
Are you or someone you know obsessed with eating healthy or do you think that orthorexia is the new 'socially acceptable' eating disorder?
Have you or would you ever do a detox? Are detoxes and cleanses ok for a short amount of time?