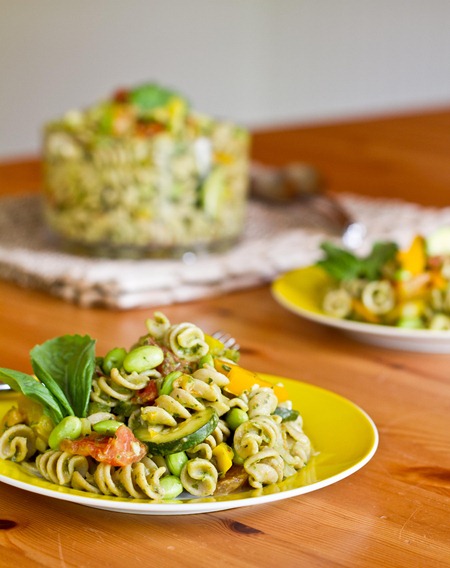 Yesterday morning, I spotted a pack of squirrels throwing a Sunday brunch around my compost bin. The nerve! One of the squirrels was eating an apple core and another was feasting on a piece of burnt toast! Those crazy little buggers. It appears that the animals in our backyard do not want my compost waste to turn into soil….
This means war.
I even put rocks down last week to 'prevent' this from happening…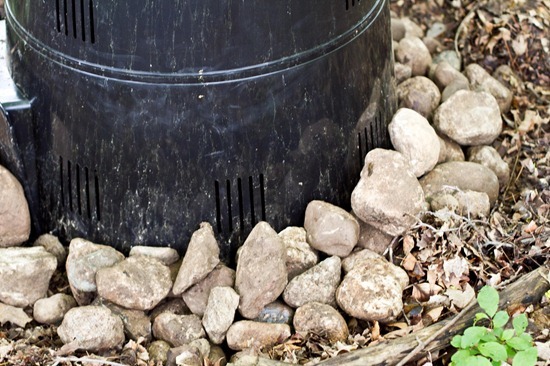 But no such luck! The squirrels moved the rocks quite easily and entered through the trap door. I peered into the trap door and a chipmunk bolted out giving me quite a scare! Well, I probably scared him more than he scared me, but still. :)
So, I dug up some bigger rocks! I also put a stick between the holes in the door to 'secure' it. I use the term secure loosely here…we have some sneaky raccoons bandits around here!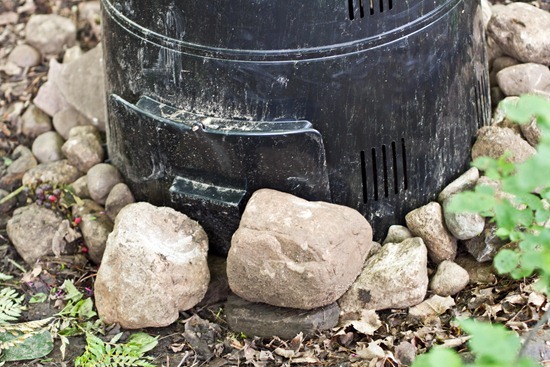 I think I just heard the squirrels laughing at my 'big' rocks. sigh.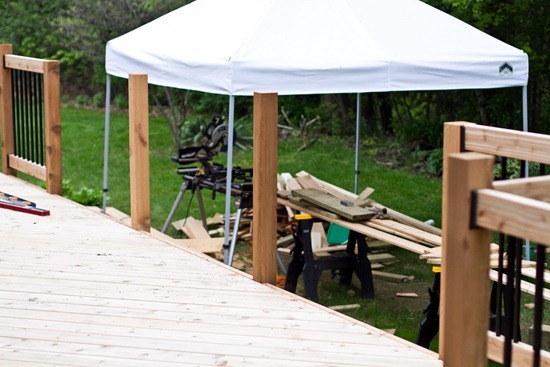 Eric and I spent most of Sunday installing the deck railing. It was monotonous work!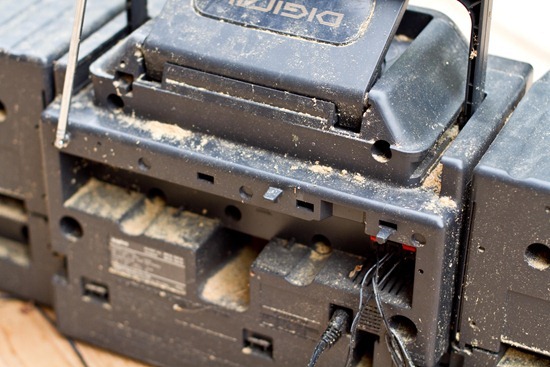 Sawdust-covered boom box, anyone? Am I the last person on earth who even uses CD's anymore!? I think I need an ipod…
It went much slower than we anticipated due to the numerous measurements and calculations involved.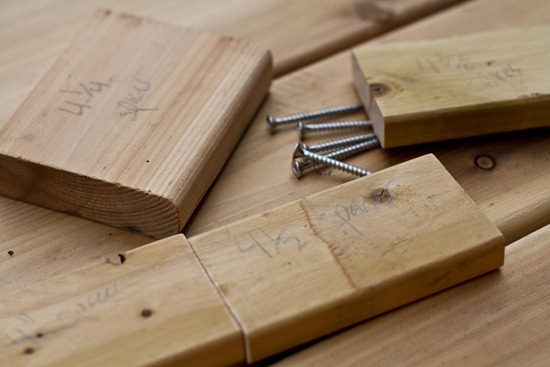 Or maybe it was the beer..
We left large gaps in two different places because we're going to put glass in these sections. This will make the backyard more visible from the dining area of the deck and also from the house. We don't want to close it off too much, so the glass will help open it up.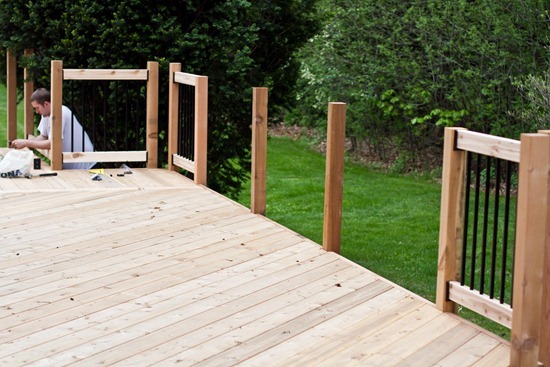 It's looking more and more polished with each day!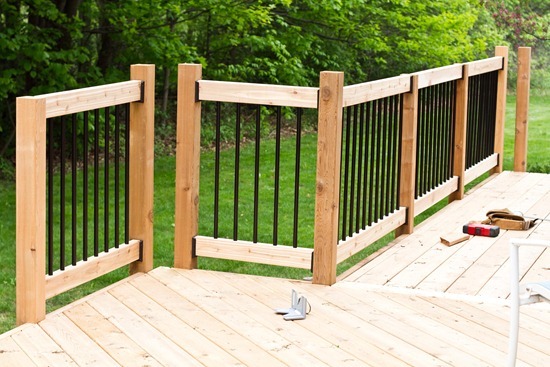 For last night's dinner, I intended to make the Penne and Roasted Vegetables out of the Clean Start cookbook, but once I got cooking I threw the recipe out the window and let my inspiration guide me. I just wasn't in the mood to follow a recipe last night. Sometimes the cooking process is more enjoyable that way- if it turns out, that is. I've had many vegan disasters winging it, but fortunately, luck was on my side last night.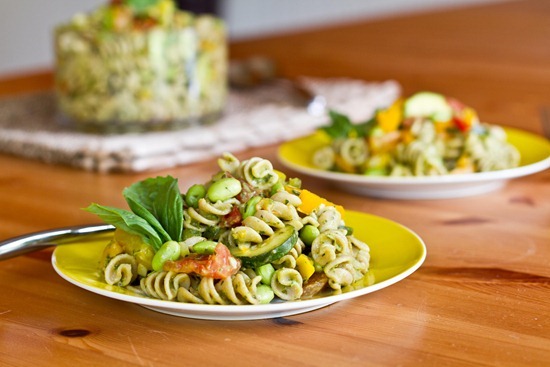 [print_this]
Vegetable and Edamame Pasta with Basil Cream Sauce
Inspired by Clean Start and 15-Minute Creamy Avocado Pasta.
Yield: 4-6 servings
Ingredients:
Approx 300 grams (about 5 cups uncooked) Rotini or Penne pasta (I used Kamut rotini)
1-2 tsp extra virgin olive oil
1 cup chopped sweet onion
3 garlic cloves
1 orange bell pepper, chopped
1 yellow bell pepper, chopped
1 small zucchini, chopped
2 tomatoes, roughly chopped
1 cup frozen edamame (or bean of choice)
Basil sauce: 1 cup packed fresh basil, 1 small avocado (or half large), 1/4 cup fresh lemon juice, 2 tbsp water, 2 tbsp olive oil, 1 tsp kosher salt, black pepper & red pepper flakes (to taste)
Kosher salt, pepper, red pepper flakes, to taste (I used lots of red pepper flakes so it had a nice kick to it)
Directions:
1. Bring a large pot of water to a boil.
2. Sautee onion, olive oil, and minced garlic in a large skillet for about 5 minutes on medium heat. Add in chopped vegetables (except for the tomato) and edamame. Sauté for another 10 minutes. Reduce heat as needed.
3. Meanwhile, add the pasta to the boiling water and cook for 9-11 minutes, being careful not to overcook. Pour into colander and rinse very well with cold water to stop the cooking process. Set aside.
4. In a food processor, make the basil cream sauce by processing the basil, water, olive oil, lemon juice, avocado, salt, black pepper, and red pepper flakes until smooth (or just about).
5. Just before the vegetables are done cooking, add the chopped tomatoes, and cook for another 5 minutes until tender.
6. Add drained pasta to the vegetables in the skillet. Mix. Now, pour on the basil cream sauce and stir until combined. Season with salt, pepper, and red pepper flakes, to taste. Garnish with basil leaves. Serve warm or cold. Makes 4-6 servings.
[/print_this]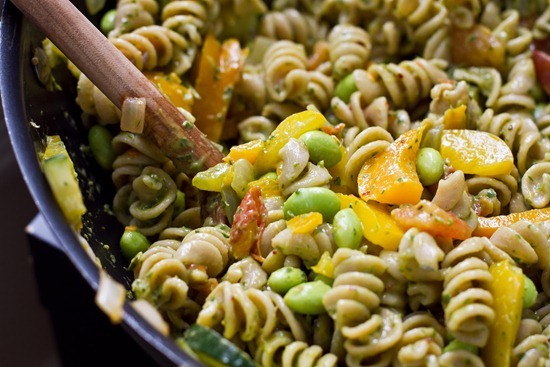 This pasta is fresh, fresh, fresh…great for Spring and Summer. Hopefully I can make it again this summer with my own veggies!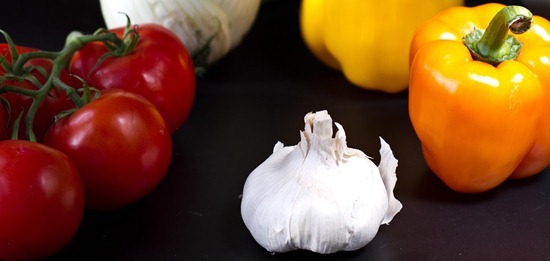 I thought the sunlight gave the peppers a cool effect in this photo below…no diffusion disc required.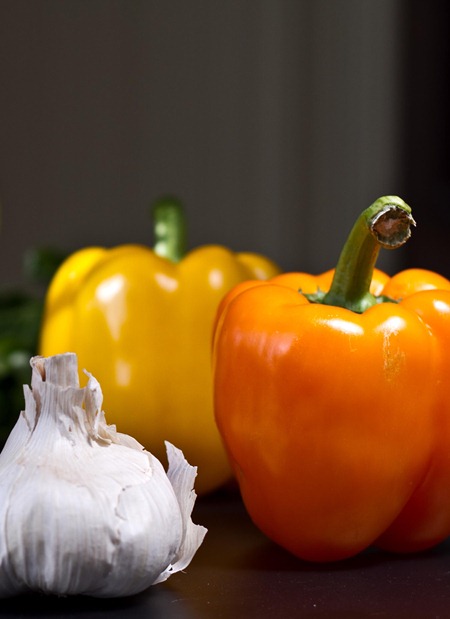 Kamut pasta is a dream. I buy it at Superstore in the natural foods section. It has a better texture than brown rice pasta, even though I think both are great.
The best part about Kamut flour is that it is high in protein; just one serving of this pasta has 13 grams of protein! It's a sneaky way for a vegan meal to pack in more protein. For another protein source, I also added in the edamame which gave a fresh crunch to the pasta dish. Eating a vegan dish certainly doesn't mean that you need to skimp on protein.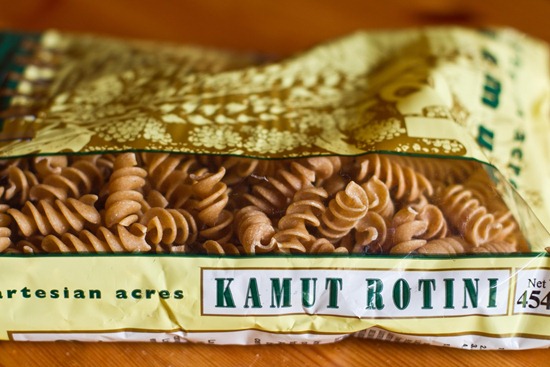 We gave this pasta two thumbs up and proceeded to have seconds.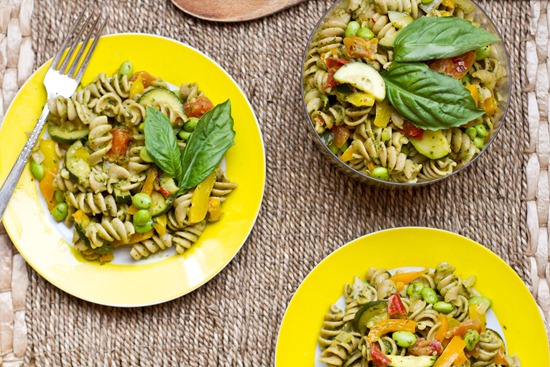 I tried some today at lunch and it was also good cold. :) Leftovers here I come…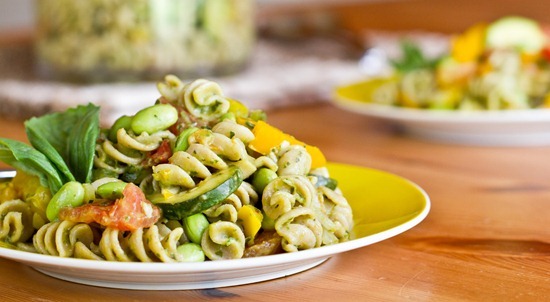 I hope your week is off to a great start. Happy Memorial Day to those of you in the US…I hope you are somewhere basking in the sun and having a BBQ!