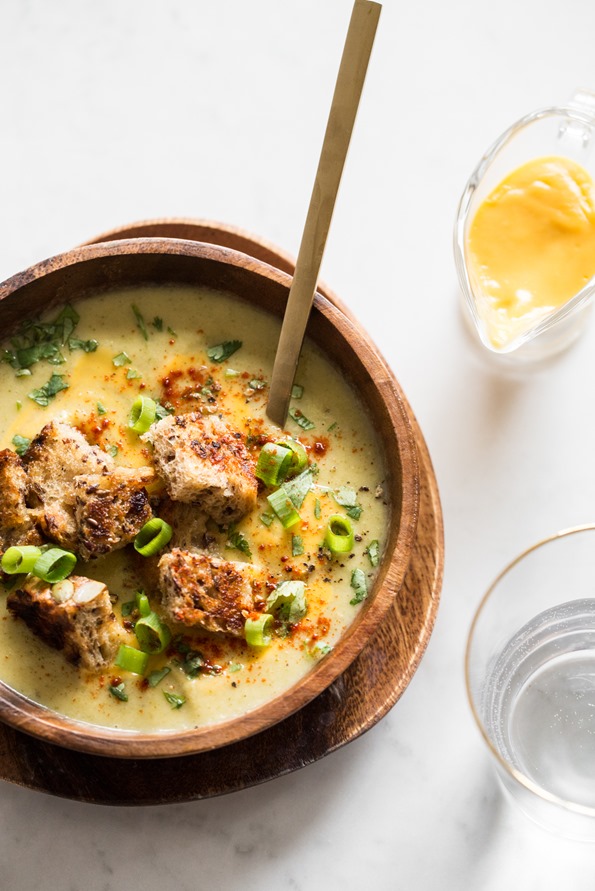 "I hope that in this year to come, you make mistakes. Because if you are making mistakes, then you are making new things, trying new things, learning, living, pushing yourself, changing yourself, changing your world. You're doing things you've never done before, and more importantly, you're doing something." ~Neil Gaiman
I shared this quote in my newsletter this week, and I think it's going to be my guide for 2017. Heck, I might even frame it for my office! I tend to shy away from things if I don't think I can do them well, and this quote reminds me to take more risks in the year to come. My goal list tends to be pretty lofty at the start of each year, but I'm also not too hard on myself if I only complete a portion of them, which is usually the case. Seeing as it's the new year, I thought it might be fun to update you on what we've been up to so far and what some of our goals are.
As you may have seen, we launched the Android version of the Oh She Glows Recipe App Monday after months of preparation. We can't thank you enough for your support, excitement, and kind words!
On Monday we sent out the latest issue (#11) of In the Glow, sharing healthy recipe ideas for the new year, as well as exciting OSG news tidbits. Starting (and growing) a newsletter was one of our goals for 2016. We sent out our first one on February 9, 2016, followed by 9 more issues over the course of the year. We're now over 40,000 subscribers and growing! THANK YOU. I'm hoping to send out a survey at some point this year so you can let me know what you want to see more (or less) of.
You may have seen that we're looking to expand our team. Right now our small-but-fierce team consists of myself, Eric, Shari (Content Editor), and Nicole (Recipe Tester). This year we'd like to hire a Video Content Creator (details on the position here), and potentially, a Social Media Specialist and RD or Holistic Nutritionist intern. (As you may know, the latter two were hiring goals for 2016, but ones that didn't end up happening due to how busy things were. Thank you to everyone who applied for those positions, and rest assured we haven't forgotten!)
On the personal side of things, I'm hoping to make progress with my anxiety this year. It's a never-ending struggle, and tends to be on my goal list each year, but I'm going to keep on with it. I've found that postpartum hormones have been making my anxiety a bit worse than usual, and I'm going to take some active steps in 2017 to, hopefully, improve how I feel.  
Let's see, what else? I've been hard at work developing recipes for the app. Last week I added 3 new recipes—Brownie Breakfast Bake, Easy Nut-Free Taco Salad, and Dill Pickle Smoothie—to the app. We launched the new Get Glowing Bundle last week, too, which contains 5 "reset button" recipes to kick off the new year. The app bundle is 99 cents, and for the month of January all of our revenue from this bundle will be donated to Blessings in a Backpack Canada. This charity ensures children in need receive backpacks filled with food every Friday throughout the school year, so they can return to class on Monday well fed and ready to learn. It's awesome to be working with BIB again!
On the blog front, I'm starting to bookmark old recipes that are in desperate need of some updating—such as my Broccoli and Cheese Soup. The original recipe was posted back in 2011, and I took one look at the recipe and its photos and knew I had to breathe some life back into it with a fresh new approach. Last year I also started adding metric conversions to my recipes, and I'll continue to share these calculations for each new recipe in the future. It's tedious (mainly because I weigh each solid ingredient), but I love hearing from those of you in the UK and elsewhere who find it incredibly helpful! I want you to have similar results, ya know?! If there are any other old blog recipes that you'd like to see revamped in 2017, please drop me a comment below. I'd love to hear your ideas!
There are some other goals on our radar this year, but this feels long-winded enough for now.
Cheers to making mistakes, trying new things, and learning as we go in 2017!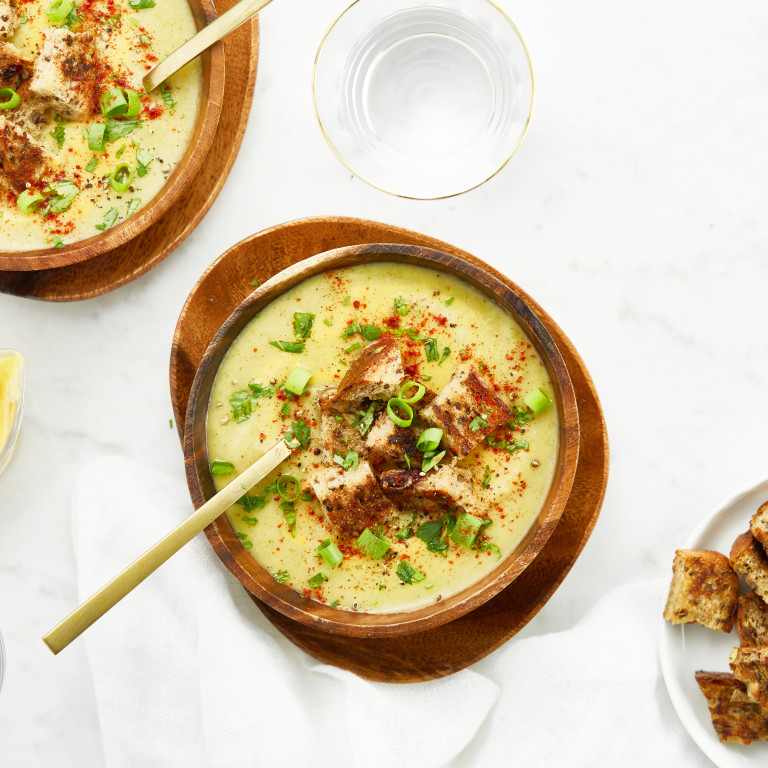 Vegan Broccoli and Cheese Soup
Vegan, gluten-free, nut-free, refined sugar-free

Yield

8 cups (2 litres)
Prep time

Cook time

Total time

Like a big, cozy sweater, this soothing soup will help you get through the long winter. It combines my love for broccoli and cheese sauce, while doing without the dairy-based cream or cheese. This is a bit of a fussy soup (think weekend, not weeknight) as it involves a few homemade components (cheese sauce, soup, and homemade croutons), so you'll need an hour start to finish. If you can make the cheese sauce the day before, that'll help streamline things!
This soup is adapted from my 2011 version. The cheese sauce is lightly adapted from my cheese sauce in Oh She Glows Every Day.
Ingredients
For the cheese sauce:
1 1/4 cups (190 g) diced peeled yellow or red potatoes

*

Heaping 1/3 cup (55 g) diced peeled carrots

*

2 tablespoons (6 g) nutritional yeast
2 tablespoons (30 mL) refined coconut or grapeseed oil

*

*

2 1/2 tablespoons (37.5 mL) water
1 1/2 teaspoons (7.5 mL) fresh lemon juice
1/2 teaspoon fine sea salt
1 medium (4 g) garlic clove
1/2 teaspoon (2.5 mL) white wine vinegar
For the soup:
1 tablespoon (15 mL) extra-virgin olive oil
1 medium (350 g) onion, diced (2 heaping cups)
3 medium (13 g) garlic cloves, minced
1 cup (120 g) chopped celery
5 to 6 cups (350 g) chopped broccoli florets
1 1/2 cups (225 g) chopped Yukon Gold potatoes (about 2 medium)
3 cups (750 mL) low-sodium vegetable broth
2 tablespoons (6 g) nutritional yeast
1/4 teaspoon cayenne pepper, or to taste
1 1/2 teaspoons (7.5 mL) fresh lemon juice, or to taste
Fine sea salt, to taste (I use 1/2 teaspoon)
Freshly ground black pepper, to taste
1 1/2 teaspoons to 3 teaspoons (7.5 to 15 mL) chickpea miso, to taste

*

*

*
For topping:
Directions
For the cheese sauce: Place the potatoes and carrots in a medium pot and add water to cover. Bring to a boil over high heat, reduce the heat to medium, and simmer uncovered for 10 to 15 minutes, until fork-tender. Drain.
While the potatoes and carrots are simmering, add the nutritional yeast, oil, water, lemon juice, salt, garlic, and vinegar into a high-speed blender and set aside.
Chop the onions, garlic, celery, broccoli, and potatoes for the soup and set aside.
When the simmering potatoes and carrots are fork-tender, drain them and add to the blender. Blend the cheese sauce until smooth, then transfer to a bowl.
For the soup: In a large pot, sauté the oil, onion, and garlic over medium heat, stirring frequently. Cook for about 3 to 5 minutes.
To the pot, add the celery, broccoli, and potatoes and sauté for a few minutes more. Now, add the broth, nutritional yeast, cayenne pepper, lemon juice, salt, and pepper. Cover and simmer over medium heat for about 13 to 15 minutes, until the potatoes are fork-tender. Turn off the heat and let the soup sit for a few minutes. Add the chickpea miso.
Carefully transfer the soup into a blender (you might have to do this in two batches). Blend until smooth and place back into the pot.
Set aside 1/4 cup (60 mL) of cheese sauce for garnish. Add the rest of the cheese sauce into the soup and stir to combine. Adjust seasonings to taste if desired.
Ladle the soup into bowls and swirl in a tablespoon of the reserved cheese sauce into each bowl. Top with Pan-Fried Garlic Croutons, paprika, and parsley, if desired.
Tip:
* To cut down on cooking time, be sure to dice the potatoes and carrots very small.
** Refined coconut oil doesn't have a coconut flavour, which is why I love it in the cheese sauce. Grapeseed oil also has a neutral flavour, but if you don't have either you can probably get away with a light-tasting olive oil.
*** I love chickpea miso, it's light in flavour and often soy-free (be sure to check the label, though). If you can't find chickpea miso, any light or white miso should do the trick! I like a full 3 teaspoons of chickpea miso in this soup, but depending on the flavour of your miso you might prefer a bit less.
**** Instead of bread-based croutons, you can top this soup with my Roasted Chickpea Croutons.
Nutrition Information
(click to expand)