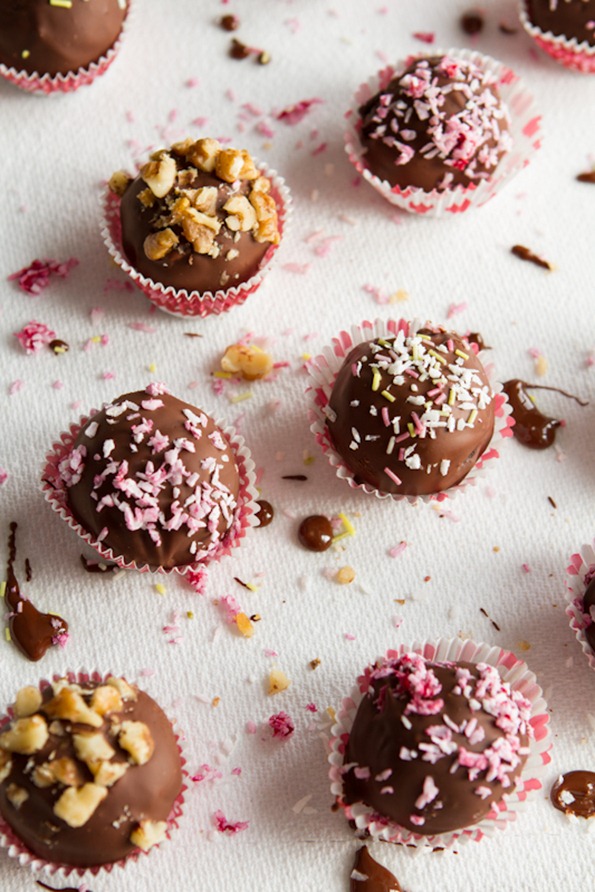 I admire anyone who has the patience to make Cake Pops. I really do.
I'm just not that patient when it comes to tediously decorating things that I want to stuff in my face.
The thought of dipping, sticking, balancing, and making intricate designs on a sticky ball of chocolate really doesn't send me running to the kitchen. Cake balls, on the other hand, are an impatient girl's best friend. You don't need sticks, Styrofoam, or much patience at all.
Cake balls are traditionally made with just a few ingredients: a baked cake, a tub of frosting, and chocolate for dipping. You simply crumble up a baked cake, mix in frosting, shape into balls, and dip in chocolate. This, my friends, is a recipe that's just begging to be played with!
I have a bit of a confession first though. This recipe actually started off as an actual cupcake recipe. My plan was to create gluten-free and vegan hostess cupcakes. I adapted my vegan chocolate cake recipe using an all-purpose gluten-free flour which was kindly sent to me by a Canadian GF flour company called Cuisine Soleil.
The GF cupcakes: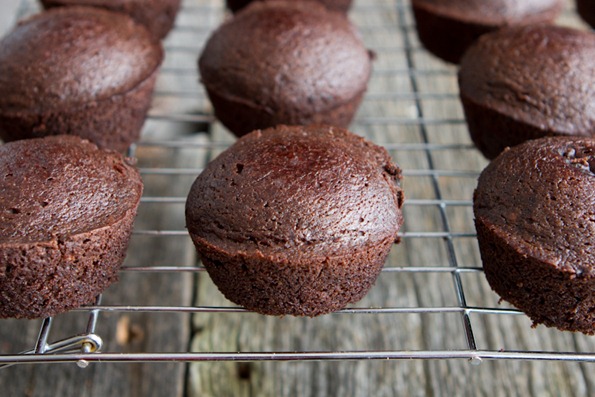 The GF flour worked quite well and tasted lovely, however the cupcakes were a tad bit delicate for what I was trying to do (stuff them with coconut whipped cream). I'd like to play around with my own gluten-free flour mix at some point, but that will probably take some development. Since I didn't want to share a recipe with you that I wasn't fully happy with, I decided to turn lemons into lemonade…
Enter cake balls. The perfect solution for any crumbly baking outcome!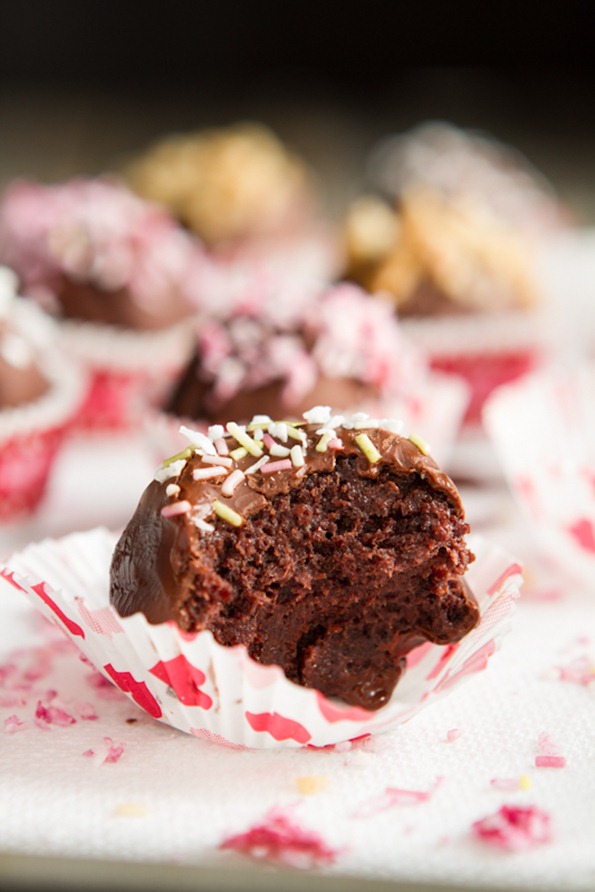 With cake balls, we don't need to worry too much about making the "perfect" cake since we'll be crumbling it to pieces anyway. You can use almost any flour you wish without much worry. Instead of using frosting – which didn't really appeal to me in an already sweet cake – I used full-fat coconut milk (the cream portion only) as the binding agent. By using coconut cream the sugar content is lowered greatly. [If you'd like a refresher on how to use coconut cream, see this post.]
Unlike baking a normal cake, no self control is required with cake balls because you can sample away and no one will be the wiser!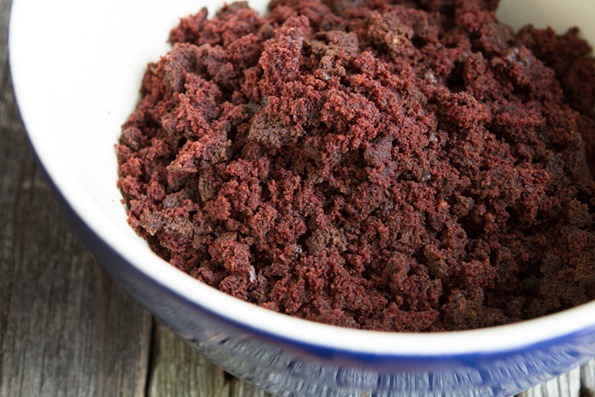 The amount of coconut cream you use will depend on how sticky your want your batter. My first batch had a bit too much coconut cream (and stuck to my hands a lot when rolling). I think I used about 1 cup of coconut cream in my first trial. For the second batch, I used 1/2-3/4 cup of coconut cream and it was the perfect consistency. The amount you need will likely vary based on what type of flour you use in your cupcakes. You'll have to eye ball this one and just add a little bit at a time. Eric and I both preferred the trial using less coconut cream, so I suggest adding it slowly and only use just enough.
Mix the coconut cream into the crumbled cake with your hands and then roll it into balls. These two pictures below are from my first trial. As you can see the dough looks a bit too sticky. My second trial was much more crumbly/dry in texture.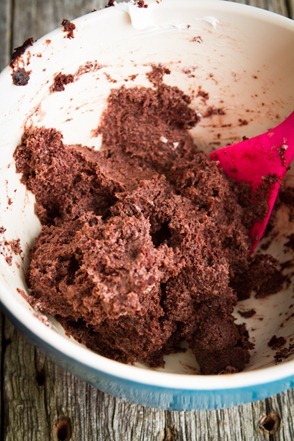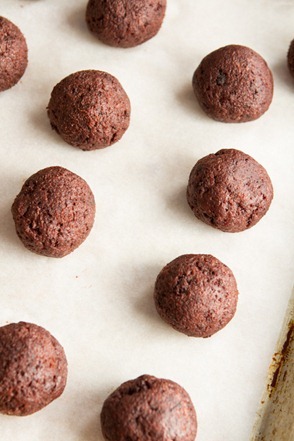 Now simply freeze the balls and then dip them into melted chocolate!
I wanted to naturally colour some shredded coconut, so I smashed a raspberry into a few tablespoons of coconut. It worked like a charm – no red food colouring needed. I also used chopped walnuts and natural sprinkles (the brand is Let's Do…Sprinklez).
The texture of the cake ball is a bit like a truffle with a firm shell and a soft middle. Eric wasn't a fan of the mushy texture in my first batch, but after I reduced the coconut cream in my second batch he enjoyed them a lot. You can play around with the amount to suit your own preferences.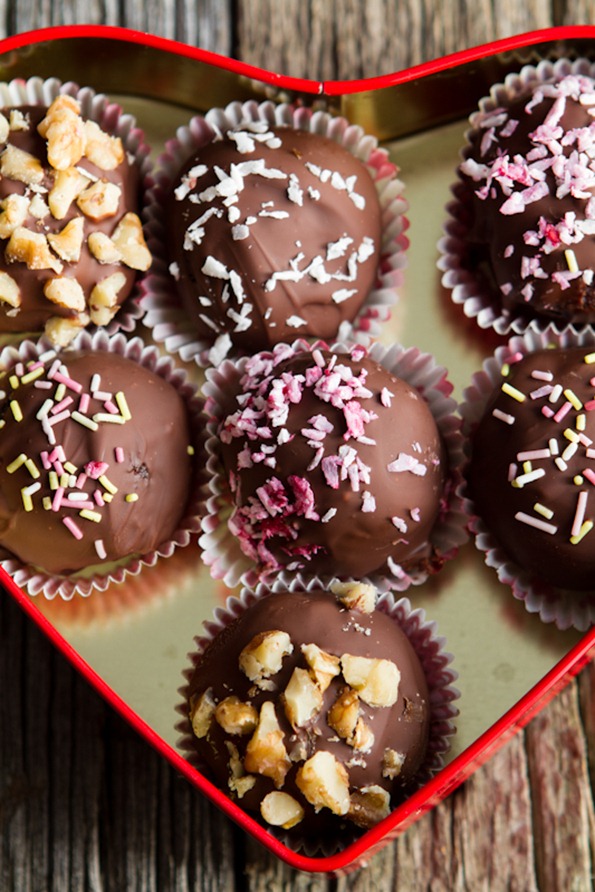 Vegan and Gluten Free Chocolate Cake Balls

Yield

24 cake balls
Prep time

Cook time

Total time

Ingredients
For the cake
1 cup almond milk
1 tbsp apple cider vinegar
1/3 cup grapeseed oil (or other light-tasting oil of choice)

*

1/2 tbsp pure vanilla extract
1 cup organic cane sugar (or unrefined sugar like coconut sugar)
1.5 cups gluten-free all purpose flour (I used Cuisine Soleil) or flour of choice
1/3 cup cocoa powder, sifted
1 tsp baking soda
3/4 tsp fine grain sea salt
For the cake balls
1 can full-fat chilled coconut milk (do not use light coconut milk) (I only used 1/2-3/4 cup cream)
200-225 grams non-dairy semi-sweet chocolate chips or dark chocolate
1 tsp coconut oil, to thin out chocolate
toppings: shredded coconut, chopped nuts, sprinkles, etc
Directions
Chill can of coconut milk overnight in the fridge. Preheat oven to 350°F and spray a muffin tin with oil. You can also bake a whole cake instead of cupcakes, but the cooking time will likely be longer.
In a large bowl, stir the milk with the apple cider vinegar. Let it sit for a few minutes to curdle – this makes vegan buttermilk.
With an electric beater, beat in the oil, vanilla, and sugar into the almond milk mixture.
Add the dry ingredients (gluten-free flour, cocoa powder, baking soda, salt). Beat mixture until smooth.
Evenly distribute the batter among the cupcake tin. I like to use an ice cream scoop with a spring release button. Bake cake at 350°F for about 20-23 minutes, or until the cake springs back when touched.
Cool cupcakes for 5 minutes in the tin and then carefully transfer to a cooling rack for another 10 minutes. Crumble cake into a large bowl.
Scoop out coconut cream from the can (if you need a refresher, see this post). Add a little bit of cream at a time to the crumbled cake and mix it in with your hands. You will only need to use enough to make it come together (I used about 1/2 – 3/4 cup coconut cream) and you don't want to oversaturate the cake with cream.
Shape dough into 1-inch balls and freeze the balls for 30-60 minutes until firm.
Melt chocolate and coconut oil in a small pot over lowest heat. When 2/3 of the chips are melted, remove from heat, and stir until chips are melted. Dip the balls into the chocolate with a fork and swirl around until fully coated. Tap off excess and transfer to a cooling rack so the chocolate can drip off (put paper towel underneath). Sprinkle with chopped nuts, coconut, or sprinkles. Transfer to fridge or freezer until the chocolate is set. Store in the fridge until ready to enjoy.
Tip:
Note: I imagine coconut oil or extra virgin olive oil both work fine as subs for grapeseed oil.
Nutrition Information
(click to expand)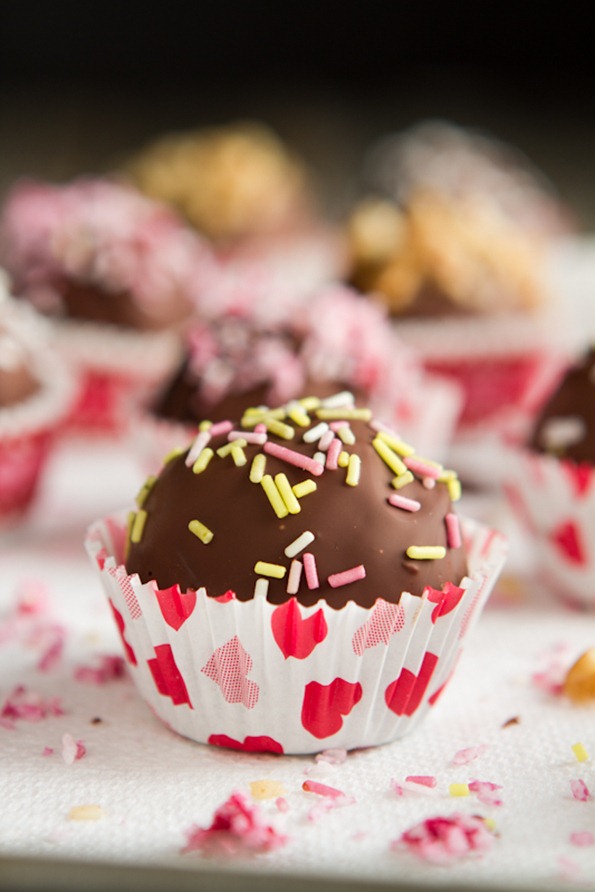 Moral of the story….when life gives you a crumbly cake or brownie, make cake balls!