Good evening!
I'm glad you enjoyed today's 1,000 words post! Oh graphs, we go way back. All the way back to my university days. I used to make so many painfully boring graphs while doing psychology research, it was really fun to just be able to make a silly graph. Ahhhh, my dear readers what would I do without you?
When I showed Eric the graph he laughed and said I should do one from his perspective!
In other news, today was a rather liberating day on the work front…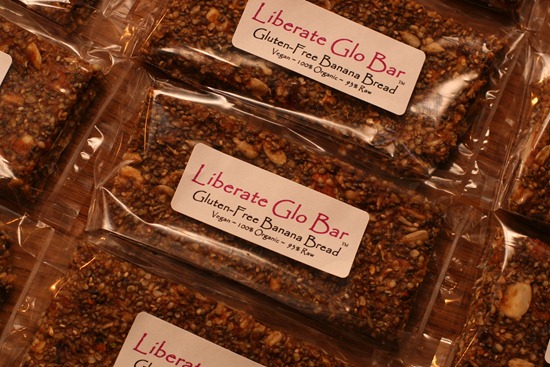 Whew…these bars are very high maintenance, but definitely worth the effort. I think they are my favourite flavour now (close seconds are Empower and Endure).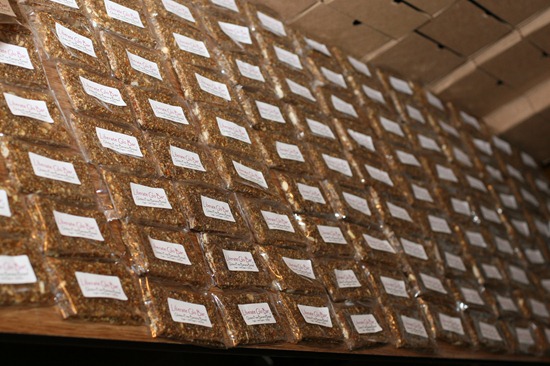 Other highlights of the day included welcoming two fabulous team members to Glo Bakery and being interviewed for a future VegNews article. Good stuff.
After work, I was yearning for some delicious Mexican food and nothing else would do. I decided to see if I could whip up a super quick vegan enchilada, inspired by Susan's Summer Squash Enchiladas that I saw on her website last week. I didn't have half of the ingredients that she used, so I decided to just wing it and use whatever I had. The result was actually really delicious…and just a half hour start to finish.
I thought it was going to be a flop, but ohhhh was I wrong.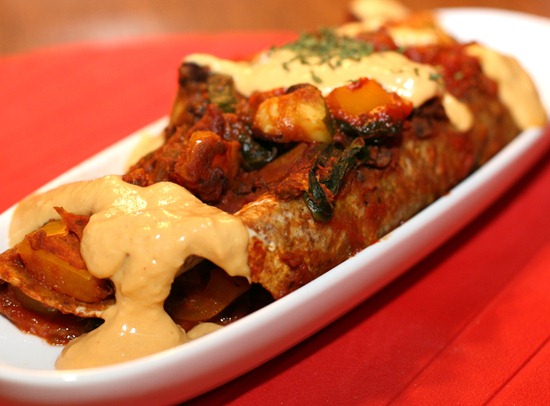 Time-Crunch Vegan Enchiladas
Inspired by Susan's Summer Squash Enchiladas.
Ingredients:
2 handfuls baby spinach
1.25 cups enchilada sauce or pasta sauce
1 bell pepper, color of your choice (I used orange)
1 zucchini, chopped
1 medium onion, chopped
1 tsp mild chili powder
1/4 tsp sea salt, to taste
1 tsp nutritional yeast
1 tsp lime juice (optional)
1.25 cups cooked black beans, rinsed and drained
2 whole grain tortillas
Vegan cheeze sauce for the topping: (4 tbsp hummus, 1 tsp or a bit more milk, 1/2 tsp nutritional yeast)
Directions: Preheat oven to 350F. Throw chopped onion into a large pot and heat until caramelized, stirring frequently for about 5 minutes on medium heat. Add in the chopped pepper, zucchini, beans, and spinach and cook another few minutes until the spinach wilts. Add in the pasta or enchilada sauce, nutritional yeast, sea salt, chili powder, and optional lime juice and stir very well. Cook for about 3-4 minutes on medium heat. Take a baking dish and pour about 1/2 of pasta or enchilada sauce onto bottom of dish. Now take 2 tortillas and fill with mixture. Wrap tortillas and place into dish, fold side down. Cover the tortillas with the remaining enchilada veggie/bean mixture and place into the oven uncovered at 350F for about 18-20 minutes. While it is cooking prepare the vegan cheeze sauce and then drizzle it over the enchiladas before serving. Makes 2 servings.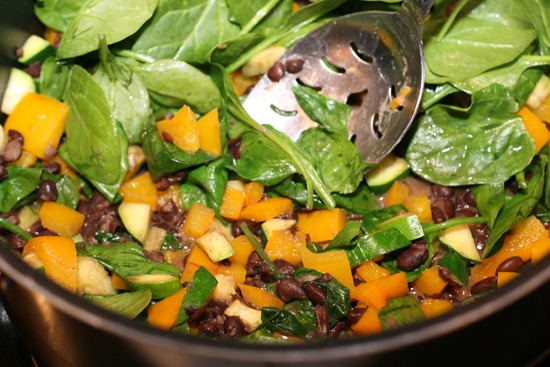 After adding pasta sauce and seasonings…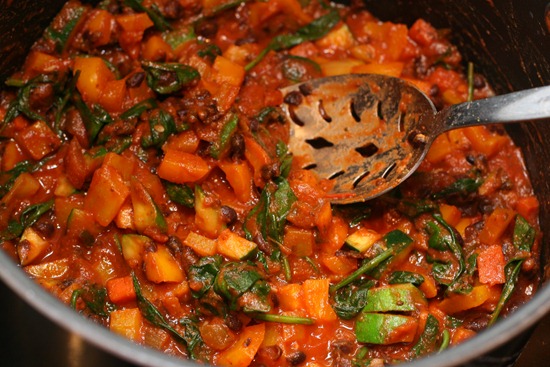 Sauce on the bottom of the dish: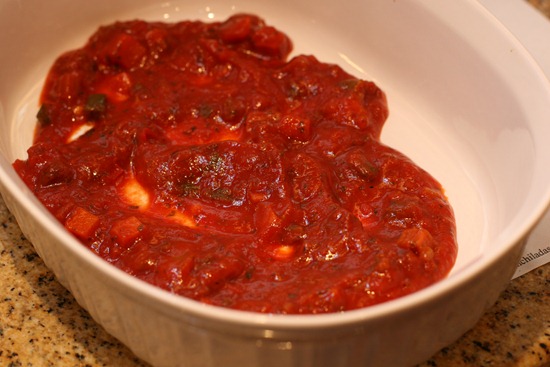 Fill the tortillas…I enjoy Food 4 Life Ezekiel tortillas. Zap them in the micro for a few seconds to get them soft before rolling.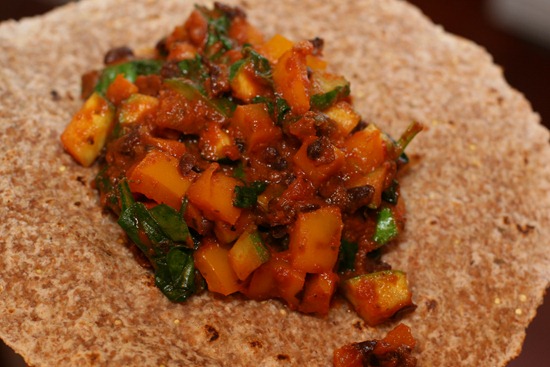 Place into dish with fold side down…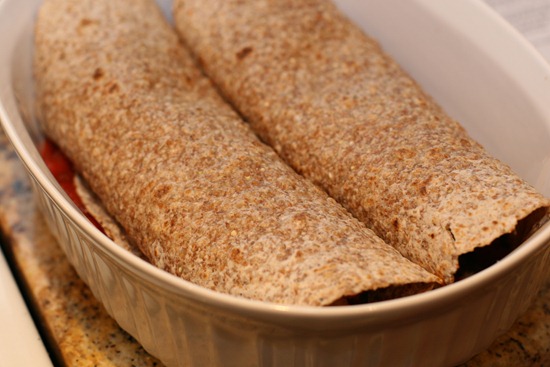 Cover with remaining mixture…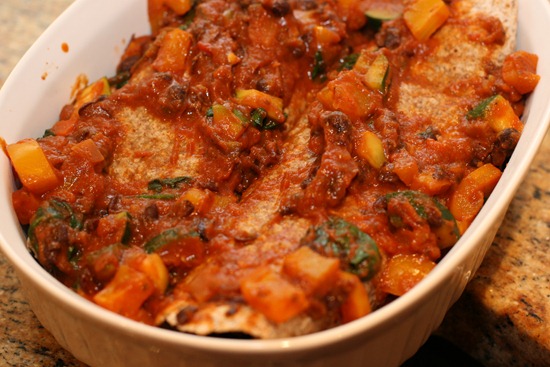 Cook for 18-20 minutes at 350F.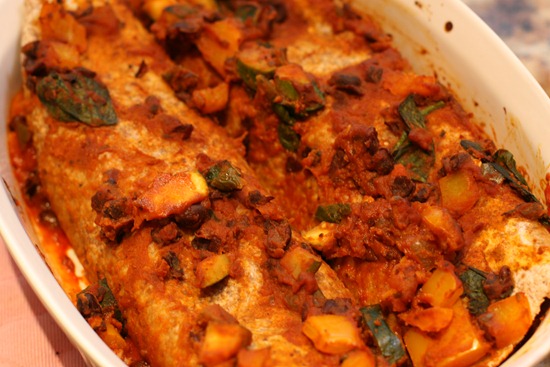 The vegan cheeze sauce brings this dish from wow… to YOWZA!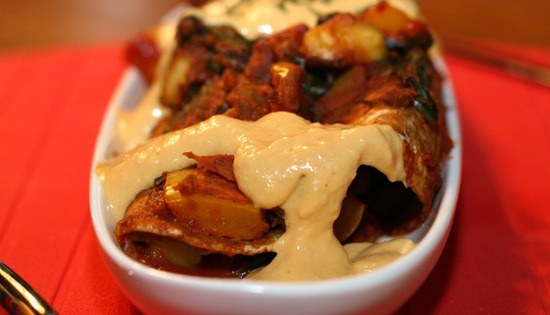 Is this real life?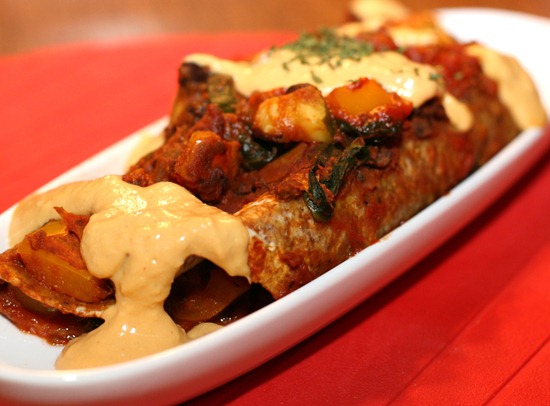 Why yes, yes it is.
This also marked the first time I have ever made enchiladas! I can't believe how easy it was. For some reason I always imagined them to be difficult to make. This recipe is a keeper. Onto the recipe page it goes. I'm packing up some orders and then the couch awaits my bum. Bliss.