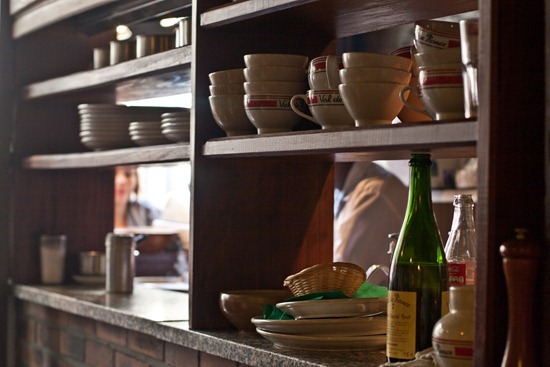 I often like to attack vegan recipe challenges with gusto, spearing my spatula into the air while whisking a flax egg like a crazy person. However, as much as I like to consider myself a fearless vegan baker, there is one type of baking that makes me shake in my boots: Gluten-free baking.
I was recently asked to participate in a gluten-free and vegan recipe challenge with a group of bloggers, organized by Marly. The challenge is to create a gluten-free, vegan baked good, which will be appearing on our blogs on June 30th.
Fear set in.
Questions began to swirl through my mind.
Vegan…and gluten-free?…ahhhh! Would my oven burst into flames protesting the task? Would my husband disown me if I brought home one more ingredient from the grocery store?
Naturally, I hit reply and said I would love to participate. There would be no shaking in my apron allowed!
Given that the deadline is June 30th, I thought I would use the next few weeks to 'get my toes wet' with gluten-free baking. The recipe that I agreed to make for the challenge is a muffin recipe, but I decided to start with a cookie because it was 'fail-proof'.
I think you know where this is going…heh.
I picked up Bob's Red Mill All-purpose GF flour from the Superstore. I already had some Xanthan Gum, which has been collecting dust in my cupboard for about 2 years (it was originally purchased at Bulk Barn).
I was now armed to make GF and vegan baking magic happen! whohoo.
Mistake #1: Assuming that I could play around with a gluten-free and vegan chocolate chip cookie recipe….
Recipe called for too much oil.

Less oil, more applesauce, duh.

Too much sugar.

Less sugar, more…something, duh.

Uh oh, the batter is too wet.

More GF flour, duh.
As you can see, I'm a scientist in the kitchen.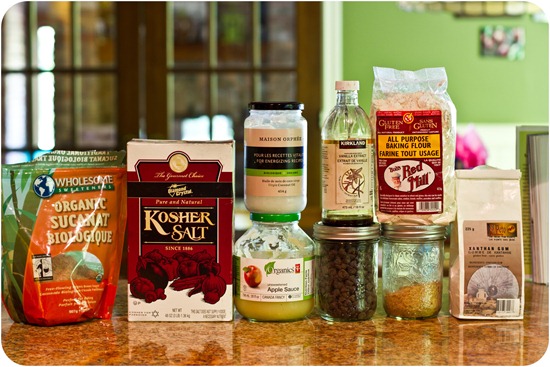 Well, it wasn't pretty. The batter- for lack of a better description- was like the coating on a worm. Glossy, and elastic. Not cool.
Mistake #2: I figured the oven could fix mistake #1.
The timer started to beep and I ran into the kitchen with nervous anticipation. I opened the door and saw a sight that no cookie lover should ever witness…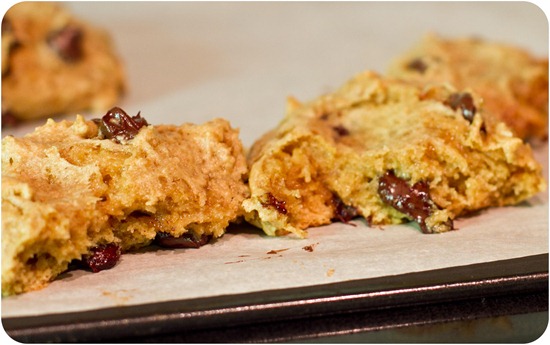 Mushy & puffy chocolate chip cookies that even Eric refused to touch. And this is coming from a man who would probably eat worms if they were covered in chocolate. I wouldn't even go as far to say that they were 'cake-like' or 'muffin-like'; they did not deserve such accolades.
'Puffy cookie mush' is all I can tell you.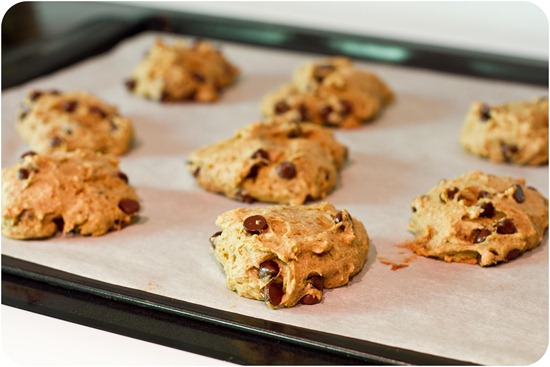 And what the heck is going on with the cookie on the right? It looks like it exploded chocolate chips!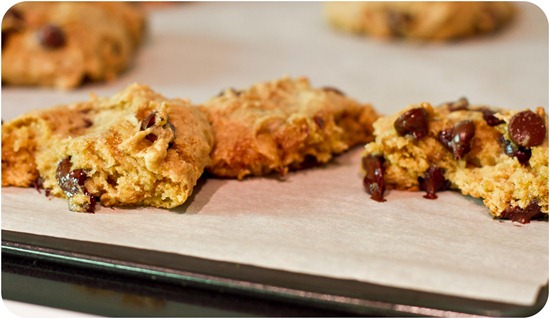 Alas, it might take me a few days to work up my GF and vegan baking courage again!
Fortunately, there's always a vegan recipe that never lets me down. Ok, that was a lie.
It rarely lets me down…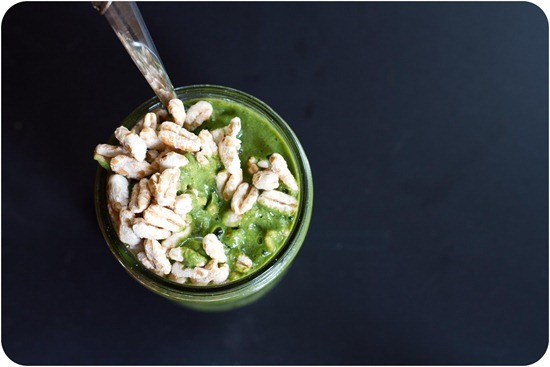 That would be the Green Monster of course. A delight to the taste buds. A thank-you to the body. A reason why you should always check your teeth and green moustache before going out in public!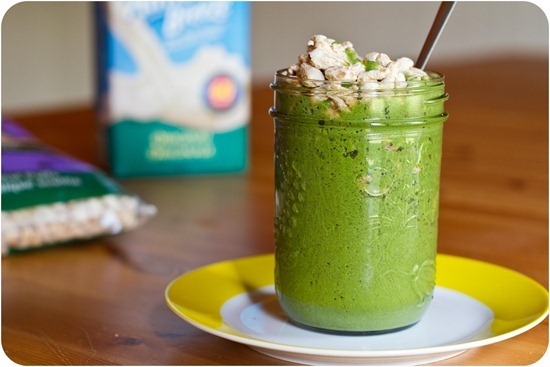 I knew today was going to be a hot one, so I set out for a 4-mile run just after sunrise. Before leaving for a morning run, I typically have 1/2 a banana for a bit of fuel. After the run, I did a sweaty 7-minute Whittle My Middle session (KILLER!) and then I made breakfast- a Cherry Banana Green Monster made up of 1 cup non-dairy milk, 1/2 cup frozen cherries, 1 frozen banana, 2 handfuls spinach, protein powder, and 1 tbsp chia seeds.
Perfecto!
Lately, I've been adding Nature's Path Kamut puff cereal for fun. This is the good kind of puff. Those cookies were not.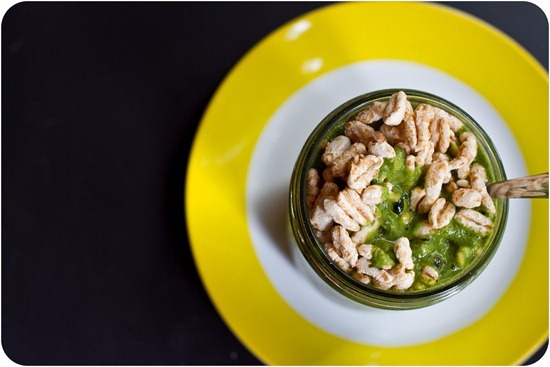 [FYI- My Chilled No Bake Double Chocolate Torte is vegan and gluten-free if you are looking for a successful GF + vegan dessert recipe.]
Now, this whole challenge has me curious- do I have many gluten-free readers out there?
Have you ever tried gluten-free baking? Do you have any tips for me?
I have about 20 days to get my act together…or bust!