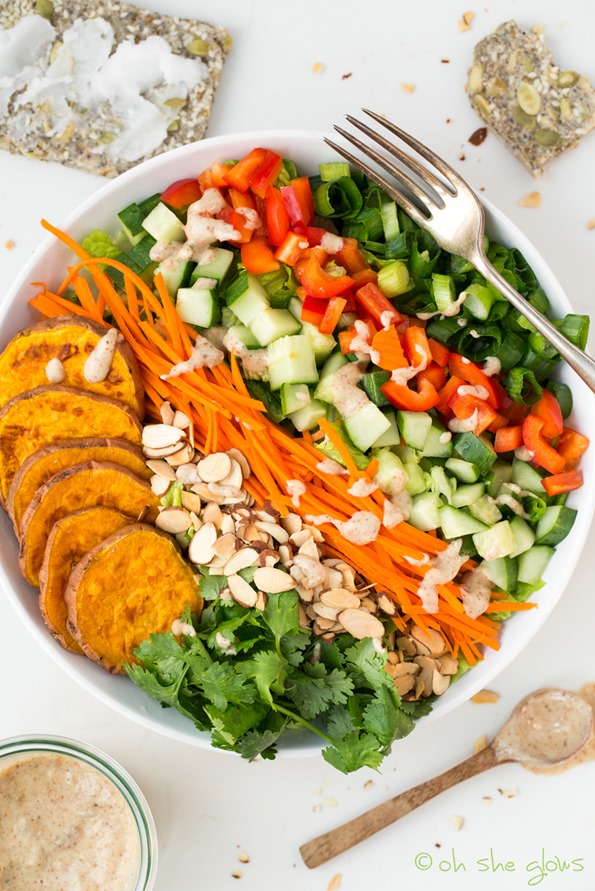 If I owned a restaurant one of my main priorities would be to ban wimpy salads from the menu. It would be a Big Salad Only Zone enforced with salads the size of my head! *insert evil cackle* Salads that dreams are made of. We've all been presented with that sad restaurant salad garnished a few tomatoes and onions on top of a pitiful bowl of wilted lettuce. So tragic, isn't it? The worst is when they have the nerve to charge $10 for such a thing. It's just about enough to make a grown woman or man cry.
Let's stop this insanity before it's too late. I've created a Change.org petition…(just kidding!!).
How about offering a salad that's satisfying enough to be a full meal rather than a disappointing side? Why not create something customers will rave about to their friends and bring in more business? I know it sounds crazy, but it just might work. Many restaurants already do meal-sized salads with great success; we just need to make hearty vegan salads more common on menus everywhere!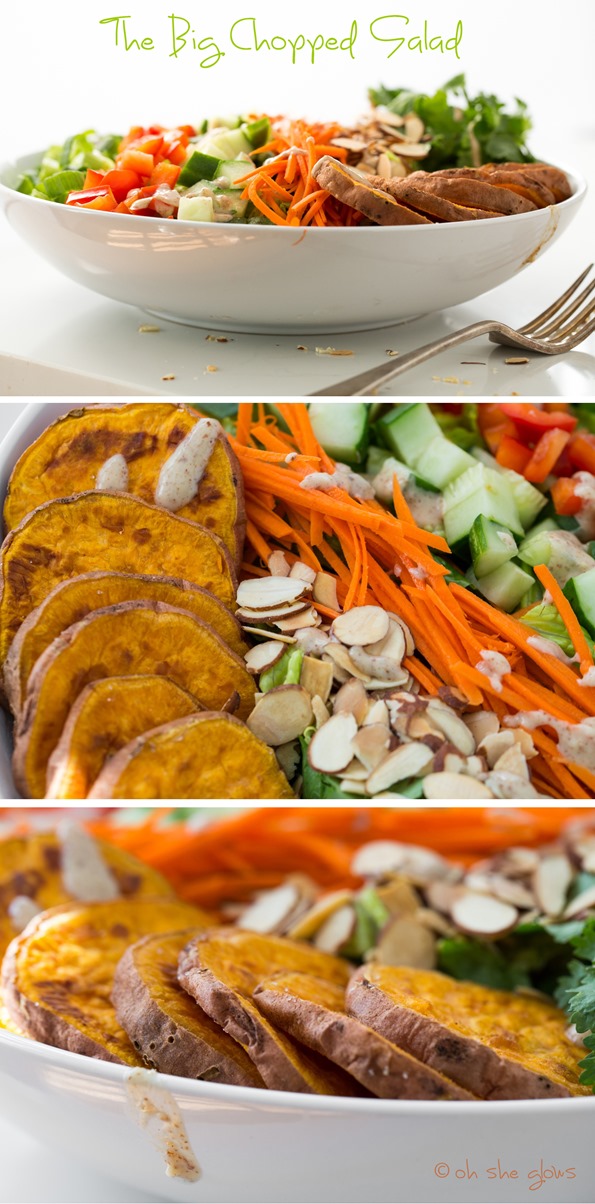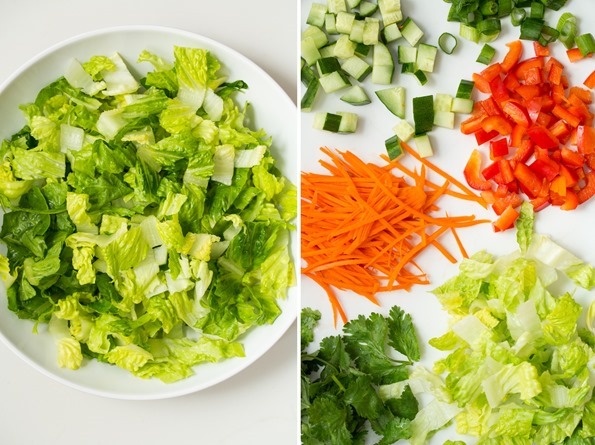 This salad is one I'd love to see on a menu at a local restaurant. A large bed of chopped romaine forms the base followed by rows of julienned carrots, red pepper, carrots, cilantro, toasted sliced almonds, and warm & comforting roasted sweet potato rounds. I just love beautiful food. Roasted sweet potato is a comforting, stick-to-your-ribs addition and a nice temperature contrast to the cool, raw veggies. My creamy almond butter maple lime dressing brings it all together. See the bottom of the recipe for other salad dressing suggestions if you are looking for options.
On the side, I served it with my Super Power Chia Bread spread with coconut oil. It's a satisfying, delightful lunch that really goes the distance!
Restaurants: your move.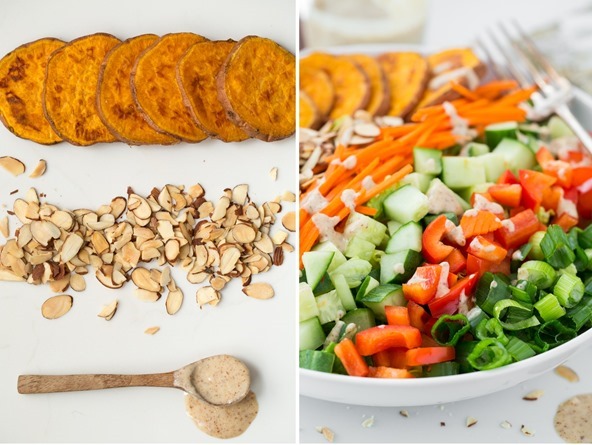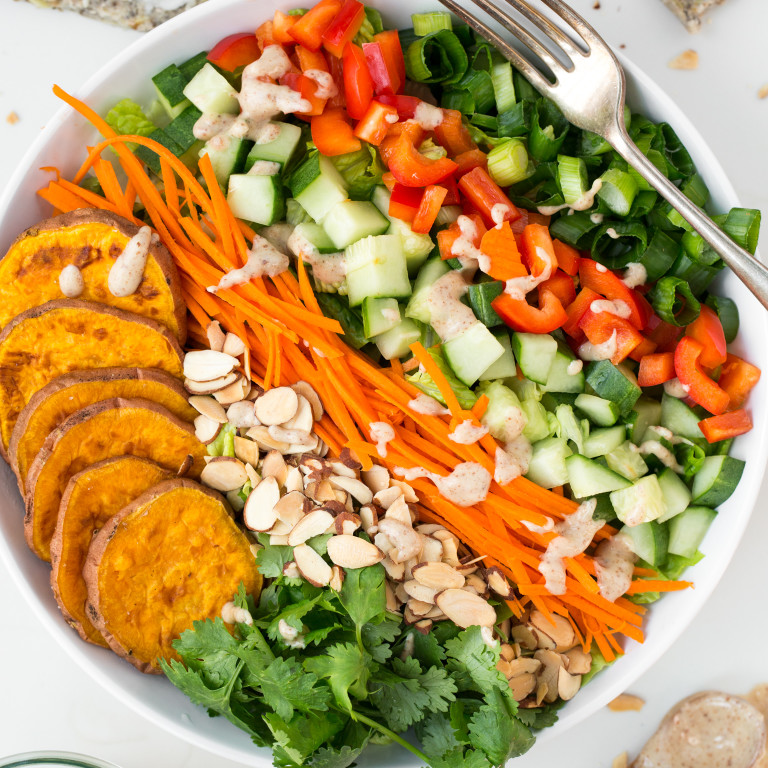 The Big Salad
Vegan, gluten-free, grain-free

Yield

3 salads (estimate only)
Prep time

Cook time

Total time

A hearty & vibrant chopped salad paired with a sweet and tangy almond butter maple lime dressing. Please note the measurements for the salad are approximate. Add as much or as little of each vegetable as you desire!
Ingredients
For the salad:
1 large sweet potato, sliced into 1cm rounds
1/2 cup toasted sliced almonds
1 head romaine, chopped, washed, and spun dry
1 red pepper, chopped
1 large carrot, julienned
1/2 cucumber, diced
2 green onions, thinly sliced
handful or two of cilantro leaves, chopped (or try parsley)
For the dressing (makes 1/2-2/3 cup):
1 garlic clove
1/4 cup raw almond butter (or roasted peanut butter)
2 tablespoons fresh lime juice
2 tablespoons low-sodium tamari
2 tablespoons water
1-2 teaspoons maple syrup (or other sweetener), to taste
1-2 teaspoons toasted sesame oil, to taste (optional)
1 teaspoon freshly grated ginger (optional)
Directions
Preheat oven to 400F and line a baking sheet with parchment paper. Lightly coat the sweet potato slices with coconut or grapeseed oil. Season with salt and pepper. Bake for 25-30 minutes, flipping once half way through baking, until lightly charred and fork tender.
Prepare salad dressing. Mince garlic clove in a mini food processor and then add the rest of the ingredients. Process until smooth. Note that the dressing will seem thin at first, but it will thicken up as it sits.
Add chopped romaine into a large bowl. Layer on the vegetables (and almonds) in rows, if desired. Or simply mix everything together. Drizzle on dressing and enjoy!
Tip:
For other dressing options, see: Lemon-Tahini Dressing, Cashew Lemon Tahini dressing, or Balsamic Vinaigrette
Nutrition Information
(click to expand)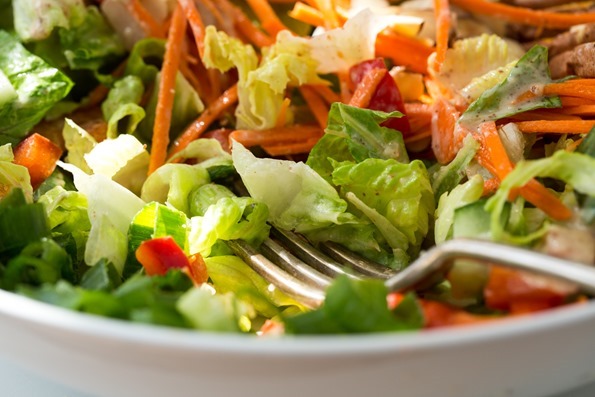 Cheers to Big Salads…and old reruns of Seinfeld. They never get old.
"But you had to have the BIG SALAD!!" – George Costanza